In the deep midwinter, there are numerous opportunities to go out wearing your very best jewellery. The question is what will look the most unique, and allow you to stand out from the crowd? Read this article to learn about five pieces of jewellery that would fit the bill.
Large necklaces
Jewellery designed for the décolleté area have always held a special place in the dinner party wardrobe. In the times of Napoleon and Empress Josephine, intricate necklaces were particularly popular amongst the ladies at court. This transformed into a fashion for long sautoirs in the 1920s, an essential accessory for any social event, but by the 1930s high society girls couldn't manage without short necklaces that skirted around the base of the neck. As they were many centuries ago, statement necklaces now operate as a status symbol that only a select circle of people can afford. Modern jewellery maisons are creating pieces for them as part of their high jewellery collections or as self-sufficient unduplicated works that aren't connected to any of their collections.
Cocktail rings
Flashy rings, embellished with diamonds and coloured gemstones, came into fashion in America in the 1920s and it was then that the term "cocktail ring" came into being. Even if it initially used to be an attribute of private dinner parties, it is now, perhaps, the most common form of jewellery worn for any type of social event. When working on the designs for cocktail rings, jewellers give free rein to their flights of fancy and capture the most unbelievable creative ideas using precious materials. They use a wide spectrum of precious stones and diamonds, the cut of which partially goes beyond the boundaries of the ordinary, and create a ring setting made of different precious metals, decorating it with either enamel or some other material.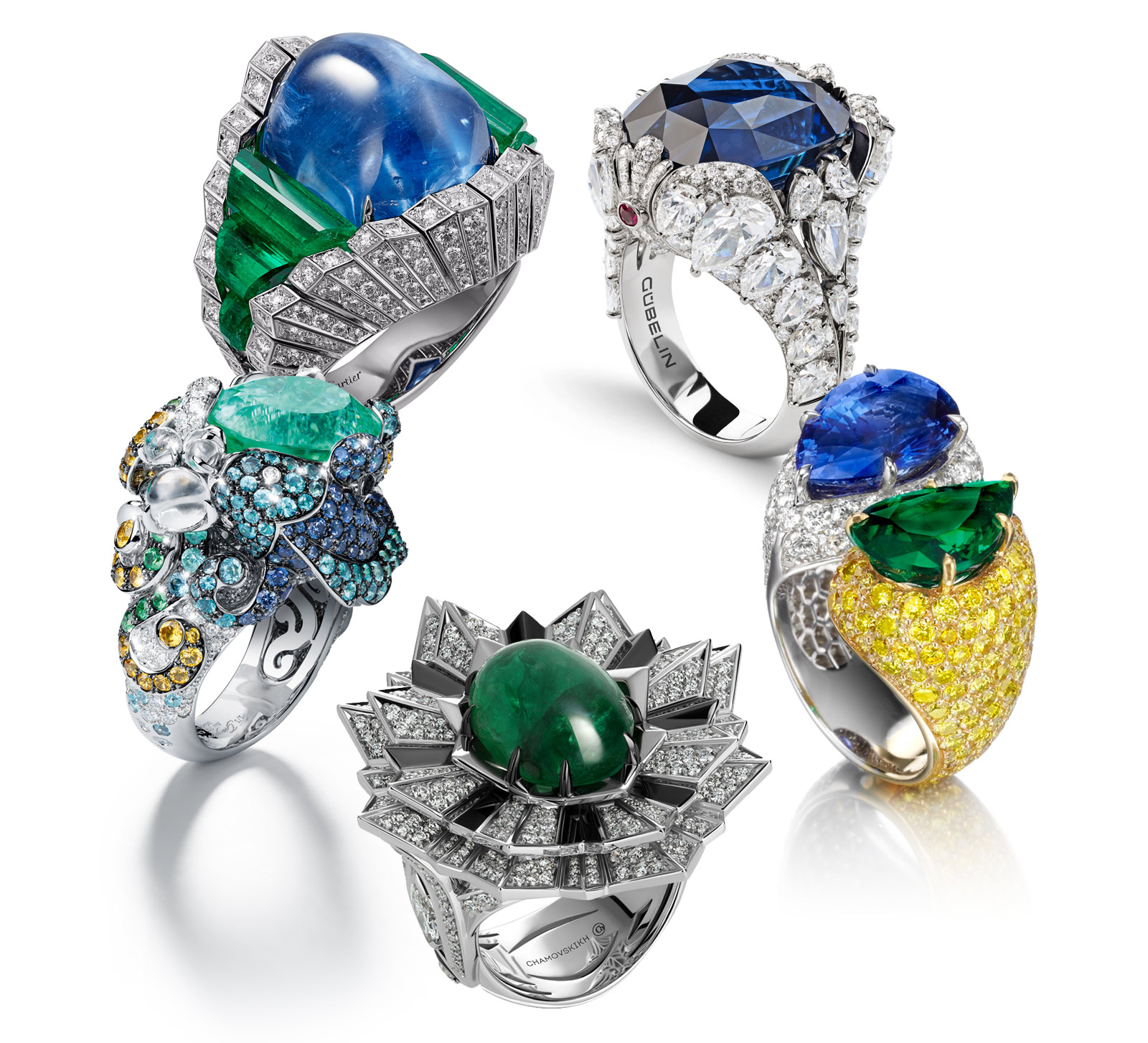 Long earrings
In most cases, cocktail rings are worn to make an impression on those around us and to delight in incredible jewellery inventions. Earrings have another function: they form a bejewelled frame around the face and attract the attention of those in view. Long striking earrings have along been regular guests at celebratory events and various awards ceremonies. For example, this year pendant earrings have dominated the red carpet at the Emmy's and are no less prevalent than elegant necklaces at Cannes.
Brooches
For several consecutive seasons in a row, fashion designers have brought out a variety brooches. For the autumn-winter season 2017-2018, these were worn by models for Emporio Armani, Lanvin, Philosophy by Lorenzo Serafini and others. However, despite the recent trend, not every woman understands how to wear this accessory without it looking passé. If you want to be on trend, why not wear a large diamond brooch on the shoulder strap of your dress like Uma Thurman did using a Cartier brooch at the MET Gala in 2016, or attach it to the belt of your dress, following the example of Eva Longoria, Michelle Williams and Anne Hathaway? The author of the book How to Wear Jewellery - 55 Styles suggests fastening several jewels to your outfit at the same time either all to the right or the left, or spread between two sides. The Greek designer Nikos Koulis recommends wearing the brooch from his latest collection Lingerie not only pinned to your outfit but also as a long earring.
Hair pieces
Diadems, tiaras and bandeaux are, perhaps, the most typical piece of jewellery from the early 20th century. As a necessary accessory for official receptions and extravagant celebrations, tiaras have remained in high demand amongst the upper echelons of society and have served as a symbol of luxury, prosperity and style. Although society balls are a thing of the past, hair pieces have not sunk into oblivion and their symbolism remains unchanged. What's more, modern fashions have led to the appearance of more modest forms of bandeau – jewellery hair bands. These can be found at the bigger jewellery maisons, such as Chaumet or Graff, and at Harry Winston you can buy hairclips made with gold and diamonds.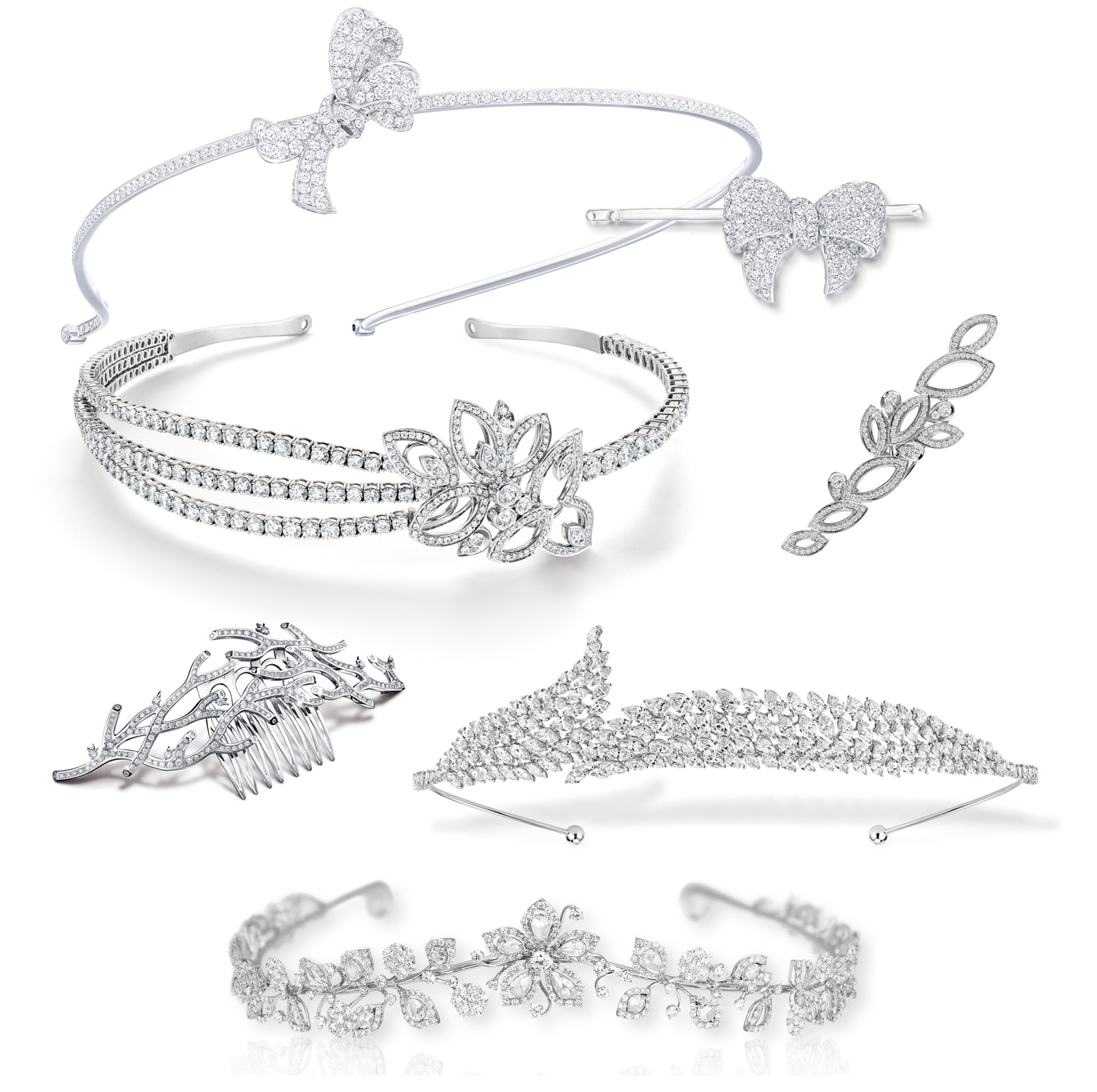 When it comes to adding that special final touch to an outfit, fine jewellery can't be beaten. Why not make the most of the opportunity to shine and sparkle this festive season by adding that final jewelled flourish to your party ensemble?