Here's what was luxurious and unique about the watches showcased at the exhibition:
This year, Jacob & Co. expanded its EPIC X collection with the EPIC X Racing watch. The new colour versions take the sporting nature of these timepieces to a new dimension as they are built around a specially constructed movement – the exclusive Jacob and Co. caliber JA, which was de-signed as an open-worked caliber. The watchmakers and engineers at Jacob&Co added colour to the watch with inserts into the distinctive case, while using new materials in the case. The two case styles are micro-blasted and Satin-finished Grade 5 Titanium (the EPIC X Racing Titanium watches) and Black DLC-coated Grade 5 Titanium (the EPIC X Racing Black timepieces).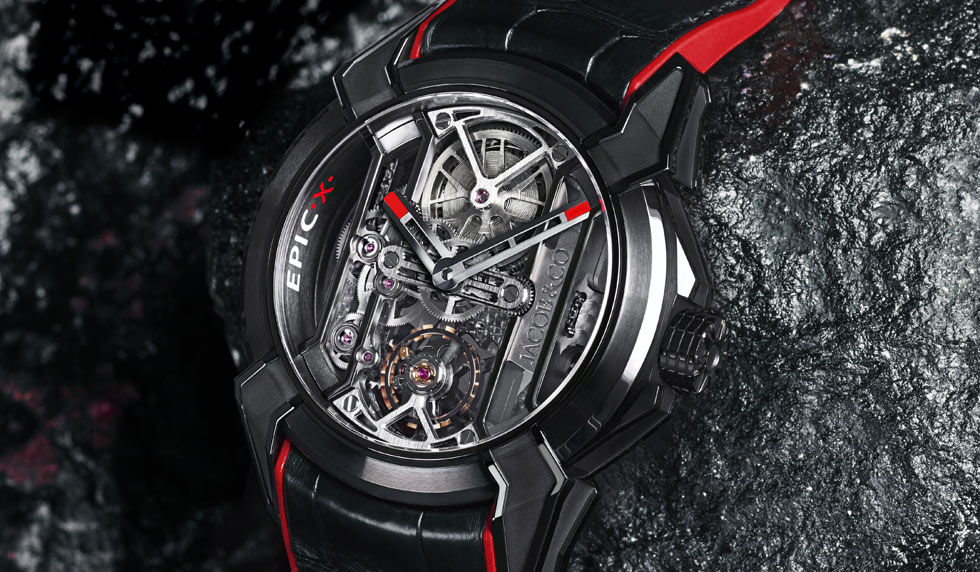 The Brilliant Arlequino is unique. In order to craft this timepiece, the gem setters at the atelier had to adapt their techniques to meet the specific demands of each gemstone: a task that required patience, knowledge and dexterity. The crown is set with 14 baguette multicolour sapphires and a rose-cut diamond on top. More sparkle is added to the Brilliant Arlequino via the invisibly set 132 sapphires and 22 baguette white diamonds.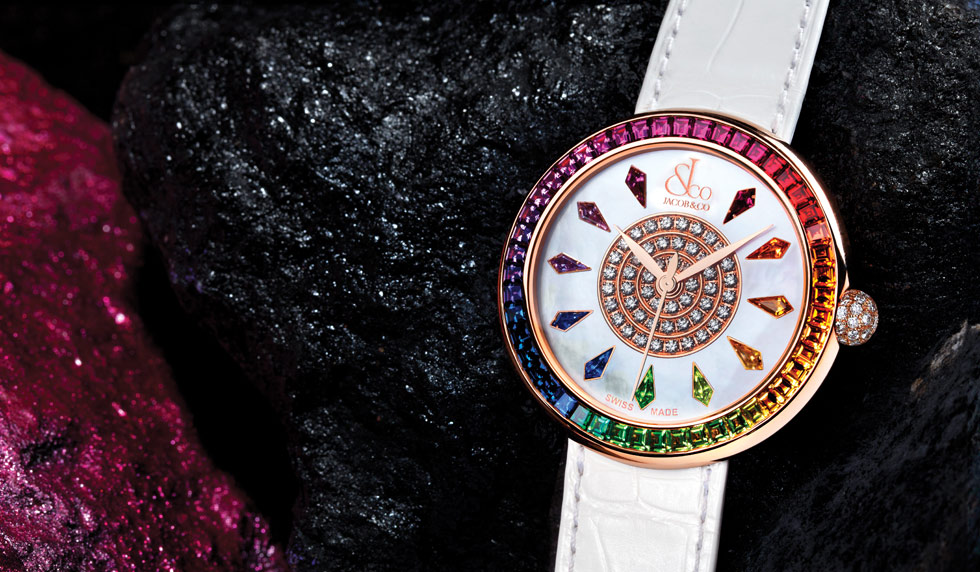 The Palatial Classic Manual Big Date Mineral Crystal timepiece is subtly elegant. The watch's timeless personality and strength of character is brought to the fore through the colourful range of mineral crystal dials: blue, green and red.
The 18k Brilliant Rainbow timepiece is a sparkling feast of colour. A veritable rainbow of sapphires encircles an elegant mother-of-pearl dial on which rainbow sapphire indexes and white diamonds take centre-stage. The self-winding limited edition (101 pieces) Brilliant Rainbow displays feminine sophistication albeit flamboyantly. The white mother-of-pearl is adorned with 11 multi-coloured sapphires, while the dial is paved with 50 brilliant-cut diamonds.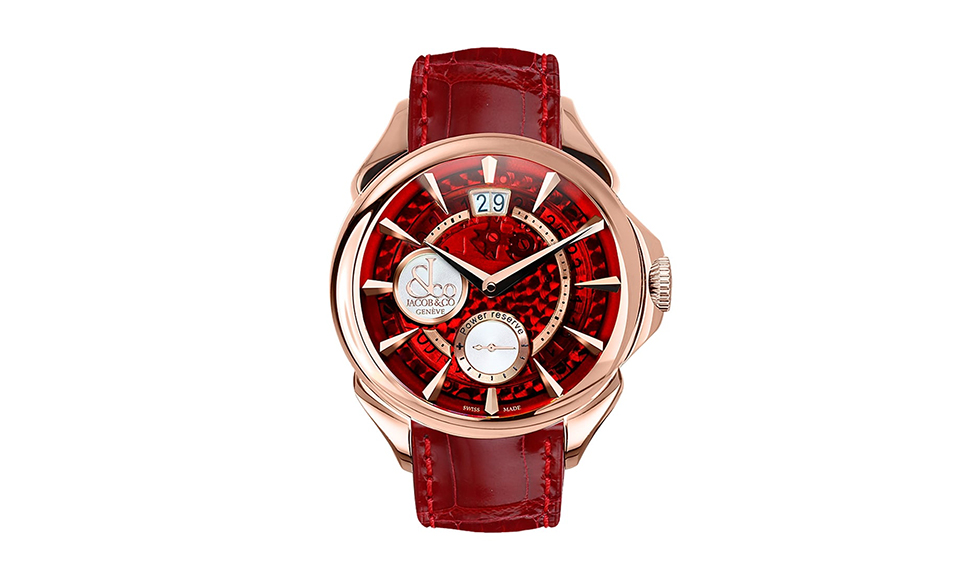 The highlight of the collection is the unique Billionaire timepiece that was first presented at Baselworld Fair. Embellished with no less than 260 carats of emerald-cut diamonds, the radiant watch showcases a degree of meticulous ingenuity synonymous with the tradition of the brand. The Billionaire symbolises the Jacob&Co's passion for breaking boundaries (and love for diamonds of course). At its centre, beneath the gun-blue skeleton hands, the movement's skeletonised mechanical architecture tells a story of unabashed luxury.
A shimmering work of art, the Brilliant Art Deco D-Flawless vividly combines the brand's unique versatility and comprehensive mastery of watchmaking. The open-worked architecture provides a great view of the movement's numerous hand-finished components and sculptural appeal and is a must-buy.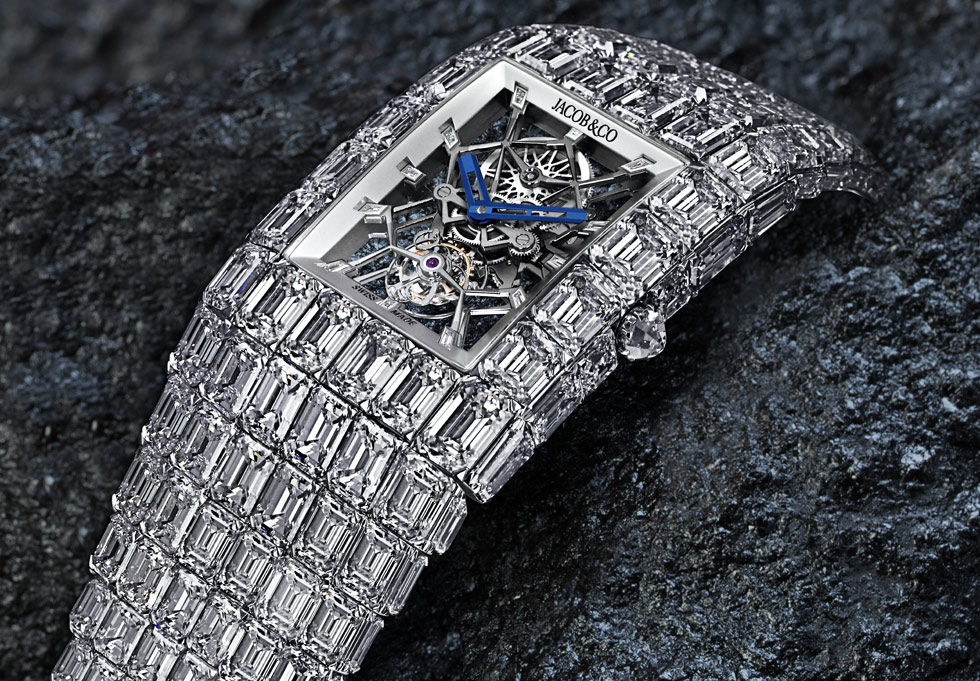 So, now that we have told you all the wonderful things about the new Jacob&Co watches, which one would you choose to wear?
Photos of timepieces are courtesy of Jacob&Co, Baselworld photo is by Saira McLeod for katerinaperez.com