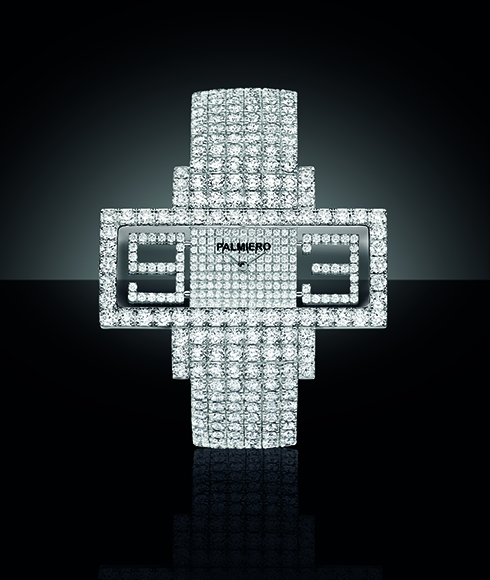 Most pieces created by renowned Italian brand Palmiero Jewellery Design are inspired by the natural beauty of the world around us and a variety of artwork. However, in the new Palmiero Cinema watch collection, Carlo Palmiero has combined natural beauty with the glamour of cinematography and dedicated the line to world-famous movie stars like Ingrid Bergman, Audrey Hepburn and Grace Kelly. Their talent and brilliance is forever preserved not only on screen but also through the amazing bejewelled watches.
These exquisite gem-studded timepieces, inspired by the admirable film stars, were born as a result of the joint work of Palmiero designers and jewellers. Distinguished by their appealing elegance, the collection consists of three models named in honour of Grace, Audrey and Ingrid. Precious dials are made in three different colour variations of gemstones: white diamonds, pink sapphires and blue sapphires with green diamonds preserved under the sapphire crystal. The watch bracelets come in monochrome colours – black silk or stingray, while the Grace watch bracelet is fully encrusted with colourless diamonds.
You must have noticed that the watch dials differ in shape. Grace watch has a dial that is more defined in a wide rectangular shape, the Audrey watch is narrower and rounded on the top and bottom, while the Ingrid variation is rounded on each side. The decision to make these models in varied designs was not accidental; all three models are the result of a careful research on the lives of the stars' and their careers.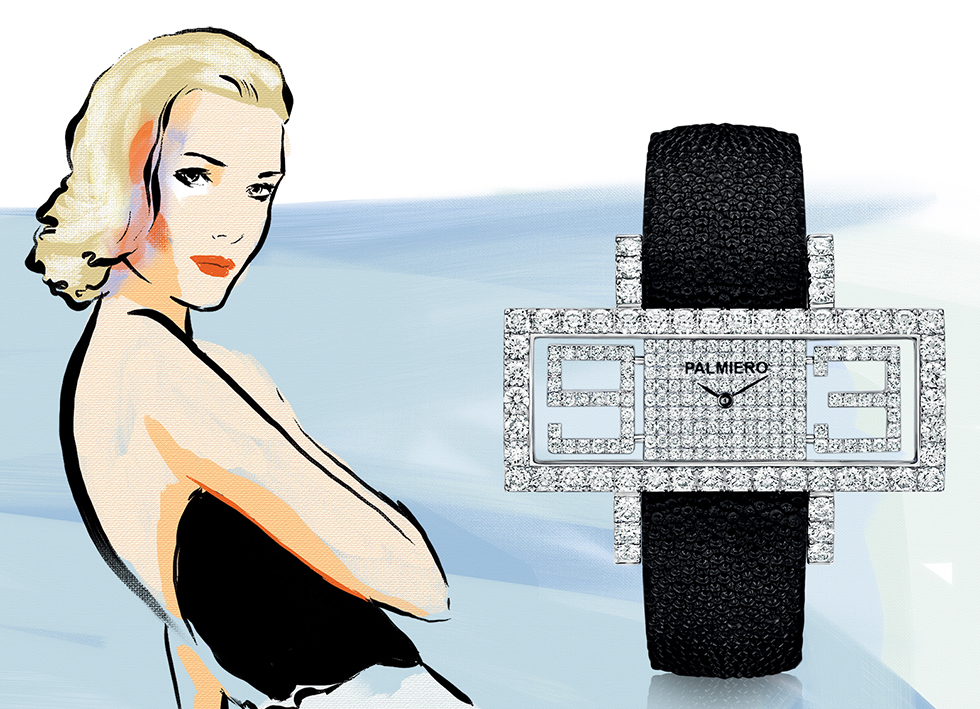 Cinema Collection by Palmiero – "Grace"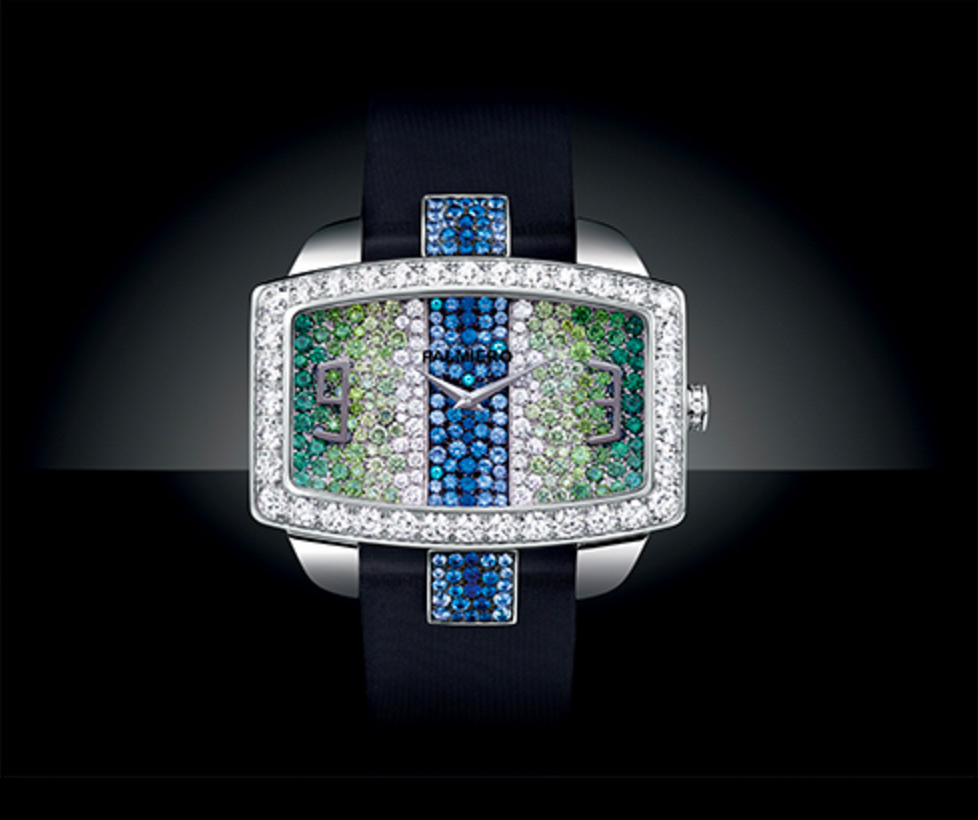 "The idea of this collection started with Audrey Watch, which was inspired by Audrey Hepburn's performance in 'Breakfast at Tiffany's.' The dial has a stroke of blue sapphires to represent the river, which is surrounded by green diamonds as an ode to Audrey's rendition of Moon River in the movie. Ingrid Bergman's gentleness and delicate beauty are symbolised by the pink sapphires on a classic and unpretentiously elegant dial. The Grace Watch is an epitome of Princess Grace Kelly's royalty," says Carlo Palmiero.
Palmiero timepieces not only look great on the wrist as an avant-garde jewel, but are also comfortable to wear without having to wind them regularly. The watches are equipped with the ETA quartz movement to meet the practical needs of even the most demanding clients (ETA is a producer of Swiss movements, which guarantees reliability, durability and quality of the products).
Palmiero Cinema collection is the limited edition debut line with each watch bearing its own number. Are we going to see some new models in the nearest future? "Yes, it is quite probable as we are already working on some of the watches. There are still so many great actresses to pay homage to," says Carlo. KP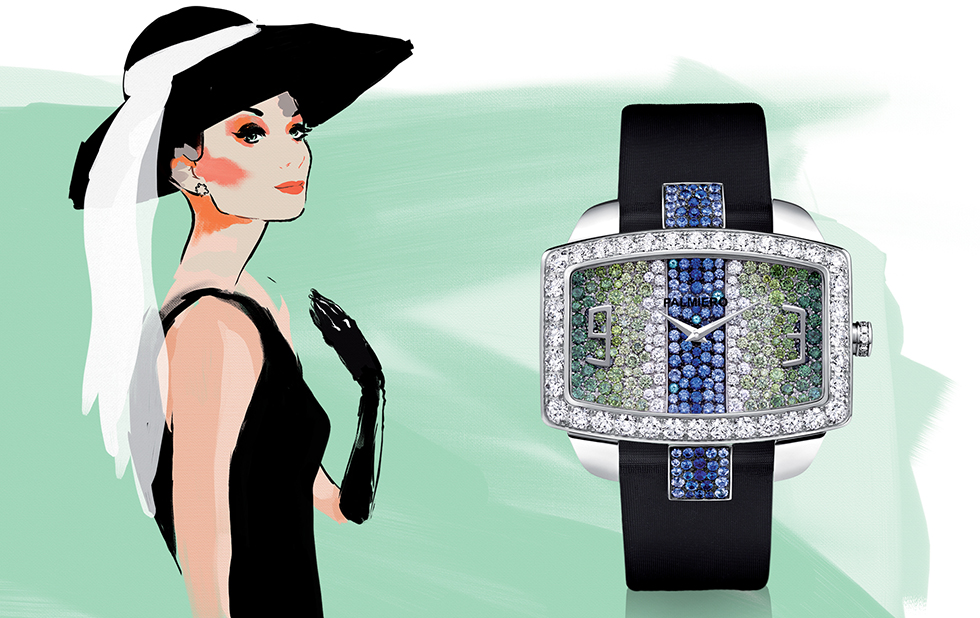 Cinema Collection by Palmiero – "Audrey"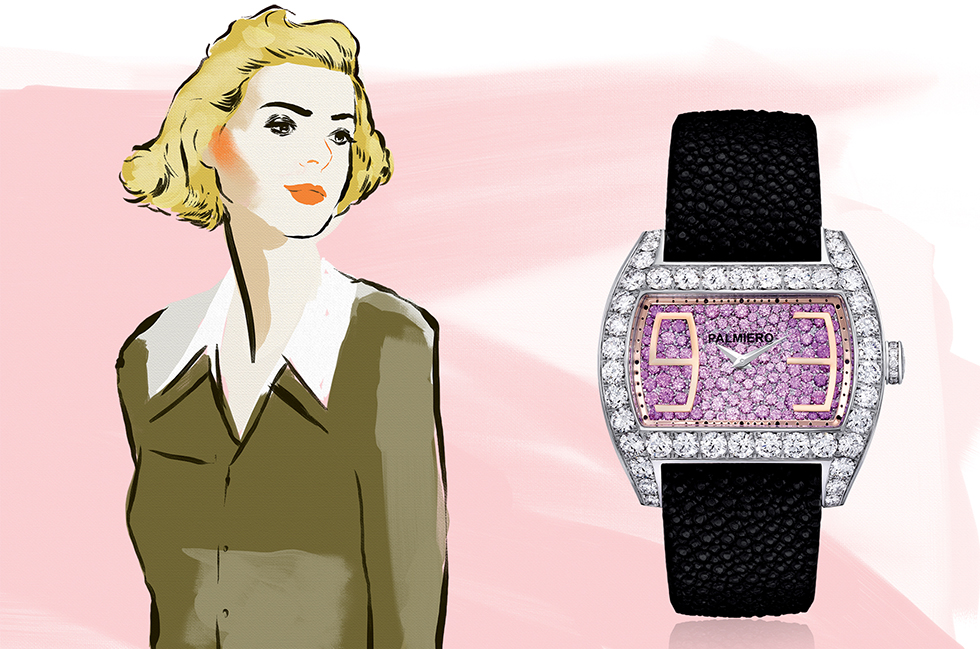 Cinema Collection by Palmiero – "Ingrid"