Harry Winston Majestic Escapes Necklace
This new creation from the Harry Winston Majestic Escapes High Jewellery collection took two years to bring to life from conception to completion. It radiates with the deep berry-red hue of rubellite tourmaline, which is so distinctively different from ruby that it has forged its own personality in my mind. This piece – the Bougainvillea necklace - is inspired by the floral blooms that enliven Italy's Amalfi Coast. It's set with 48 octagonal step-cut and round rubellites of 144.14 carats, with the largest of the stones being 19.27 carats. These richly red gems are accentuated with contrasting Paraiba tourmaline, turquoise and diamonds, which are said to evoke the sea lapping against the sand. The matching earrings are the perfect finishing touch.
Anna Hu Enchanted Lily Bangle
When designing her latest Enchanted Lily High Jewellery collection, Anna Hu was inspired by the 'Auratum Lilies' watercolour painting by George Walter Dawson. Here, she captures a lily in full bloom with yellow gold, silver and enamel-covered brass. These petals unfurl from a 30.48 carat rubellite centre stone, decorated with pistils of rock crystal and enamel. Earlier this year, at TEFAF Maastricht, the designer presented the Enchanted Lily brooch crafted in titanium and yellow gold and set with a rubellite of 365.90 carats, diamonds, rubies, spinels and lacquer. I was lucky enough to see it in real life!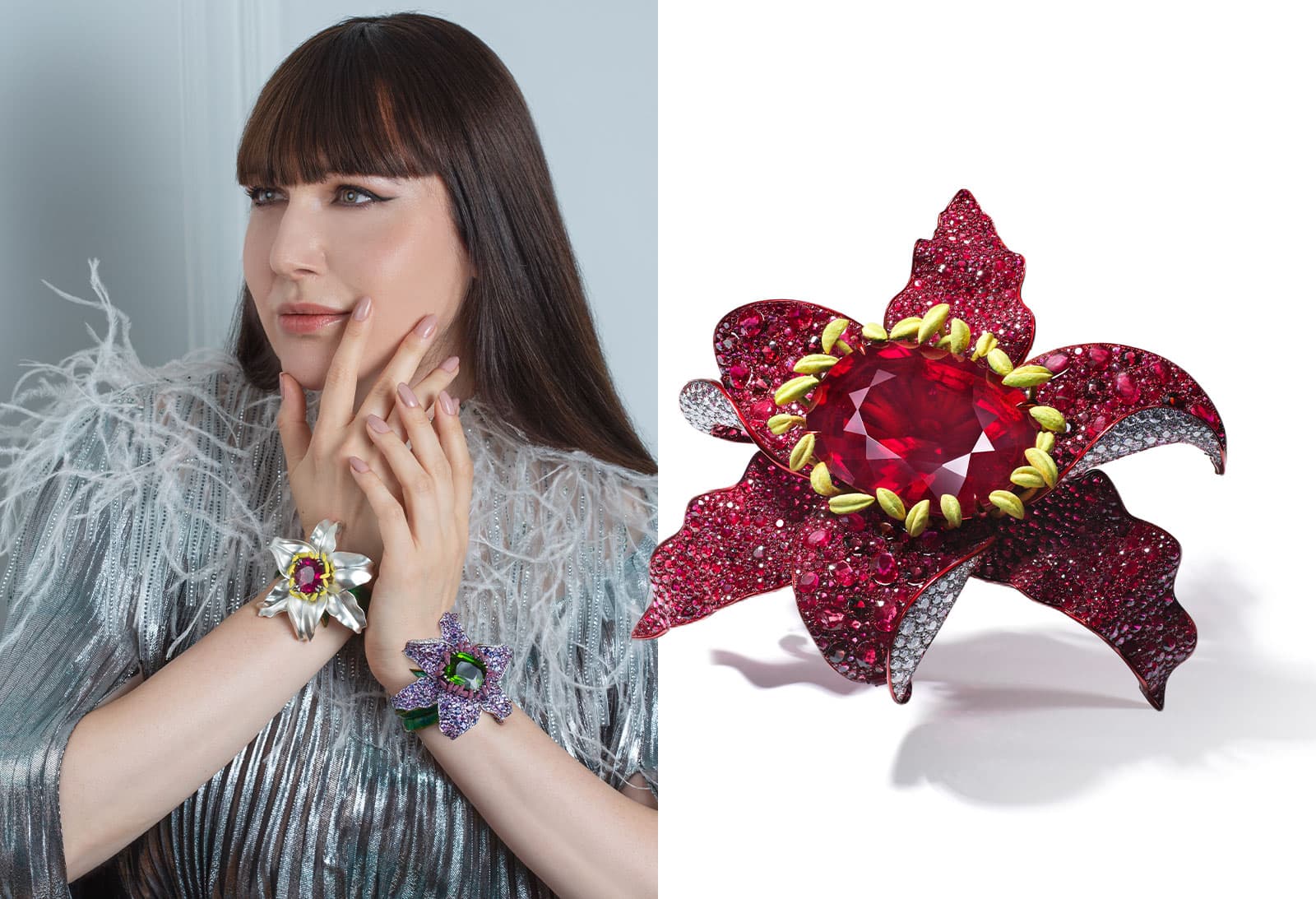 Chaumet Galets d'Or Ring and Bracelet
Shimmering in the new Ondes Et Merveilles de Chaumet High Jewellery collection is the Galets d'Or ring and bracelet, which translates to 'Golden Pebbles' in English. The duo are said to represent waves as they lap against a pebbled seashore under the sun. Both white and rose gold are textured with tiny grooves and sprinkled with 'droplets' of diamonds. However, the true stars of the show are the impressive peachy-pink morganites, which are complemented with pavé Padparadscha sapphires. The oval-shaped stone in the ring is 22.39 carats, while the three cushion-cut morganites in the bracelet are 3.40, 3.43 and 18.39 carats in size.
Lydia Courteille Indian Song Ring
Lydia Courteille is the queen of taking a geographical source of inspiration and transforming its cultural energy into high jewellery. Her new Indian Song High Jewellery collection traverses the country in search of quirky reference points, such as the Khajuraho Temple in Madhya Pradesh. This UNESCO World Heritage Site was built in the 10th and 11th centuries and is famous for its erotic stone carvings. Lydia Courteille has translated these figures into a ring made from carved sandalwood and set with a 25 carat rubellite. The contrast between the brown hues of the sandalwood setting and the passionate red of the stone is a great way to tell the temple's story.
Gucci Hortus Deliciarum Necklace
Gucci has tackled high jewellery with its characteristic boldness in recent years. Its flagship Hortus Deliciarum High Jewellery collection is now in its third chapter, and the emphasis is purely on colour. The 2022 collection includes this necklace set with a 67.70 carat oval-shaped morganite with a saturated pink hue, surrounded by oval-shaped red, yellow and blue stones, round brilliant-cut gems and diamonds. The entire collection is split into five sets, and each one tells the story of an imaginary 'Grand Tour' that starts in the mid-19th century and continues into the 1970s. There are many bright red stones in the offering, but the subtler shades in this morganite really stood out.
With so much jewellery on display at Paris Haute Couture Week 2022, it would be impossible to cover every piece that made guests ooh and aah. So instead, we've decided to give you a snapshot of some of the most statement creations using colour as our guide. If you've enjoyed this journey through pink and red, visit part one of this double feature to discover striking green and blue gemstones from this season's collections.