Having studied the catwalks of London, Paris, New York and Milan, it's clear that maximalism is back with a bang. Layers and layers of wide cuffs, thick chokers and necklaces, piles of statement rings and swinging, sparkling earrings mark a moment in the spotlight for fun and self expression in 2019.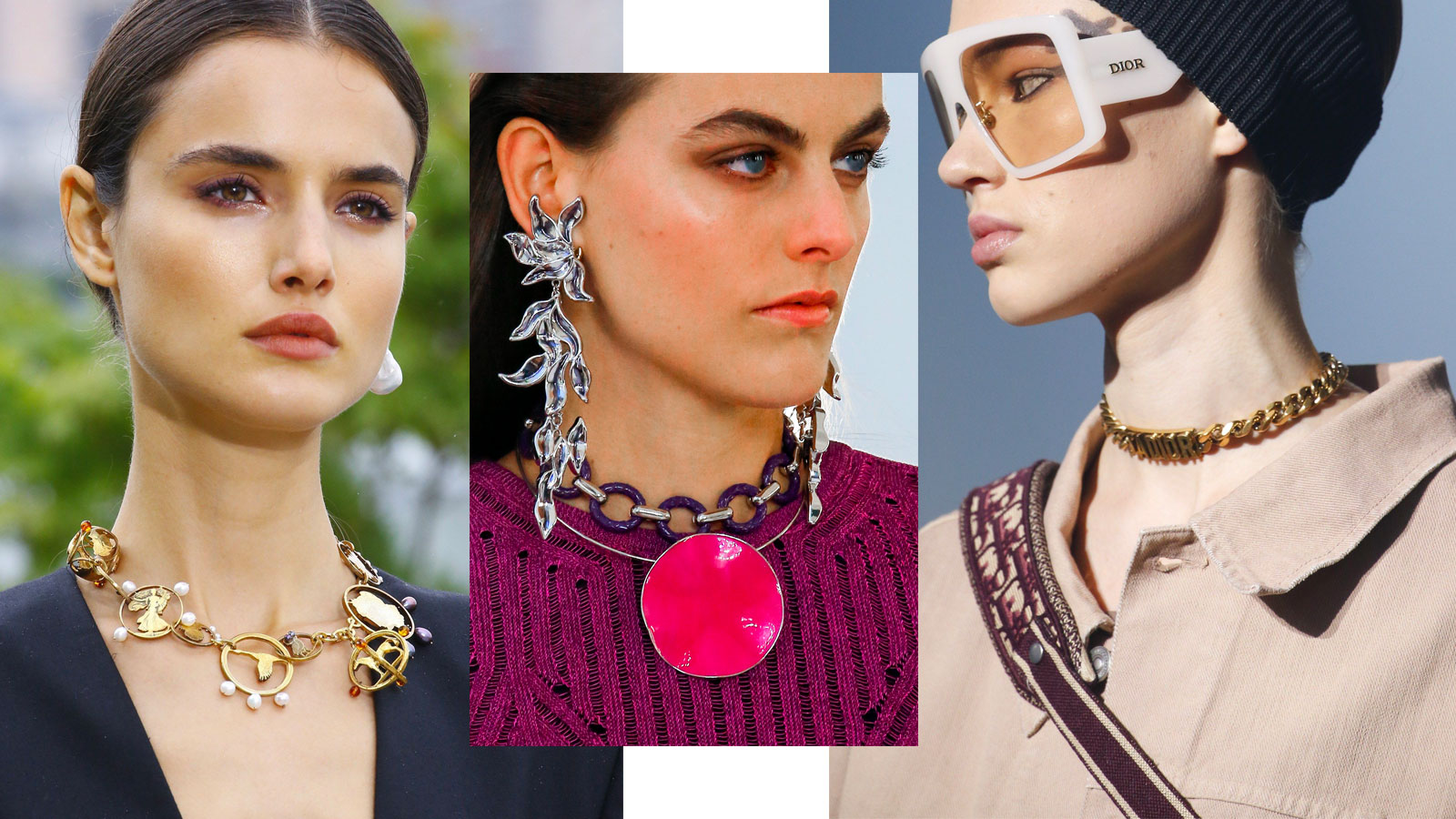 In my Autumn/Winter 2018 trends article, I noted that rigid chokers, large chains and unusually shaped hoop earrings were coming to the fore, and these trends continue to develop and evolve into 2019. Emmanuel Tarpin's organic yet other-wordly hoop earrings, Veschetti's highly embellished, vibrant and chunky chains, and Azza Fahmy's and Maison Tabbah's rigid chokers allow us the opportunity to continue sporting these trends into the new season.
Statement asymmetrical or solo earrings are still a huge trend after first emerging in 2017, and the fine jewellery equivalents are options which still grab attention and create a shorthand to fashionable accessorising for Spring/Summer 2019. Boucheron, YOKO London, Maya Jewelry and De Beers have all produced asymmetrical earring designs: either as single earrings - like YOKO's diamond and pearl ear cuff - or as a mismatched ear cuff and stud pair by Maya. At fashion week, ensembles by Marni, 3.1 Phillip Lim and Monse were finished with one statement earring - an edgier way to consider jewellery styling.
The Spring/Summer 2019 runways saw stacks of thick cuffs piled high up the arm at Chanel, Balenciaga and Giorgio Armani. Cuff bracelets have been steadily growing in popularity for a while - but now is the time to wear as many as possible! Chanel's 'Code Coco' cuff, Dior and Hueb's intricately weaved gold and diamond bracelets and the embellished malleable wristwear from Moksh's 'Empress' collection will all allow you to recreate this trend for yourself.
The 1980s are back in fashion in all facets of popular culture: clothing, graphic design, art, music, and even fine jewellery. This manifested itself on the catwalks for Spring/Summer 2019 in long, sparkling earrings that move freely with the wearer - harking back to the golden age of hyper-glamorous dressing for evening wear. Tiffany&Co., Bucherer and Yeprem have all created designs which fit this pendulous, straight and graphic silhouette, and of which are covered with diamonds - high jewellery versions of the crystal earrings which accented outfits at Balenciaga, Saint Laurent and Isabel Marant.
At Oscar de la Renta, Dries Van Noten and Marc Jacobs, models were seen wearing multiple cocktail rings with large gemstones on both hands; further signalling an overarching trend for maximalism in accessorising and jewellery styling. These rings were often individually large and voluminous, and there was no concern for matching colours, gemstones or materials - such as the pieces from Harry Winston's 'Candy' collection, Aisha Baker's 'Mystère' ring with citrine and blue enamel, Pomellato's 'Rittrato' rings and VMAR's faceted precious metal design rings.
Take the opportunity to mismatch your jewellery and wear everything that you love at once this season. For Spring/Summer 2019, it seems that the biggest trend is to be bold with our jewellery choices!