Guided by the talented mind of Bulgari's Product Creation Executive Director, Fabrizio Buonamassa Stigliani, these five new high jewellery timepieces reflect the Maison's aesthetic with vibrant, colourful and joyful characteristics. Together with its in-house Swiss watchmakers, Bulgari has created timepieces that are worthy of a second, third and fourth look.
Presented as a set with a matching necklace, the Emerald Venus timepiece celebrates Buglari's long-time love of emeralds. Featuring over 74 carats of the vivid green gem, the design highlights the glowing hue of each emerald by interlaying them with accents of baguette, pavé and round brilliant colourless diamonds. Set in a frame of solid yet flexible platinum, these fragile gems are displayed in such a way as to evoke the Mediterranean fern, Capelvenere. Found on the Italian coastline, this plant's name translates to "Venus' Hair", a tribute to the Greek goddess of beauty who is often represented in classical works of art.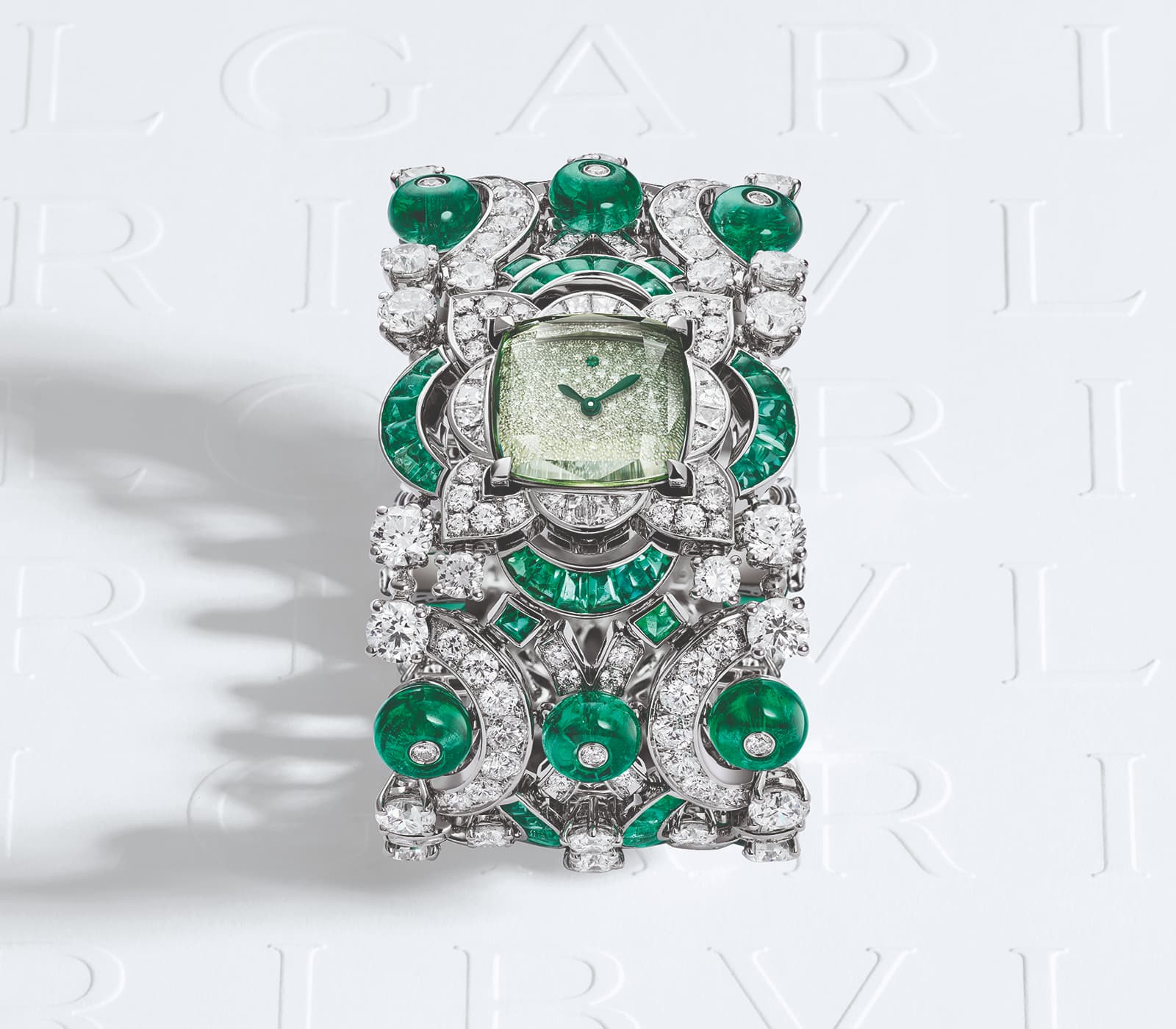 Like any work of true craftsmanship, this high jewellery watch required a significant amount of time to complete. To be exact, 900 hours and five different artisans were needed to produce this piece, proving once again that creating beauty takes almost limitless patience! An added feature of interest is the see-through dial case, created from faceted mint-green tourmalines. The thin cut of this gemstone allows for a light colourful accent which is in keeping with the main green colour scheme of the piece and allows the wearer to read the time through its surface.
Also presented with a matching necklace, the colourful Blooming Beauty high jewellery watch is an ode to flowers in bloom. Featuring over nine carats of mint-green tourmalines, Colombian cabochon-cut emeralds, Paraiba tourmalines and pink and purple spinels, these coloured stones are set sporadically throughout a brilliant-cut diamond background to recreate the image of an open flower, the epitome of feminine beauty. The snow-set diamond dial provides an added dose of sparkle to the piece. Encased in the mint-green tourmaline cover, the shine of the diamonds is softened to a spring green glow.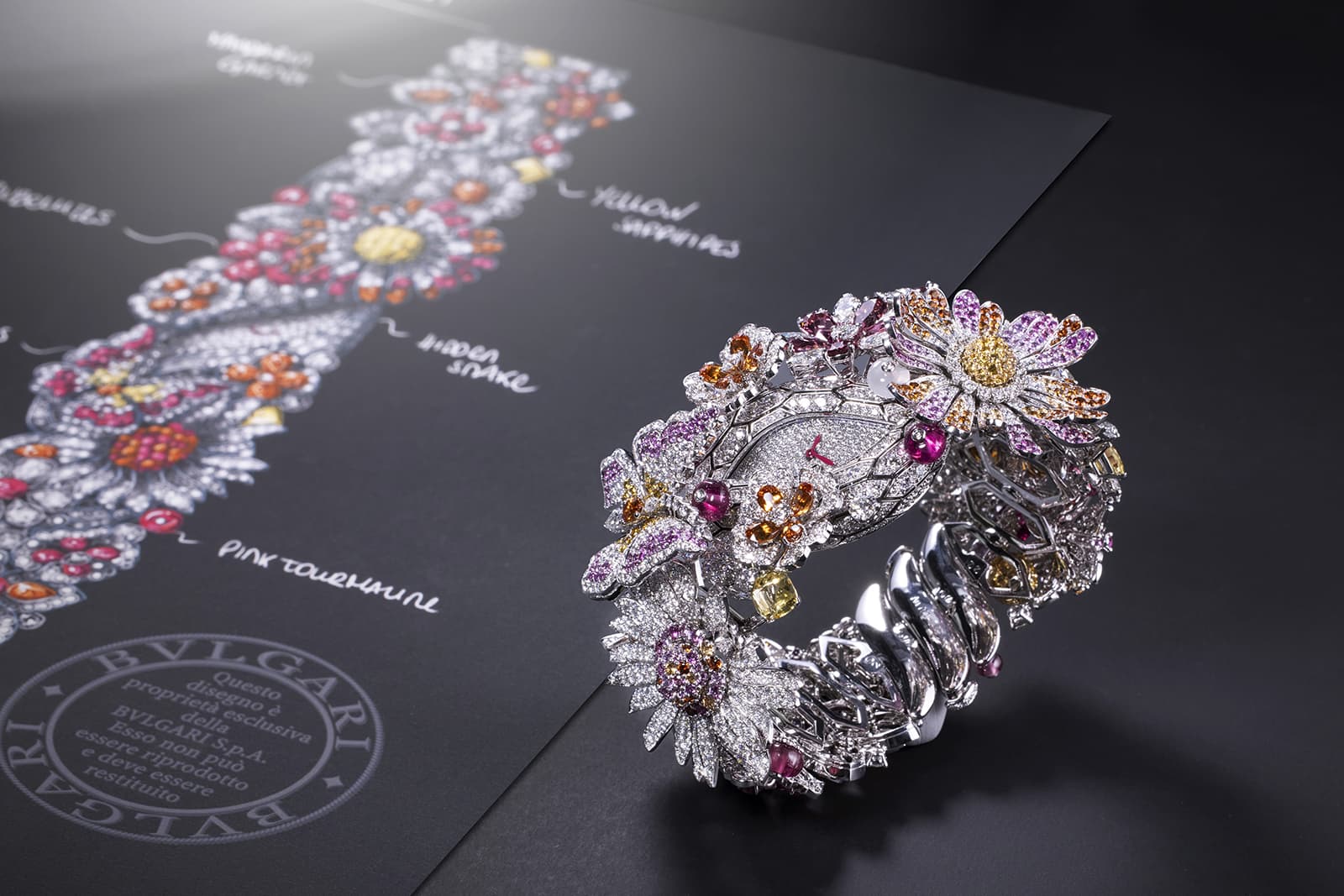 The design of the Giardino Dell'Eden Picolissimo timepiece is a nod to one of Bulgari's most festive design periods - the 1960s. Bold in aesthetic and blooming with colour, this timepiece features an array of infamous Bulgari animal icons. A floating butterfly is set on a trembler to create movement, while a diamond snake slithers through a flowered garden of sparkling pink tourmalines, rubies, mandarin garnets, and pink and yellow sapphires with rock crystal. With over 1,500 gemstones, this watch required over 2,000 hours of labour in the Bulgari ateliers. This bejewelled watch also contains the brand's innovative Piccolissimo mechanical micro movement feature. With a diameter of just 12mm and a thickness of 2.5mm, this movement is the smallest mechanical calibre on today's horological market, weighing just 1.2 grams.
Now comes the most precious timepiece to emerge from Bulgari's Garden of Wonders. Requiring over 4,400 hours of workmanship and featuring 6,500 gemstones with a collective total of 223 carats, the Giardino Dell'Eden Tourbillon high jewellery watch is perhaps the most visually captivating piece of the entire collection. Inspired by the flamboyant colours of a Mediterranean garden, this piece is a high jewellery interpretation of its namesake - the Garden of Eden. Master Bulgari craftsmen used every gemstone colour under the sun, from cabochon Paraiba, emeralds and garnets to pink tourmalines, opals, rubies, diamonds and multicolour sapphires to create a miniaturised floral world. With so much colour, you can almost miss the Bulgari serpent hidden beneath the shelter of two jewelled flowers. And to make this watch even more impressive, this entire section detaches, becoming a stand-alone piece of jewellery. Easily removed, these flowers can be worn as a brooch. It is also important to note that this timepiece represents the first time a high precision tourbillon mechanic movement has been included in a high jewellery timepiece.
Last but most certainly not least come this year's reinterpretation of the iconic Bulgari secret snake watch - The Serpenti Misteriosi Riviera. Reimagined with over 95 carats of cabochon rubellites, pink gold and brilliant-cut diamonds, this vibrant pink and red cuff watch evokes the forbidden fruits and charms of paradise, as well as the colours of a burning sunset over the Mediterranean Sea. Each gemstone appears to be floating in mid-air, thanks to the Fil Couteau technique, which enables the gemstones to be bound together through incredibly thin yet strong strands of gold. With a single click, the diamond head of the snake opens to reveal the hidden diamond pavé dial, held in the jaw of this glamorous Bulgari mascot.
Once again, Bulgari has combined coloured gemstones, masterful artistry and precise craftsmanship to bring a theme to life, all while maintaining its signature Italian style.