Finding a flawless diamond of any carat weight is a feat in itself. However, these brands managed to unearth some truly tremendous finds for their latest high jewels. Here are the show-stopping diamonds from Paris Haute Couture Week that added lots more sparkle to the miserable month of January. If you'd like to read more about this season's high jewels, find part one of our Statement Gems series here.
Chopard Exceptional Stones High Jewellery Collection
Chopard presented a series of loose-coloured gemstones that will soon be engineered into new high jewellery pieces. Along with these astonishing gems, the brand also unveiled a bedazzling yellow diamond suite, including a ring with a 30.63-carat oval-cut fancy intense yellow diamond. The diamond's sunlight hue was accentuated by two 2-carat oval–cut colourless diamonds on either side against a band entirely set with brilliant-cut diamonds. Of course, we are already familiar with the matching necklace: an exceptional 100-carat fancy vivid yellow cushion-cut diamond set amongst a stream of pear-shaped diamonds. This piece was first displayed on the red carpet at the Cannes Film Festival in 2022 and worn by iconic actress Julia Roberts. A one-of-a-kind diamond for a one-of-a-kind woman!
David Morris Skylines High Jewellery Collection
British jeweller David Morris is no stranger to large diamond jewels. The brand has been creating diamond-centric pieces since its founding in the 1960s. In the Skyline High Jewellery collection, the brand presents some big, bold and beautiful colourless and coloured diamonds. The Antares necklace features brilliant-cut stones and a 15.94-carat pear-shaped diamond, surrounded by almost two carats of soft pink diamonds. The matching earrings are a modern interpretation of diamond studs featuring marquise-cut gems weighing six carats each.
However, the most impressive diamond in the collection is the pear-shaped blue diamond at the centre of the Aurora Maelstron ring. Surrounded by coils of pink and white diamonds, this rare stone is 4.28 carats of hypnotic blue. The odds of finding a blue diamond in a mine are as rare as one in ten thousand. This particular natural treasure comes from the Cullinan mine in South Africa, one of the world's most famous locations for coloured diamonds, especially pinks.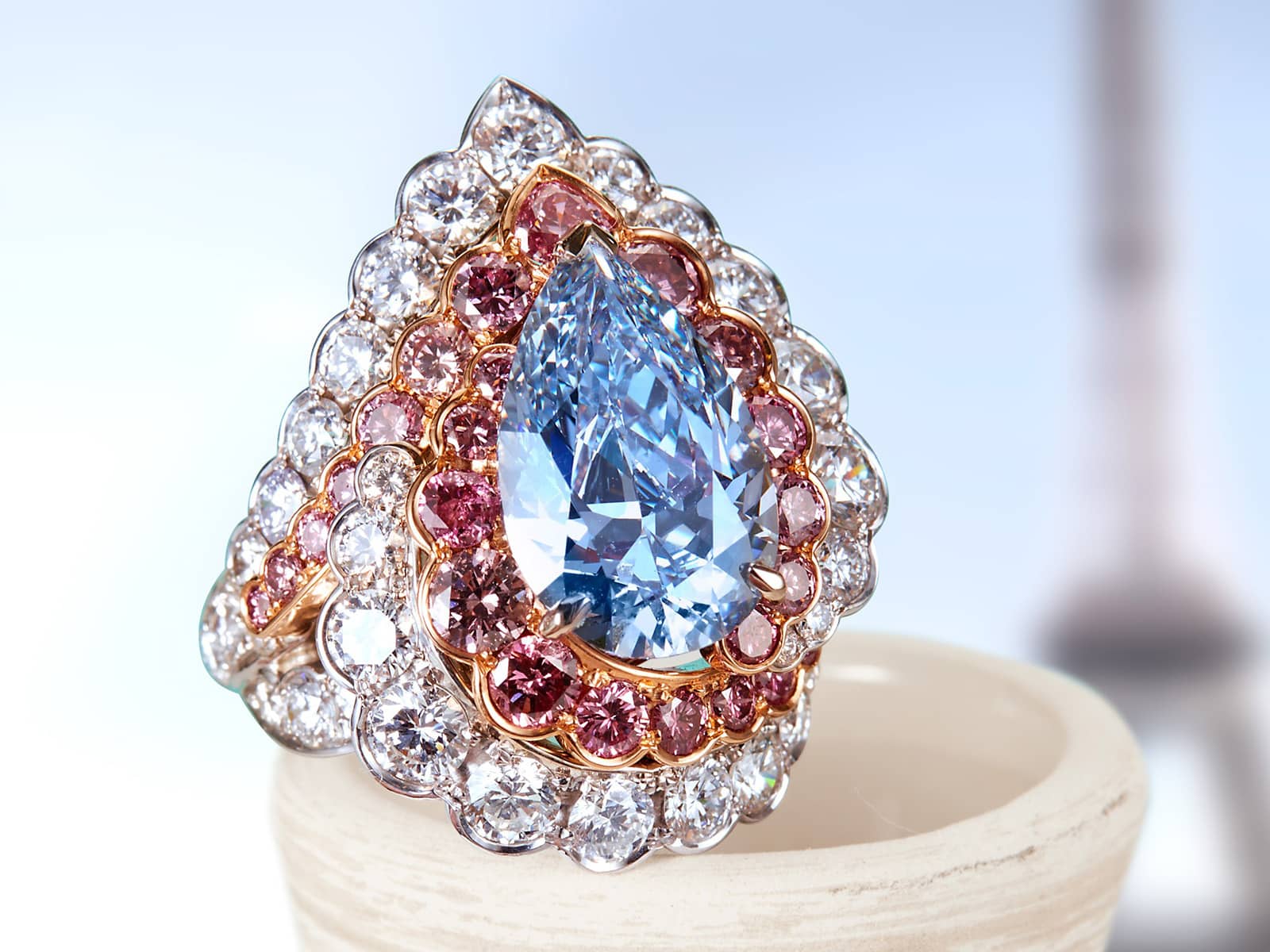 De Beers Metamorphosis High Jewellery Collection Chapter I – Prelude
What diamond jewellery list is complete without De Beers? This year, CEO Céline Assimon brought a selection of transformable pieces to Couture Week that are so versatile they're like owning a mini jewellery wardrobe. The Prelude necklace is a sumptuous, stylish and versatile piece that offers three looks in one clean design. A rare 10.05-carat fancy light yellow pear-shaped diamond sits ablaze at the centre of the design, surrounded by brown and colourless diamonds set into a mix of rose and white gold. This elegant shape draws one's eye directly to the glowing diamond at its core.
Graff Tribal High Jewellery Collection
Last but most certainly not least comes the continuation of the
Graff
Tribal High Jewellery collection. The brand, known for its masterful manipulation of cardinal gems into extravagant settings, brought an exceptional necklace to its Rue St. Honoré
showroom
. The piece is set with a 50-carat D flawless oval diamond from the famous
Lesotho
mine. This is the same mine that produced other famous stones acquired by the jeweller, including the Lesedi La Rona and the Lesotho Promise diamond. The gem is set amongst 100 carats of pear-shaped, emerald-cut, oval, round and baguette-cut diamonds, giving volume and texture to the piece.
Coloured diamonds were also strongly present throughout the Graff offering. For example, a pair of diamond drop earrings featuring two yellow diamonds of 21 carats each are inspired by the ancient African folk tale of 'the girl who created the stars', which poetically describes the creation of the Milky Way. Set with over seven carats of white diamonds, these earrings are fluid and agile despite the hefty carat weight.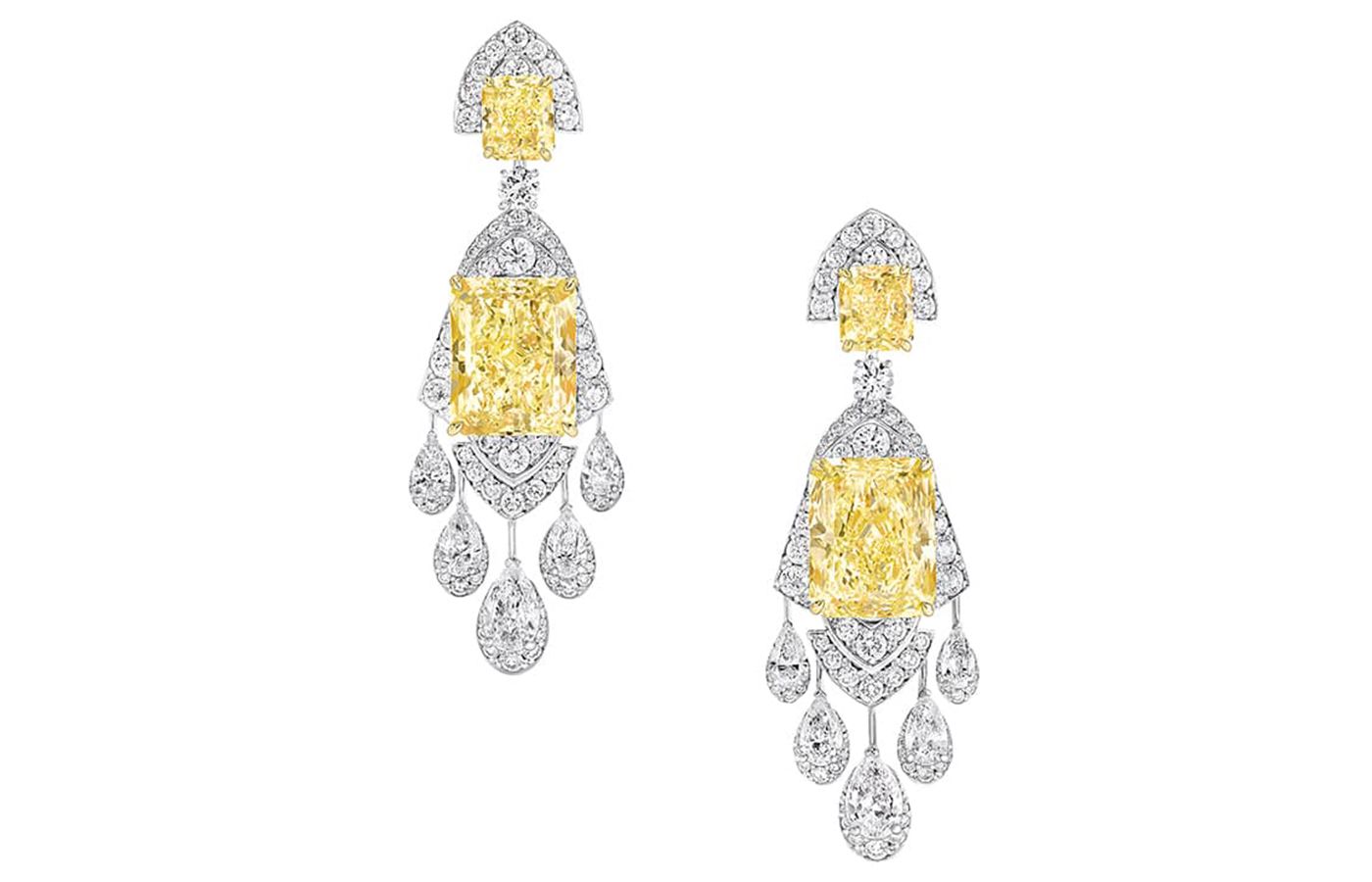 This Paris Haute Couture Week showcased large diamonds and gems in diverse and unique ways, creating settings that bring life, dimension and new perspectives to high jewellery. So let's raise a glass to the ingenuity and craftsmanship of these brands, their designers and their artisans who bring pieces to life!