There is a great tradition of jewellery coffee table books that combine photography, storytelling, history and aesthetics to make jewellery lovers, like myself, wish for more tables, more shelves and more space to store them all. Here is a selection of recently released books that will soon demand precious inches of space in your home or office.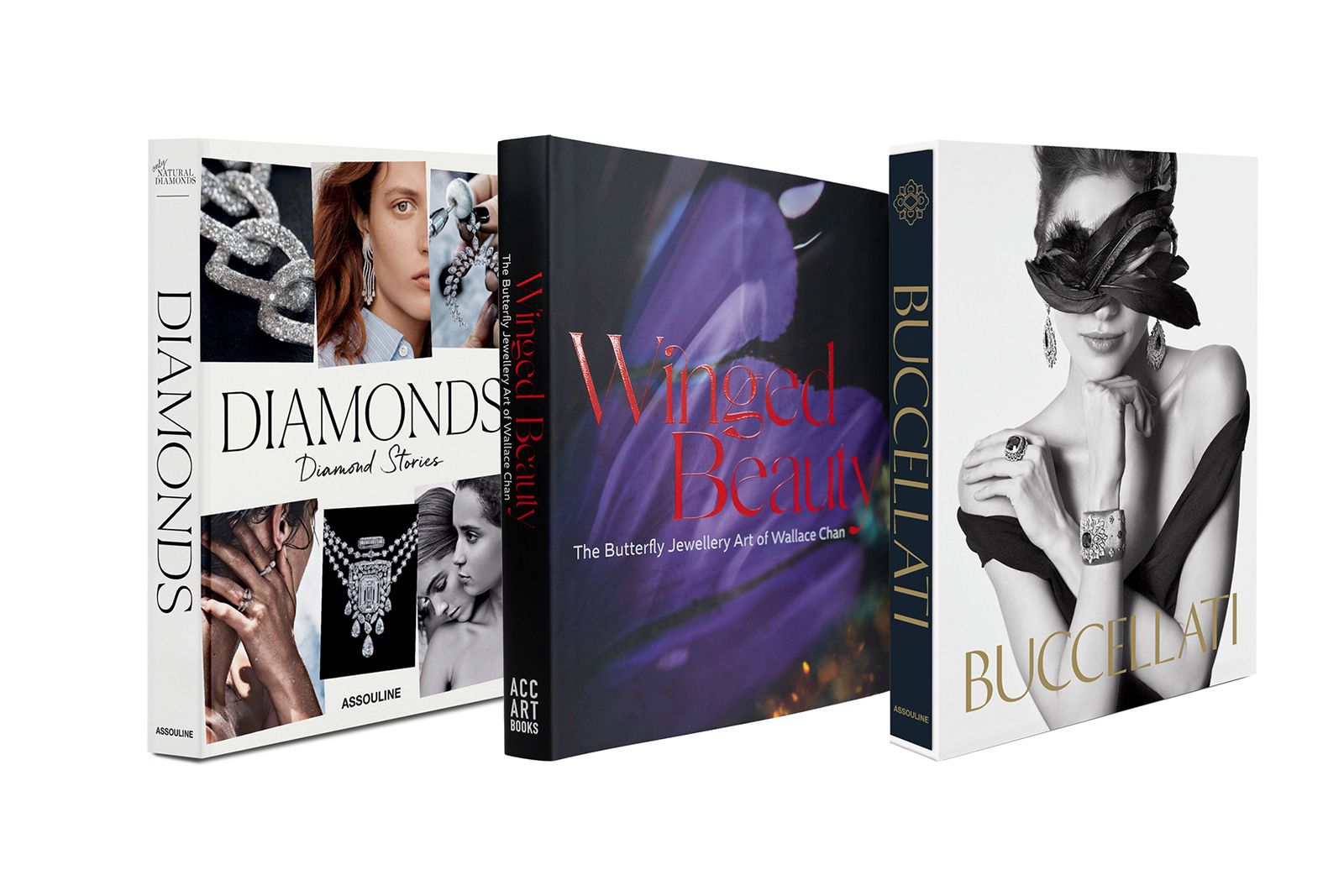 Antonio Seijo
Spanish jeweller Antonio Seijo is both an artist and a storyteller, which is why the medium of books feels like such a natural partnership for his jewellery. His self-titled work contains a selection of 17 jewellery pieces, each one with a tale that spans mythology, philosophy and history. Imagine for a moment stepping inside the mind of a high jeweller and following the threads of inspiration that transform raw materials into finished pieces… this is what you will find here.
Winged Beauty – The Butterfly Jewellery Art of Wallace Chan
The creations of Wallace Chan never cease to amaze and now they are immortalised in book form, including over 100 images and previously unseen artworks. Inside, there are 50 pieces of butterfly jewellery that are enhanced with the designer's own musings on the winged creature, which is a symbol of love and immortality in Chinese culture.
Diamonds: Diamond Stories by the Natural Diamond Council
For the true diamond aficionado, this book created by the Natural Diamond Council consists of 260 pages and over 200 illustrations, photographs and stories that span legendary stones, everyday jewels and contemporary diamond style. You may also find your favourite designer nestled within the pages, including the likes of Jessica McCormack, Vanleles, Nikos Koulis, Anita Ko and Fernando Jorge.
Sapphire by Joanna Hardy
Following on from her previously published books Emerald and Ruby, Sapphire is the third in Joanna Hardy's trilogy that dives into the history, lore and significance of this king of gemstones. Titled "A Celebration of Colour," Sapphire displays jewels worn by notable figures like Elizabeth Taylor, Queen Elizabeth II and the Duchess of Windsor, as well as pieces by heritage and contemporary jewellery maisons and designer names.
Black Opal, Only from Australia by Imagem
Tackling the mysteries and misconceptions of black opal is the raison d'être behind this book by French opal specialist, Imagem. Within its pages are countless photographs of some of the most remarkable black opal specimens, including bold flashes of colour and unique patterns that elevate the material into the 'priceless' category. You will also discover black opal jewellery creations by some of the world's most inventive jewellers.
Buccellati: A Century of Timeless Beauty
Although we are focusing on festive gifting here, I would be remiss not to mention this new book about Buccellati that is due to be released in January 2022. For a New Year present, this book traces the Milanese brand's history since 1919 and perfectly demonstrates its recognisable signature style, including techniques of engraving and chiselling that have set it apart for decades. Nestled amongst the pictures are meticulously researched chapters, making this a must-have for anyone with Buccellati at the top of their wish list.
The A to Z of Victoire de Castellane
Created to celebrate 20 years of Dior Joaillerie, this book showcases the breathtaking creations of Dior Joaillerie's Artistic Director Victoire de Castellane. One can call it through an illustrated dictionary as it features around 60 words decrypted by Olivier Gabet, director of the Musée des Arts Décoratifs in Paris. The text is accompanied by Victoire's own Illustrations as well as 300 photographs showcasing Dior's iconic jewellery collections to further enrich the stories.
These coffee table books expand the universe of jewellery for anyone whose interest in diamonds, gemstones, artistry and innovation is more than just a passing fancy. I hope you find yourself perusing the pages of one of these tomes come January 2022.