FORMS' signature style is a highly evolved concoction of custom-cut diamonds and gemstones which appear to float mid-air. This visual effect is achieved by using minimal amounts of setting, and gemstones that are often custom cut to create their own tension setting. The intention behind this complex work is to highlight the beauty and original forms of diamonds, emeralds, rubies, sapphires and spinels used to embellish elegant hand-crafted designs.
Eager to know more about the creative process which drives the brand, I met with FORMS CEO Gilly Strauss. He joined the company in 2018, bringing with him over 18 years of experience with luxury brands.
Katerina Perez: What was the driving force in the style evolution of FORMS in recent years?
Gilly Strauss: A key element of the FORMS ethos is to constantly push ourselves to try new things, to simplify and evolve old concepts, and to allow room for sophisticated creativity. Pushing design boundaries, combining with new technical innovations results in FORMS consistently developing new ways to express the art of jewellery design.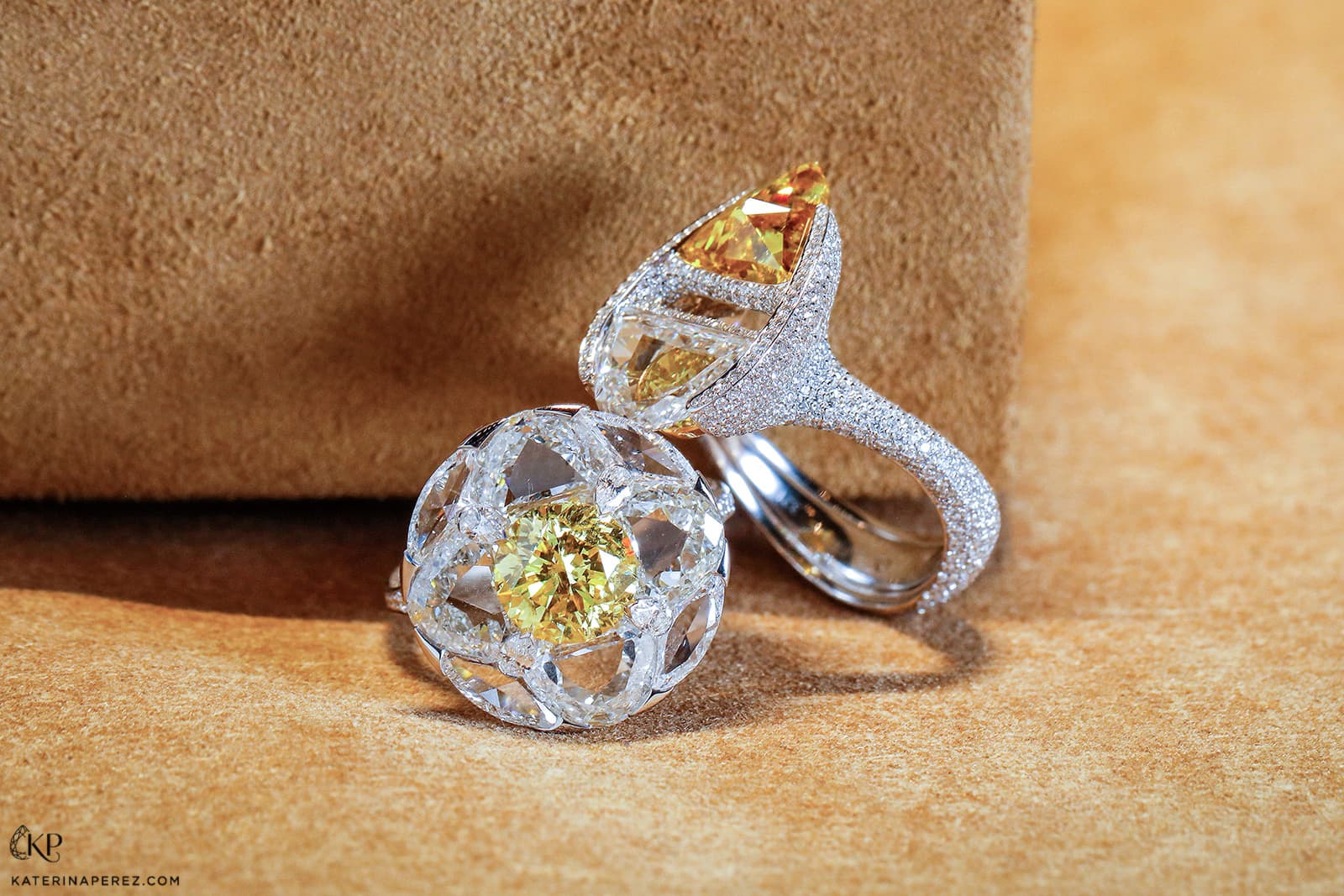 KP: The bold geometry, unexpected arrangements of gemstones and unusual cuts contribute to the unique nature of FORMS' designs. How would you describe the FORMS aesthetic?
GS: The FORMS aesthetic, our DNA so to speak, is a reflection of our creative process. In FORMS we make one-of-a-kind jewellery pieces that are a manifestation of their own individuality. Our designs highlight every detail, allowing us to tell a story from all angles. We work with rare and unique gemstones, using clean and precise lines designed to look and feel weightless.
KP: A number of the design elements that you employ could be described as post-modern, even futuristic: gemstone and diamond inlay, tension settings and barely visible metal. What is it that inspires these choices?
GS: We are not afraid to try new things and our sense of curiosity is one that inspires us to improve and discover new techniques. For example, FORMS has managed to develop unique ways of setting, and these new processes and skill sets become what inspires our design choices. We work with rare material that hold a legacy of antiquity and focus on designing pieces that will be relevant for generations to come.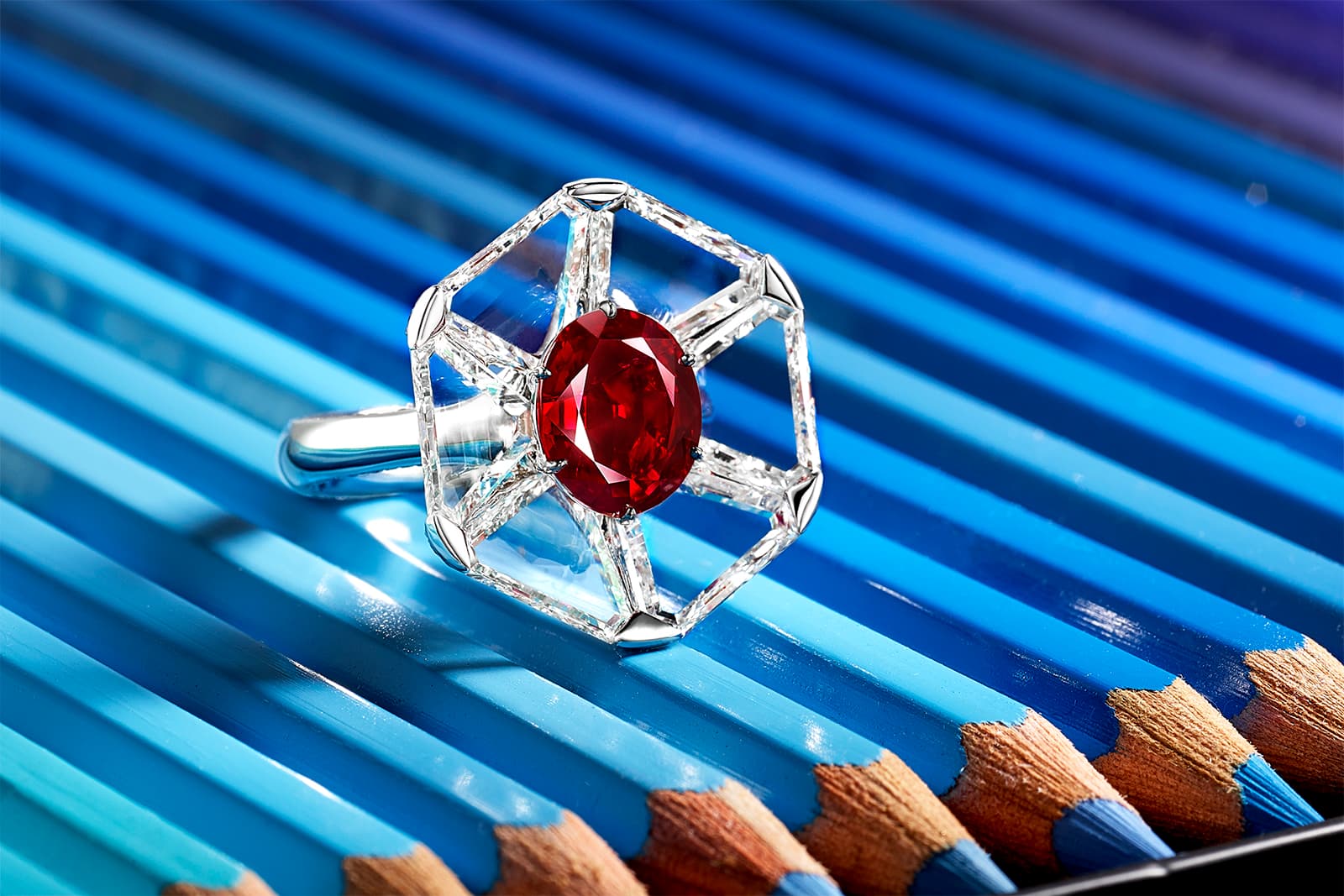 KP: Please share your secret to creating truly remarkable jewellery?
GS: Part of our mystique and one of the pillars is that by most standards we insist on maintaining a low quantity of production. This allows us to focus on quality resulting in the luxury of insisting on perfection in every piece. Ultimately, we apply the same philosophy to the rest of the business. Given the 'closed door' nature of our company, we work hard to develop a smaller clientele that we are able to give the most attention to.
KP: What is the most complex piece you have created so far?
GS: A pair of diamond chandelier earrings. The true challenge was maintaining the movement with a good flow while keeping the structure of the piece intact. Along with this, setting marquise diamonds tip to tip in a perfectly tapered channel with as little metal as possible was not an easy task. Accomplishing this challenge allowed the earrings to look and feel as weightless as possible, often the simpler the design the more complex it is to produce!
KP: Mostly, FORMS opt to combine colourless diamonds with one primary coloured, high saturation gemstone, what dictates this choice?
GS: Although it is not a rule, we often create contrast by using colourless diamonds to accentuate one bold coloured gemstone. We feel that this is our way of paying respect to the novelty and rarity of these beautiful gems. When looked at with a sense of patience and understanding, you will often see several tones in one gemstone. Therefore, we believe that colour should be used very carefully, and when we do mix colours, we choose only to mix a few to make a point.