This jewellery trend is not for the faint of heart - but rather those who are looking to stand out from the crowd and who are daring with their choices when it comes to personal adornment. Victoire de Castellane, Creative Director of Dior, shared in an interview her simple ideology on why she chooses to create asymmetrical earrings: "Nothing perfectly matches in nature." Asymmetry has become one of her signature design elements, and began designing mismatches earrings long before this trend fully emerged.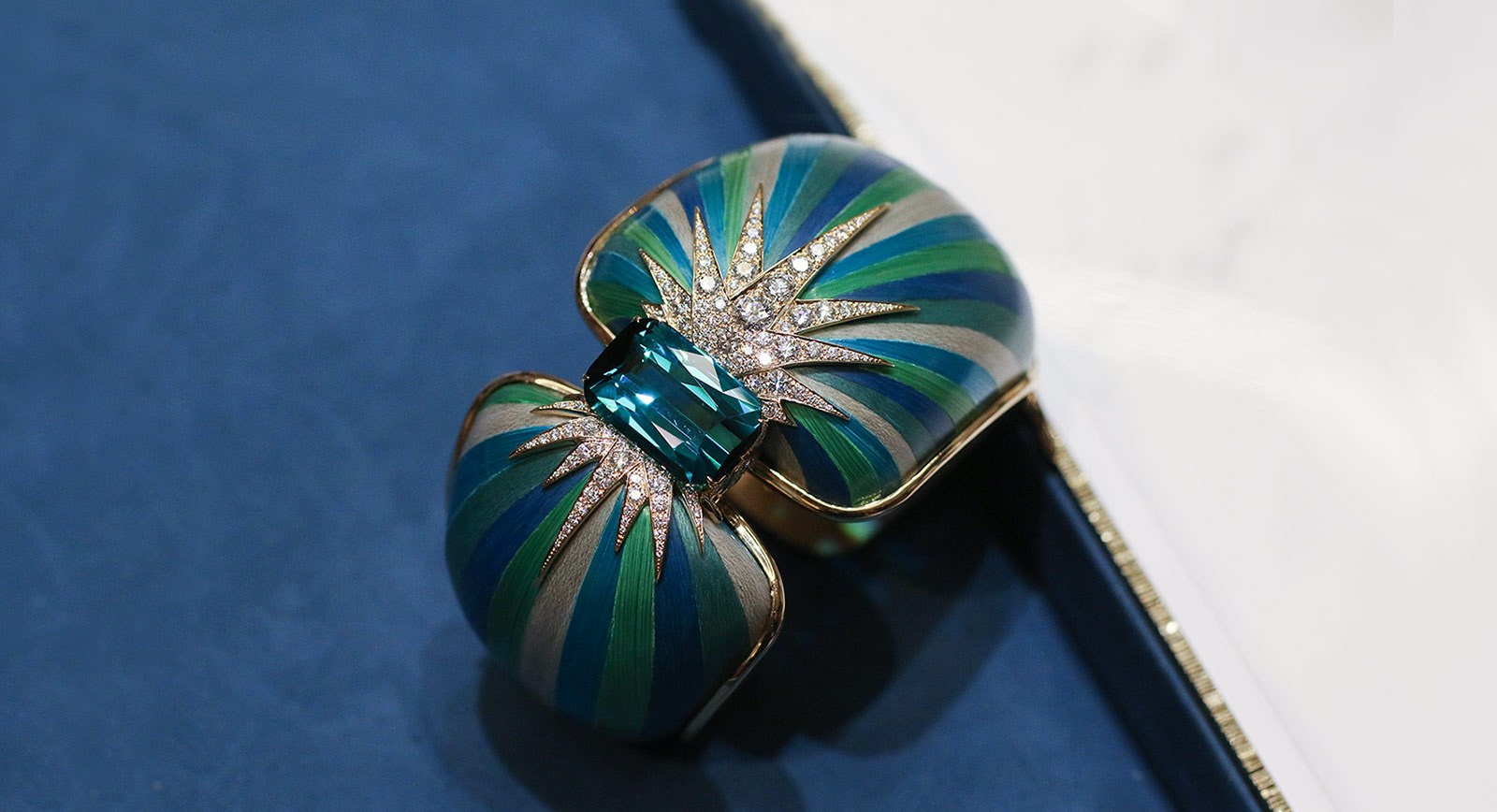 Piaget is embracing the asymmetrical trend in their latest 'Sunlight Escape' creations: a perfect example is the 'White Illusion' necklace with its unexpected twist on a modern classic design. The undulating waves of white gold are further accented by no less than six different diamond cuts, which serve to create a sense of dynamism by drawing the eye across this distinctly unexpected and irregular form.
The '1.5' collection from Chanel is almost entirely comprised of asymmetrical designs, integrating their iconic Camelia flower motif alongside an abundance of diamonds and pearls into these high jewellery creations. This has resulted in a traditional and classical looking variation of this jewellery trend - with necklaces embellished with off-kilter flowers, or toi et moi style earrings. The 'Contraste Blanc' ring provided an updated interpretation of the toi et moi design: spanning two fingers, the large emerald cut diamond and enormous pavé diamond emblazoned camellia flower nestle between each side of the finger. This open-ended design is even more impactful because of the gemstone contrasting shapes on each side of the ring.
Swiss jewellery designer Suzanne Syz is known for her novel creative approach and whimsical references in her jewellery design. At Paris haute couture week the designer showed a selection of pairs of complementary - but not matching - earrings. These jewels are unquestionably linked together by their design elements, which are one another's counterpart, rather than being identical. A great example of this are the 'Tap' earrings with 'Hot' and 'Cold' emblazoned on them, featuring pear cut tourmaline droplets in varying shades of blue and green. Not only has the design avoided matching the colour of the gemstones perfectly, but also the droplets have not been placed uniformly, adding a realistic touch to this irreverent accessory.
As the master of complex and intellectual jewellery design, Wallace Chan introduced the 'Dream Within a Dream' necklace at the end of 2018 using his groundbreaking new material Wallace Chan porcelain. The form of this double layered necklace is almost traditional by the Chinese virtuoso's standards, but the electric colours and vivid emerald and aquamarine gems on either side of the transformable necklace allude to its creator's imaginative ouvre. The rest of the necklace showcases South Sea pearl, rubellite, emerald, pink sapphire, green tourmaline, amethyst and diamond, titanium and Wallace Chan Porcelain, all of which has an other-wordly allure thanks to the lustre of the pearls and the highly experimental combination of materials.
If you are looking to invest in a jewellery trend for 2019, consider the contemporary and feminine edge of asymmetrical jewellery - updating your entire look with a simple shift in design perspective.