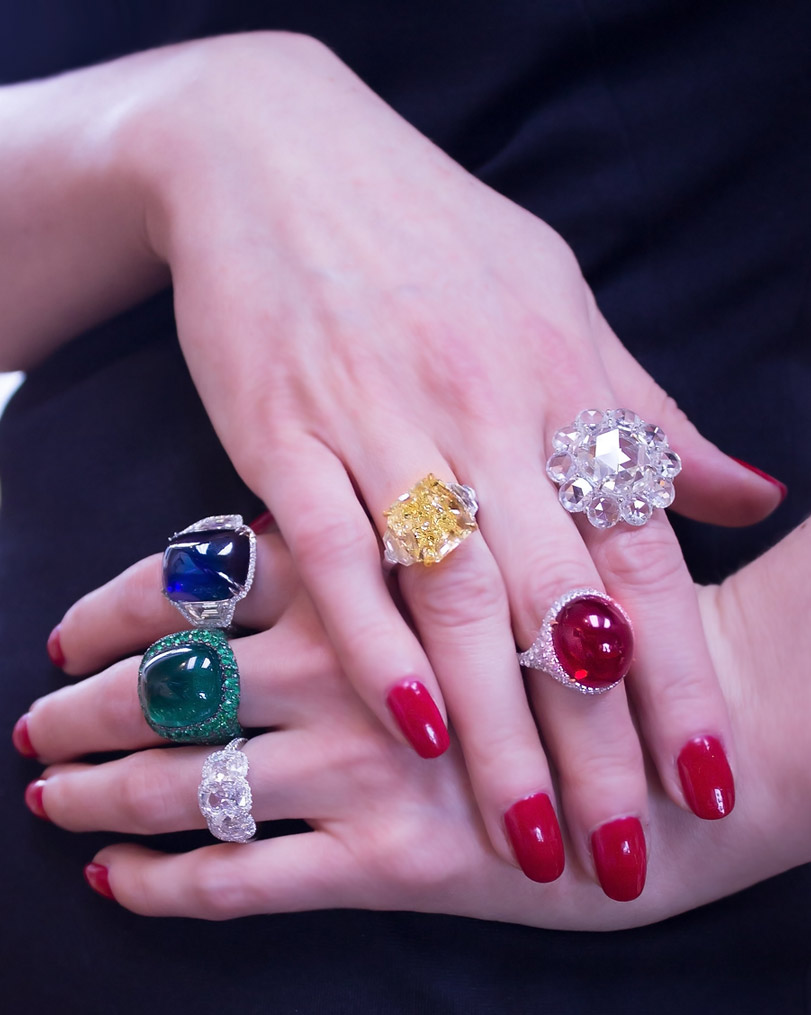 A fine selection of large and important emerald, ruby & sapphire cabochon rings; an impressive rose-cut diamond ring; a 12 carat fancy intense yellow diamond ring; an antique cushion-cut diamond three stone ring
A tale of rags to riches, from pauper to prince, the origins of the American brand Bayco are nothing short of fascinating. In the middle of this century Bayco's founder, Amir Hadjibay, started out by exchanging Persian rugs for precious gems. Young and ambitious, he became gradually more accomplished in the gem dealing trade, forging relationships in distinguished circles and, of course, accumulating a vast selection of magnificent gems. Diligence and sustaining an excellent reputation led to him becoming the go-to gem-dealer amongst the most prestigious jewellery houses.
Nowadays Bayco is run by the second and third generation of the Hadjibay family who proudly carry the legacy of their forefather. To learn more about how a family business is run, what younger generations can bring to the table and why Bayco jewellery is a worthwhile today, I went to Bayco's headquarters in the heart of New York.
K.P.: To begin with, please can you continue this sentence: "Being a family business means that….?"
The Hadjibays: You need to have the integrity to maintain an impeccable reputation – as a form of respect to the generations that preceded you, and in order to pave the way for future generations.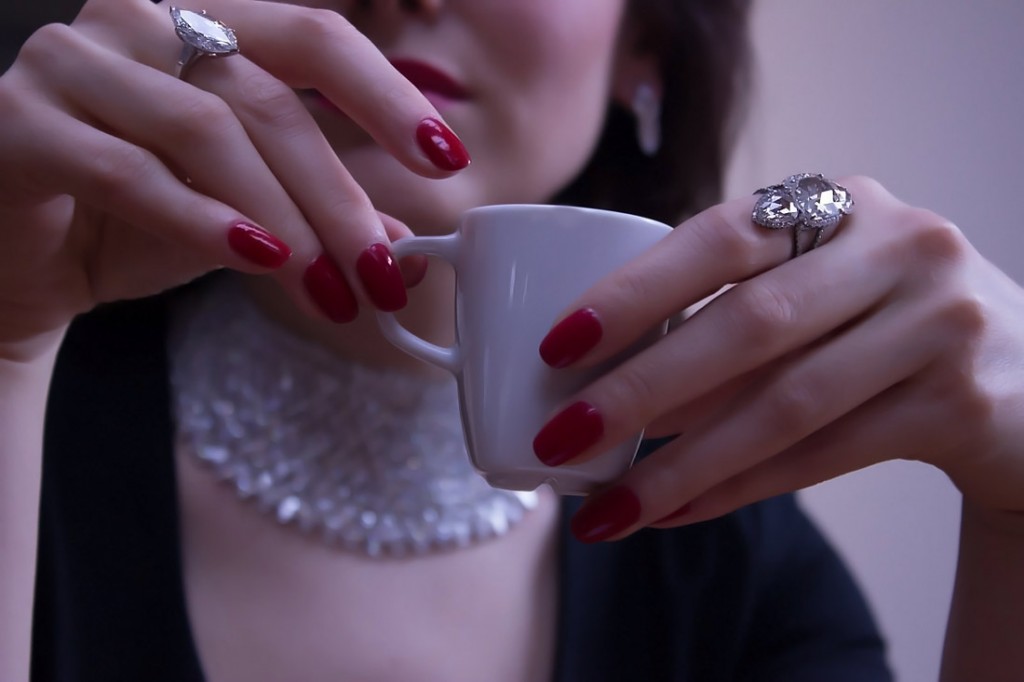 A 6 carat D-Flawless marquise diamond set in a platinum ring; An elegant rose-cut diamond ring set in black gold; Marquise diamond necklace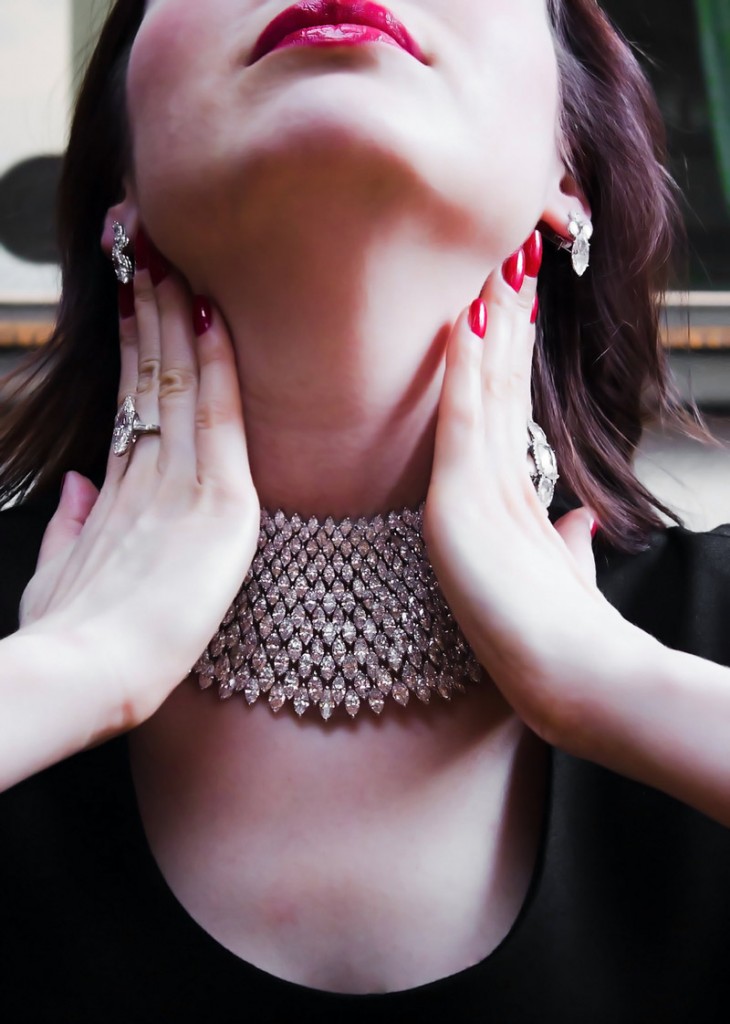 A marquise diamond necklace set with 220 carats of marquise diamond
K.P.: How do you share out responsibilities?
The Hadjibays: We are all involved in every aspect of the business, but some of us are more focused on particular aspects than others: Moris is more involved in the sales; Giacomo, the buying; Marco, marketing and branding; Manuel, the production of the jewellery. However, all four of us design the jewellery.
K.P.: Giacomo, you and Moris are the second generation of Hadjibay jewellers. I am sure that one day you had to make a choice to either continue your father's legacy, or otherwise to do something else. Why did you choose to the former?
Giacomo: When you grow up around these beautiful gems, the passion for them becomes embedded in you. When that happens, nothing is more exciting than discovering a beautiful gem. The jewellery business is also an elegant and honourable trade in which ethics are paramount.
K.P.: Moris, can you outline one invaluable piece of your father's advice that you implemented in your business model?
Moris: The best advice our father gave us was, "If you want to be in this business, your most important asset is a good name and reputation. If you can establish that, then every door will always be open to you".
K.P.: This is very true. Moving now to the youngest generation, Manuel, how do you see Bayco's future? What do you bring to the business that was missing before?
Manuel: We hope that the future will be as exciting as the present, and that we will continue to follow our family legacy: to create jewellery that incorporates the most beautiful and rare gems in the world. I think my brother and I have brought a new energy to the company, so that it grows and integrates fresh ideas into its designs.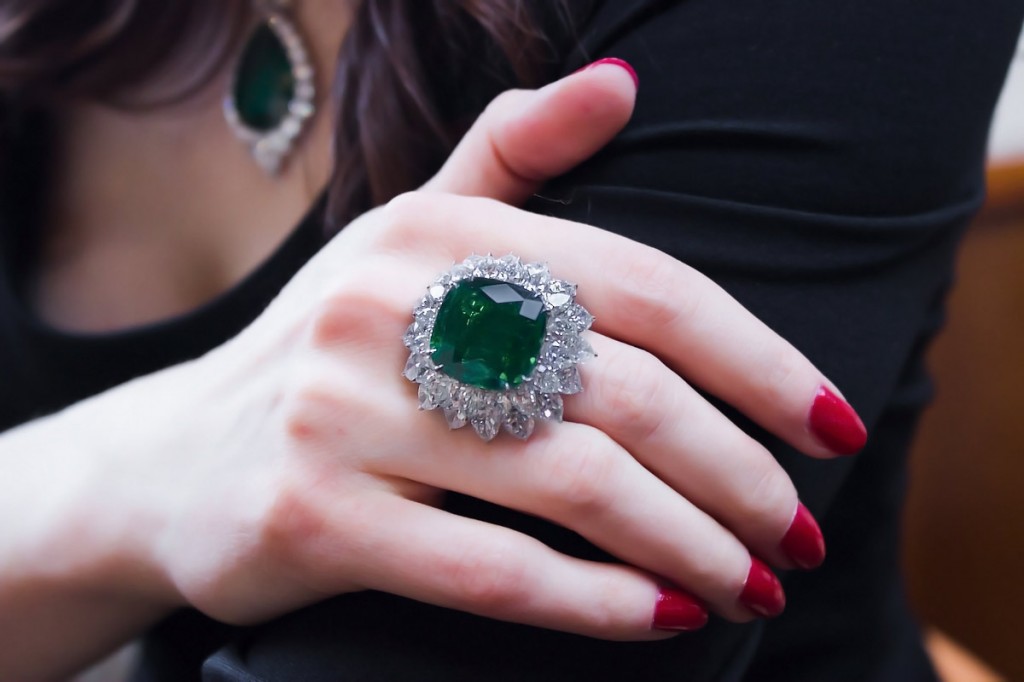 A ring centered upon a gem quality 22cts cushion-cut Colombian emerald set within a double row of pear-shaped diamonds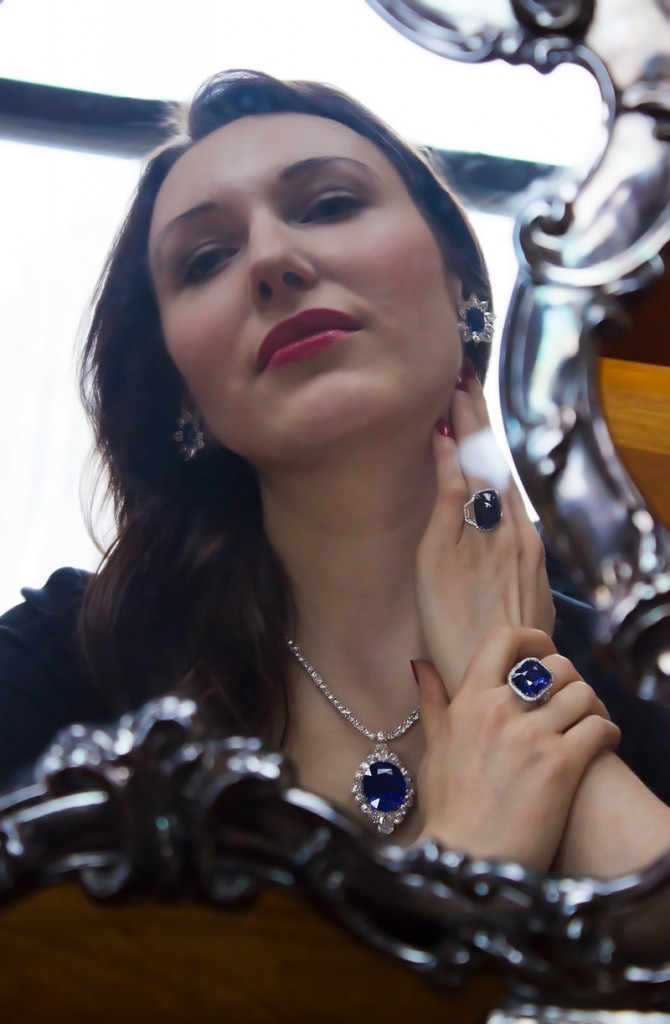 An impressive Burma sapphire set; Necklace with 60 carat oval Burma sapphire, earrings with a pair of 15 carat cushion-cut Burma sapphires, ring with a 22 carat cushion cut Burma sapphire. In addition there is a 28 carat sugarloaf cabochon Ceylon sapphire ring
K.P.: Talking about the design, almost every piece of your jewellery features a very prominent and precious gemstone…
The Hadjibays: Our designs tend to be quite different to those of other jewellers: they are customized around the stone to highlight its beauty to the full; most jewellers start with an idea or design, and then search for the stones to facilitate it. In a way it's like a fashion designer creating a dress for a specific muse; to us the gemstone is the muse. On occasion we have found ourselves working the other way around, but the majority of the time we design around the gemstone after finding it.
K.P.: Marco, do you remember when we were in Basel talking about the Imperial Emerald, and you told me that the stone took your breath away? Have you come across other such gems that have made the same impression on you?
Marco: Fortunately, I can say that many have had a similar effect – an excitement that only the most superb gemstone can create. But, to be honest, The Imperial Emerald still remains the most awe-inspiring because it truly is a marvel of nature.
K.P.: Tell me about a Bayco jewel that was challenging to make, and about why it was so difficult?
The Hadjibays: Every piece has its challenges, though when you see all these jewels at once, it may look easy. Most recently, I have to say the ruby necklace – the one you saw during Baselworld (see below). To match all those rubies in their shape, cut and colour was a very time-consuming job. The metalwork and the setting of all the diamonds were arduous tasks that took months – but if it were easy to do then everyone would be doing it.
K.P.: This ruby necklace, like any piece of your jewellery, is a good investment, right? Or would you say that nothing compares with investing in the best quality diamonds?
Marco: For years beautiful colour stones played a lesser role in the market than diamonds, and only the real connoisseurs were investing in exceptionally coloured stones. Today the world has realized that a magnificent emerald, ruby or sapphire is much more rare than an exceptional white diamond. It comes as no surprise, then, that the prices of coloured stones have seen significant increases in the past few years.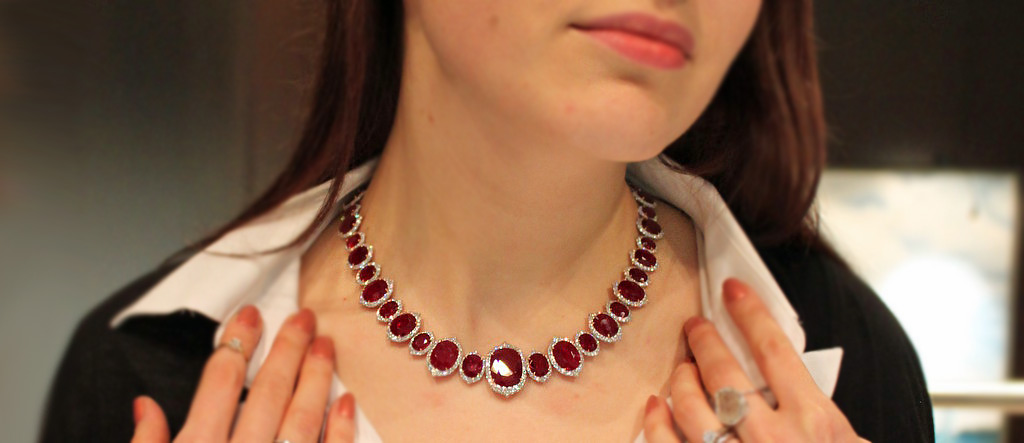 Bayco ruby and diamond necklace. Photo courtesy of Yvonne Town from thegemstandard.com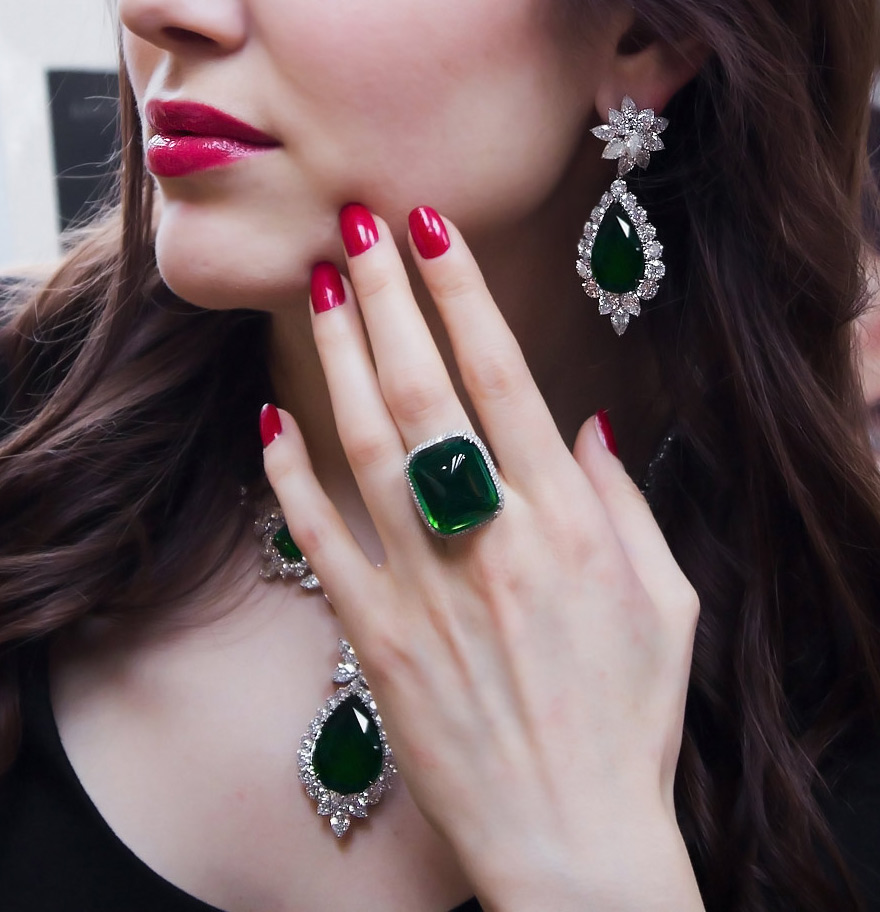 The Pyramid of Wisdom ring centered upon a superb 39 cts sugarloaf Colombian emerald.
K.P.: Let us say that I decided to invest in a coloured gemstone. Can you advise me on the most important factors to consider when choosing one?
Marco: Choosing coloured stones is very different from selecting diamonds. With coloured stones, each stone has its own personality, making it very difficult to match two stones exactly. You can have 10 different ruby rings, all of which are beautiful, but at close inspection there are aspects of each ruby that are different. The challenge in selecting is to find the "perfect" stone: a ruby, for instance, should have a strong saturated red colour (know as "pigeon's blood"), a strong lustre, high clarity and it should be large in size. These are the most important characteristics for any stone.
On Bayco's logo, right under the brand name, there is a phrase "the most precious stones in the world". If you ever get a chance to see or try on some of the spectacular jewellery pieces created by the Hadjibay family, I am sure you would agree that this is true. KP
Special THANK YOU to the photographer Lordale Benosa http://lordalebenosa.4ormat.com/