July: Scarlett Johansson's Taffin engagement ring
Although it was Marion Fasel, Founder and Editor of The Adventurine, who broke the story, soon afterwards the whole world (as well as those outside of the jewellery industry) began reposting images of Scarlett Johansson wearing an 11 carat, light brown diamond engagement ring. The unusual shape and style of the ring had people talking, and the excellent choice of jeweller got the approval from even the most discerning jewellery experts.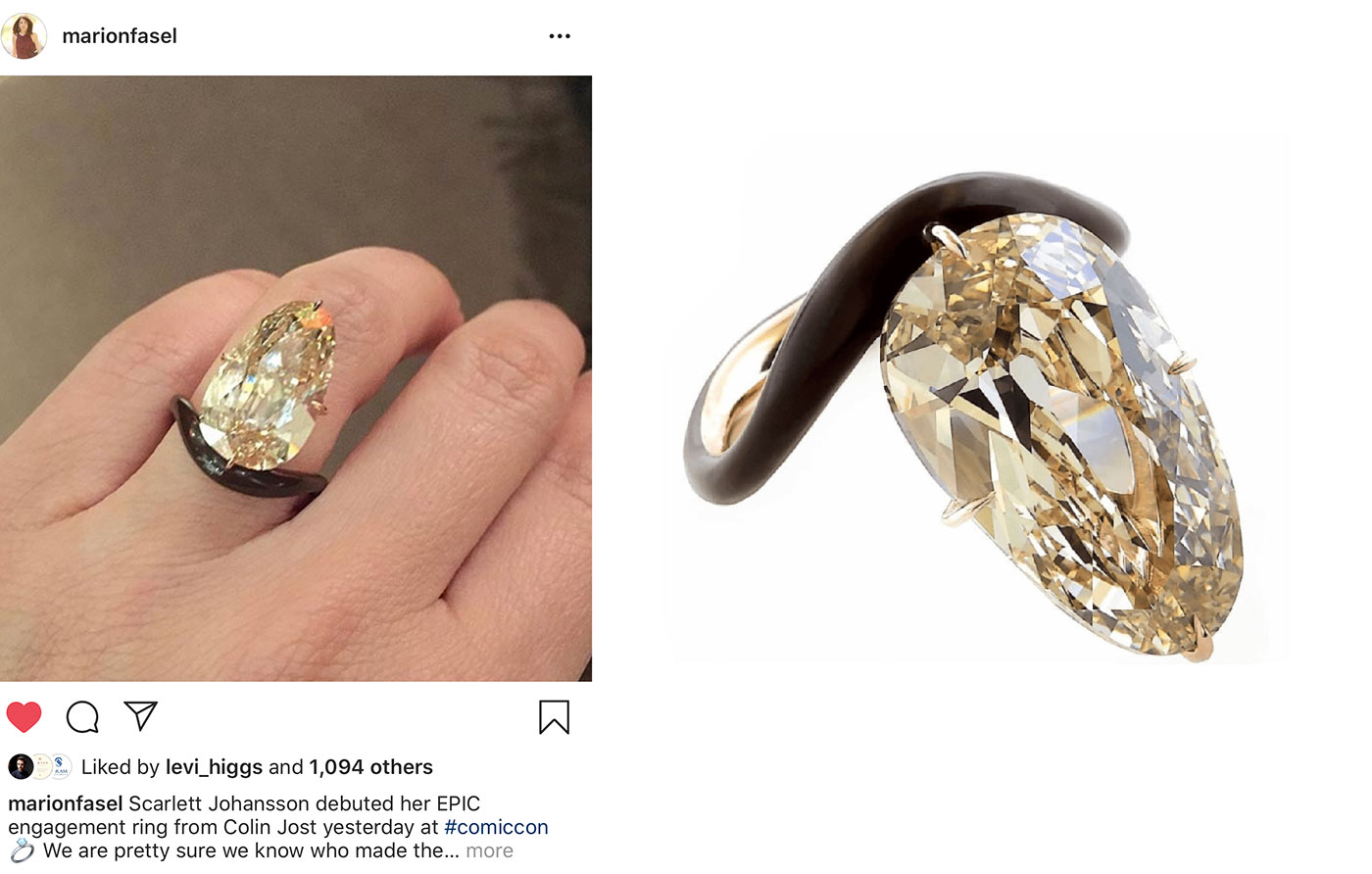 August: Isla Gilham 'Bitten' jewels
What made these jewels so shareable? Rachael Taylor, Founder of The Jewellery Cut shares her insight: "what makes Isla Gilham's 'Bitten' jewellery so perfect for Instagram is its whimsicality, bold colours and shock factor. It is an arresting enough image to stop any scroller in their tracks as they try to decipher what they see - is it a sweet, is it a jewel, is it real? I think we are all looking for a bit of escapism on social media, and such a fun and original motif as a gemstone with a bite out of it is ripe for such distractions. It also perfectly captures the fine jewellery zeitgeist as luxury melds with playfulness."
September: Graff yellow diamond watch
There's no wonder this high jewellery watch caught the eye of Editors like Melanie Grant of The Economist and Vogue's Rachel Garragan - with 59.25 carats of Fancy Vivid yellow diamonds set at varying angles so the stones constantly catch the light brilliantly. On her Instagram, Melanie says: "Graff have outdone themselves this year. Every time I drop in I am braced for heart-stopping jewels of mammoth proportions. Then they throw you a curve ball in the shape of a delicate yet intense beauty like this".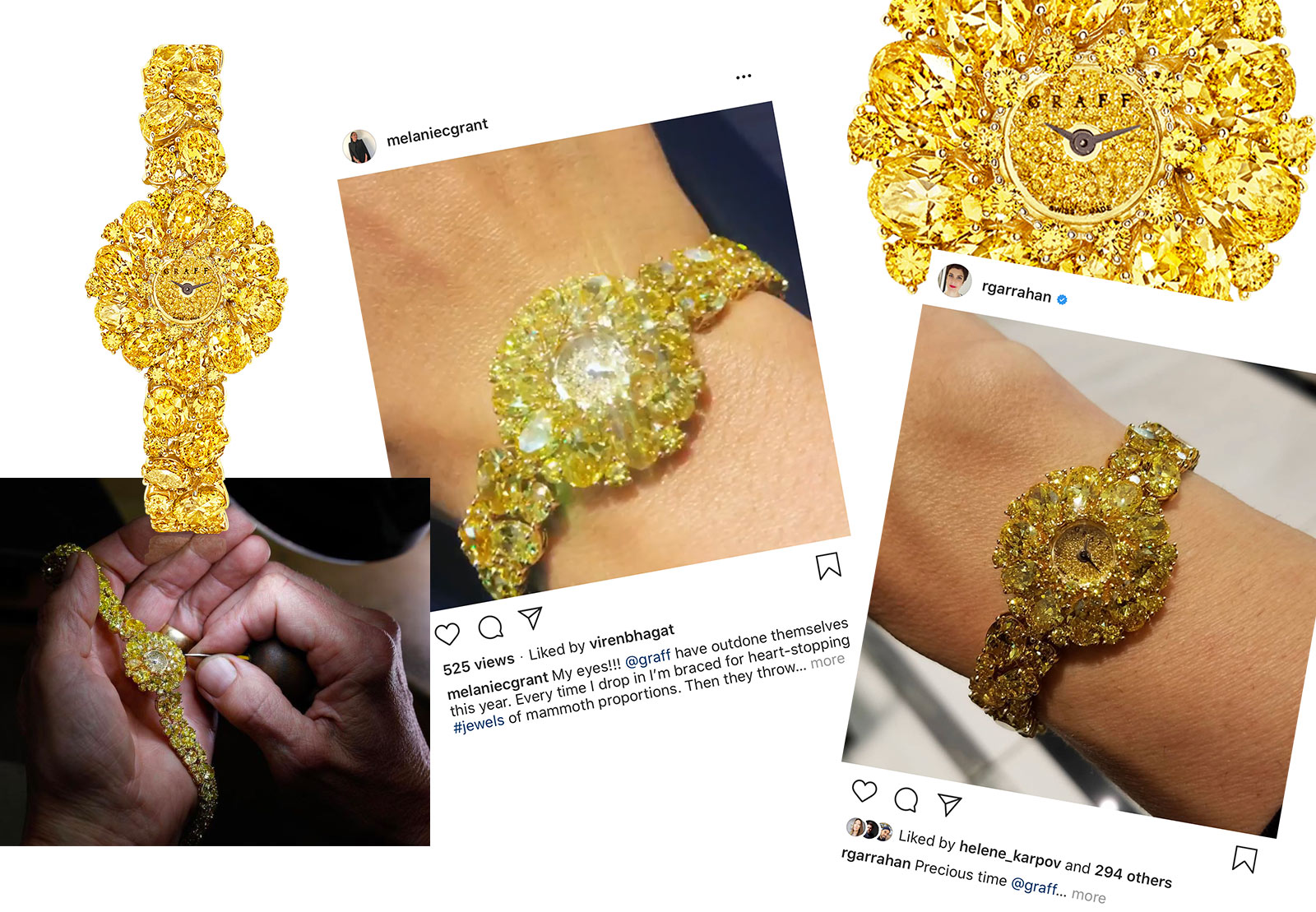 October: Taffin diamond cuff
The only jeweller to make this year's most shared list twice is James de Givenchy of Taffin. His enormous, staggered, square cut diamond cuff with heavy gold setting was posted to Instagram by seemingly every jewellery maven who attended PAD London! Kate Baxter from The Cut London shared on social media that "without a doubt this was THE piece of the PAD show".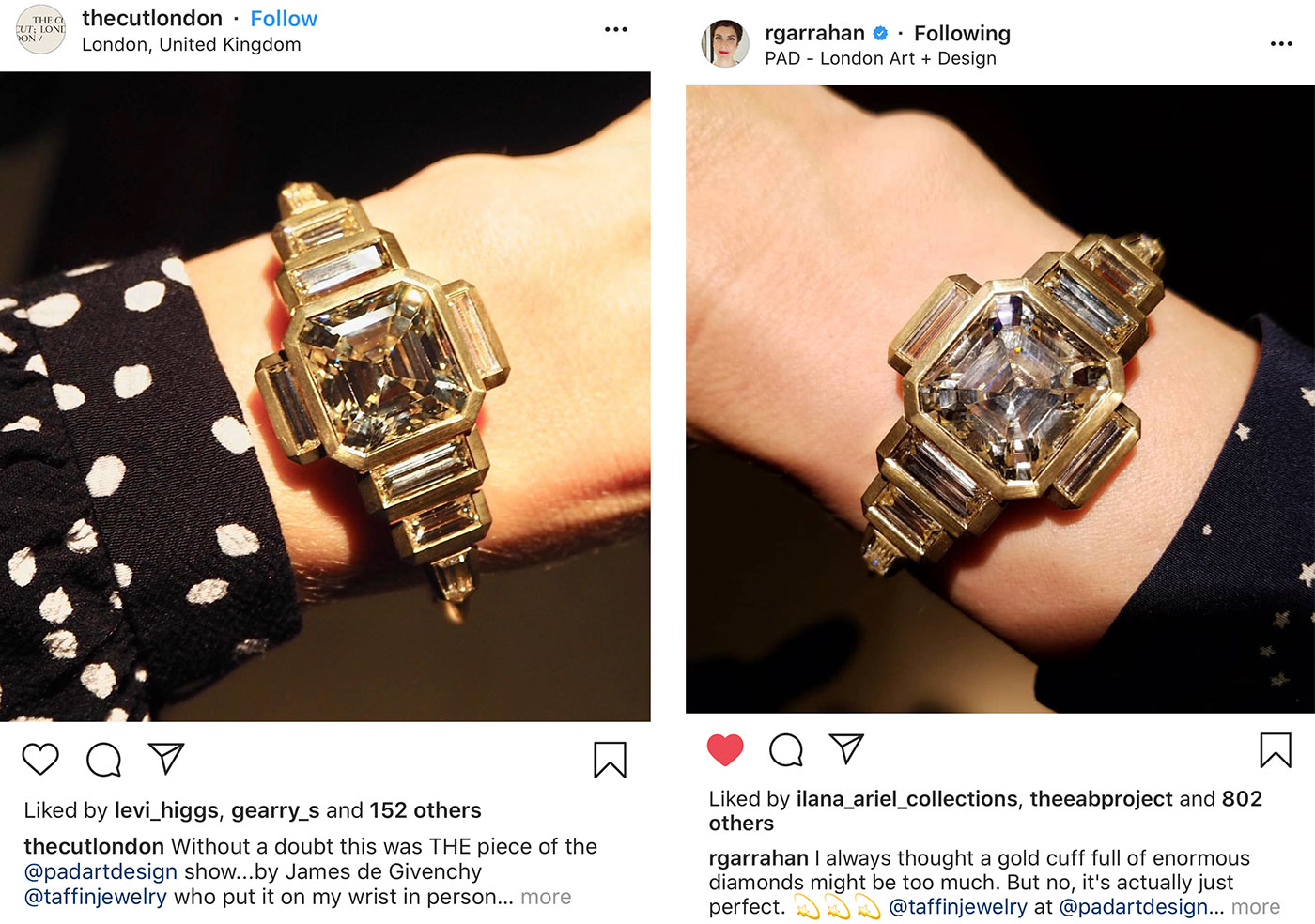 November: Hemmerle cameo pendant
On 26th November 2019, the largest single-owner collection of Hemmerle jewellery in history was auctioned at Sotheby's in London. The jasper cameo and tsavorite garnet pendant which was offered amongst the selection being brought to auction was posted by jewellery expert and gemmologist Joanna Hardy - amongst others. Estimated to sell at between £15,000 and £20,000, the necklace fetched an astonishing £112,500 on the day.
December: Ambaji Shinde necklace
During Christies' Important Jewels auction in London, 27th November, a gorgeously festive diamond necklace stole the show. Both Joanna Hardy and Christie's Jewels' instagram accounts showcased the magnificence of Ambaji Shinde's baguette diamond masterpiece made in 1954 under the brand name of Indian jeweller Nanubhai Jhaveri. From creativity displayed in works like these, Ambaji Shinde would go on to begin working for Harry Winston in 1962 and was the leader of the design atelier by 1966. The necklace realised at £539,250 under the hammer and rounded off the year of the most popular jewels of 2019.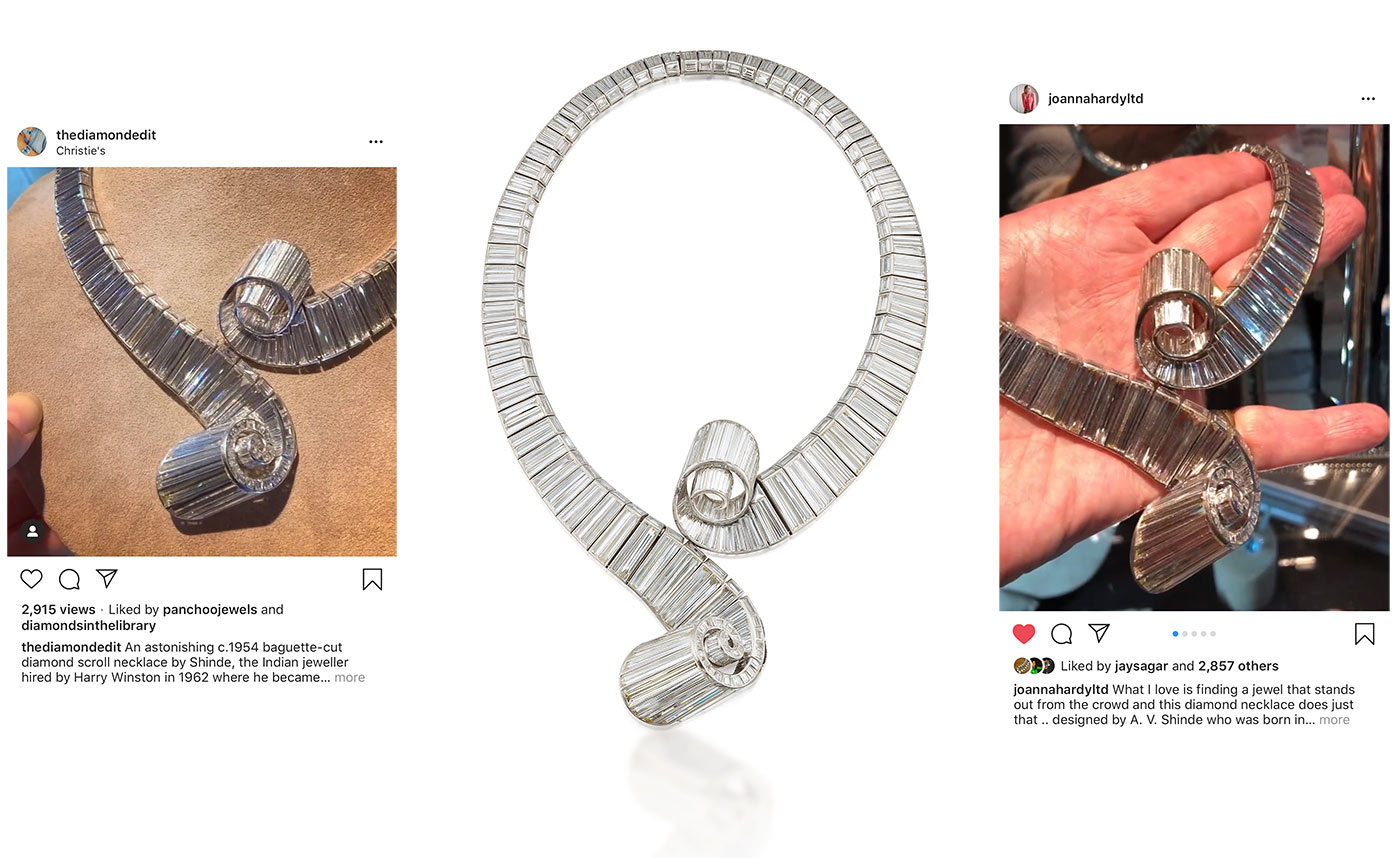 There are certain properties which make a jewellery item shareable, and to get press excited about posting it as soon as they encounter it. Enormous stones such as in Taffin's diamond cuff are always a hit, as well as bright coloured, completely decorated designs like Graff's yellow diamond watch. The common denominator between all of the jewels from this two part series is that they appeal to our human desire for rare and unusual beauty.