What takes designers' minds off daily routines, allowing them to unleash their creativity? It can be many things depending on one's personality, but travelling is often one of them. And so, Carol Kauffmann found inspirations for her new lines when she travelled to the enchanting city of Venice, and a few months later, visited somewhere completely different: the Brazilian jungle.
For almost a decade, not a year went by that the designer had not visited Venice. "I lose myself in the street! With my passion for stories, I always get the best guides and I walk with them in unknown parts of the city." Venice, which was founded in the 10th century, has a lot to communicate in its art, commercial history, and architecture. Inspiration for a new collection suddenly struck Carol Kauffmann: "we were looking at Venetian palaces along the Grand Canale, and I was so impressed by the stained glass windows and lamps that the shape and the mix of colours brought a vision of earrings to my mind," recalls Kauffmann.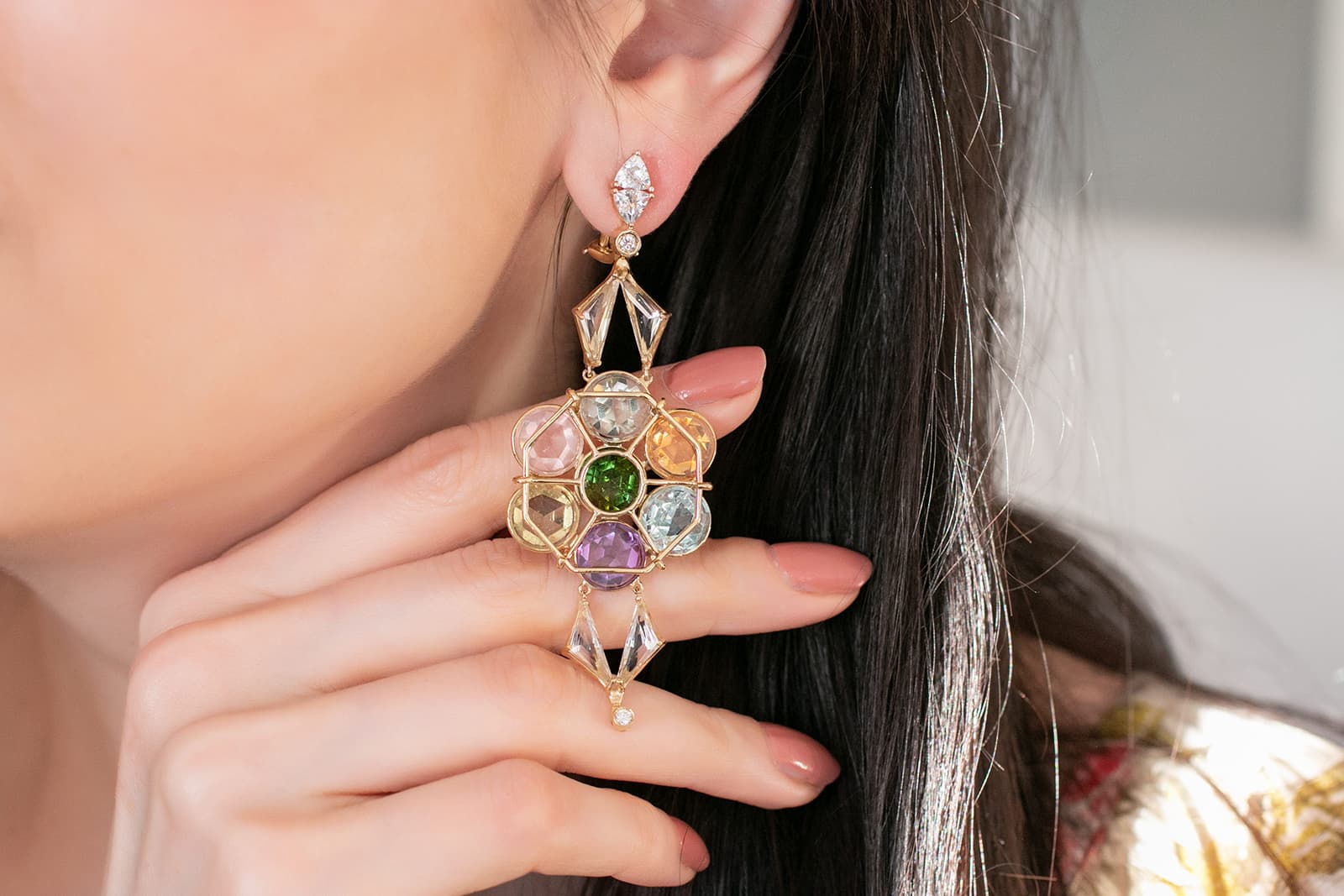 The 'Venezia' collection mimics the rainbow of colours that Venetian stained glass windows exhibit, and reflects Kauffmann's love for bright hues. The designer chose to use a plethora of gemstones, including those mined in Brazil: yellow citrines, beryls, purple amethysts and various colours of tourmalines. She opted for pastel colours, as they resemble the look of stained glass when sun shines through it. The architecture of the windows that Carol saw in the palaces of Venice often resembled a mosaic of coloured circles arranged in various combinations. As a nod to this feature, the designer opted for embellishing her 'Venice' rings and earrings with gemstones that were fashioned as round rose cuts.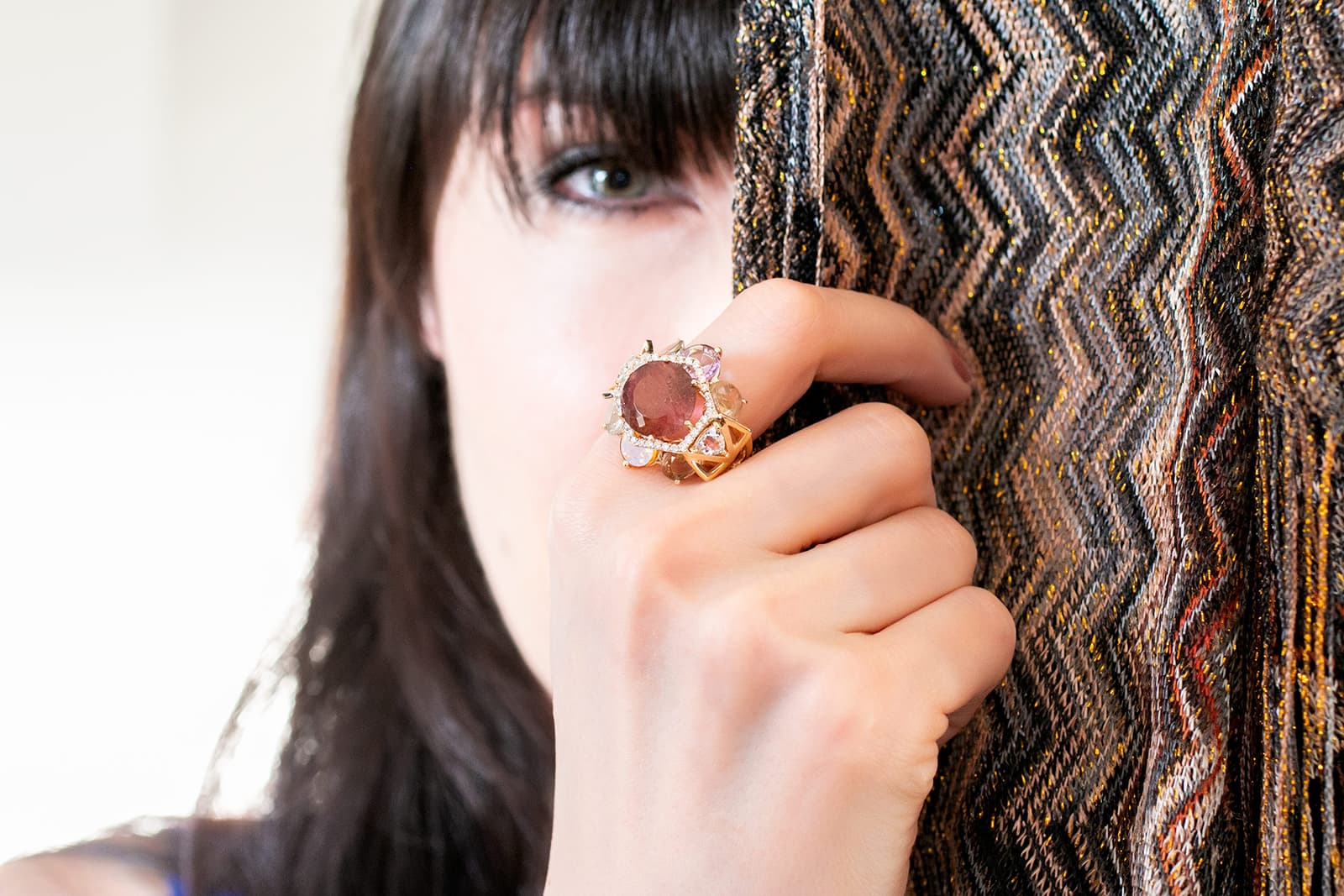 Carol Kauffmann's desire to have people interact with her jewellery and wear it as often as possible permeates her pieces. When discussing the drop earrings from the 'Venezia' collection, she notes: "I designed them to look great on both sides so you can wear them either way, I like to give my customer a choice, and a feeling of participation in the way they want to wear my jewellery."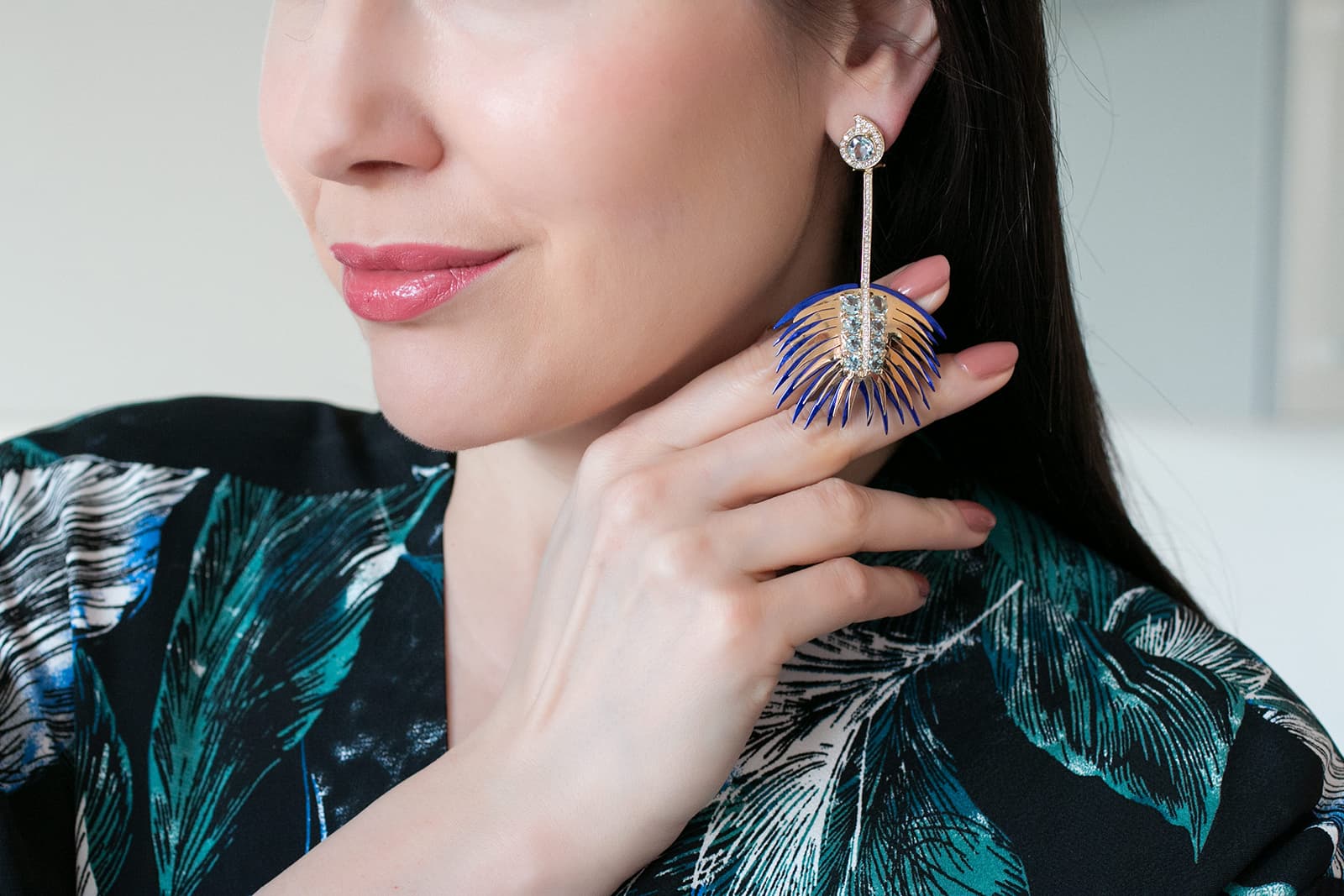 An even more adventurous trip saw Carol venture into the Amazonian rainforest with a local guide, and here she found that she marvelled at the power of Brazil's nature. "The jungle has a lot to offer and so much to teach, my 'Botanica' collection is an homage to this impressive flora and fauna." As a part of Las Vegas debut, Carol will be displaying 'Botanica' drops and hoop earrings of different sizes, as well as pendants - all resplendent in palm and exotic leaf motifs that encapsulate her time in the Amazon.
The designer tells me that after hours of trekking one day, she rested under the shade of an enormous tree and admired sun shining through palm leaves. To mimic the look of the shade cast by the leaves, she enriched her drop earrings with an intriguing feature - a colourful back of the same leaf shape that can be removed: "I dipped the gold in a vivid colour pink, purple or green with a process which uses nano-ceramic particles to coat the precious metals. These earrings feature small hooks so that you can choose to wear them with the coloured element or without, again, to offer the client options."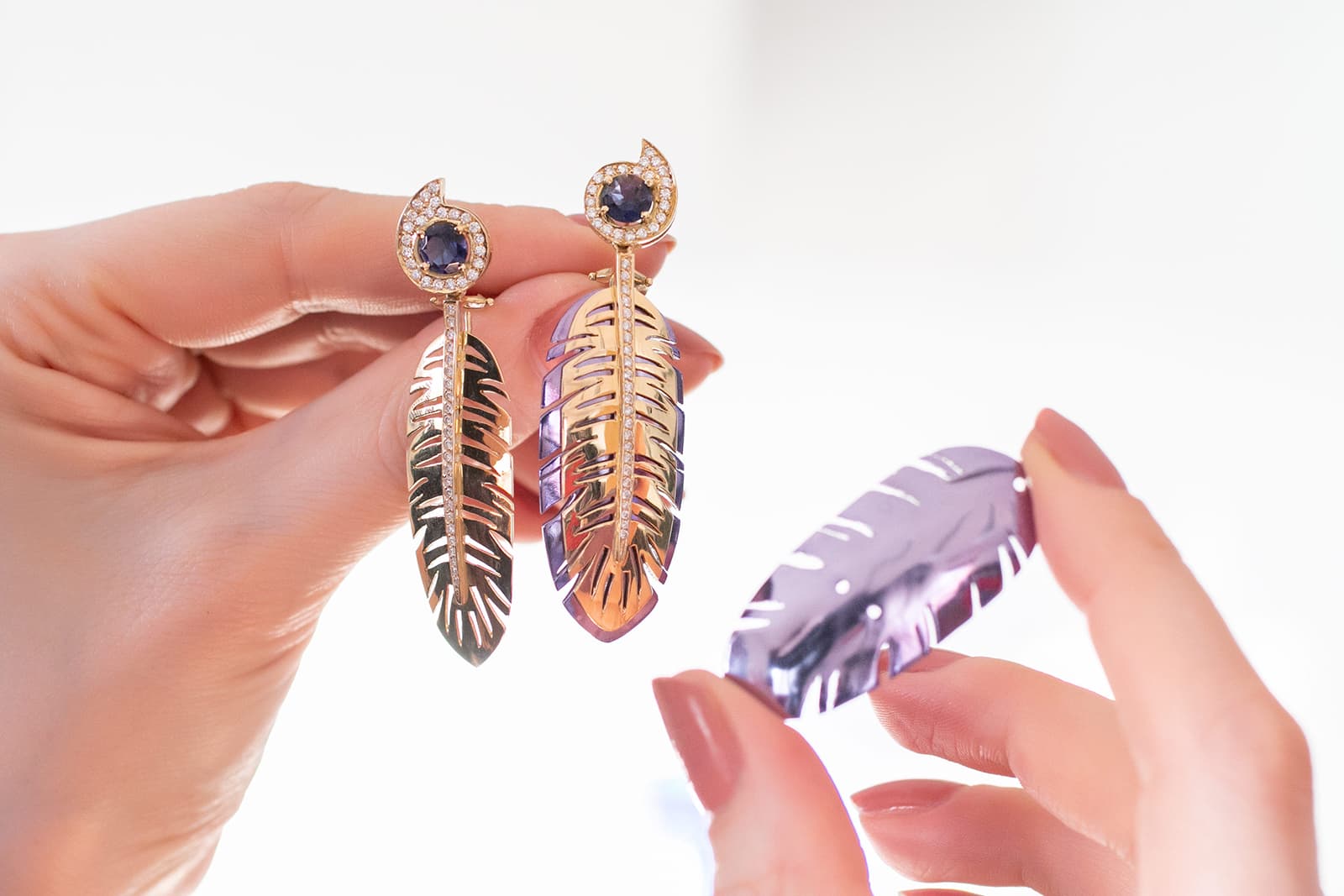 To be able to create two entirely new jewellery collections from her travels in the past year alone is an exceptional feat of creative prowess. "We need to get out of our everyday to get inspired, this is when your imagination starts to fly," Carol asserts, and I couldn't agree more.