The golden carp, which in Japan is known as the Koi, was brought to the Land of the Rising Sun from China – the first mentions of it originate between 140 and 150 BC. There are many legends associated with this fish, elaborately decorated with brilliant scales in varying shades of gold, orange and red. We know from the most popular of these that the carp fights its way up the maelstrom of the Yellow River to its spawning ground by swimming against the current, overcoming all obstacles with endless persistence, leaping out of the water and even climbing up waterfalls, passing through the symbolic Dragon's Gate.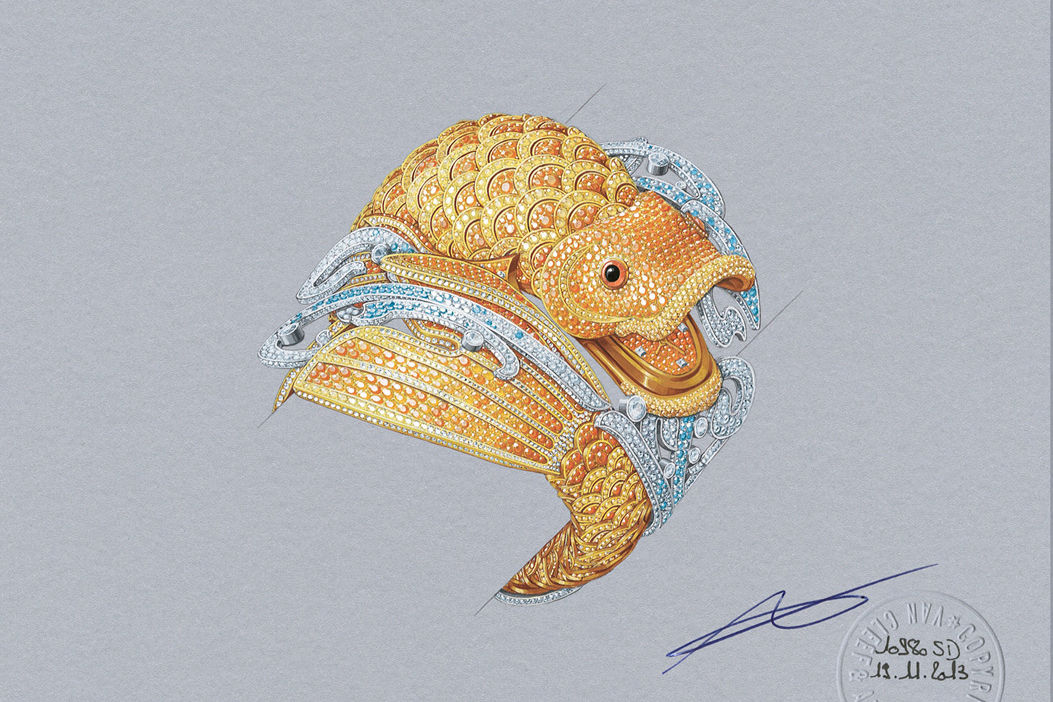 This image is a metaphor for strength, perseverance, courage, continual hard work and commitment to a goal resulting in success. The golden fish is also a symbol of double happiness because the word, when written, requires the two characters meaning 'gold' and 'happiness'. According to Japanese tradition, happiness and well-being throughout life will be bestowed upon any youth who has been dipped into the local Koi Carp pool. Taking inspiration from these wonderful legends, the jewellers of Van Cleef&Arpels created a unique piece of design in their Carpe Koi watch bracelet, of which just one copy was made. It required 8,000 precious stones to represent the variety of colours and took 3,450 hours of hard work to complete. Each constituent part was the product of careful selection by Van Cleef & Arpels and represented the highest standard of quality.
The body of the fish is decorated with yellow sapphires and spessartite garnets set in yellow gold. The smooth transition between the gemstones creates a magical colour gradient. Twists of deep blue Alagoas tourmaline and white diamonds on white gold convey the calm of aquatic existence. When it is wrapped around your wrist it works like a talisman that keeps you safe.
The bracelet can be unfastened easily at the carp's tail. The display of colour on the luxury jewellery watch element – which tells the time meticulously – is unlike anything else: the mouth of the fish opens delicately to reveal a dial spangled with yellow princess diamonds, spessartite and yellow sapphires. The clock is operated by a quartz mechanism. The fate of the watch has yet to be decided, but there is no doubt that it will be fascinating!