They laud their love of gems: on canvases, on paper, even on city walls. I have "met" many of them accidentally on Instagram, and their inexorable, bold and in some cases even audacious work has simply fascinated me. Here, I am bringing to your attention the accounts of my favourite artists who paint gemstones.
An artist from Toronto, Reena Ahluwalia is also a jewellery designer who has received several awards for her work. Her paintings are as extravagant as the jewels she creates. Using oil on canvas, Reena does not always make gems the centrepiece of her paintings. Most often she depicts them in a futuristic context, divided into two areas: Diamond Portal (The Diamond Portal Series) and Portrait with Diamonds (The Diamond Portrait Series).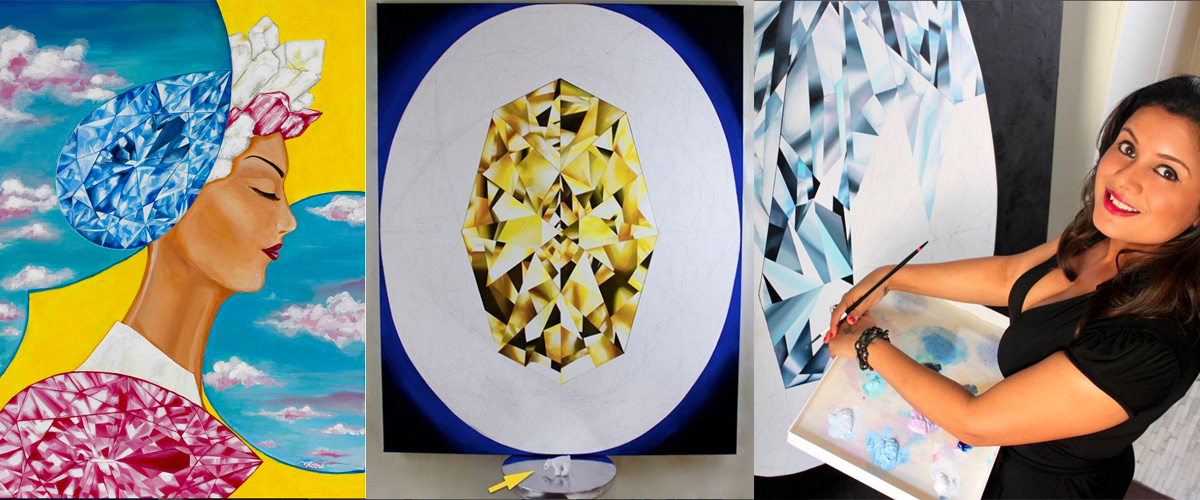 Angie from California reflects in a realist style the inner world of diamonds. She paints faceted diamonds increased one thousand times, showing the way light plays inside of the colourless stones. She paints with oil on what appears to be canvas, and the facets inside the stones are depicted with incredibly precise, iridescent tones, varying from black to blue and royal blue, lending a sort of hypnotic effect to the paintings. Her prints make you want to hand them straight on your walls – immediately, and lots of them at that.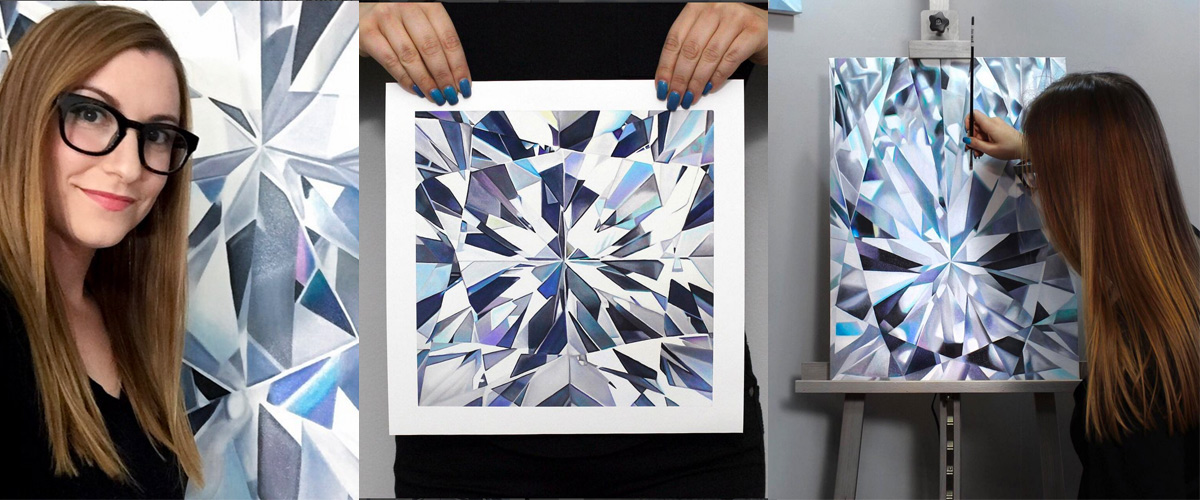 The artist from Cape Town, Kurt Pio, loves painting diamonds of all colours, shapes and sizes. And his stones, painted with oil on canvas, end up being huge: very often half the size of their maker to be precise. Any of his complete, sharp, linear paintings will generally have the same shape as the cut of the depicted stone, be that round, pear or emerald… whatever shape of a gemstone Kurt finds attractive!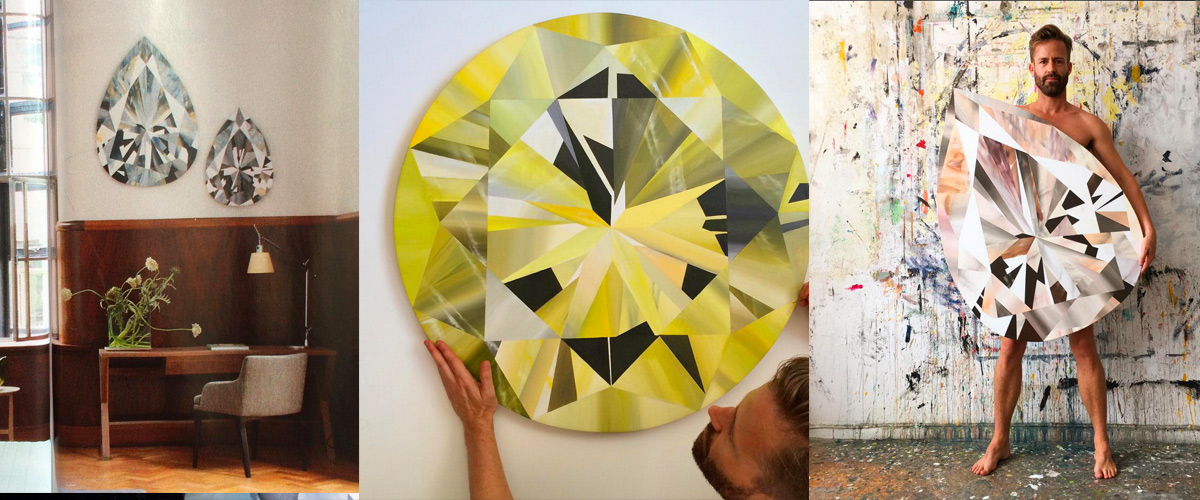 Wouldn't it be interesting to find out what would happen if gems were mixed with humour? The answer: jewelled cartoons of sorts. A gemmologist Hannah Becker from Philadelphia creates them on paper by blending drawings by hand with compositions made up of gemstones. The theme of each image depends on her mood, producing tongue-in-cheek drawings of a hotdog with ruby and citrine to bouquets of flowers consisting of sapphires, amethysts and tourmalines.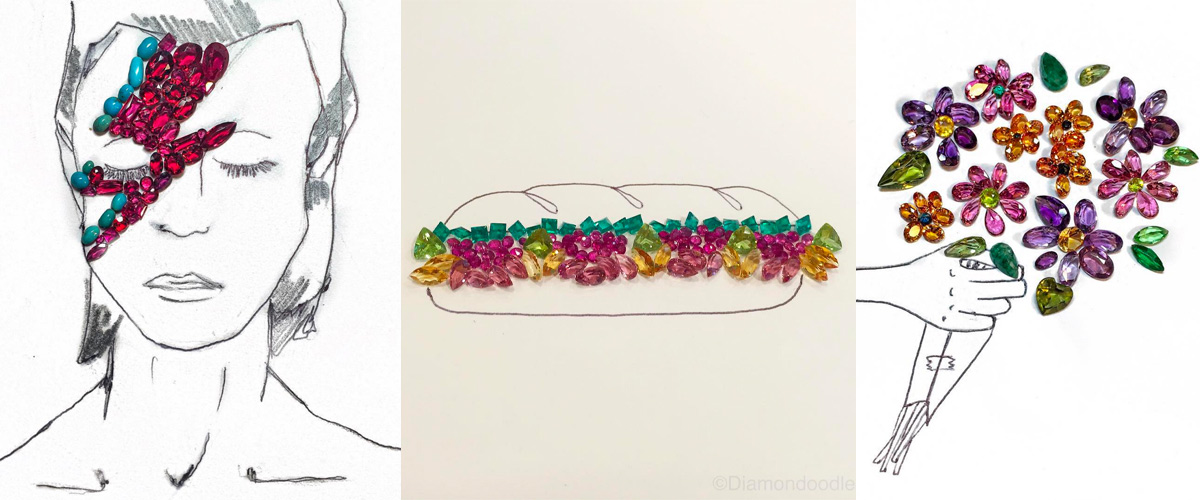 This interesting project was organised by the New York jeweller Jacob&Co in collaborations with artist Nima Behnoud, who depicts precious stones with oils and aerosols on canvas. Together they form a great jewellery/art duo as Jacob Arabo's collection is full of magnificent stones: diamonds, rubies, sapphires and emeralds of extraordinary beauty. They could inspire any artist to make a picturesque masterpiece.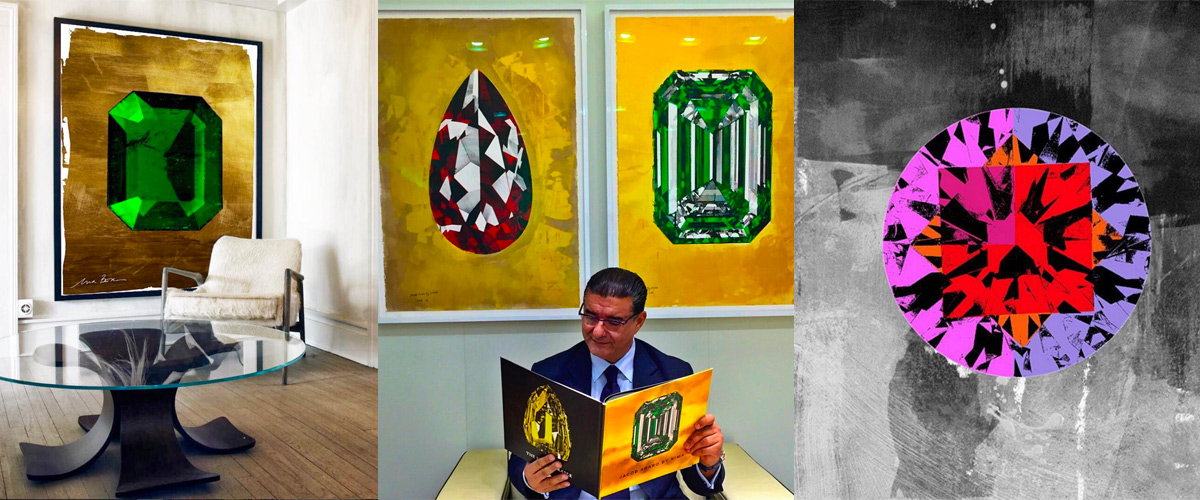 This 22-year-old graduate of the University of North Text studied at the Faculty of Fine Arts. She paints in watercolour, focusing mainly on diamond engagement rings or diamonds on their own, which appear to attract the artists with their varied sparkling facets and endless play of light.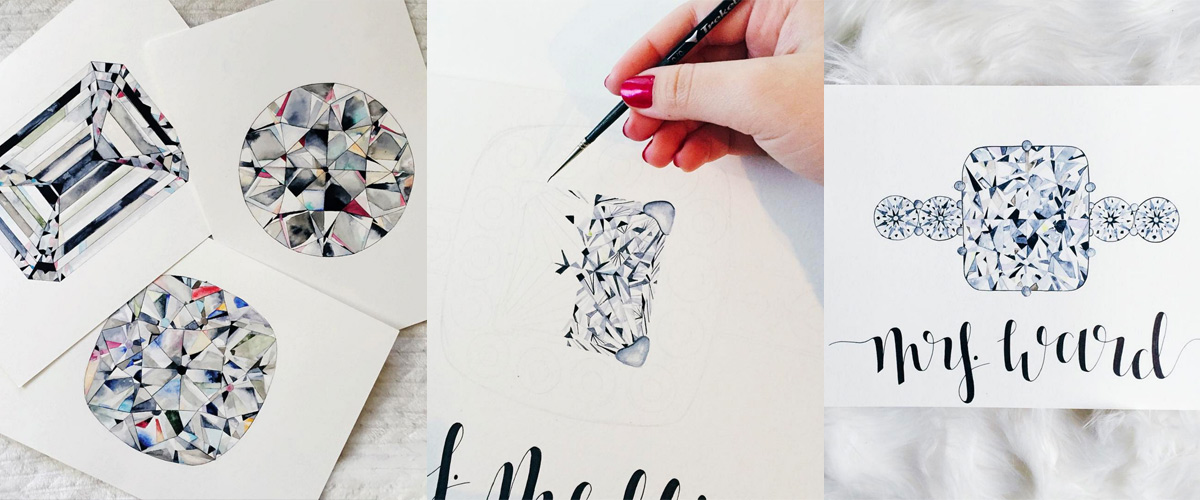 This young artists from Lebanon taught herself to paint. The girl is only 15 years of age but her drawings look anything but childish. Having said that, what she creates on paper tends to depict bright multicoloured crystals and imagined minerals decorated with glitter instead of life-like gemstones. But I think this will change with age.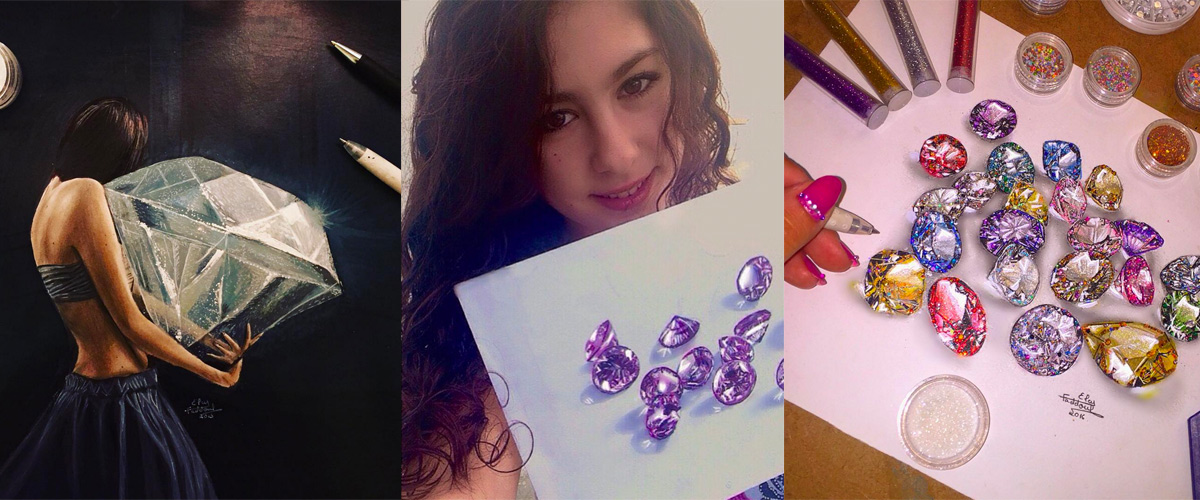 Despite the fact that Katie Marks paints on ceramics and not on paper, I couldn't exclude her from this list. She is fascinated by minerals of varying shape and embodies them in drawings on ceramic as well as made out of ceramic embellishing a mug, a plate or a bowl.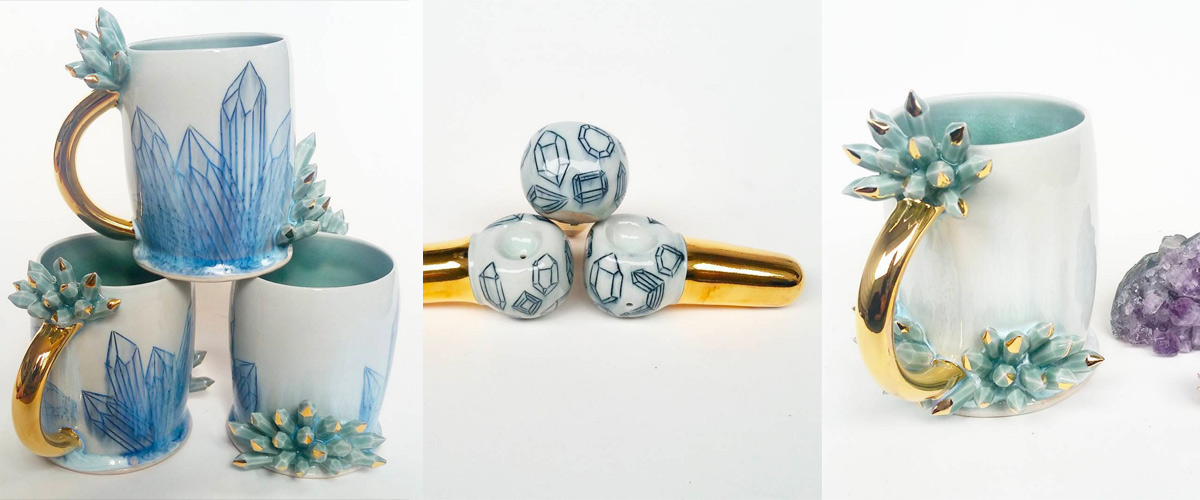 I'm sure you've already heard of this street artist. He does not hold a brush in his hand, but instead cuts diamonds out of glass and mirrors. His work can be found not only on the streets of Paris, where Diamantaire lives, but also in many more of the world's capitals. And by the by, the unformatted works of the young artist have been accepted by the art world, meaning he has already exhibited in several galleries.