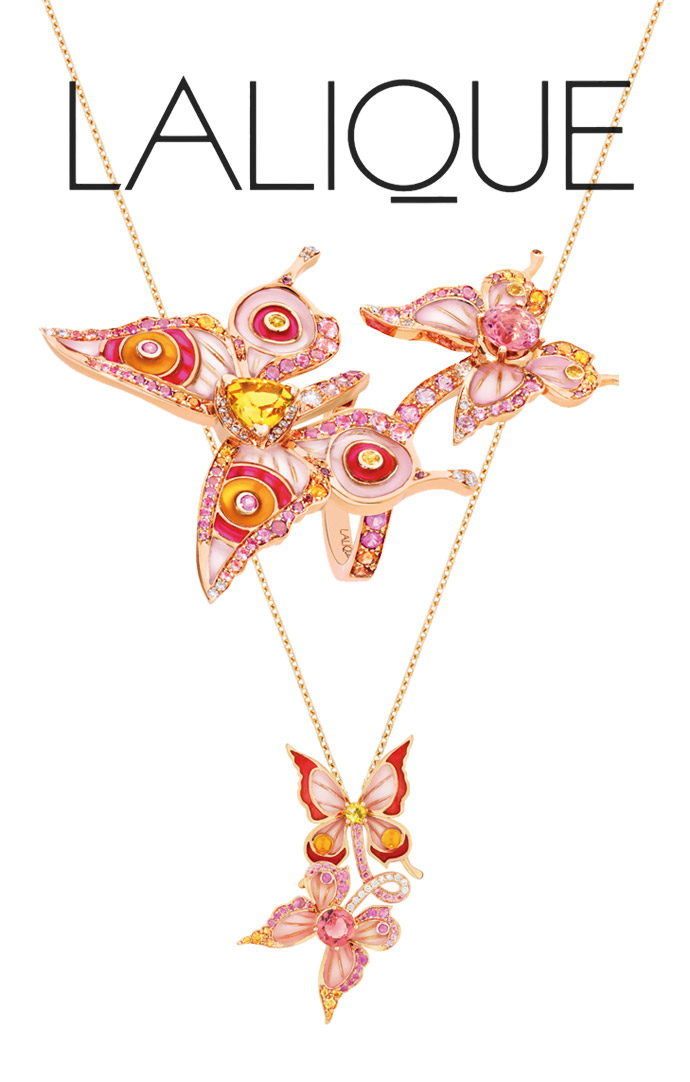 A ring and a pendant from Lalique Psyche de Jour collection
 110 years after René Lalique (1860-1945) released his first collections, the brand he founded is paying homage to its origins. A brand new fine jewellery boutique will open close by Lalique's original shop at 24 Place Vendôme where he exhibited his work between 1905 and 1935. In honour of the founder, the architecture for this new shop is inspired by both Art Nouveau and Art Deco in which Lalique was the master of avant-garde.
Lalique fine jewellery boutique will have two floors: on the ground floor, over 200 pieces from the fine jewellery and high jewellery collections with a selection of iconic pieces such as the Gourmande ring and the Mascottes cufflinks as well as a bespoke section for wedding jewellery and engagement rings; the lower ground floor will feature a private salon, reminiscent of the 1900 World Fair, where Lalique's crystal craftsmanship will be manifest with the latest collaborative designs including limited edition pieces such as the Lalique-Parmigiani Fleurier table clocks, crystal perfume bottles and the Caran d'Ache line of pens.
In designing this new Lalique showcase, the Pustetto Agency has blended styles of magnificence, poetic softness and graphic streamlining. The boldness of the jewellery is reflected in the boutique's colour contrasts and details, a genuine signature of the "Sculptor of Light" and the craftsmanship: matt leather and shiny lacquer finishes, warm wood and cool marble, or black and white with soft touches of coppery gold.
There will also be a dazzling light of 2,500 Gourmande rings suspended from a majestic chandelier, a tribute to the famous ring designed by Lalique in 1931. The Art Nouveau inspired lines will be extended to the design of the wall displays and staircase which leads to the private salon.
During Haute Couture week in July, this showcase will celebrate the new Lalique jewellery collection, Soleil de Gaïa. The opening of the new shop seals the resurrection of Lalique's fine jewellery two years after its return to Place Vendôme at Hôtel d'Evreux with its Odyssée du Feu Sacré collection.