Any creation is, in one way or another, a risky enterprise but in Mathon's case it was a worthwhile one. Founded in 1931, the maison could benefit from a new subject matter, one that Mané drew from a city thousands of kilometres from Paris: Samarkand. One of world's most ancient cities, it still houses to this day unique architectural monuments built at the time of the great Tamerlane.
The intricate patterns of mosques, exotic Eastern ceramics and florid calligraphy have all become sources of inspiration for the latest collection by the French jewellery maison. Cocktail rings crowned with sugar loaves of tanzanite or spessartite granite evoke the domes of a mausoleum. The pieces are encrusted with a sprinkling of round diamonds and coloured precious stones which together form an architectural mosaic that bursts with colour. If you look at the rings from above, you can see a blossoming flower bud whose petals are outlined with black and blue enamel resembling patterns seen on Eastern ceramics.
Many of the architectural structures in Samarkand are completely or at least partly painted with one shade of blue or another. As far as Mathon's pieces go, there are a few of these shades: to complement the violet blue of the tanzanite, Frédéric Mané selected dark and light blue sapphires, mixing the azure with transparent diamonds. Other than rings, delicate bracelets with charcoal-grey quartz or chalcedony beads are also part of this capsule collection. The pin-locks can be transferred from one piece to another thus changing the colour combinations. I wonder which of these do you like more? The gold with the brown or the white with the pale blue?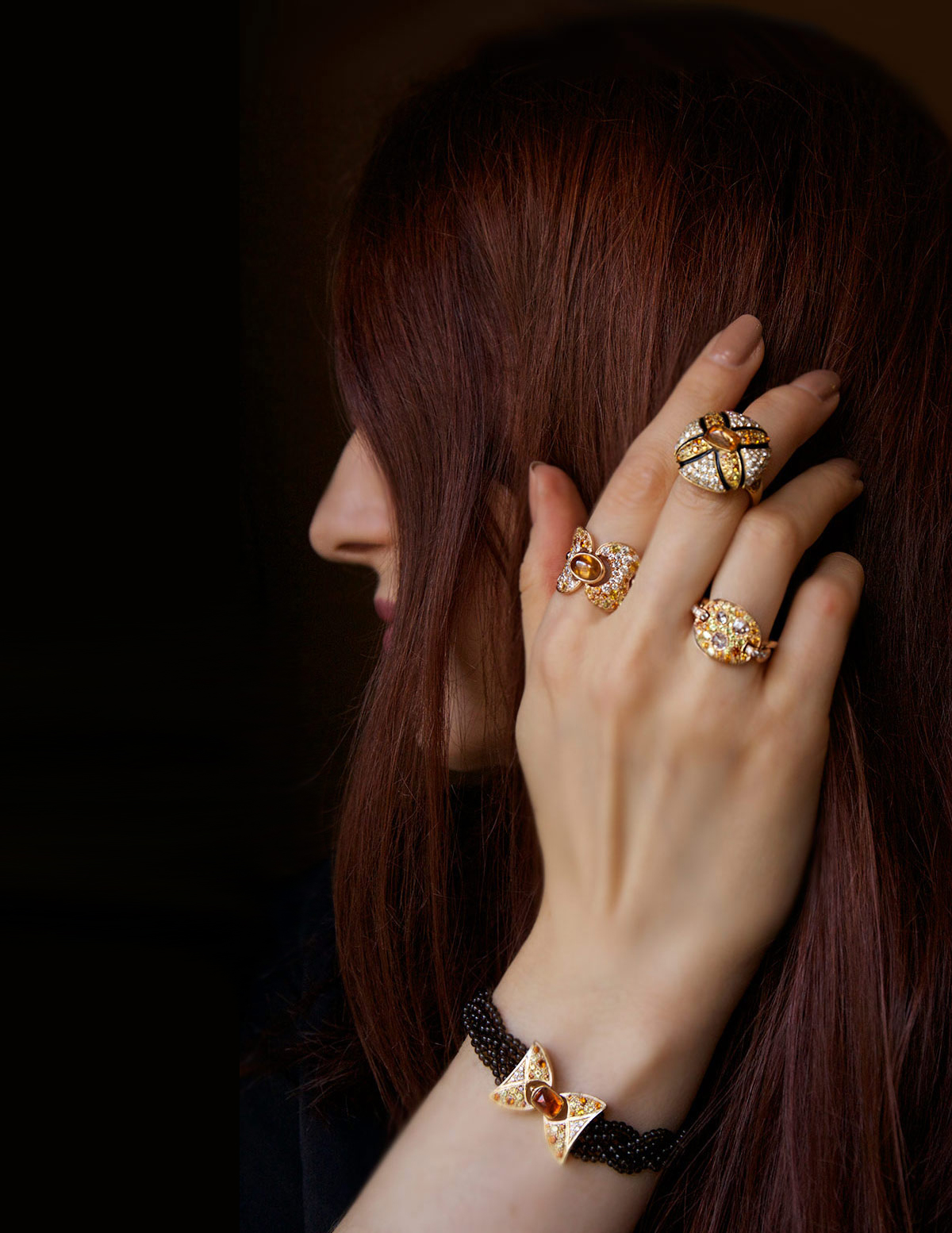 Photos are courtesy of Mathon Paris. Photo of a model in Mathon jewellery – Margo Raffaelli.