Within high jewellery, it's not unusual to find collections that pay homage to a particular city or country. In fact, we've seen some recently in the form of Chanel's love affair with Venice in Escale à Venise and Boodles' Around the World in 16 Days selection of rings. Now that it is Mikimoto's turn, I am pleased to see this icon of Japanese jewellery celebrating the aesthetic sensibilities of its homeland that have been "shaped and refined over generations by the beauty of nature, showcased through the changing of seasons," according to the brand itself. Pieces in the collection are directly inspired by a specific landscape, natural beauty spot or a particular flower that are unique to Japan and tell a little slice of its story. There's also the characteristic fusion of East and West that's become a signature of Mikimoto and its present here in the form of coloured gems and raining cascades of baroque pearls, coupled with 'traditional' shapes inspired by fans and ceremonial kimonos.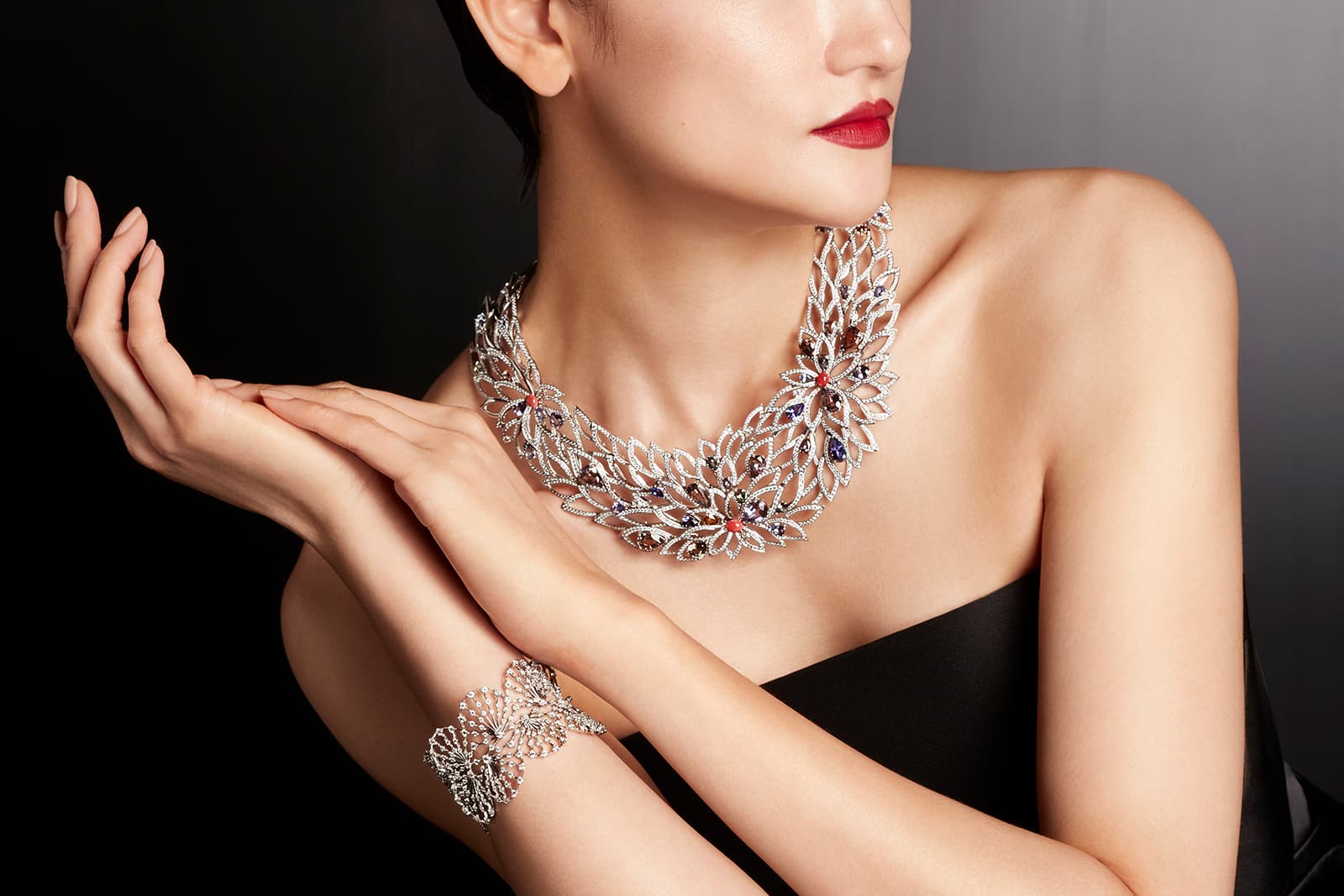 The new collection is modelled by Japanese supermodel Ai Tominaga and her presence really helps to demonstrate the proportions and scale of some of these pieces. The waterfall-inspired brooch, for example, is designed to echo the flowing waters depicted in the artworks of the ukiyo-e movement from the 17th, 18th and 19th centuries. When pinned to Tominaga's dress, we can really see its shape and how it sways with the wearer. This particular piece is said to "express the energy of a waterfall running rapidly with melting snow" and is crafted in 18k white and pink gold with freshwater natural pearls, jadeite, zoisite, emerald, sapphire and diamonds.
Brooches feature heavily in this high jewellery collection, probably because they are less restrictive than other jewellery categories that must be made to wearable proportions. Brooches can be three-dimensional, sizeable and don't have to be quite so mindful of skin contact. A pair of chrysanthemum brooches, for example, are decorated with a myriad of pearls and diamonds in dynamic designs that look like they're moving in reach of sunlight. The first, in 18k white gold, is set with a natural melo pearl with a sunny yellow-orange hue, while the second has a black South Sea pearl centre, with aquamarine, sapphires and diamonds in 18k white gold. The theme of chrysanthemum blooms continues with a beautiful cocktail ring in 18k white gold and platinum, set with tourmalines, rubies, diamonds and two kinds of pearls: natural conch and akoya keshi.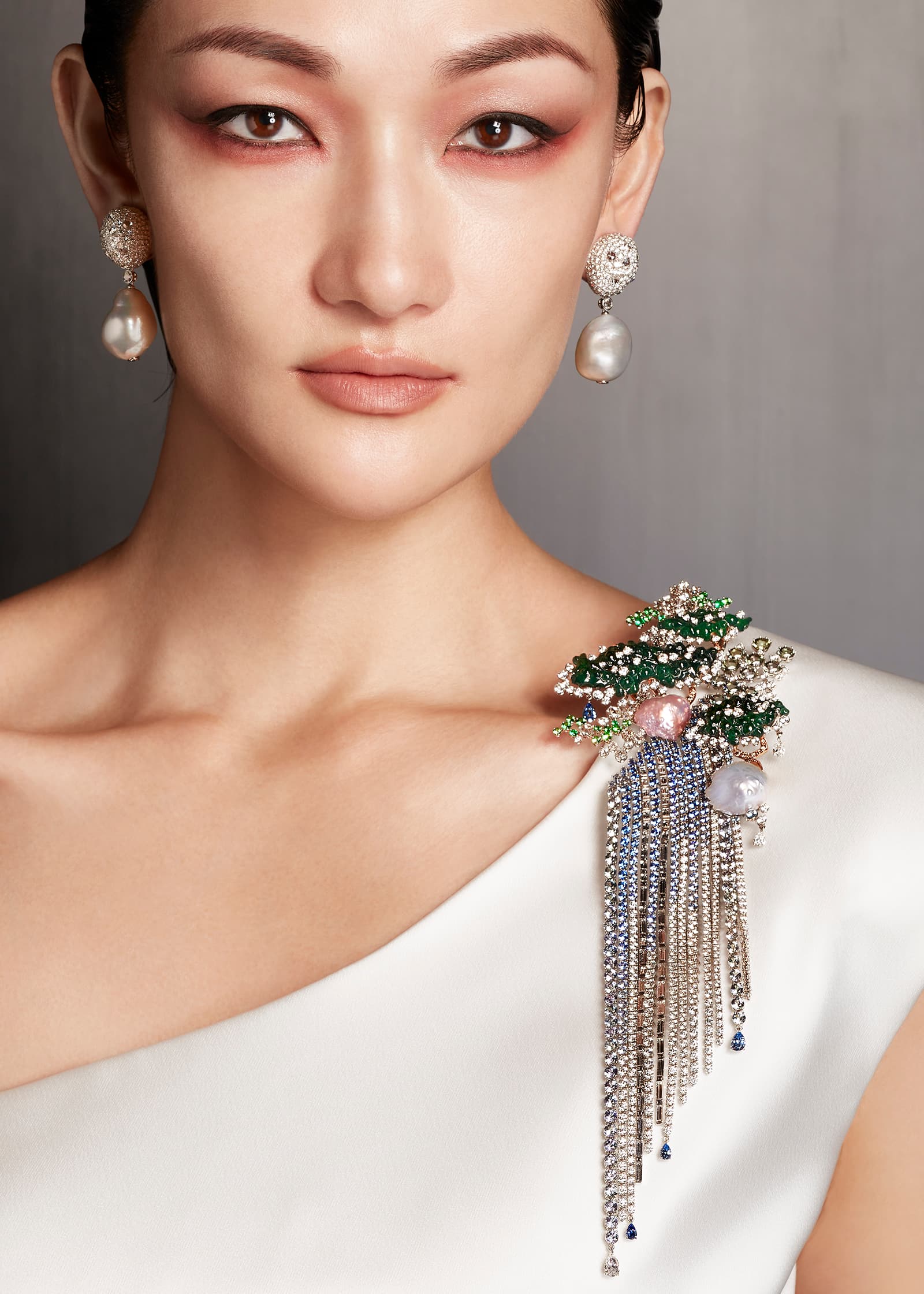 The culmination of this floral motif is undoubtedly an openwork collar necklace that's said to mirror the dainty flower pattern of mujinagiku, otherwise known as raccoon chrysanthemum. What really stands out in this piece is the combination of materials – pops of pink conch pearl, diamonds and many pear-shaped zoisite gemstones in a range of colours and sizes. It's unusual to see one gemstone (which is a natural chameleon) being exclusively used in such a broad colour palette, including deep purple, lilac, pale blue, yellow, grey, brownish-pink and even some bi-colour examples too. I have a suspicion that some of the zoisite in this piece could be considered tanzanites – the gem-quality name for zoisite in the blue-purple colour spectrum.
Moving on and there are more brooches to uncover. My personal favourites are a pair that take their inspiration from jūnihitoe – a twelve layered ceremonial kimono of the Heian Period, as illustrated in The Tale of Genji, a classic work of Japanese literature written in the early 11th century. The brand explains: "The designs capture the flowing lines created by multiple layers of fabric in an array of colours and patterns." The first brooch combines 18k white and yellow gold with peridot, sapphire, garnet, diamond and coral, while the second uses the same precious metals but with tourmaline, garnet, diamond and mother of pearl.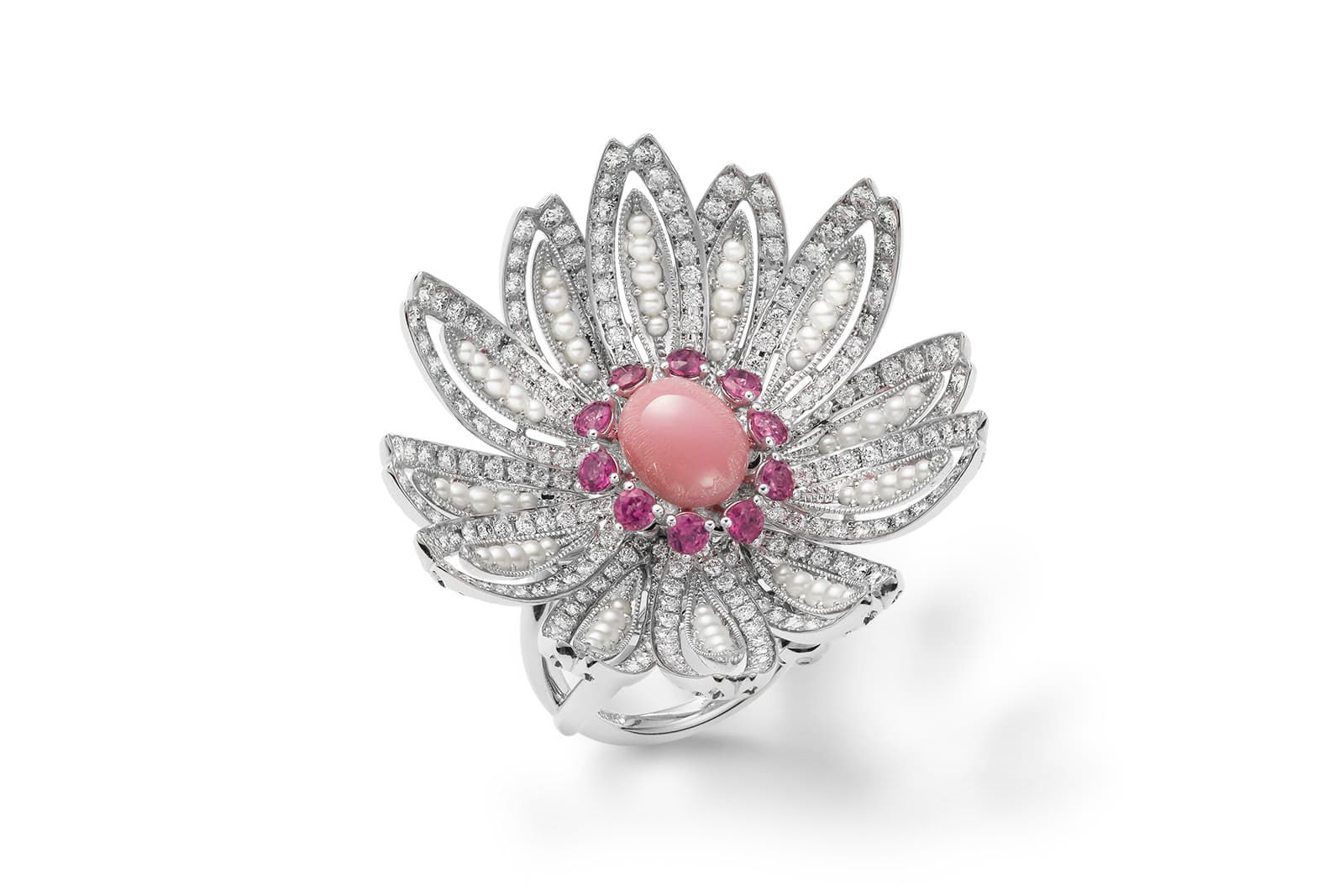 Last but certainly not least is a magical brooch that combines three motifs in one: a fan, the moon and Japanese clover. Its design is said to capture the "crisp air of autumn nights," but to me it's the falling tendrils of gemstone clovers that are the brooch's most defining feature. It's made in 18k white gold with a solitary golden South Sea cultured pearl to represent the moonlight, complemented with mother of pearl, diamond, sapphire, spinel and garnet. Further creations in "The Japanese Sense of Beauty" collection are pairings of necklaces and earrings, each with their own inspirations. The first draws on the bokashi technique in ink painting, which sees the artist blur semi-dry paints and inks for a decorative, three-dimensional effect. To translate this to jewellery, Mikimoto has created a gradient of deep black, silvery grey and white South Sea cultured pearls, some of which are baroque in shape. These are accented with undulating lines of colourless diamonds in a variety of cuts to create a dripping or melting effect. A complementary pair of earrings include the same combination of South Sea pearls with diamonds in 18k white gold, but with the gradation going in the opposite direction for a touch of asymmetry in the matching suite.
The final pairing is one of my favourites, largely because of the use of white opal, combined with akoya cultured pearls, tourmalines, diamonds, mother of pearl and 18k white gold. The necklace is inspired by the stylised wave motif –seigaiha – meaning 'blue ocean waves' that was originally used in China and later introduced to Japan via the Silk Road. We can see it in the scalloped shape of the necklace and earrings that use slim borders of neon blue tourmaline to create depth and dimension.
Even though the primary function of high jewellery is to adorn and delight, it is always fascinating to learn something new about the culture of a country through the placement of gems, diamonds and, in this case, oceanic treasures.