Established in 1798 in Liverpool, England, the Boodles brand is steeped in history. From its humble beginnings as a shop on the British High Street to the global reputation it has today, there is one thing that sets Boodles apart from its Bond Street neighbours – family. Steered by six generations for over two centuries, this family-run company focuses on heritage to ensure its pieces speak to current trends while maintaining a timeless feel.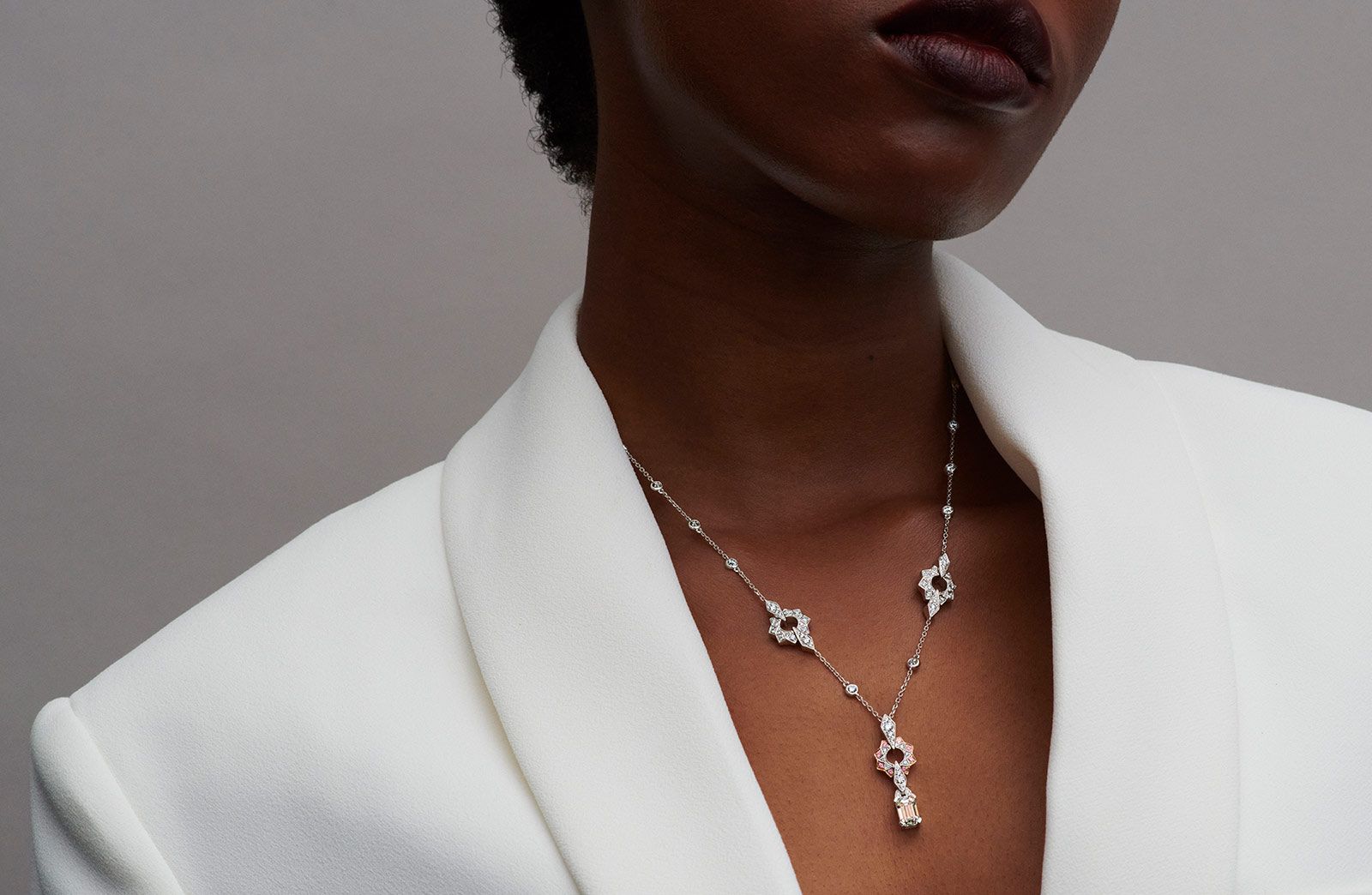 The same can be said for its latest collection - Peace of Mined – which has an important connection to one of the most famous diamond mines in the world, the Cullinan mine. Located in South Africa, this site is famous for producing some of the earth's most exceptional stones. It is here that the world's largest rough diamond was found in 1905, weighing more than 3,100 carats, which yielded two important stones: The Star and the Lesser Star of Africa. Both diamonds can be found set in the British Crown Jewels. The Star of Africa rests in the royal sceptre, whilst the Lesser Star resides in the Imperial State Crown, both of which were worn by Her Majesty Queen Elizabeth II during her Coronation on June 2, 1953. Each high jewellery piece in the Peace of Mined collection has a significant stone sourced from the Cullinan mine. Featuring an array of colourless, pink and yellow diamonds, the focal point of each creation is a Cullinan stone.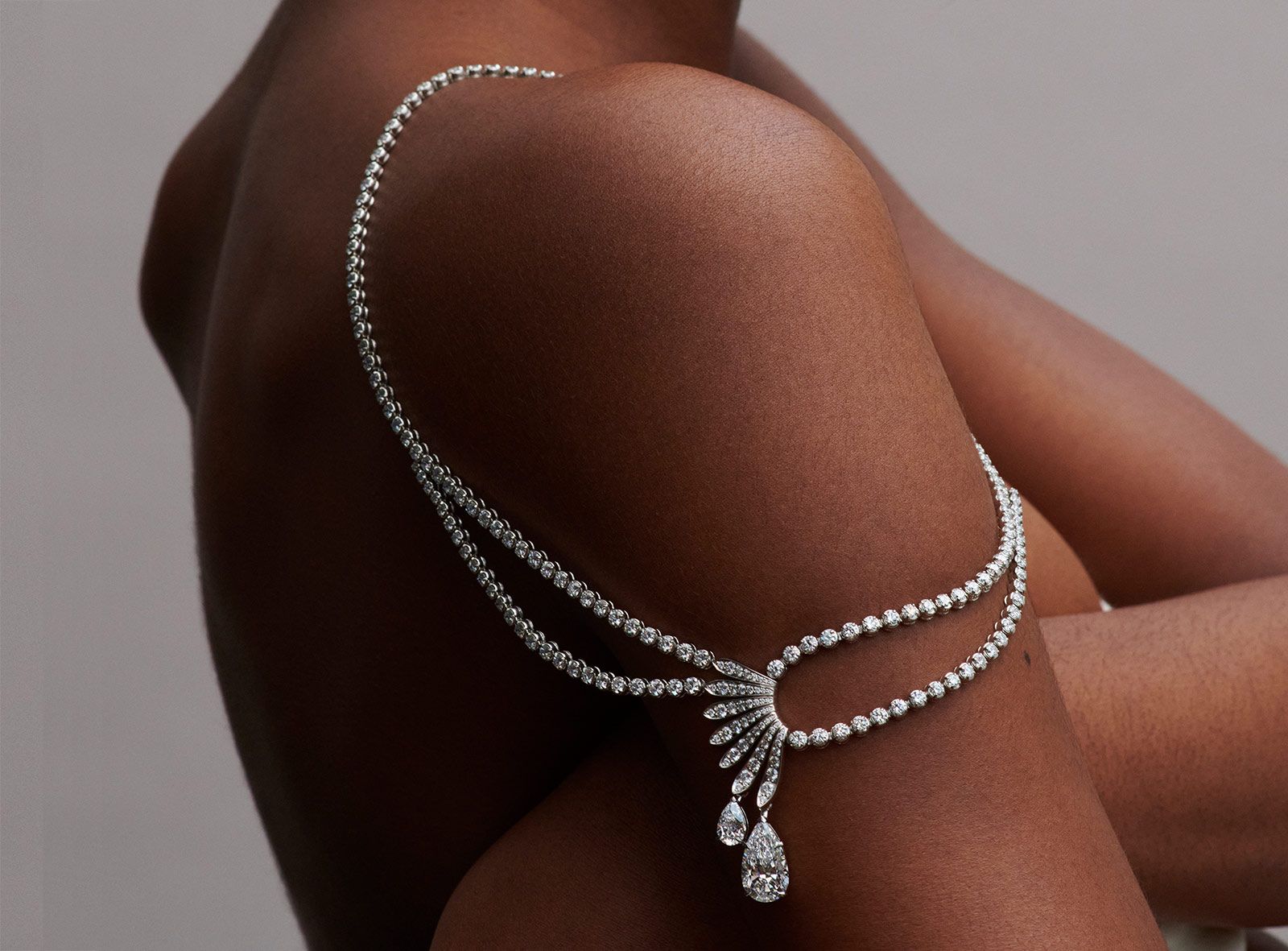 Boodles has worked tirelessly for generations to create a strong relationship with the Cullinan mine for two principal reasons: to bring its clients the most exceptional white and coloured diamonds available, and to provide 100% transparency when it comes to their origin. Provenance has become an important part of the jewellery buying process for clients and, with the origin of many gemstones shrouded in mystery and uncertainty, jewellery lovers want to invest with greater peace of mind… hence the name for this new offering from Boodles! Gemstones within the range can be fully traced to the first moment they were discovered (otherwise known as the 'Eureka' moment, as Boodles calls it) and through the process of transformation into a finished jewellery creation.
The pieces in question stay true to the Boodles creative ethos. Pink diamonds are set into the Boodles patented rose gold, whilst colourless diamonds are set in matching white gold. Along with their signature mixed metal finishes, the pastel tones that are most associated with Boodles jewellery are present throughout most of the collection. Pink and yellow diamonds are suspended between rows of white diamonds to create a powerful tonal contrast, introducing an updated setting technique to the brand's repertoire. This welcome modern twist brings a sense of freshness to this historic brand. Furthermore, Brilliant and step-cut diamonds are paired in each design, adding a distinct edge to the collection.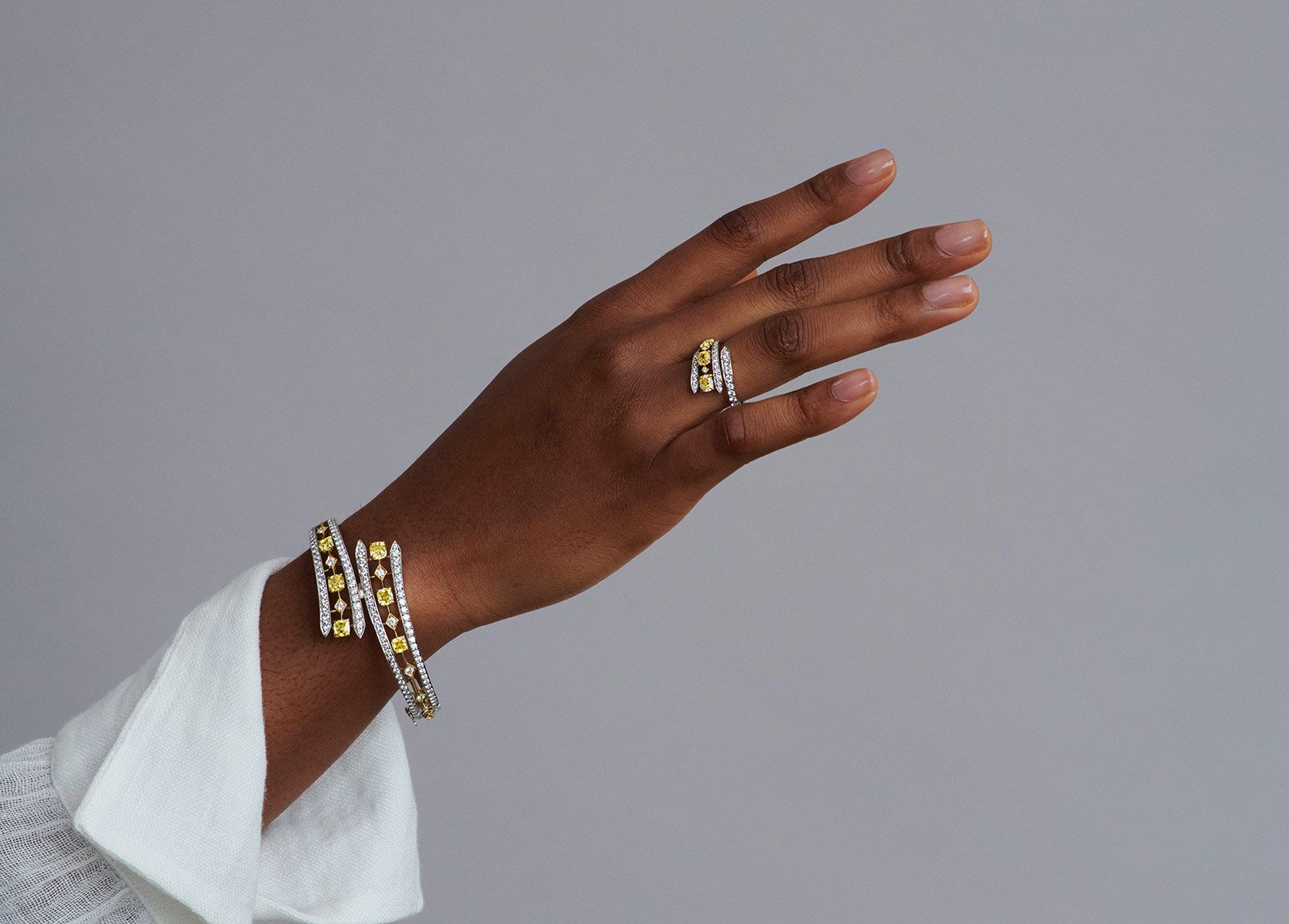 In the words of Boodles' Head Designer, Rebecca Hawkins: "The designs weave together inspiration from the British Crown Jewels, Boodles' heritage and the facet patterns of a brilliant-cut diamond to create a unique aesthetic ".
The highlight of the collection is a collar necklace with a detachable brooch. Composed of two rows of colourless pavé round brilliant and marquis diamonds, this necklace moves effortlessly when worn thanks to the fluid links that create each of the diamond lines. A splash of pink diamonds set in rose gold surrounding the focal point of the piece, a large pear-shaped diamond, adds a touch of colour to this transformable creation. This design highlights the brand's knack for transformable jewels and is the piece Hawkins is most proud of. She continues: "I think the interest in heritage pieces has reminded us of the complex designs of the past that would convert from a tiara to a formal necklace, and we want that but with a modern twist. These days it has to be quick and easy to transform and offer wider opportunities to enjoy the jewels you own."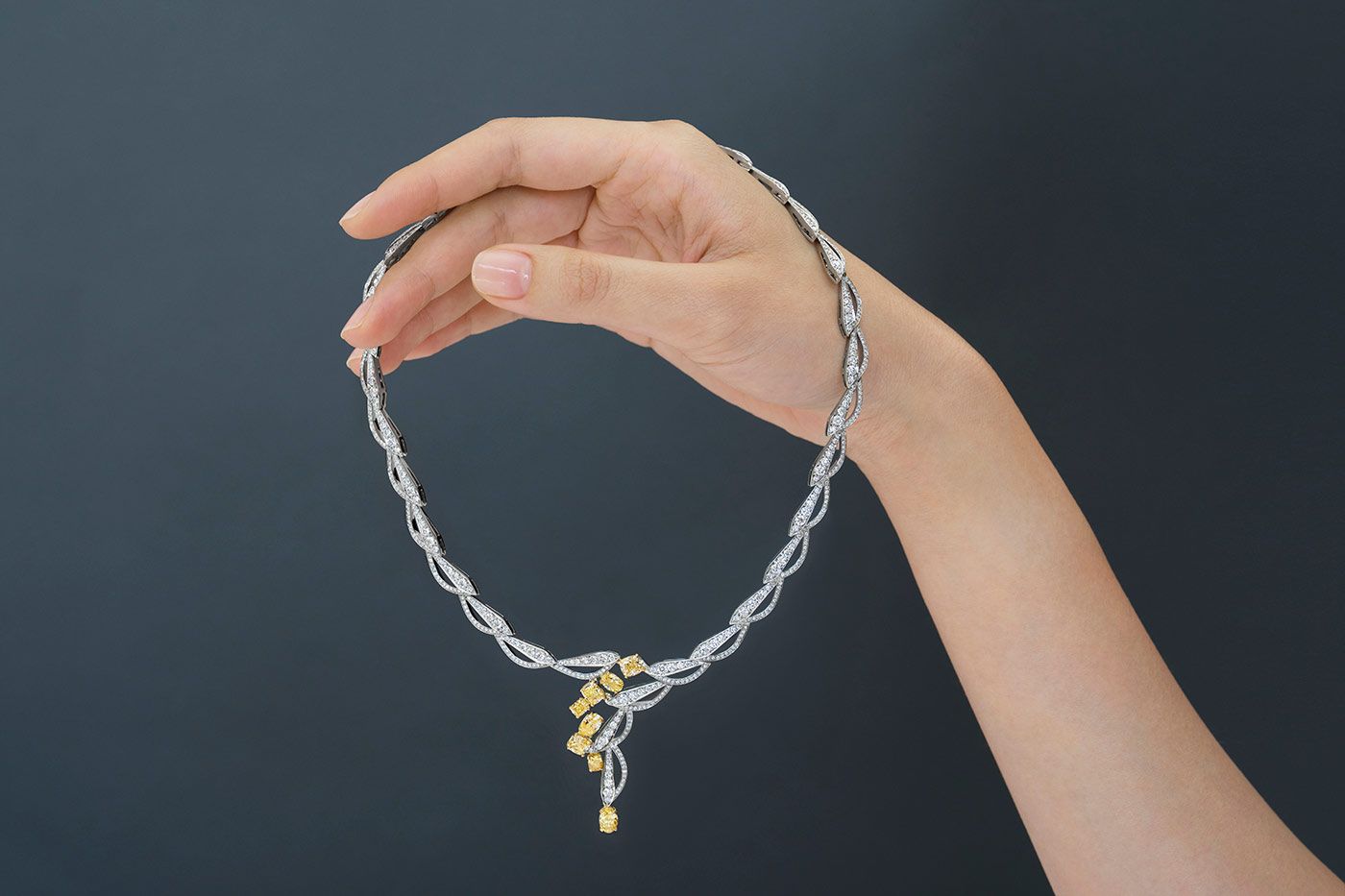 From a State Crown to a fashionable transformable necklace, the house of Boodles and its design team have proven that age is nothing but a number. Historic designs can be reinvented and the relationship between high jewellery and more mindful gemstone sourcing is more intertwined than ever before.