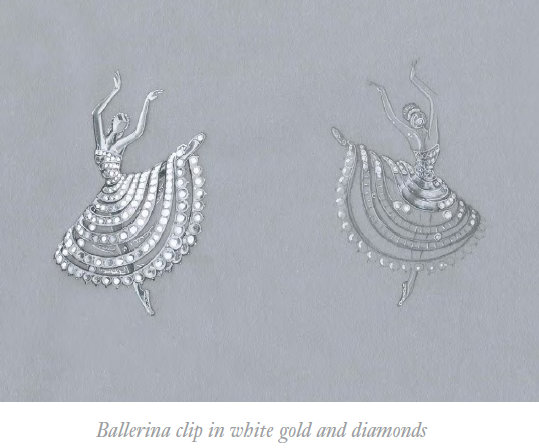 Being a big fan of sculptural jewellery I could not leave the latest Van Cleef & Arpels Ballerina brooches unnoticed. The French Maison never ceases to amaze me. Their master craftsmen possess a unique ability to remodel cold material such as metal by transforming it into delicate human forms.
Van Cleef & Arpel's craftsmen posses the 'savoir-faire', very characteristic of French jewellers. Their skill is evident in their craftsmanship where precious metals and gemstones are married in  unison. The Maison's master jewellers make gold sing like an exotic bird, gems blossom like beautiful flowers and metal dance like a graceful ballerina.
For Van Cleef & Arpels, ever sensitive to grace and harmony, dance has long been an important source of inspiration. The Maison's first ballerina clips were created in New York in the 1940s at the prompting of Louis Arpels, who was a great lover of ballet and opera. The pieces met with immediate success among collectors and soon became a signature of the French Jewellery House.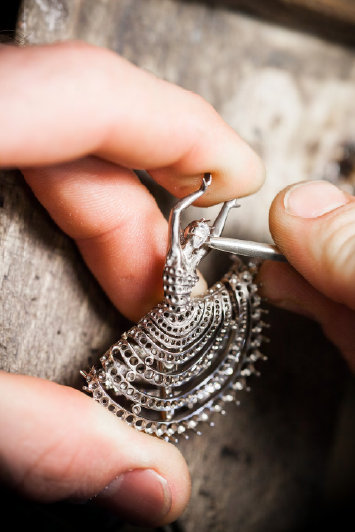 Even now, almost 50 years later, ballet remains a strong source of inspiration for Van Cleef& Arpels. So strong that the jewellery house did a collaboration with Benjamin Millepied, founder of L.A Dance Project, and presented four new High Jewellery pieces inspired by the world of dance. In white gold and diamonds, these ballerinas are remarkable for their graceful, ethereal lines and sparkling simplicity.
Just take a look at the dancer in the picture above, her floating dress is forever caught in motion, her slender silhouette is frozen in time. The chain of stones adorning her costume emphasizes its airy volume. Like all the Maison's ballerinas, the face is represented by a rose-cut diamond.
The entire silhouette is carefully shaped: the waist, the bust, the varying contours of the arms and the legs, flattered by the transparent effect of the openwork tutu. The attention to detail extends to the rear of the piece, which is as finely worked as the front; it is crowned by an elegant chignon which sparkles with diamonds.
Since her creation, this ballerina has been intricately awoken by a master jeweller of Van Cleef&Arpels who has given life to such an ornamental piece. This brooch is a fine example of the everlasting beauty captured in precious metal and the ballerina will dance forever for the one who is lucky enough to own her.