But can we really call a crucifix jewellery? In Orthodox cultures it has always been seen as something intimate, something you hide from view; only priests were allowed to wear it on the outside of their clothes. Crosses have always been designed to look elegant, beautiful, occasionally even downright luxurious, with even the most ancient crosses rendered unique through their style and décor. They have different centrepieces (square, rhombus, circular), the cross tips and branches vary from three-bladed points and lily-like patterns to lace motifs. You get crosses variations with anything from three to twelve arms; sometimes the arms loop round into circles, sometimes they have crosshairs at the tips. They come decorated with anything from images of plants to geometric shapes, enamel, gemstones and mother-of-pearl; masterpieces in their own right, hidden away from prying eyes, the hardest temptation being the urge to display them proudly.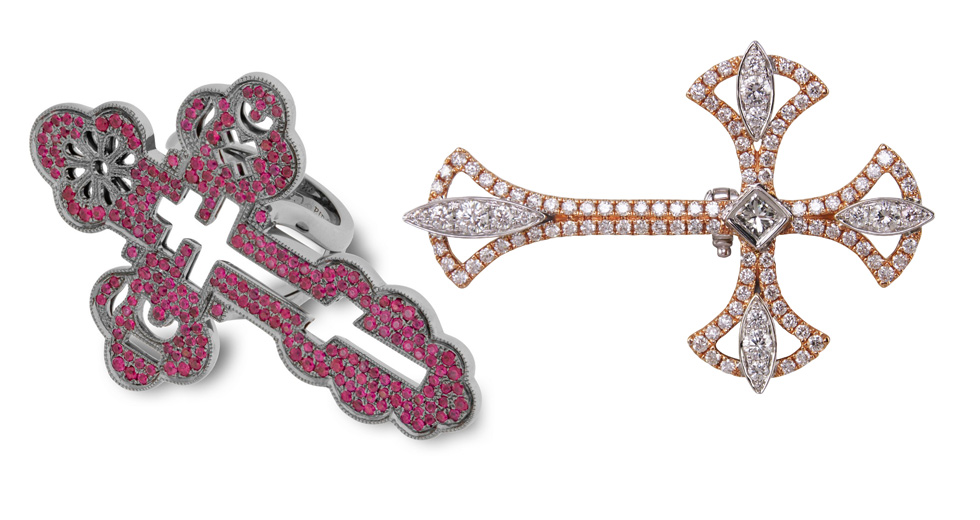 Over time, fashion created new rules and ushered in the age of the neckline, meaning keeping a cross hidden from view was no longer a possibility, so one would often see them as part of necklaces displayed around the necks of noblewomen. And so the crucifix became perhaps the most commonplace item of jewellery – literally everyone had one. This ubiquity made for huge demand, which led to all kinds of different designers and jewellers taking up the mantle, a far cry from the church canons and symbols.
Thus the ornamental cross was well and truly born. In Catholic countries, the decorative element was still closely intertwined with holiness, with painters adding the motif to their great masterpieces, on brooches, necklaces, even buttons. Nowadays, of course, it appears all over jewellery, on earrings, bracelets and rings. Dolce & Gabbana's 2013 show for Milan Fashion Week was perhaps the biggest single exhibition of big jewellery crosses to date, and perhaps the clearest evidence of their transformation from a purely religious symbol to something which most people would see as a fashion accessory.
Plenty of big jewellery brands regularly release different versions of cross-themed jewellery: Tiffany&Co, Damiani, Cartier, Theo Fennell, Stephen Webster, Lydia Courteille, Dionea Orcini and the list goes on and on. There is no arguing that the world of jewellery based on religious symbols is truly varied.