Every moment of creativity has a spark of inspiration. For the prominent Chinese artist jeweller Feng J, this was a special "Opéra de Paris" auction hosted by Opéra National de Paris, AROP (Friends of the Paris National Opera) and Sotheby's Paris in January 2023. The occasion was designed to raise funds for Palais Garnier (also known as Opéra Garnier), the French home of music and ballet, first built in the late 19th century at the behest of Emperor Napoleon III. Feng J donated a special piece to this worthy cause - 'Coeur Blanc' – a piece of pure art crafted at her atelier in white enamel, double rose- and brilliant-cut grey, purplish grey and black spinels that echoes her dynamic, avant garde style, coupled with an original drawing of the unique piece.
In fact, her signature style is so well regarded that in March 2022, one of her art jewels - the 'Feuille de Ginkgo' brooch - was accepted to join the permanent collection at the Musée des arts décoratifs in Paris, which made her the youngest jeweller to achieve this feat.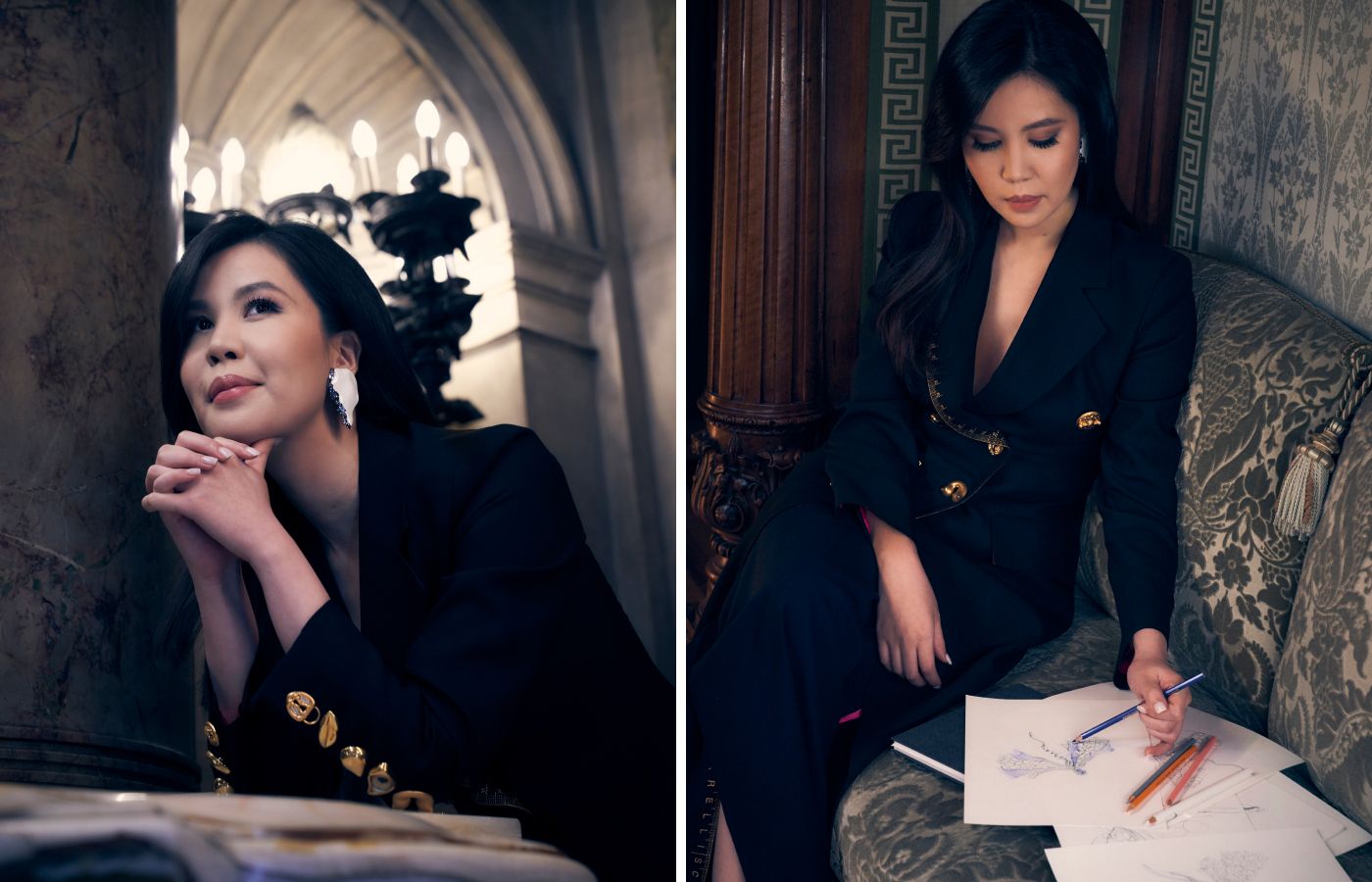 "For me, the Palais Garnier is a spiritual monument because I engage in artistic activities. Through this donation, I hope to show that there is a link between creating a ballet and creating jewellery: it is a tribute to humanity," Feng J.
The Opéra Garnier story could have ended there, but a chance encounter took Feng down a different path. Through the auction event, Feng was introduced to renowned director James Bort, who has created fabulous campaign films for Hermes, Piaget, and Balmain, among others. His wife, Dorothée Gilbert, is a principal ballet dancer at the highest 'Étoile' level at the Paris Opera Ballet, which means he has a unique sensibility for the craft of ballet and artistic performance. Their conversations led to an idea – to blend the universes of jewellery and ballet into a short film featuring esteemed ballet dancers of the Paris Opera House.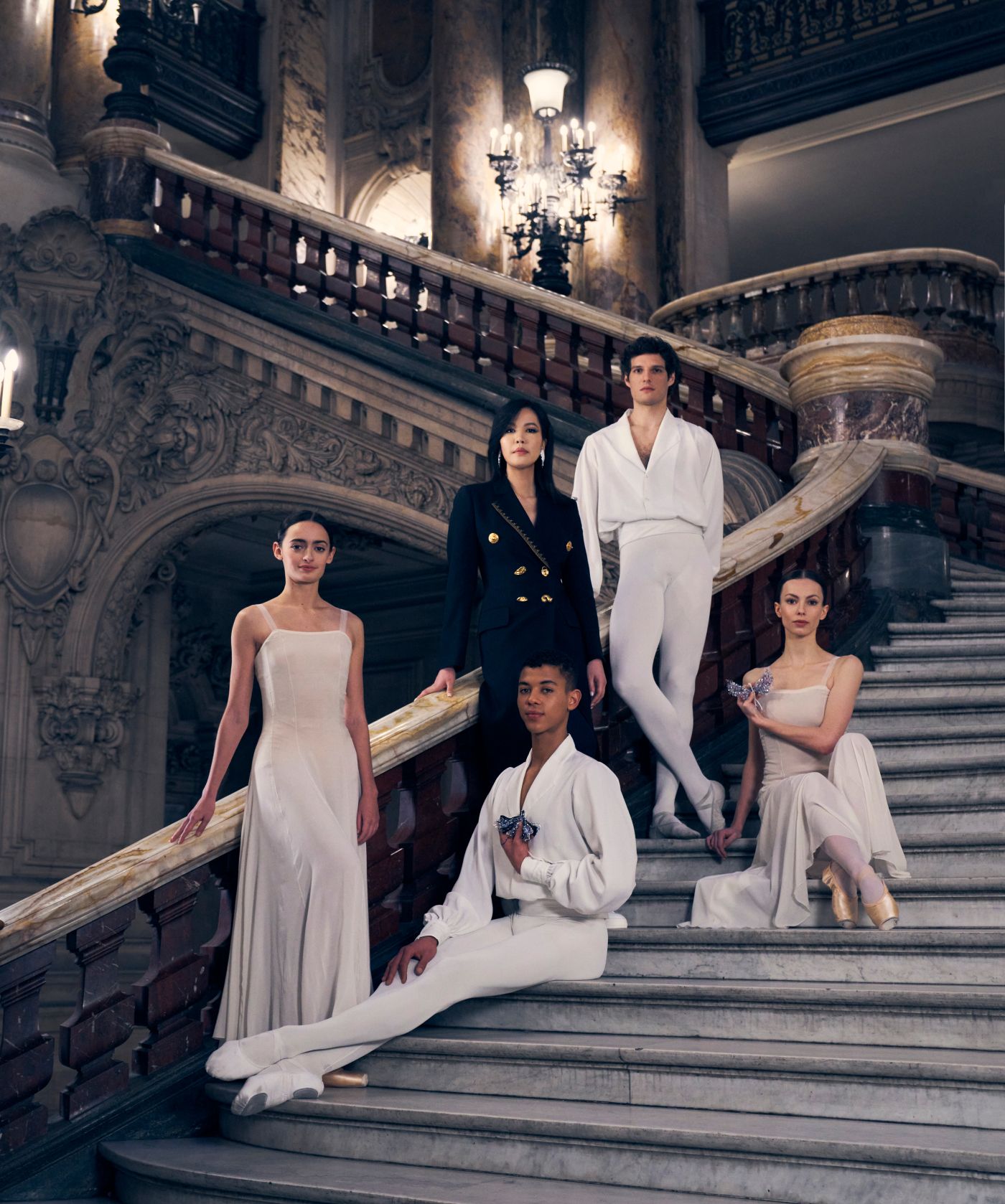 Just a handful of months later, the film was brought to life, directed by Bort and featuring four incredible talents: Guillaume Diop (Étoile), Bleuenn Battistoni (Première Danseuse), Mickaël Lafon (Coryphée), and Adèle Belem (Quadrille). It tells the story of Feng visiting the Palais Garnier and being transported into a daydream of dancers who appear like magical illusions within the walls of the historic opera house. In addition to the short film, eight portraits were also commissioned of the elite dancers holding and wearing unique Feng J creations, including the 'Blooming Dragonfly Diva' and the 'Dragonfly Wearing Moonlight'.
The dragonfly is an important reference point for Feng J and a recurring theme in her jewels. She describes the winged insect as a "natural dancer" because of the way it dips and darts through the air with such lightness. There are clear parallels with ballet dancers, whose graceful movements can sometimes appear gravity-defying! She's produced two special pieces to interpret the physicality of ballet dancers in her own way: the pink-hued 'Blooming Dragonfly Diva' inspired by the Première Danseuse, Bleuenn Battistoni, and a more masculine blue iteration – 'A Dragonfly Wearing Moonlight' – using Guillaume Diop, the first black person to reach the rank of Étoile in the history of the Paris Opera Ballet, as the original inspiration.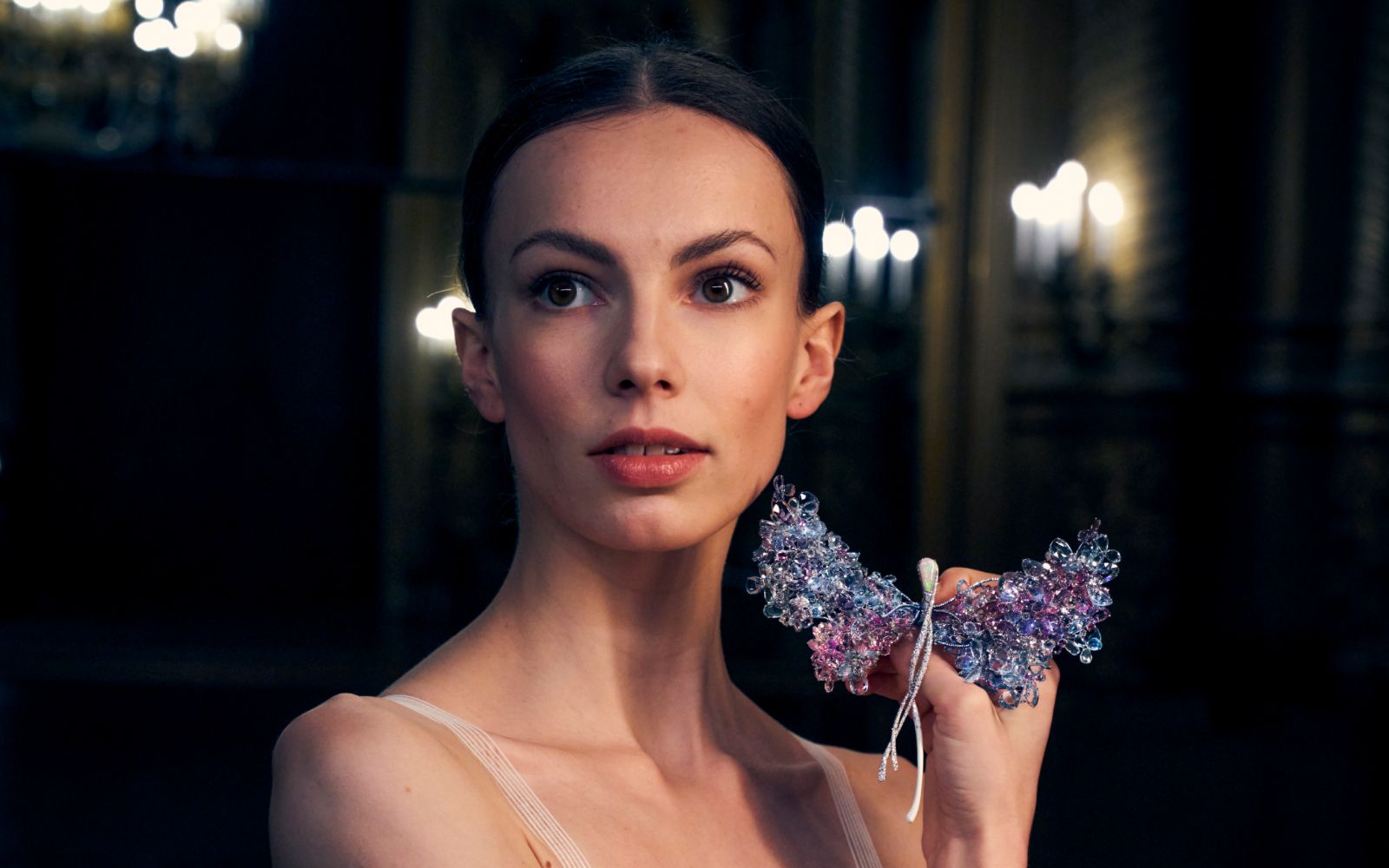 In terms of construction, 'A Dragonfly Wearing Moonlight' did not start with the traditional method of carving wax before casting. Feng created the piece like an artist sculptor, using titanium, copper and gold to produce a framework in perfect harmony, like individual dancers working together to create something beautiful. The piece is finished with silver powder to evoke the shimmering of a lake beneath the night sky.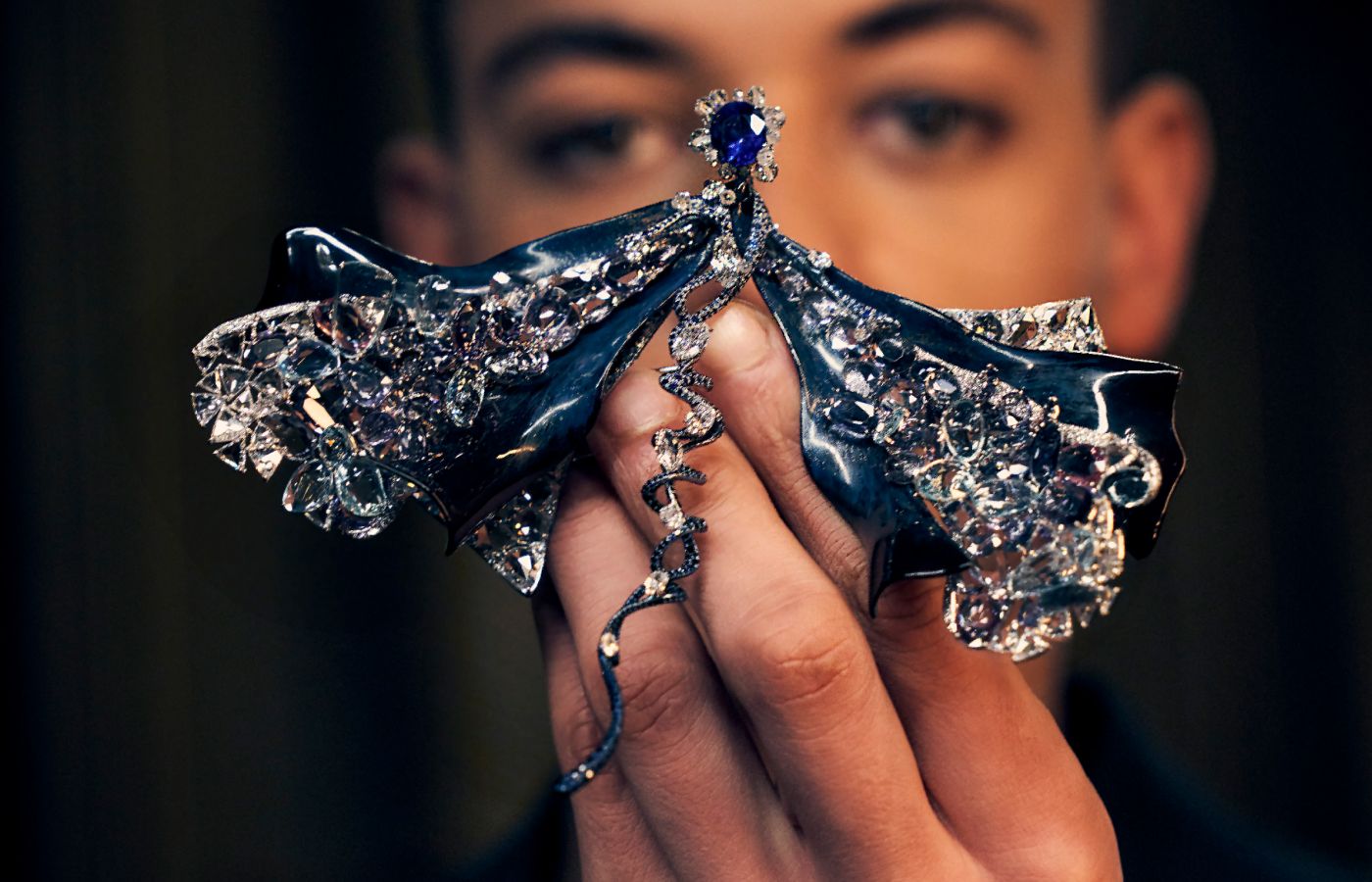 In both pieces, we can see Feng J's recognisable 'Floating Set' technique, which uses an extraordinarily lightweight skeleton structure to make double rose-cut gemstones appear as if they are poised in mid-air. Her palette of gem hues is also notable for its similarity to Impressionist art – almost like a watercolour painting – which is why Feng J is described as mastering a "painterly style" in high jewellery.
However, these two creations are special for a different reason. They demonstrate an elevated gemstone setting style and innovation from the Feng J atelier: the 'Standing Mounting'. Especially in the 'Blooming Dragonfly Diva' we see gemstones that are not laid flat but rather set vertically and facing outward at varying angles. These individual 'standing' gems are placed in cluster-like structures, as if myriad pastel-hued petals are blooming and growing in real-time, just like in the natural world. The 'Standing Mounting' innovation has the effect of adding volume and dimension to each piece without adding unnecessary weight. This is yet another example of how Feng J pushes the boundaries of high jewellery design while maintaining her romantic and whimsical aesthetic.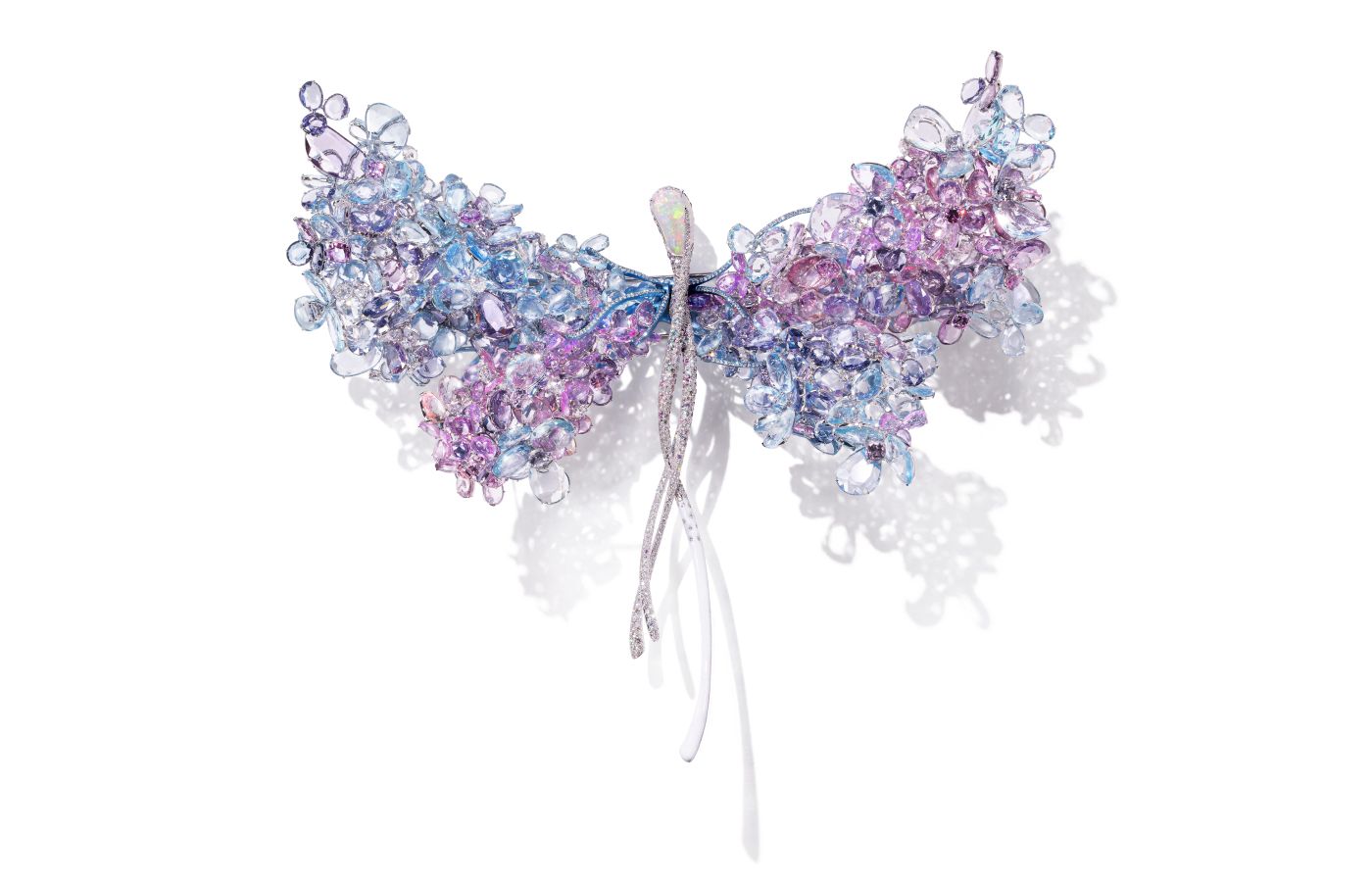 I am sure you will agree that this is a beautiful feat of storytelling from Feng J, who has fused the worlds of ballet, high jewellery, and nature into something artistically compelling. So whether the stars of the Paris ballet draw you in, the double rose-cut sapphires and spinels, or the sweeping cinematic talents of director James Bort, this is an opportunity to see unique jewels in a new light.