To be precise, this is actually a series of collections dedicated to three months of the year: January, June and July. The first of these is a tribute to the deepest point of the Winter, and entirely synonymous with the characteristics of Russia's frosty weather. It has been named 'Promenades Imperiales', and was debuted at Paris Fashion Week. To mark this latest jewellery collection, the hall above the Chaumet boutique in Place Vendôme was turned into a snowy Siberian forest. As I walked through it, I found myself in front of a huge stylised suitcase, containing displays showcasing pieces from the jewellery collection.
A presentation of the next two instalments is being planned for later this year; the second in Japan, and the final one in Paris in July. But we won't be skipping ahead to that yet. First, we'll be closely studying the jewels in the 'Promenades Imperiales'; a transformable necklace, rings, earrings, an elastic bracelet and brooches.
The concept of their design is focused on conveying the beauty of the endless snowy steppes, the snow-covered barks of birch trees, the ice crystals of frozen rivers and snowflakes – here, the lacy diamond motifs perfectly suited the task at hand. Looking closely at the brooches, the pendant on the centrepiece necklace and the rings made with sapphires and padparadschas, then you'll immediately spot their similarity to a 'kokoshnik'. This traditional Russian headdress boats an attractive, fan-shaped design, which looks particularly effective when applied to jewellery, and is immediately identifiable as a symbol of Russia.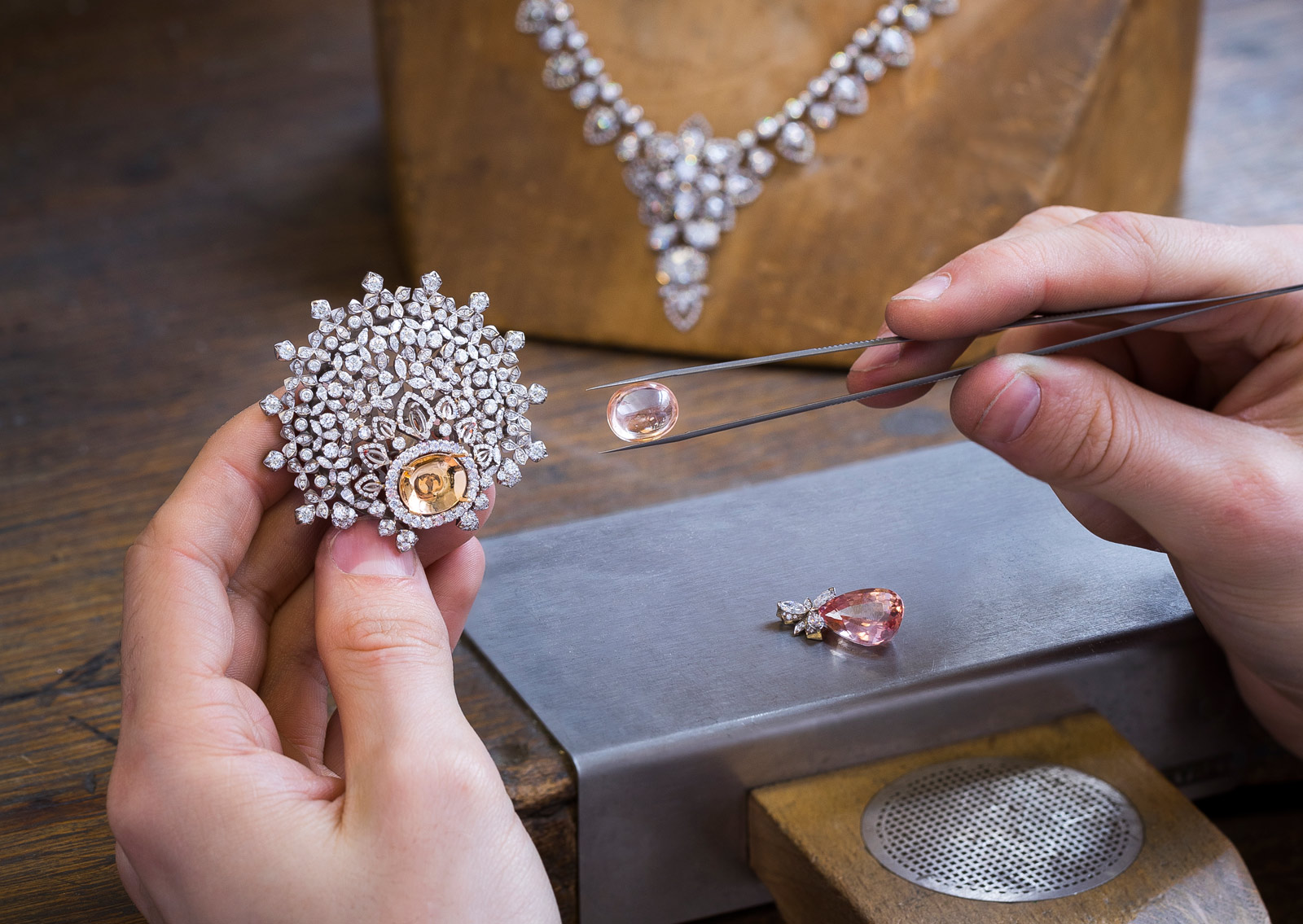 The winter theme lends the jewellery's colour palette a certain tone, and so all the jewels have been made from colourless diamonds. Their monochrome colour palette is tinted only by the Ceylon sapphires that reflect the clean ethereal blue of the day's sky, and the orange-pink shades of the padparadschas reminiscent of the dawn and dusk.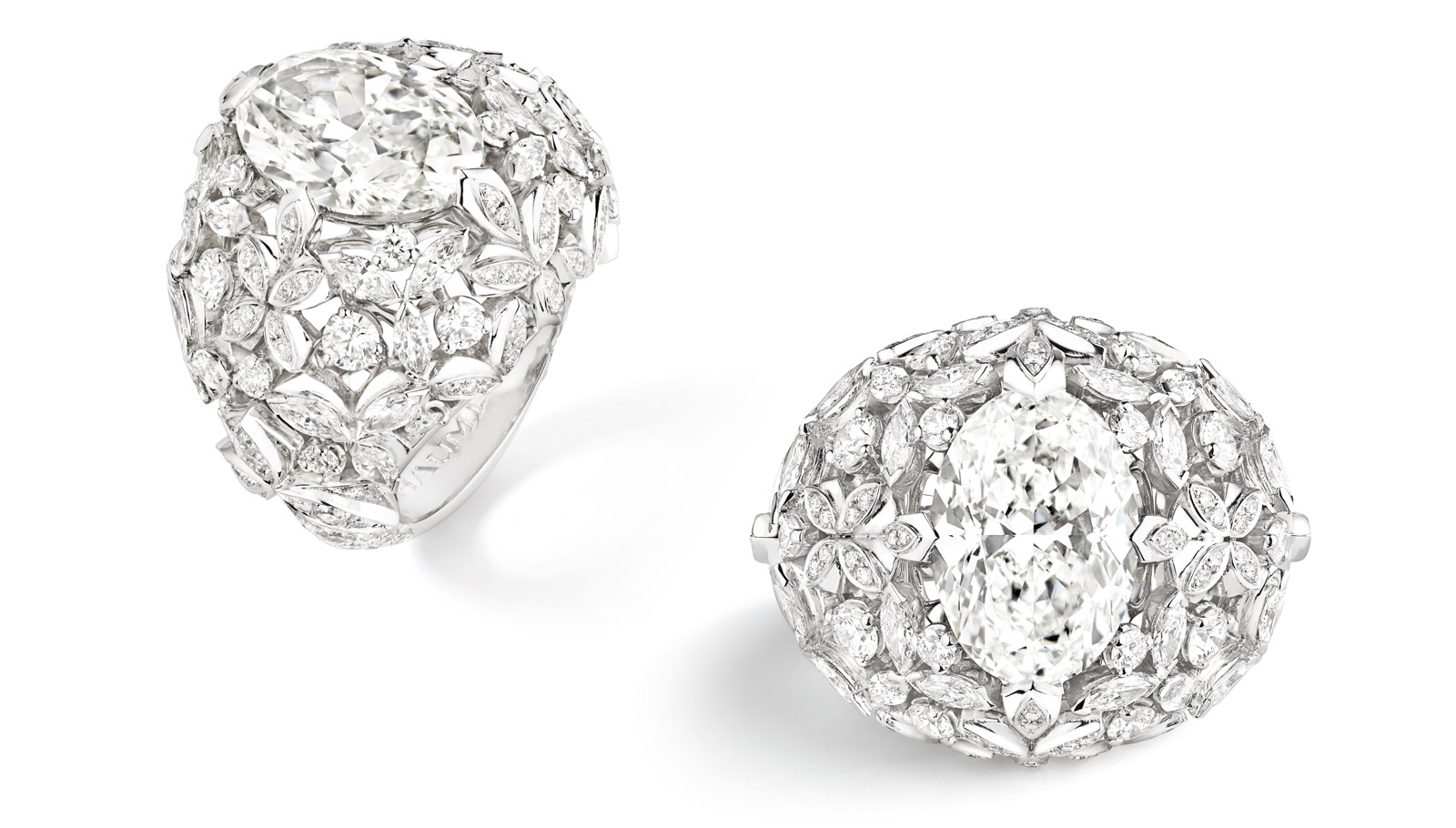 The transformable necklace, made of white and rose gold with two Ceylon sapphires weighing 16.31 and 9.03 carats of a 'sunset' padparadscha hue, has inevitably adopted a central place in this stunning collection. The sapphires are surrounded by diamonds, the largest of which is 1.13 carats. Thanks to the necklace's removable pendant, it can be worn in ten different ways, turning, for example, a large evening piece with a pendant into a much simpler diamond necklace.
Another Ceylonese padparadscha sapphire weighing nearly more than 7 carats and with similar characteristics adorns a diamond bracelet, which imitates the movement of fabric with its "emmaillement" lattice work, as well as a ring with a 3.03 carat stone. Their Madagascan cousins adorn a pair of earrings and a brooch. Snow-white diamonds and velvety blue Ceylonese sapphires are central elements of the remaining pieces.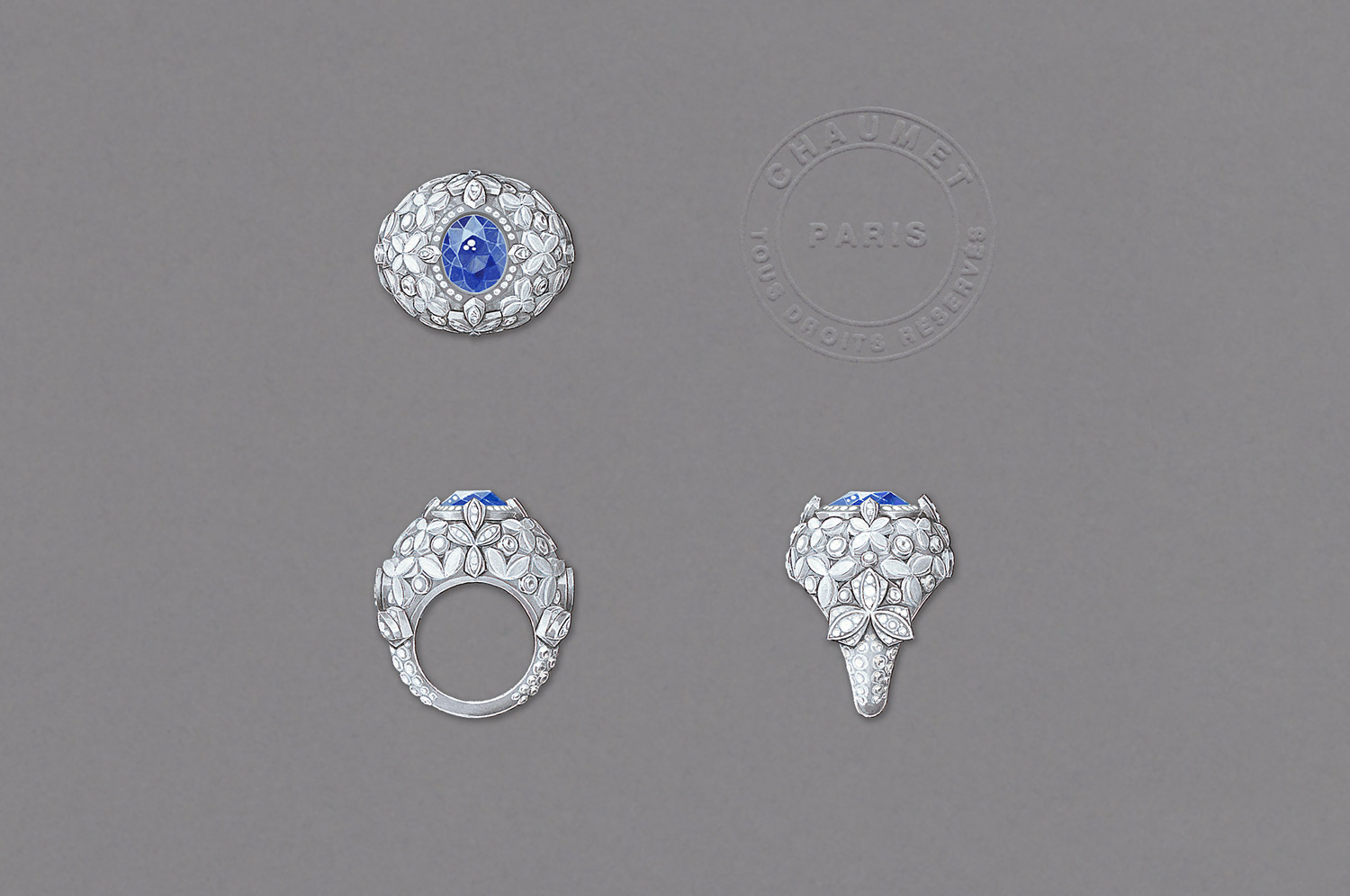 Well there you have it! Now that we've enjoyed a Chaumet winter, we'll be looking forward to things getting warmer, and the continuation of this jewellery series.