The brand's pieces represent stunning examples of a new concept; where various jewellery artists contribute to the collection of one brand and have their names credited for those creations. This approach was the idea of Yve Chan - Director of DAWN - whom I met during the Hong Kong Jewellery and Gem Fair. Here, we had the chance to discuss the unique nature of the artistic collaborations which his brand is curating, nurturing and exhibiting to the world.
Katerina Perez: Jade and jadeite are the speciality of DAWN jewellery. Where does your fascination with the gem come from?
Yve Chan: The Chinese have loved jade for several thousand years, while jadeite only appeared during the Qing dynasty - which was about 400 years ago. Both of these gemstones have played an important part in Chinese culture in the past, and they still do to this day.
KP: You have access to such variety of this precious mineral!
YC: Indeed! In our family business we operate the biggest jade market in China – The Dawn Market of jade - which contains thousands of stores. It's like a trade show which is happening every day! With DAWN though, we're trying a different approach – it is a luxury brand established to promote jade jewellery internationally stepping away from the traditional designs. We showcase all sorts of jade in a more modern context, which appeals to various tastes and not just those in the Chinese market.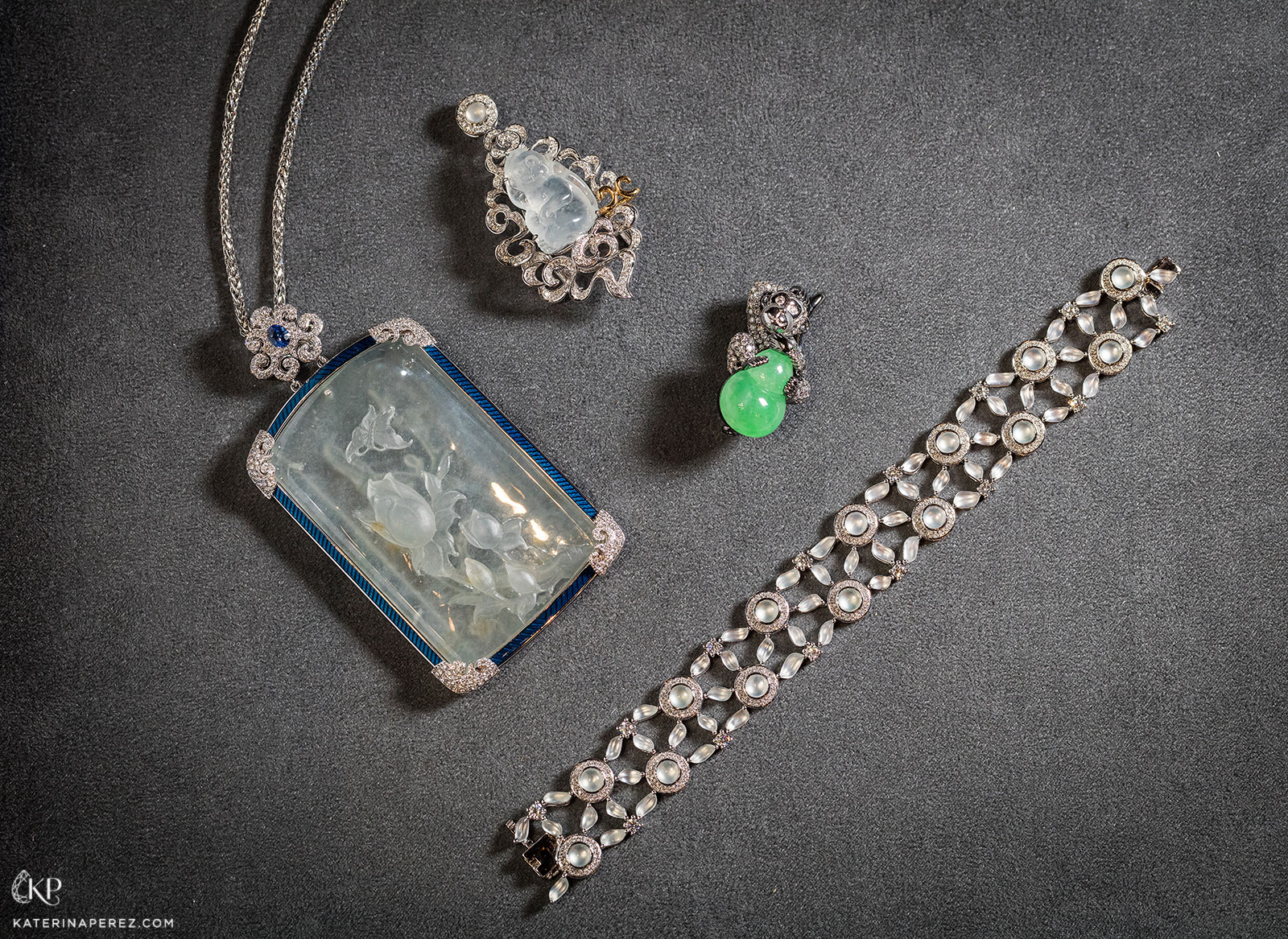 KP: From these roots in trading, what then inspired you to create jewellery?
YC: The jade market is my father's business, and for my own generation I want to create a platform for both the traders and the craftsmen. Our goal is to create a platform that will allow all of these people to collaborate and bring their expertise to the table. We established DAWN in 2014, and began exhibiting at international fairs like BaselWorld in 2016.
KP: How do you select artists and creatives to collaborate with?
YC: We seek out people with the same core values as we have at DAWN; we look for a certain energy and an appreciation of art in them, and in turn we share our knowledge and expertise. Everyone thinks that if you have very expensive materials then they will automatically turn any jewel into something special, but in reality, you need the most skilled artists to bring the best pieces to life.
KP: Was this the case for the dragon necklace?
YC: Yes, the dragon necklace is a perfect example. It is the result of collaborative effort: to bring it to life I gathered together a young jade carving artist, LI Kai Yuan; our in-house designer, Red YEUNG; an enamellist, YI Shui Han; and a rope artist, XU Min. Together we created something that is unique in every way. The necklace begins with the orangey-yellow jadeite carved as a dragon, complemented with a collection of beads of the same colour and cloud-shaped enamel pieces which are colour- matched. It is a piece of heritage with a modern twist.
KP: Were these craftsmen selected especially for collaborating on the necklace?
YC: Yes, as we appreciate each individual's technique and choose craftsmen who are specialists in their own field. For example, for creating the dragon we go to the master who has carved many dragons in the past ,as it is only by repeating this exact technique numerous times that people become highly skilled.
Although I personally feel that the Europeans are still getting to know jade; the more it is in the spotlight, the more its beauty will be appreciated and its value understood. In DAWN creations, Yve Chan strives to convey the idea that jade is artful, precious, and as desirable to the rest of the world as other gemstones - and it seems to be just a matter of time until he reaches his goal.