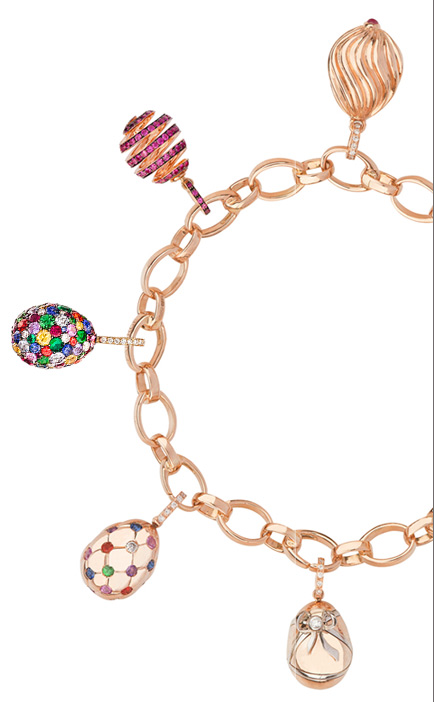 Nina Garcia, the author of "The One Hundred" included charm bracelets into her guide to the pieces every stylish woman must own. And I would do the same, but not only because this kind of bracelet is trendy eye-catching, but also because it usually has more meaning to it than just self-adornment. Charm bracelet is more like a diary, but worn on your wrist, with each miniature trinket reminding of some cherished moment of your life.
Not all of us are aware that the tradition of wearing charm bracelets appeared a long time ago during the times of great Tzars ruling the Imperial Russia. Fabergé – the jeweller du jour for the aristocracy of Imperial Russia – was responsible for this gift of choice. The sweet little charms were regarded as tokens of love and cherished friendships and given at family gatherings and official royal visits. So over time the precious egg charms were collected and layered on a necklace or a bracelet forming a jewel that very much resembles the modern charm bracelet.
Fabergé of today reinvented egg charms and presented them at Baselworld watch and jewellery expo in March. The playful miniature versions of the most popular Fabergé egg pendants were added to the Treillage, Spiral, Cadeau and Emotion collections, as there was also a diamond-set gold egg which can be engraved with a personal message or initials, for a bespoke gift. Each of them was a display of unrivalled craftsmanship through a contemporary interpretation of traditional techniques and iconic motifs. Stylish and versatile, their intricacy was delicately punctuated with diamonds and gemstones in captivating colours.
Unarguable, Fabergé stays true to its original spirit of artistry and innovation and continues to create the treasures of tomorrow. Its precious hand-crafted jewels set with exceptional gemstones pass from generation to generation, forming a chain of special bonds between every giver and receiver. KP