The unique piece was made with three shades of gold: white for the horse, yellow for the jockey, and pink for the bridle. (And, as a matter of fact, this is the only Alabaster & Wilson Ltd. brooch with the racehorse's bridle in this colour.) The jewellers couldn't help but pay close attention to the brooch's detail, intricately encrusting the white gold horse with 35 diamonds weighing 0.52 carats in total, and finely decorating the jockey's clothing with multicoloured enamel in royal colours. The painstaking work of the vitreous enamel was conducted by Keith Seldon, a specialist in this particular technique.
Alabaster & Wilson Ltd. is a family-run jewellery business located in Birmingham, dating back some 129 years. The brooch for the Queen is not the brand's first piece dedicated to the equestrian sport, as the company's jewellers have already made brooches, bracelets, pendants and cufflinks on the same theme. But the Brooch for Queen Elizabeth II is not just a piece jewellery featuring a horse. When creating this particular design in the style of 19th-century, the goldsmiths were inspired by the portrait of Fred Archer – a jockey who won the Prince of Wales's Stakes – painted in 1975.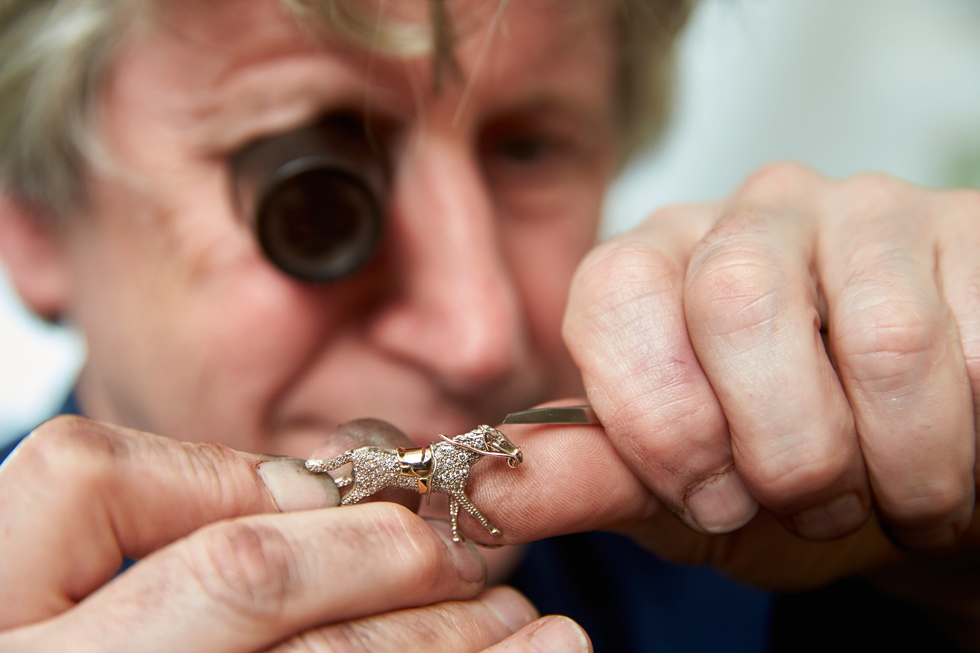 Stephen Alabaster, managing director at Alabaster & Wilson Ltd, said: "Our family has been creating the finest jewellery for four generations, and there's no higher honour than to be asked by the Racing Post to make this gift for the Queen. The brooch is an extremely intricate piece, right down to the jockey wearing Her Majesty's famous racing silks. We hope she likes this unique piece of jewellery and enjoys her favourite racing week of the year at Royal Ascot."
The Royal Ascot is a famous racing week held annually in Ascot near Windsor Castle, the official resident of Queen Elizabeth II. This definitive test of the best racehorses in the world was founded in 1711 by Queen Anne, and is still considered an important annual event. Elizabeth II loves the sport and doesn't miss a single one of the five days of races.