In fact, this coming June, London's Sadler's Wells theatre will host 'Emeralds', the last instalment of Gems Trilogy supported by Van Cleef & Arpels. It is a tribute to George Balanchine's ballet Jewels, and the product of a kindred-spirit shared by the co-founder of New York City Ballet and Louis Arpels' nephew, Claude Arpels. This same creative 'friendship' has paved the way for possibly the most iconic jewellery series from the eponymous French House: the "Ballerinas" series, which has been regularly updated since its first inception in 1941.
Throughout years Van Cleef & Arpels produced the most emblematic representations of operatic dance in both Bals de Légende (2011) and Ballets Précieux (2007 & 2013) collections. The former celebrates legendary balls of the 20th century through five sets of jewels, including five exclusive Ballerina clips that served as imaginary introduction for each 'ball'. The latter, Ballets Précieux, is squarely a tribute to the art of dance, with a second chapter 'dedicated to five great ballets for the Russian repertoire' six years after the initial launch.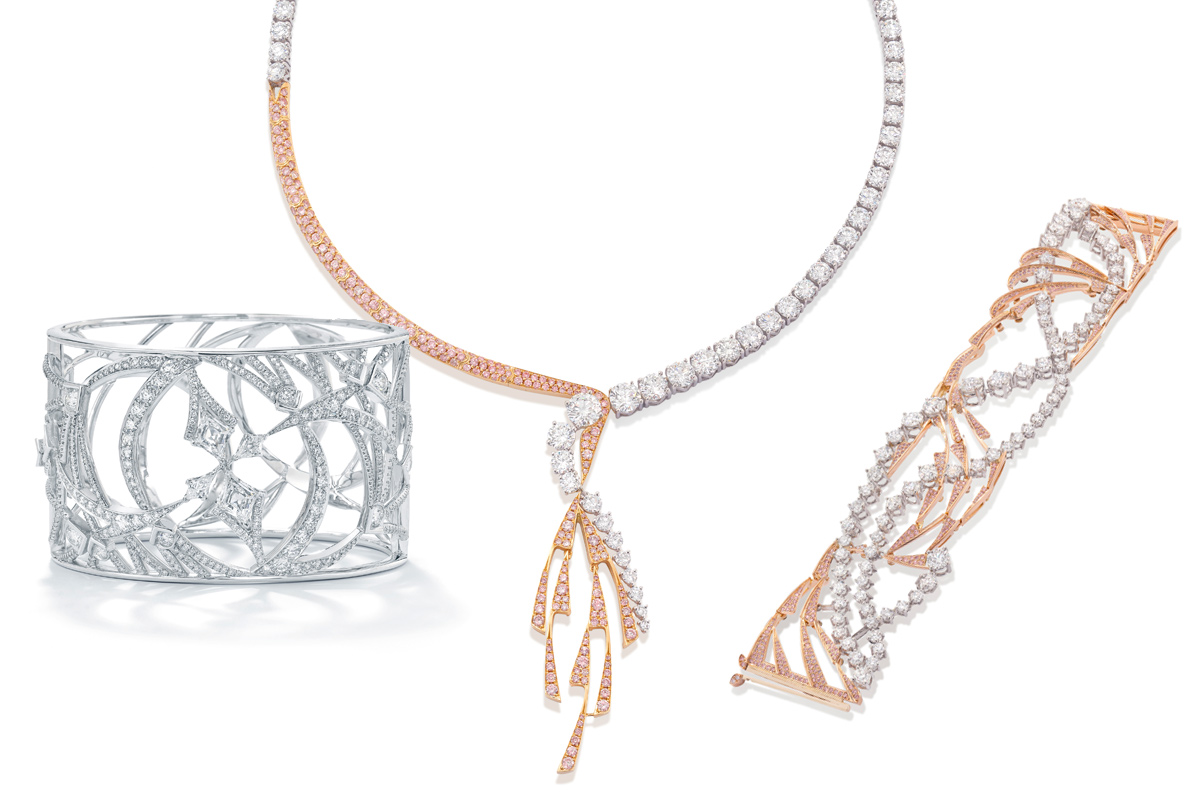 Notwithstanding a literal interpretation, dance-inspired jewellery can also take the form of an abstract rendition. In classical dance, the sequence of choreographed movements often appeals to our spirits through our eyes. This is precisely what the Pas de Deux collection by Boodles is about. Unveiled in June 2015, and inspired by the British Royal Ballet, this collection solely focused on the 'purity of dance itself'. Head designer, Rebecca Hawkins immersed herself in the Royal Opera House, and thanks to a rare access to archives and rehearsals, she was able to study and then translate the symbiosis between two dance partners in a platinum setting. Central to this collection is the use of kite-shaped diamonds; difficult to source, they somehow embody what classical dance stands for: a gruelling preparation behind an effortless execution.
Audemars Piguet have been exploring the kinship between high jewellery, watch making and ballet in their Millenary Précieuse collection inaugurated in 2007. It was created in a direct partnership with the Bolshoi, making prima ballerina Svetlana Zakharova the ambassador of the jewellery line. The collection was extended in 2009 with the introduction of bejewelled watches. Brilliant-cut diamonds that also constitute delicate strands in some longer pieces punctuate diamond-paved circles evoking a pirouette fouettée. They also come in several disks attached to each other in a row, hence forming a ronde. It all possesses a dazzling flow; the way ballet ribbons may sway.
Another approach saw Boghossian's creative director, Edmund Chin singling out one ballet piece in particular in 2015: 'I was inspired by the opulent atmosphere described in the One Thousand and One Nights tale, in which walls are made of gemstones', he shares. In the resulting Ballet Oriental, the focus is also on abstract creations, yet sumptuous ones. The emphasis is on 'east meets west' – eastern inspirations paired with west-born techniques. 'Many eastern and western aspects are intertwined and almost impossible to untangle because they are held together by our brand', he says. Arabesque – as much as an Arabic pattern as a dance technique -, and saut de l'ange – where the ballerina is caught in mid-air by her partner -, are predominant concepts in Ballet Oriental. 'As in a saut de l'ange, the diamonds leaps out of their normal confines,' Chin adds, 'and move to different parts of the body.'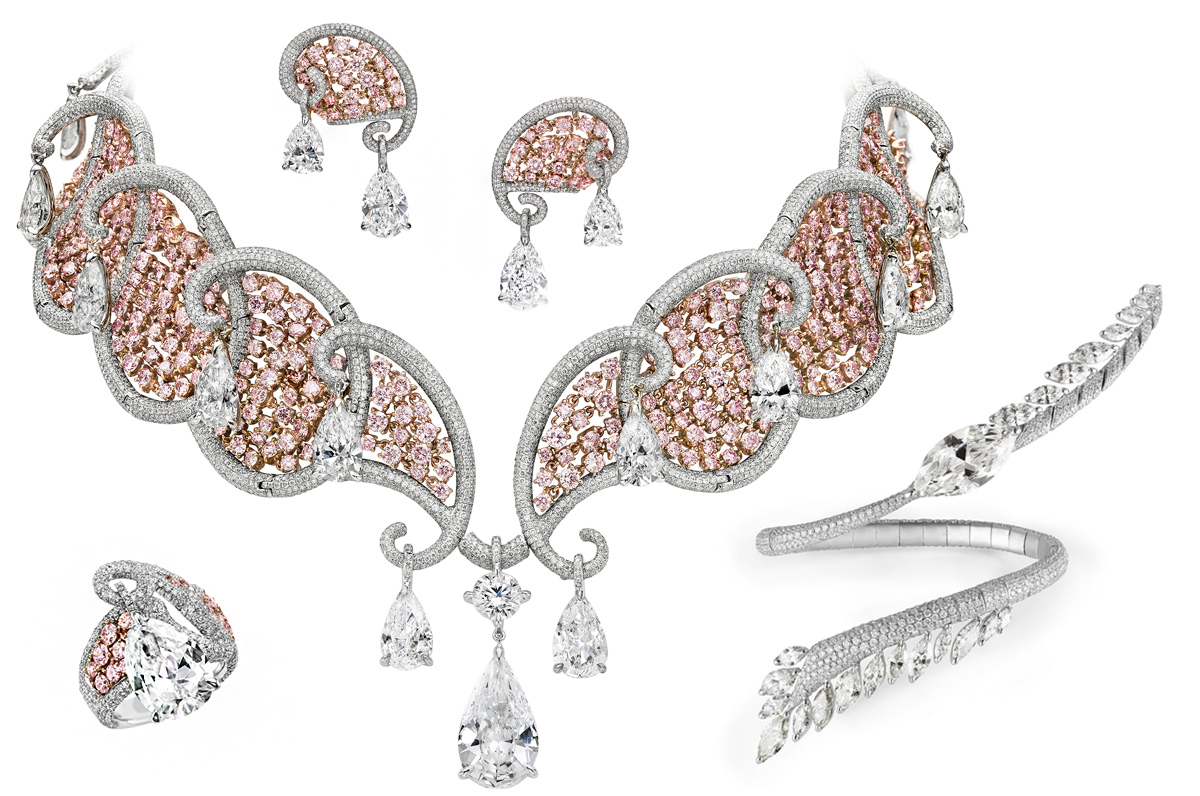 St.Petersburg-based jewellery brand Sasonko lauched their Ballet collection dedicated to Russian ballet back in 2012. Designed by Tatiana Khromoseyeva, it was inspired by ballerinas' slender silhouettes and floating tutus. The debuting line consisted of a variety of rings, earrings and a magnificent necklace crafted in polished and brushed white gold embellished with aquamarines and diamonds. A few years later gold pieces with multicoloured vitreous enamel were added to the existing ones forming a new capsule collection Ballet.Cocktail. They were followed by yet another extension – Ballet.Concept introduced in 2015 that featured a variety of designs in perforated gold and a number of precious stones.
As seen above, inspiration comes from all aspects of a ballet, yet Lalique, who is a partner of Paris National Opera, and their creative director Quentin Obadia rather identified textures of a particular costume to incarnate one of their latest fine jewellery collections, L'Oiseau de Feu. On June 25th, 1910, Serge Diaghilev, then founder of the Russian Ballets, orchestrated a performance of L'Oiseau de Feu (The Firebird) by Igor Stravinsky. The lead role's costume served as Obadia's fiery reference, as seen in a multi-strand necklace with a hand-braided black silk and yellow gold thread rope, hinting at the belt from the original garment. Diamonds, orange sapphires, black and white jade, fire opals, white pearls, carnelian beads re-create the colour palette of the costume.