Ilona Stolie is creative, and vehemently enjoys everything new and artistic which is, of course, reflected in her whole appearance. Ilona's unique style, an illustrious combination of luxury and hipster chic, has already been recognised and preserved on the cover of glossy magazines like Vogue, Coveteur and The Economist. The search for the same freedom and sensuality in jewellery was what led Ilona to the idea of creating her own jewellery brand, By Stolie.
Ilona drives towards bold experimentation with humour, whilst managing at the same time to remain, invariably, a glamorous socialite. By Stolie jewellery is smooth and light, like a second skin, and its design to supports and emphasises the synthesis of these two elements. Every piece – from a wide gold thumb ring to an openwork diamond choker – contains a hidden message legible only to those able to read the symbols of contemporary fashion and culture. Can you read the clues?
Take a look at the 'Perfect' necklace, and it seems to pretentiously claim, "I'm perfect!" Ilona ironically defeated her "glossy" titles: 'Secular Lioness' and 'Style Icon'. Her desire for excellence is diluted with self-irony and a spirit of freedom, so the letter T in the word Perfect is slipped sideways, interrupting the perfect sequence of letters. Sharp and thin as a razor, an inscription of polished yellow gold holds the clavicles on two thin chains.
No less popular are the gold 'Crown' ring with pavé-set diamonds. Almost every girl in her childhood played at being a Princess, building a crown from improvised materials. Ilona's version of the symbol of royal power is combined with a bouffan cap, placing the bells on the ends of the crown's prongs. Today you can be Queen, but tomorrow? Life is a game – you win some, you lose some. This piece can also be played by combining two 'crowns' together to create a new, charming jewellery shape.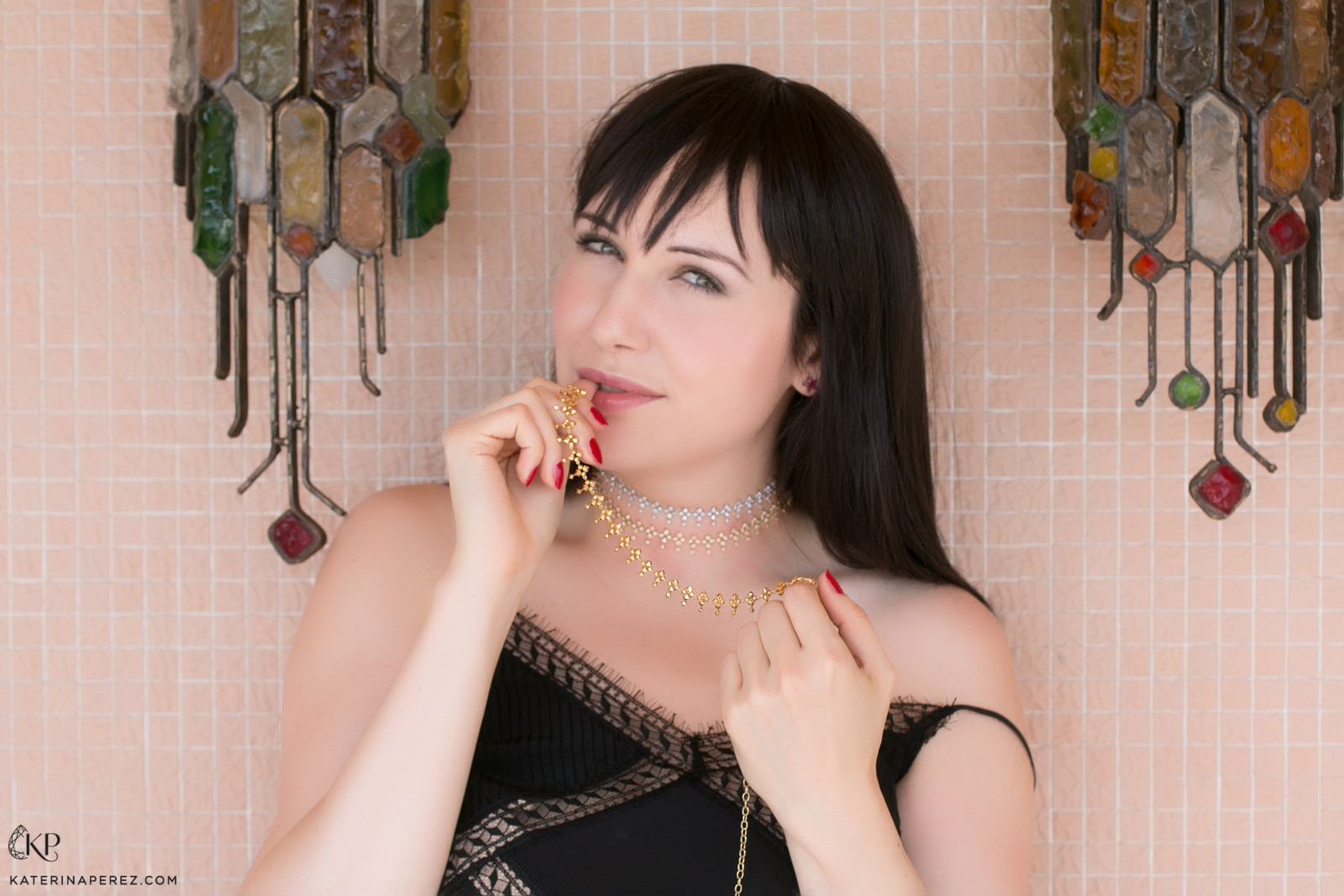 Some people dream of being queen, others of shining like a star at social soirées. Ilona's jewellery is studded in rubies, tsavorites and diamonds, embodying joy and decadence. The highlight is that the five-pointed stars are made in mosaic form from green and red gemstones. The perfect geometrical form of the gemstones placement allows them to fit closely, face to face, which creates the illusion of one single star. In such a seemingly simple piece there is, once again, an element of playfulness, because the earrings can be combined depending on the mood; putting one in each ear - for example - a red stud in one and a green stud in the other.
Another option for the mix and match earrings in the By Stolie collection are the 80s-style 'Creole' earrings. Often worn simultaneously in one ear, it is worth noting that, for all their popularity, it is not easy to find the perfect variant (and even more so several combined ones) that is ideal in size and acceptable in weight. Ilona didn't hesitate at the opportunity to create her own version; earrings made from yellow gold, with an inconspicuous clasp that are perfectly smooth and almost weightless.
I have saved my favourite piece from the collection until last. A short necklace, an allegory for submission, features in the By Stolie collection in form of a geometrical pattern made either from gold or gemstones. Dozens of diamonds, rubies and tsavorites on the chokers are cut in a special way to emphasise the complexity of the creator's design. What does it look like? Some see symbols of ancient cultures, others see the dancing pictures of computer screens. Surprisingly flexible and comfortable, these jewelled chokers lie on the skin and can barely be felt when worn.
To buy this daring and provocative jewellery by Ilona Stolie, go to the famous stores in Moscow and Monaco - these two locations on the world stage are known for their fabulous social soirées!