The new Sixième Sens par Cartier (Sixth Sense by Cartier) High Jewellery collection is a little bit like listening to distinctive songs on a single album; they're all different and have their own lyrics, melodies and compositions, but they are sung by the same artist whose signature style is a confident through line. The collection is said to "illustrate the soulfulness particular to High Jewellery, an art form with unique emotional power, caught between surprise and wonder," according to Cartier, who unveiled their take on 'sixth sense' on Lake Como, Italy, in June.
For such a tightly curated high jewellery collection there are a surprisingly large number of inspirations, from "stylised feline interpretations" to "organic textures and shards of coloured light". Coloured gemstones were chosen by Cartier to reflect "flavoursome hues of ripe fruits" to summon "scents of distant paradises," which is something we all need after spending the last 18-months confined to our homes. On the other end of the spectrum, there are some unusual optical illusions taking place throughout the collection, whereby gems are placed to look like distorted pixels on a computer screen or graphically arranged using the trompe-l'œil technique to appear as if in three-dimension.
Cartier continues the story, saying: "Compositions play with earthly gravity in radiant transfigurations of reality. By challenging our perceptions, this collection leads us into a world of sensory stimulation, as each sense comes alive including the sixth sense: a staggering feeling of emotion that touches the heart."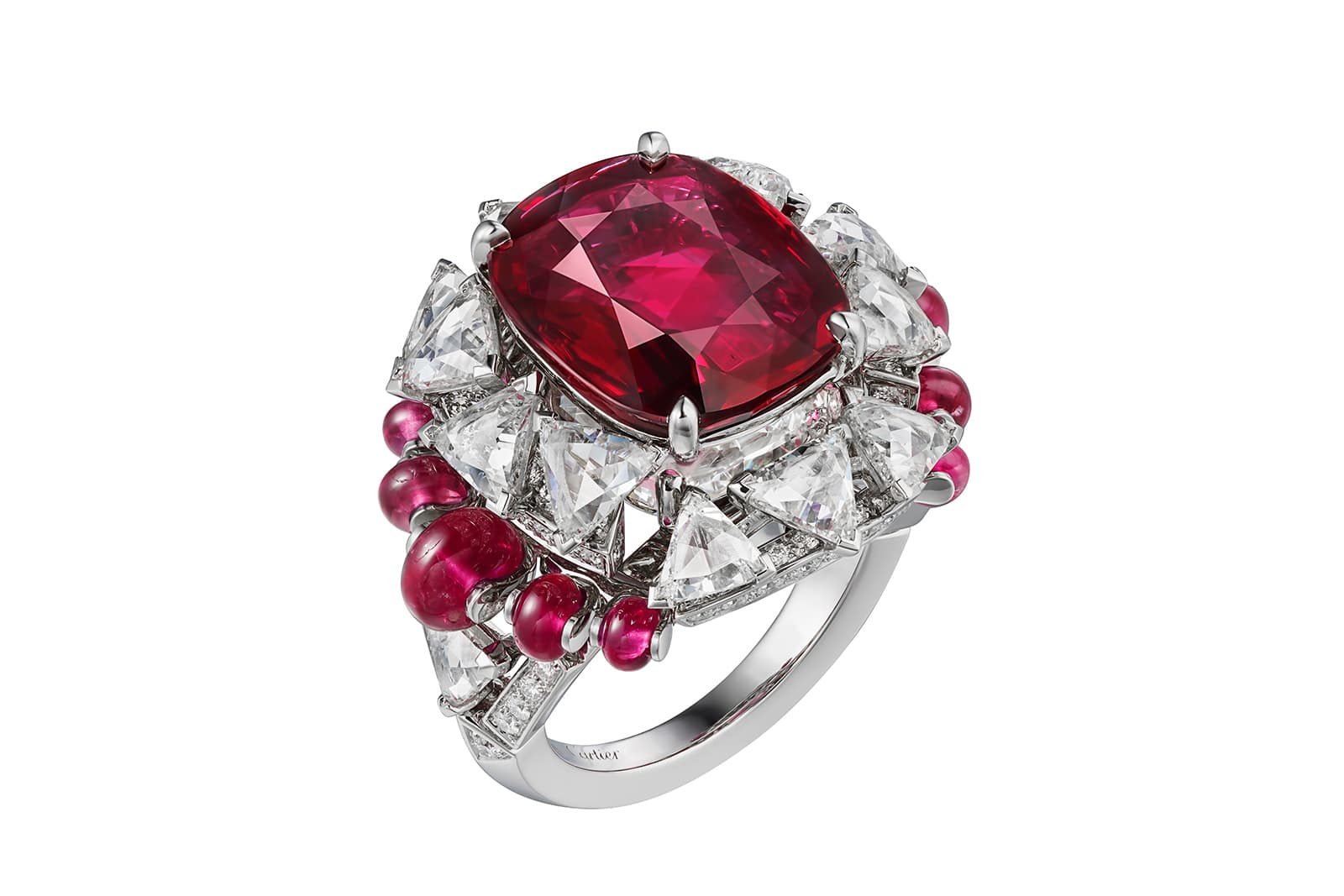 First there's the Phaan ring, an architectural tiered creation with an 8.20 carat ruby at its centre. Directly beneath this centre stone there is a 4.01 carat rose-cut diamond that 'amplifies' the light as it passes through the ruby and enriches its red colour. This optical trickery is enhanced with a structure of triangular diamonds and smooth beaded ruby cabochons that have a subtle openwork pattern to allow more light into the heart of the right.
The Meride necklace has a completely different optical effect, this time mesmerising the eyes with a latticework of black onyx, mirror polished metal, rock crystal and colourless diamonds. If one stares for too long, the stones appear to multiply and move, a trick achieved by the relief of the piece and the layered elements that are mounted at different levels to challenge our eyes' depth perception. This checkerboard necklace isn't just impressive from the front; the pattern of black and white is exactly reversed on the back of the necklace for an extra hint of playfulness.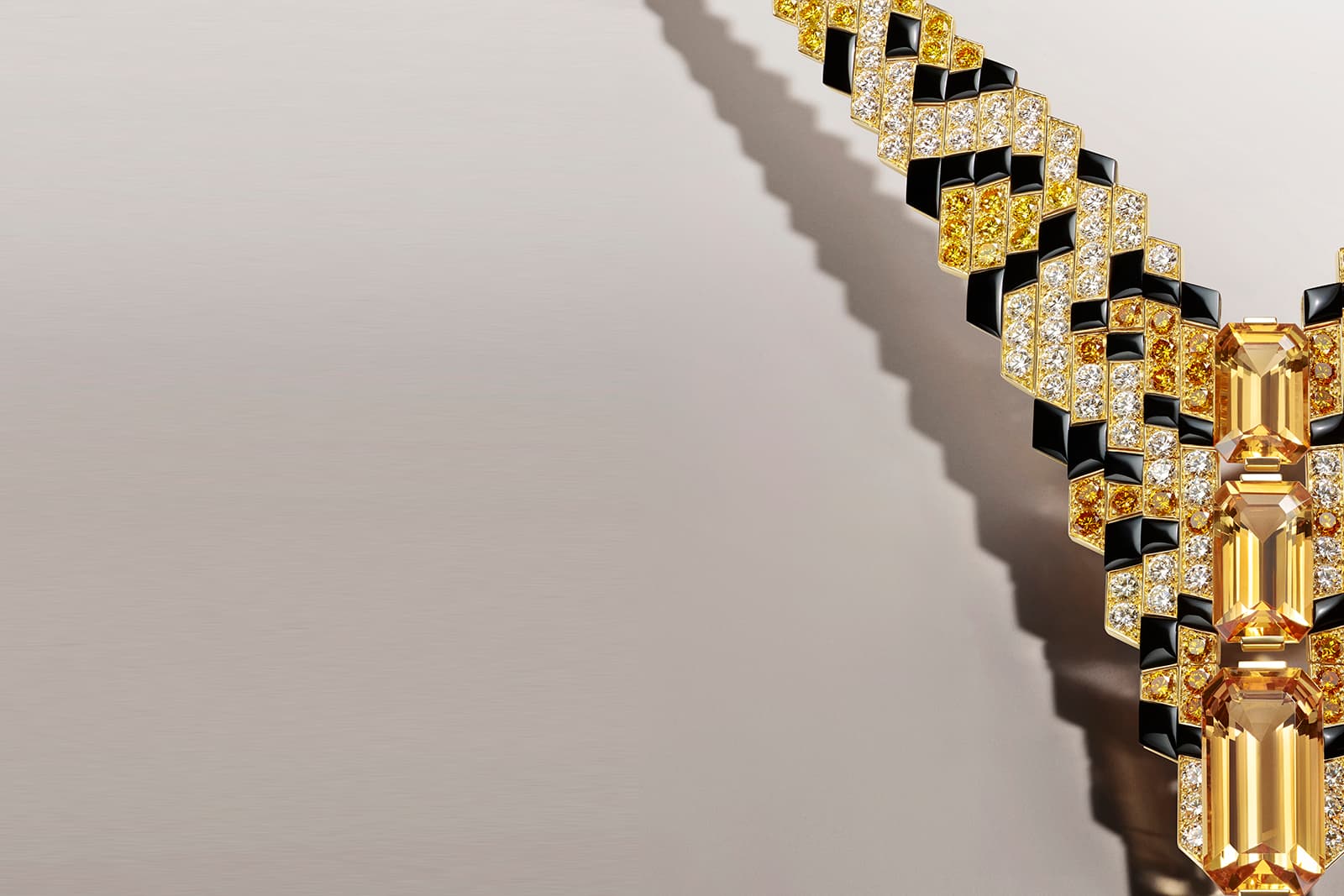 Now imagine the graphic monochrome of Meride combined with Cartier's historic obsession with big cats. The result is the Pixelage necklace that offers a stylised take on a feline's coat with irregular rectangles and quadrilaterals of polished onyx and white, yellow and orange diamonds. The effect is similar to a Pointillist painting, where lots of smaller, distinctive 'dots' of colour are applied in patterns to form an image. In this case, the image is the fur of a leopard or cheetah. At the centre of the necklace running down the centreline are three golden topazes with a total weight of 27.34 carats and these gemstones can also be found in the matching Pixelage earrings.
In a complete change of pace for the Sixième Sens par Cartier High Jewellery Collection there's the Parhelia ring, which is far larger than it appears on first glance. In fact, it covers three fingers with a silhouette that's part Art Deco and part bowtie inspired, complete with five tiered 'parentheses' of diamonds, emeralds and black lacquer. At either end of the ring, the final tier is very slightly articulated for subtle movement. At the centre there is a 21.51 carat sapphire cabochon, which can be removed along with its wings and worn as a brooch. Speaking of wings, this colour combination of emerald and sapphire was referred to as the "peacock motif" by Louis Cartier, and it continues to be a go-to palette for the house.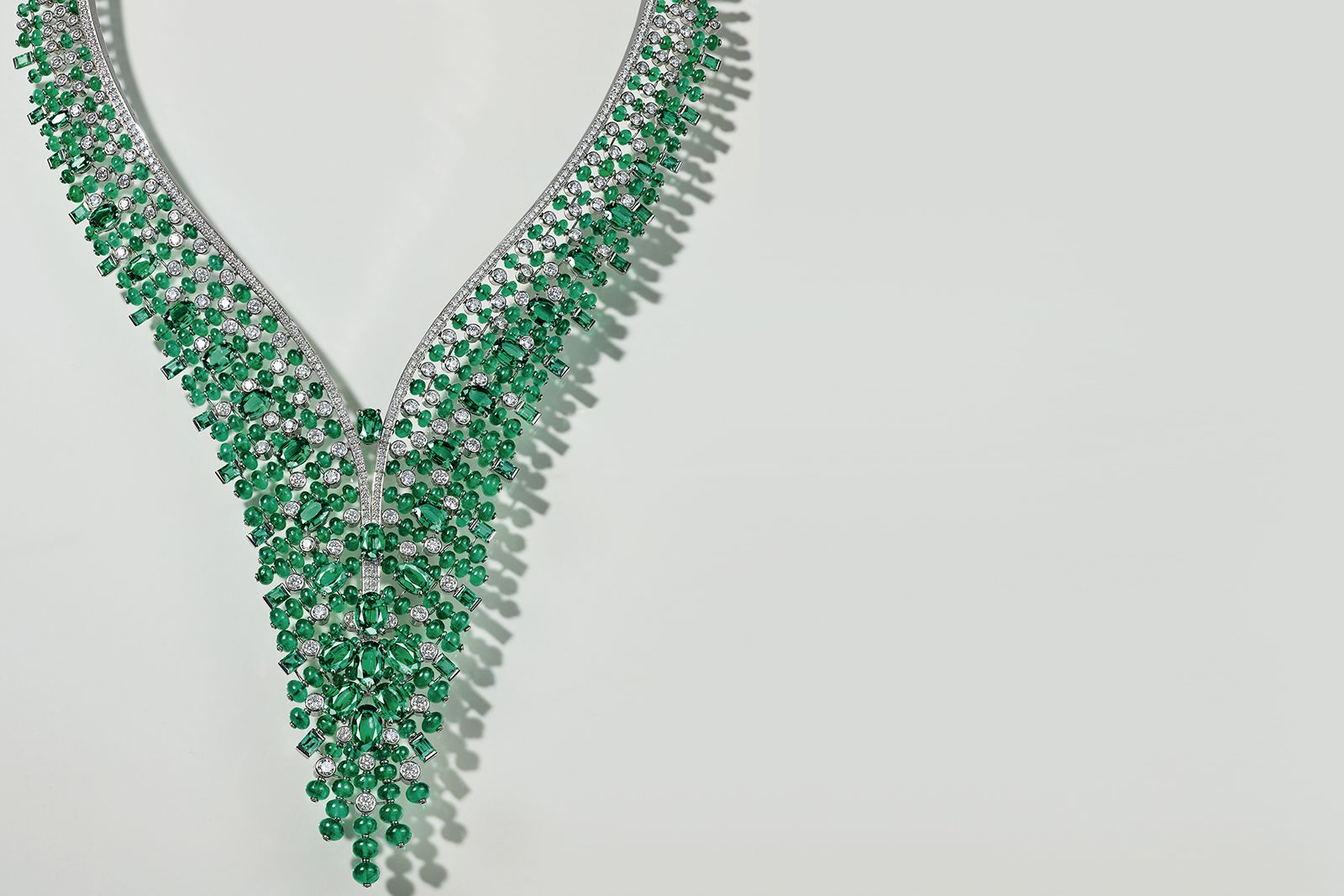 Finally, we are presented with three exceptional necklaces, each one with a matching part of earrings, named Alaxoa, Sharkara and Coruscant respectively. The first is an ode to emeralds, with a seamless colour palette of green gems in faceted, cabochon and beaded form splaying from a sophisticated curve of diamonds that descends down the chest. This necklace is partway between fringed and structured, with tiny metal bridges woven into the piece to maintain its fan shape, while also allowing the individual emerald fringes to move with the wearer. The Sharkara necklace is evocative of the futurism within the Art Deco movement – as if a mechanic in the 1930s was asked to draw a piece of future engineering. Or perhaps you see a graphic interpretation of a bunch of grapes or berries as described by Cartier? No matter, as it's the volume and structure of this creation that really matters, complemented with a colour palette of pink, orange and grey tourmalines, sapphires, garnets and diamonds.
Finally, there's the Coruscant necklace, with the same focus on graphic shapes that's elevated with four diamonds, each with a distinctive cut, running down the centreline. In total there are six different cuts in the necklace as a whole - kite, octagonal, emerald, triangle, baguette and brilliant – and every diamond is D or E colour and internally flawless. The pendant includes a kite-shaped diamond of 3 carats and, above that, there's an octagon-shaped diamond of 1.62 carats and an emerald-cut of 1.54 carats. The chain resembles a tight braid of gemstones, creating a path of light using round brilliant-cut stones and baguette-cuts. This is the perfect example of a necklace that demands to be seen close-up to really appreciate the intricacy of its design… from far away it may appear as one bright lasso of light.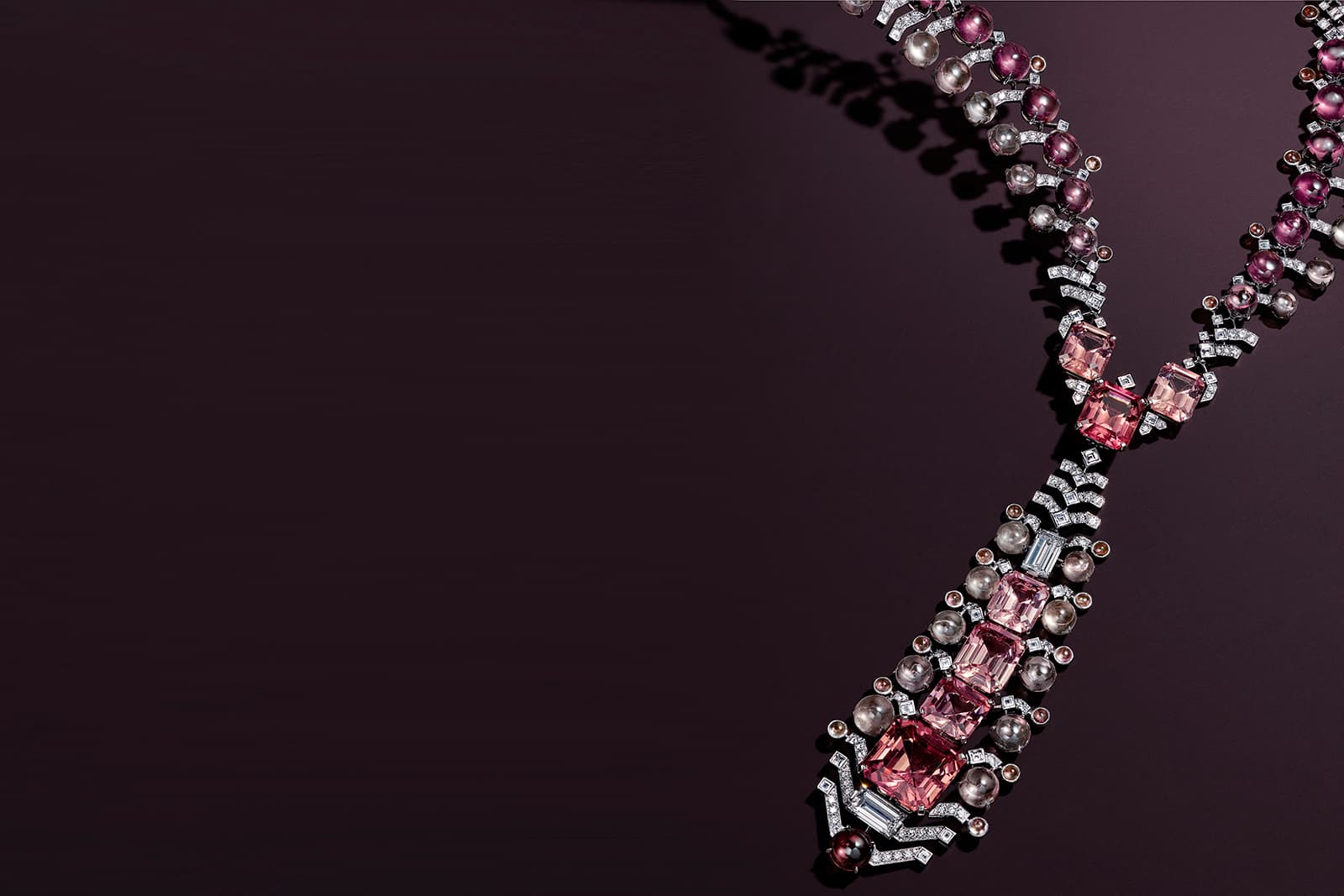 Do feelings of wonder really tantalise a hidden 'sixth sense'? I will let you decide that for yourself, but what's certain is that Cartier's new Sixième Sens par Cartier High Jewellery Collection has got one of my five senses, sight, all fired up.