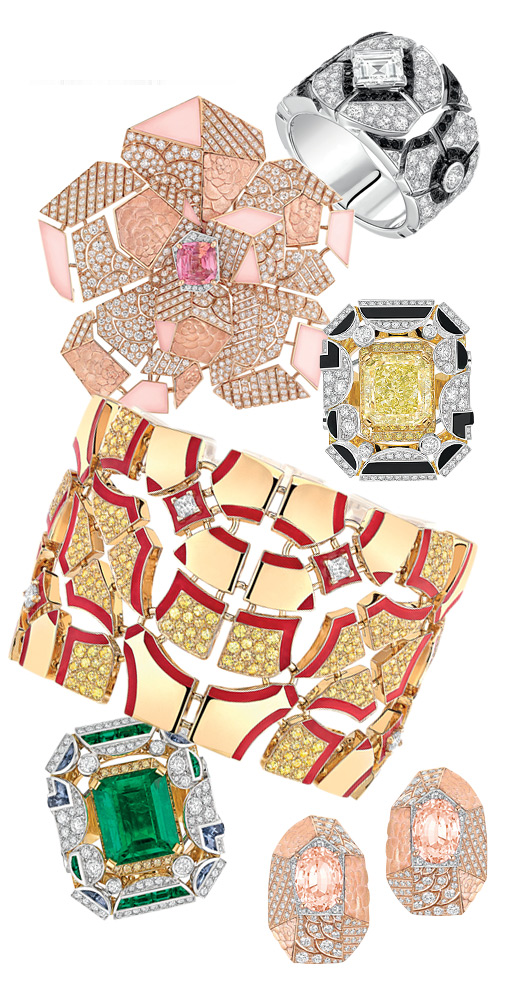 From top to bottom: 'Jazz' ring, 'Sunset' brooch with a rare Padparadscha sapphire, 'Morning in Vendome' ring with a yellow diamond, 'Sunrise' cuff bracelet, 'Morning in Vendome' emerald ring, 'Sunset' earrings with Padparadscha sapphires
Imagine that you're standing on the stage of an empty theatre where the deafening chords of Stravinsky are ringing out, a light comes on and somewhere from the ceiling falls the bright rays of projectors that are illuminating not you but… chic jewellery. Thanks to the unconventional and extravagant presentation of Chanel's high jewellery collection Café Society, those invited to the Théâtre des Champs Elysées on Avenue Montaigne have experienced totally unbelievable sensations!
The presentation was held in July as part of Paris Haute Couture Week and I managed to stay a little longer to see it. Gazing at jewel upon jewel (there were 87 of them in the collection!) and enveloping myself in the atmosphere of sparkles and extravagance, I pictured the hedonistic lifestyle of poets, artists, society madams and members of the upper classes from the 1920s-1960s. During the post-war era, the stylistic preferences of the world's elites were closely related to the aesthetic of the avant-garde and art deco. These are the movements that the designers at Chanel have brought to the fore in the Café Society collection.
The 'Sunset' rose gold earrings and bracelet were placed in the centre of the stage on the ballet handrails. The diamond 'Jazz' and 'Midnight' bracelets, as well as the 'Cruise' pieces with aquamarine beads, didn't look at all contrived hanging from the metal bars affixed to the ceiling. The main event was the 'Morning in Vendôme' necklace (see below) with its enormous yellow diamond that was repeatedly lowered from the ceiling, turned on its axis and then lifted back up into the darkness of the of the theatre's rafters. The stage columns sonorously quivered with the diamonds of the collection's 'Charleston' pieces whilst on stage right there was a little pool by which a gold enamel 'Sunrise' bracelet, a magnificent 'Morning in Vendôme' emerald ring (both on the right) and a few other dazzling pieces were displayed.
As you can see from the photographs below, the maison's usual symbols – the camellia, lion and comet – are nowhere to be seen (except that the geometric elements of the 'Sunset' pieces are reminiscent of a camelia). This time the designers at Chanel have made a departure from their signature whilst remaining faithful to those for whom, in principle, such high jewellery collections are created: the world's aristocracy, elites and celebrities.
I left the theatre greatly affected by the impact of what I had seen. Despite the fact that the Chanel brand is more famous for its contributions to the world of fashion, I feel that, based on the quality of its jewellery and the designs, the brand's jewellery branch is second to no other maison in Place Vendôme.KP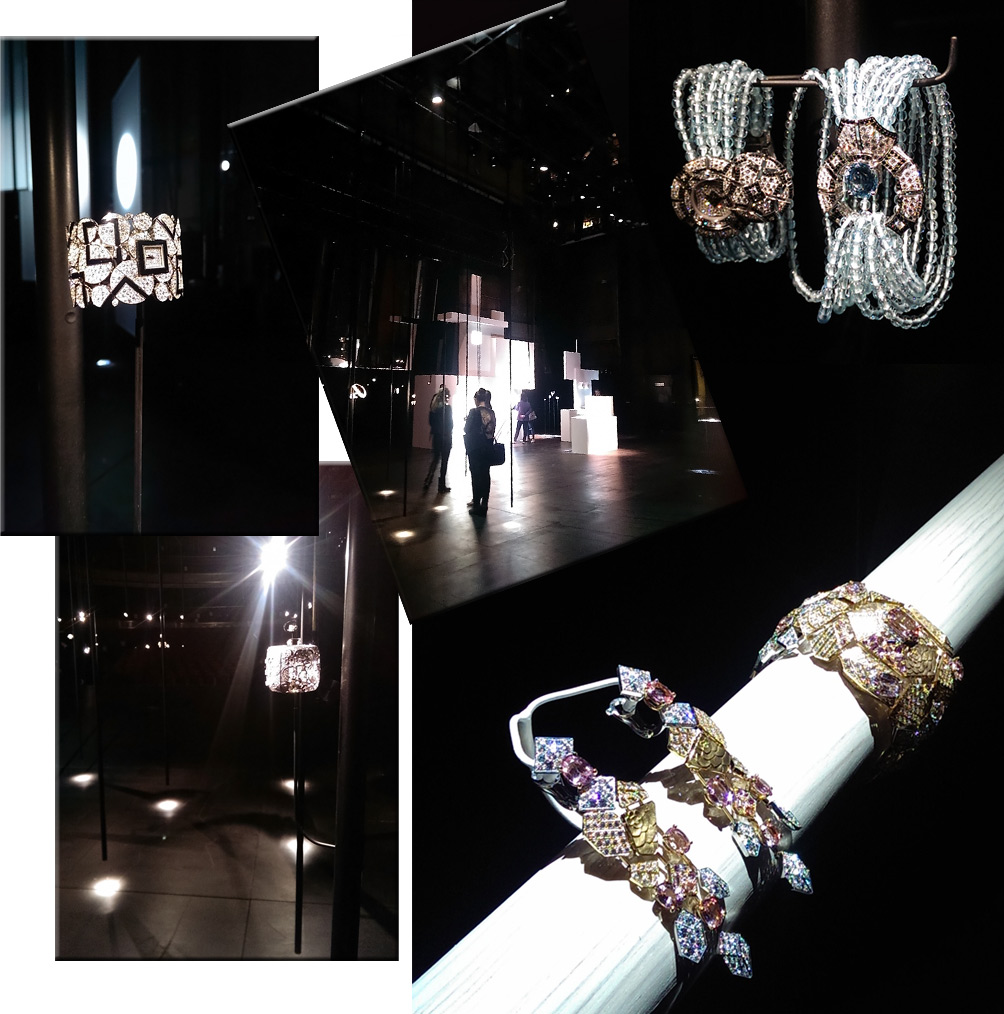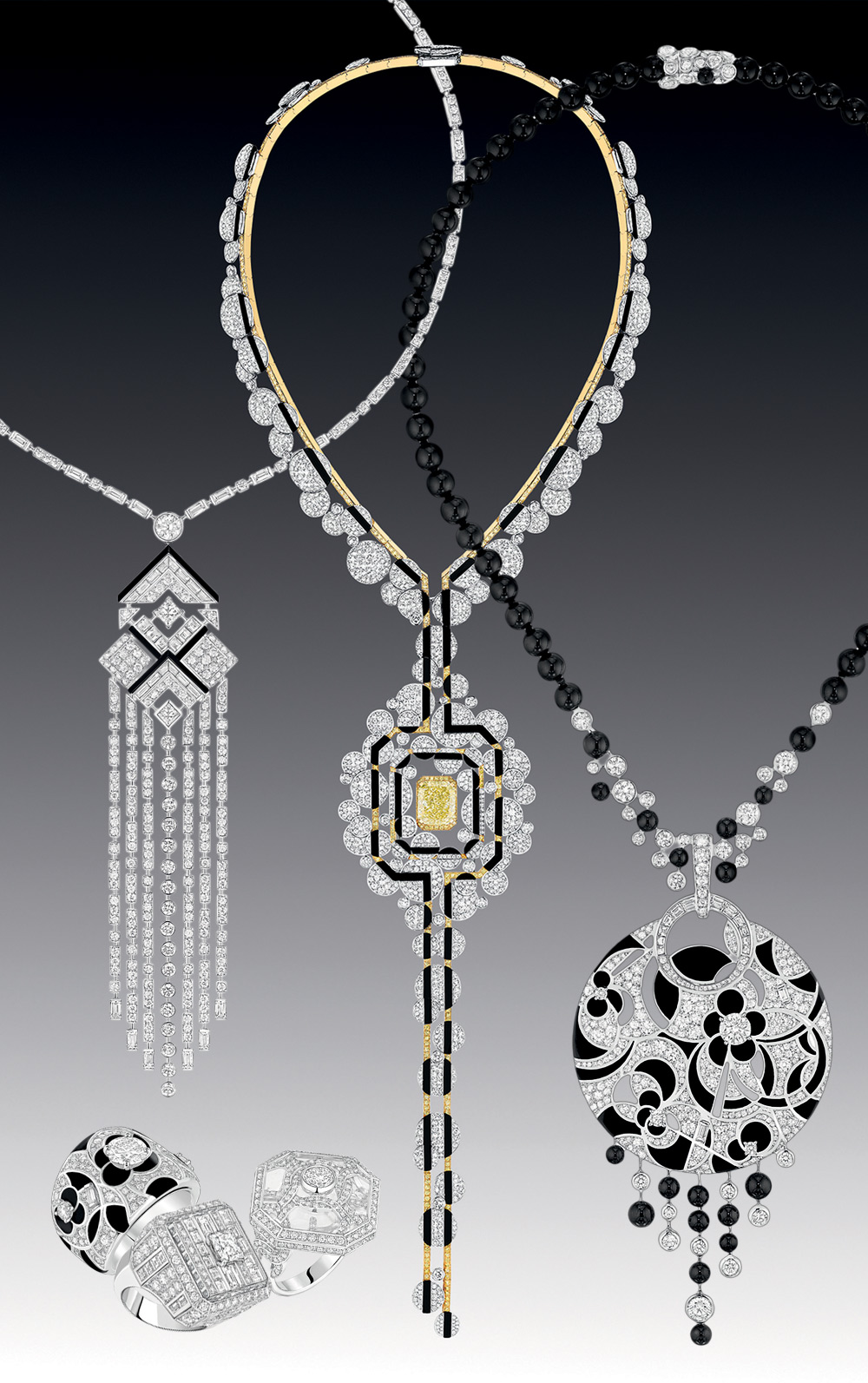 Necklaces from left to right: Charlestone, Morning in Vendome, Midnight. Rings from left to right: Midnight, Broadway, Smoking