The person behind the advertisement images telling the world about the Chanel Gallery Collection is photographer Sarah Moon, and the face is the no less renowned actress Keira Knightley. It is these two women, who already have a successful track record of collaborating with the jewellery house, were entrusted with the mission to present Chanel's new line, one which is renewed only once every two years.
The details that the craftsmen at the French maison use as inspiration represent the maison's ethos. As I already mentioned, at the core of this new legendary collection (something which I am completely confident of – with Chanel it's the case with pretty much every line) are two proven symbols. The first is the chain of the sensational 2.55 Chanel handbag which has already been used to great effect in the new Code Coco watch. In a single movement, the watch face snaps shut and your left looking at a chic bracelet.
The second winning symbol is of a larger scale: the octagonal outline of Place Vendôme where Chanel's flagship in Paris is located. This shape is constantly revisited, not only in the golden embellishments but even in the way the stones are cut.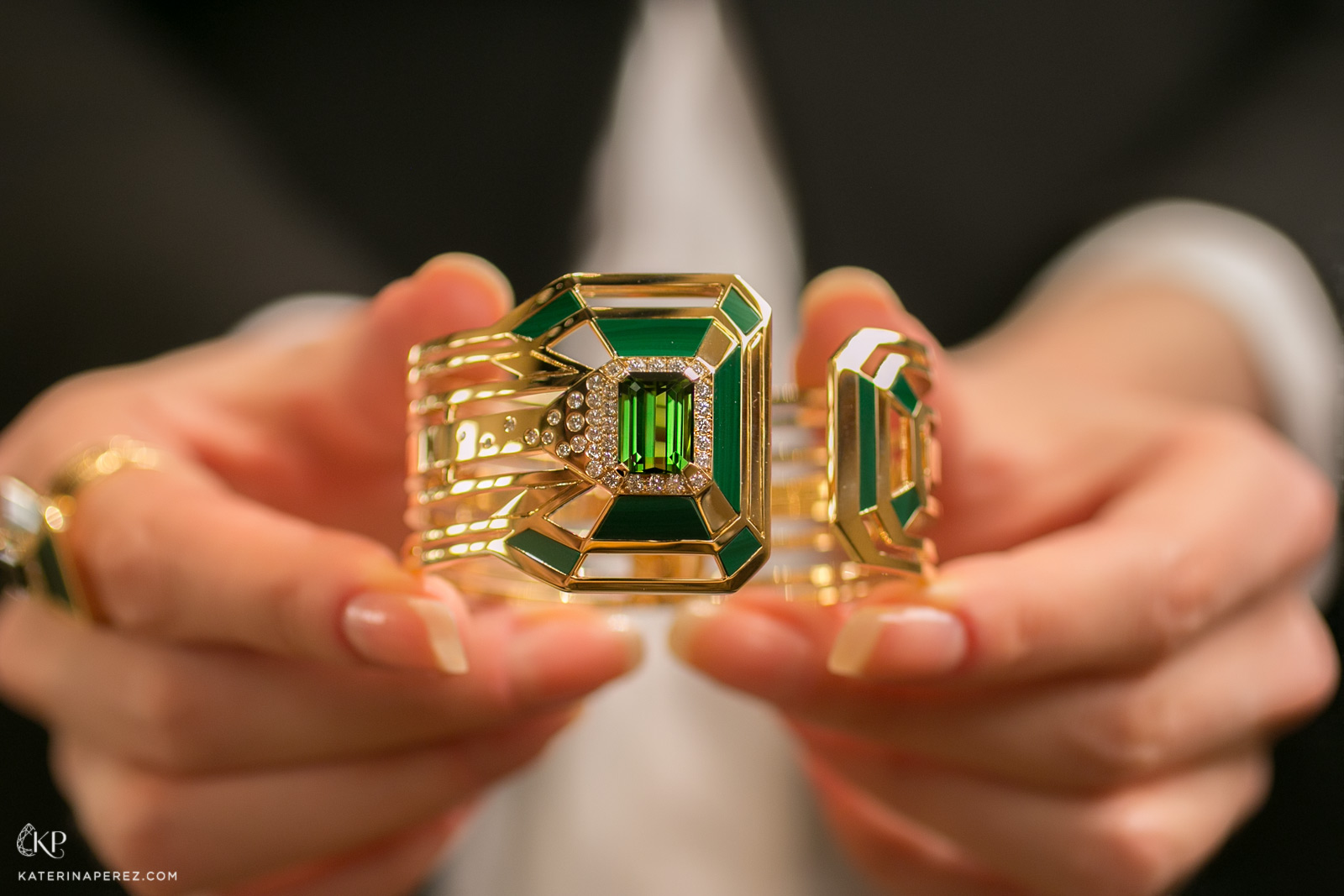 The Chanel Gallery Collection has turned out to be bright and graphic, sculpted and sophisticated… at the same time as being powerful and feminine, like Mademoiselle Coco herself! Every item has its own mood and character, lending a tonality to the whole image. This is probably why the promotional shots for the collection feature Keira Knightley wearing a simple black dress.
Rings, bracelets, long earrings and necklaces: the 12 geometric and elegant pieces made of yellow gold can be split into three sub-collections based on the colours of their insets. The first, MY GREEN, is my absolute favourite as it's decorated with the stones I adore: juicy green tourmalines. The ring glistens with a 1.87 carat stone, the choker has two green tourmalines that together weigh 3.66 carats, and the bracelet has the biggest specimen weighing in at 4.62 carats. These are accompanied by decorative elements cut from malachite and round colourless diamonds.
The rings and bracelets in the second sub-collection MY RED are designed with more circular lines that are reminiscent of intermeshed strands. The golden frames of the rings and bracelets bear diamonds and the deep crimson ceramic compound HyCeram. This covers the metal in a fine layer, although the material is stronger than the common forms of ceramic we are used to.
The final sub-collection, MY CHAIN, boasts a combination of yellow gold and emerald cut rutilated quartz. The ring shanks, watch bracelets and earring pendants all reference the chain without which the 2.55 Chanel handbag would have never existed.
The cost of the jewellery ranges from £6,500 to £39,000, thereby adopting a niche between commercial collections and high jewellery art pieces. Dramatic luxury designed for an everyday look, isn't it?