Unfortunately, Cindy could not come to France herself this time, but seven of her latest spectacular works did: four pairs of earrings and three brooches. Each one-of-a-kind piece was inspired by the beauty of nature, a theme Cindy returns to year after year.
Feathers, dragonflies and flowers have long been her iconic motifs, but this time the Taiwanese designer has interpreted them anew especially for her 15th Anniversary Collection. This collection is dedicated to Cindy's creative path and includes jewellery already familiar to us but freshly refashioned, in a new size, a different shape or with a reimagined colour scheme. Every item on display at the Ritz Paris highlighted Cindy Chao's virtuosity and craftsmanship, but two pieces that stood out from the rest were earrings from the exclusive Black Label Masterpiece 2022 line. Let's look at them in detail.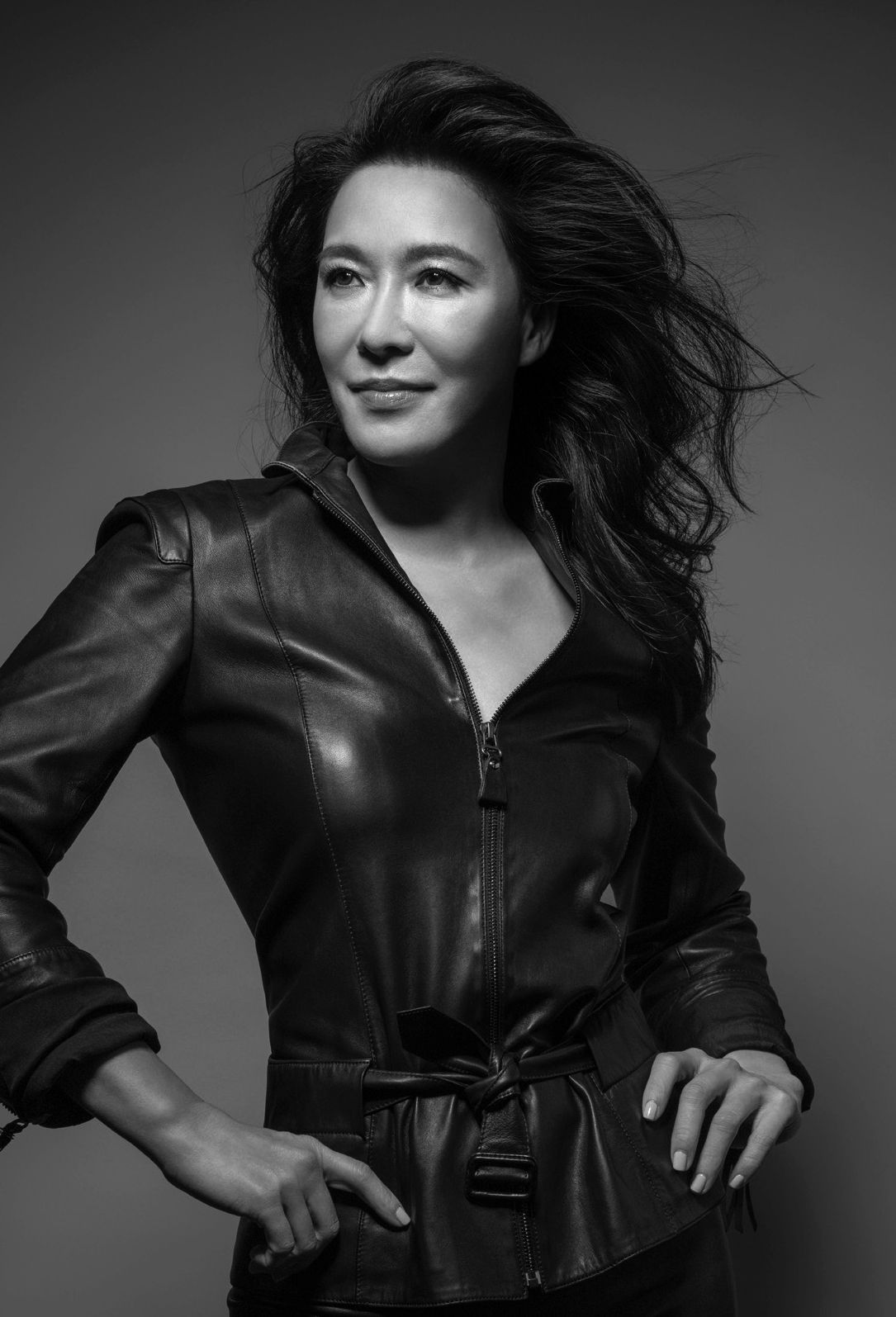 For starters, there's my favourite: the Fruit earrings (2022 Black Label Masterpiece II) – a voluminous pair set with two rare emerald-cut brown-yellow diamonds weighing over 16 carats each. The stones are positioned in the centre of a 3D titanium frame, which is decorated on all sides with emeralds, sapphires, alexandrites and chameleon garnets, as well as yellow and colourless diamonds. To remove the unnecessary contrast between the metal and the gemstones, the titanium has been anodized blue, brown and green. And there is also another important detail: a hidden hinge on each of the branches connects the upper and lower parts of the earring, making them movable.
Now let's turn our attention to the Foliage earrings (2021 Black Label Masterpiece V), inspired by the dynamic folds and swirls of autumn leaves. They convey the transition from autumn to winter and are set with 3,140 colourless and yellow diamonds of various sizes, which together weigh over 85 carats! It is difficult to comprehend how much time Cindy Chao's craftsmen must have spent on setting them, especially because the earrings are made using mainly titanium (a very capricious metal) and melted into the organic 3D shapes of leaves (it is always much more difficult to fix stones on a 3D setting than on a flat one). Incidentally, take note of the brown streaks – you may be wondering what they are: to create these neat lines, the jewellers had to use a special resin.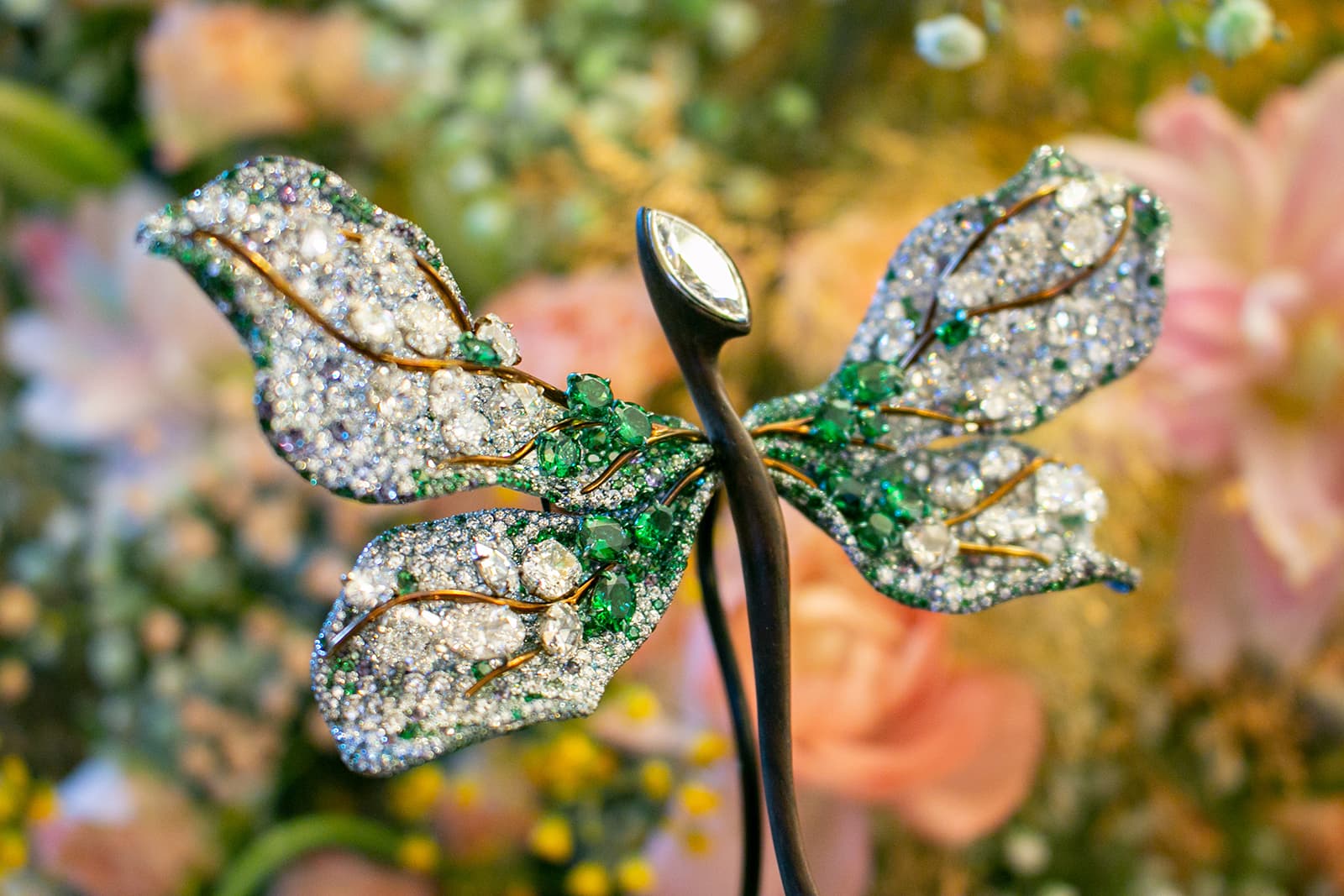 To continue our overview, as I mentioned above, the 15th Anniversary Collection has been enriched by several new works created in the traditional style of Cindy Chao. What is this style? For me personally, it is a virtuoso mastery of the pavé technique and playing with different sizes of precious stones in a single piece of jewellery. Setting large stones over a pavé of miniature ones scattered across a curved metal surface is Cindy's signature technique, I believe. An example of this is the Dragonfly brooch, which is adorned with more than 1,400 colourless diamonds, as well as emeralds, tsavorites, green sapphires, alexandrites and chameleon garnets. Together they create a smooth flow of blue-green shades.
For lovers of pink, I suggest looking at the Feather brooch made of pink titanium and studded with rubies, rhodolites, orange sapphires, purple garnets, as well as colourless and yellow diamonds. Despite the gemmological abundance, the total weight of the brooch is only 25.15 grams! An incredible levity in every sense. The collection continues with the asymmetrical blue and brown Coral earrings that include two exceptional pear-shaped diamonds weighing 2.20 carats each, as well as the incredibly delicate Magnolia earrings set with pink conch pearls and yellow diamonds.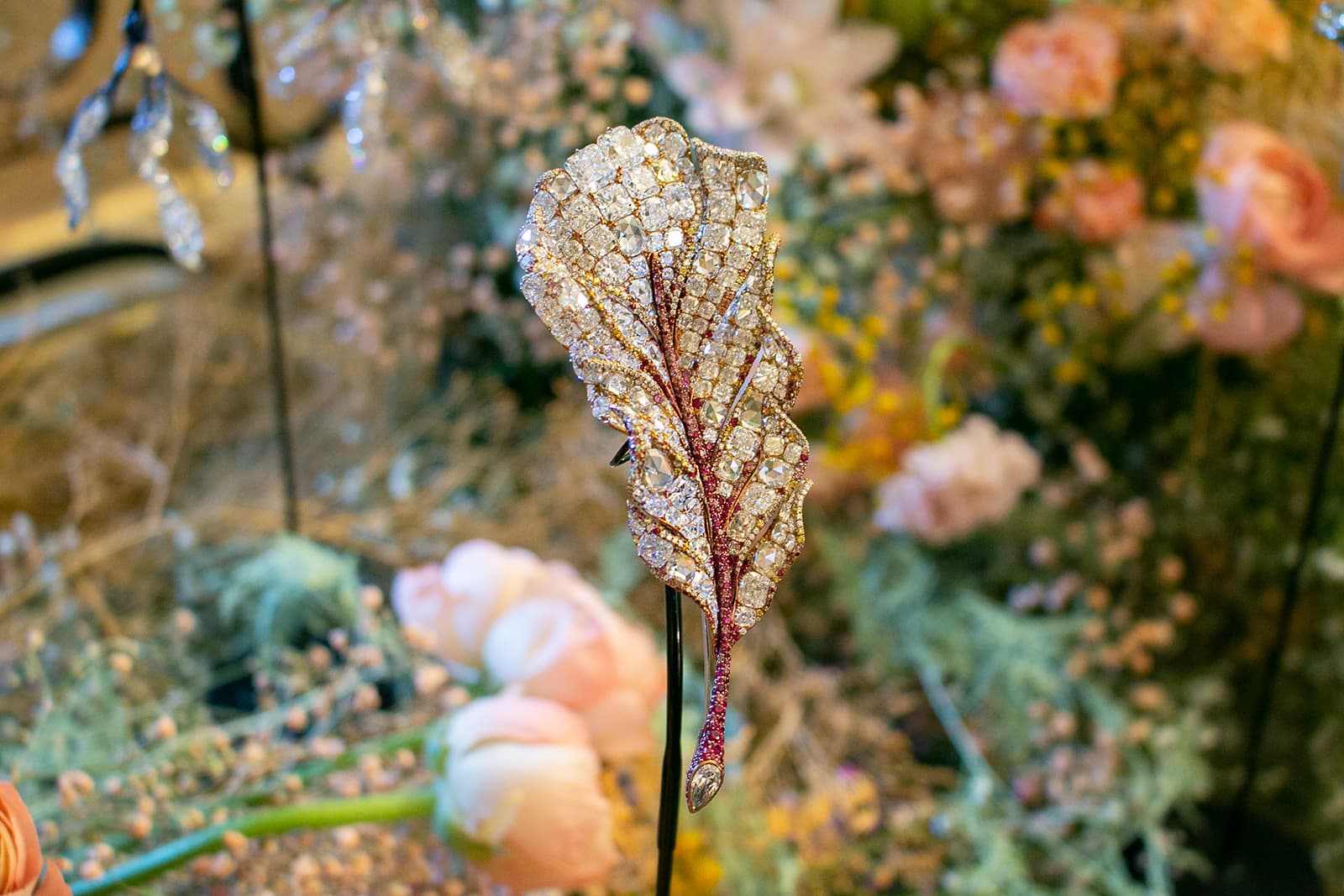 I am sure many of you will love the bejewelled Sapphire Floral brooch, an imitation of the four-leaf clover and a symbol of good luck. Its centrepiece is a dazzlingly bright 32.11 carat untreated Burmese sapphire surrounded by exquisite lacquered 18K gold stamens. The splendour is rounded out by petals and a stem of colourless and yellow diamonds, demantoids and tsavorites. This brings the carat weight of all the stones that were used to create this brooch to more than 100 in total!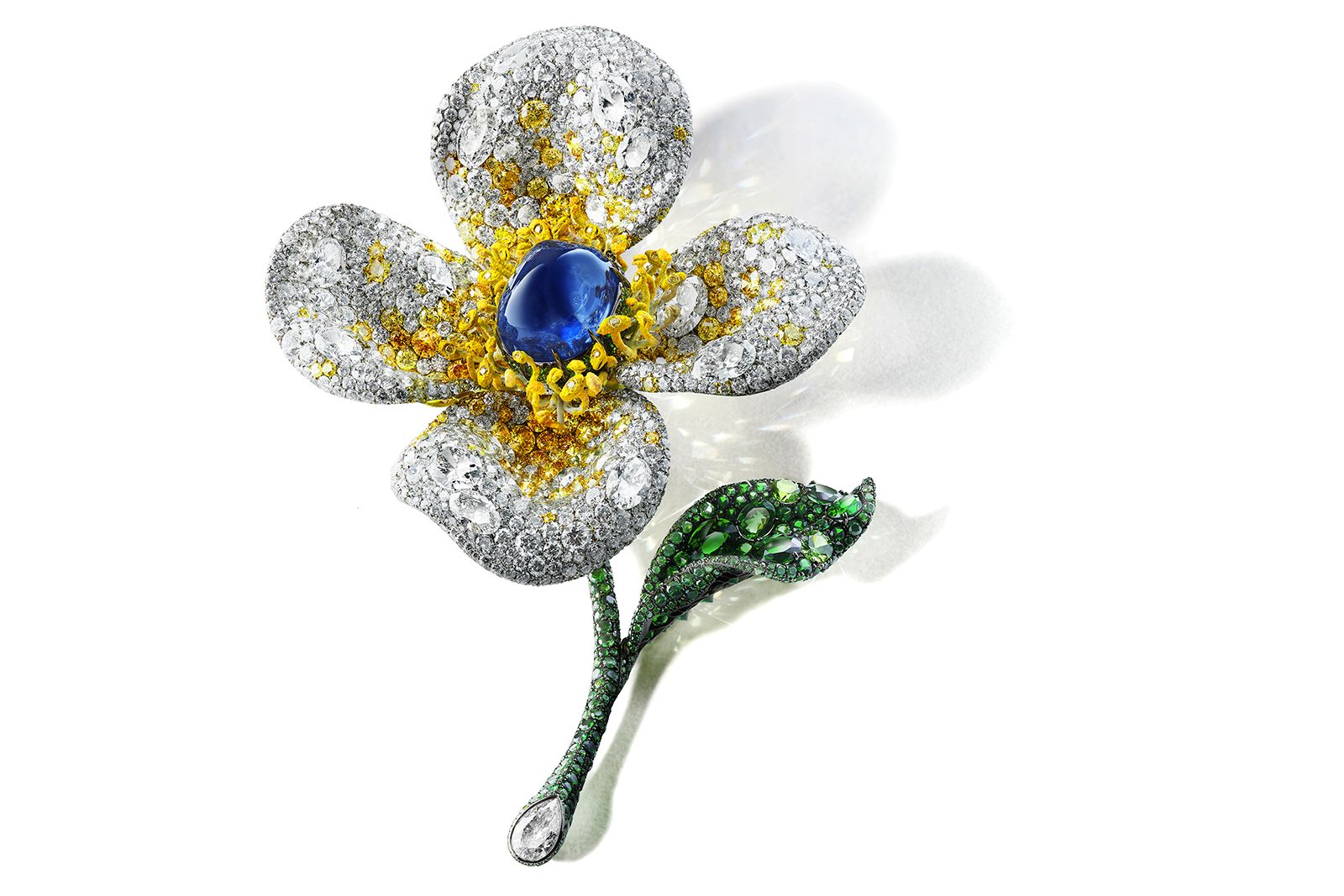 I cannot ignore the fact that this presentation follows the recent appointment of Cindy Chao as a Chevalier dans l'Ordre des Arts et Lettres, an award that is given in France to figures of art and literature who have made a significant contribution to culture in France and all over the world. Cindy Chao is now the first founder of a high jewellery maison and the first Asian jeweller to receive this French honour.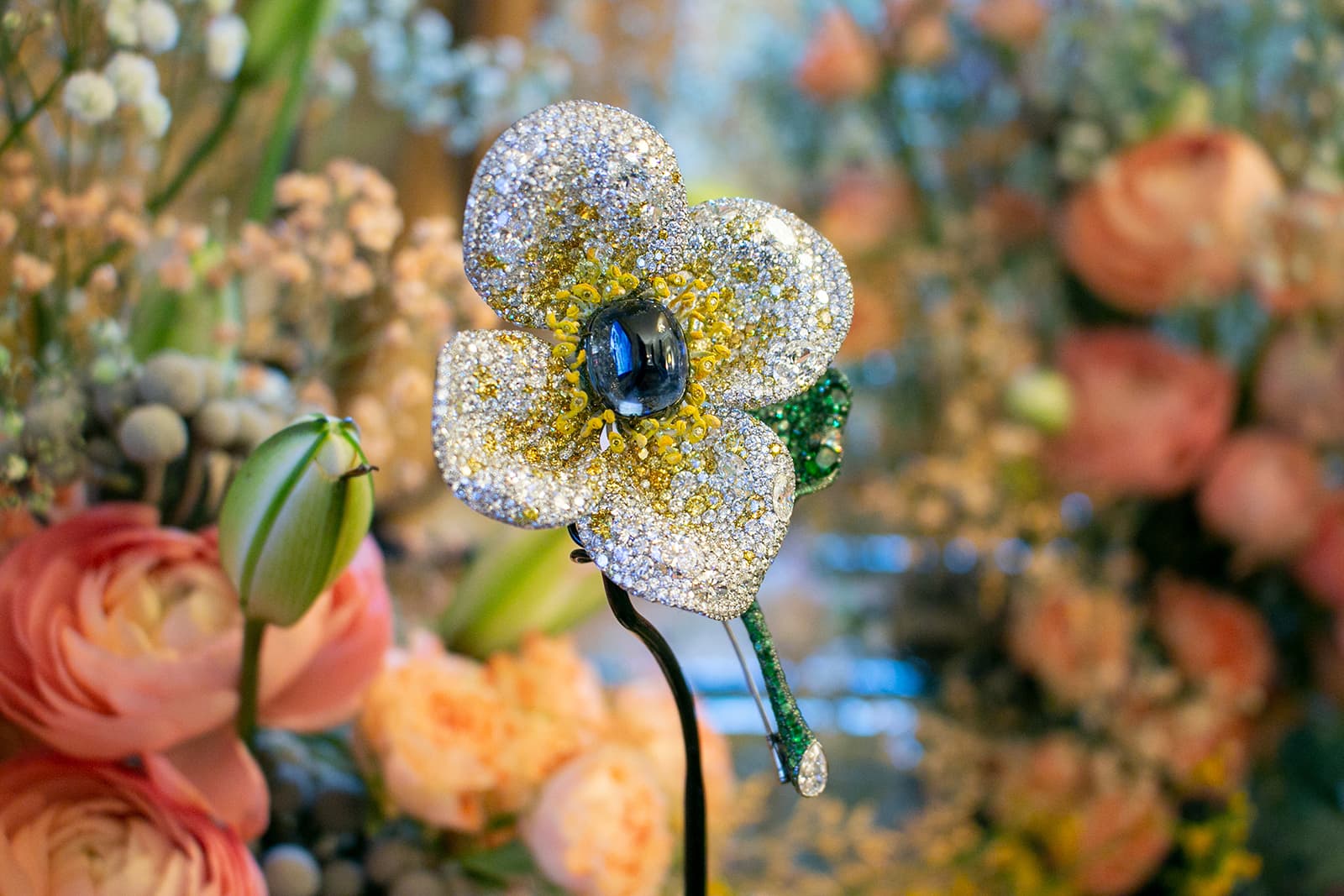 Cindy Chao's refined jewellery possesses incredible magic; after looking at them, you get this subtle feeling of enchantment, and a mysterious smile appears on your face. I hope you enjoy the same reaction to these newly released creations as I did.