I must first congratulate Cindy Chao on this momentous occasion! Fate has decreed a truly deserved reward: her 2008 Black Label Masterpiece brooch, the Ruby Butterfly Brooch, has been included in the famous permanent exhibition of the Musée des Arts Décoratifs. A baroque butterfly with two stunning untreated rubies weighing a total of 12.89 carats, surrounded by fancy diamonds and chameleon sapphires that are no less wonderful, was the first work by the Taiwanese designer to receive such an honour.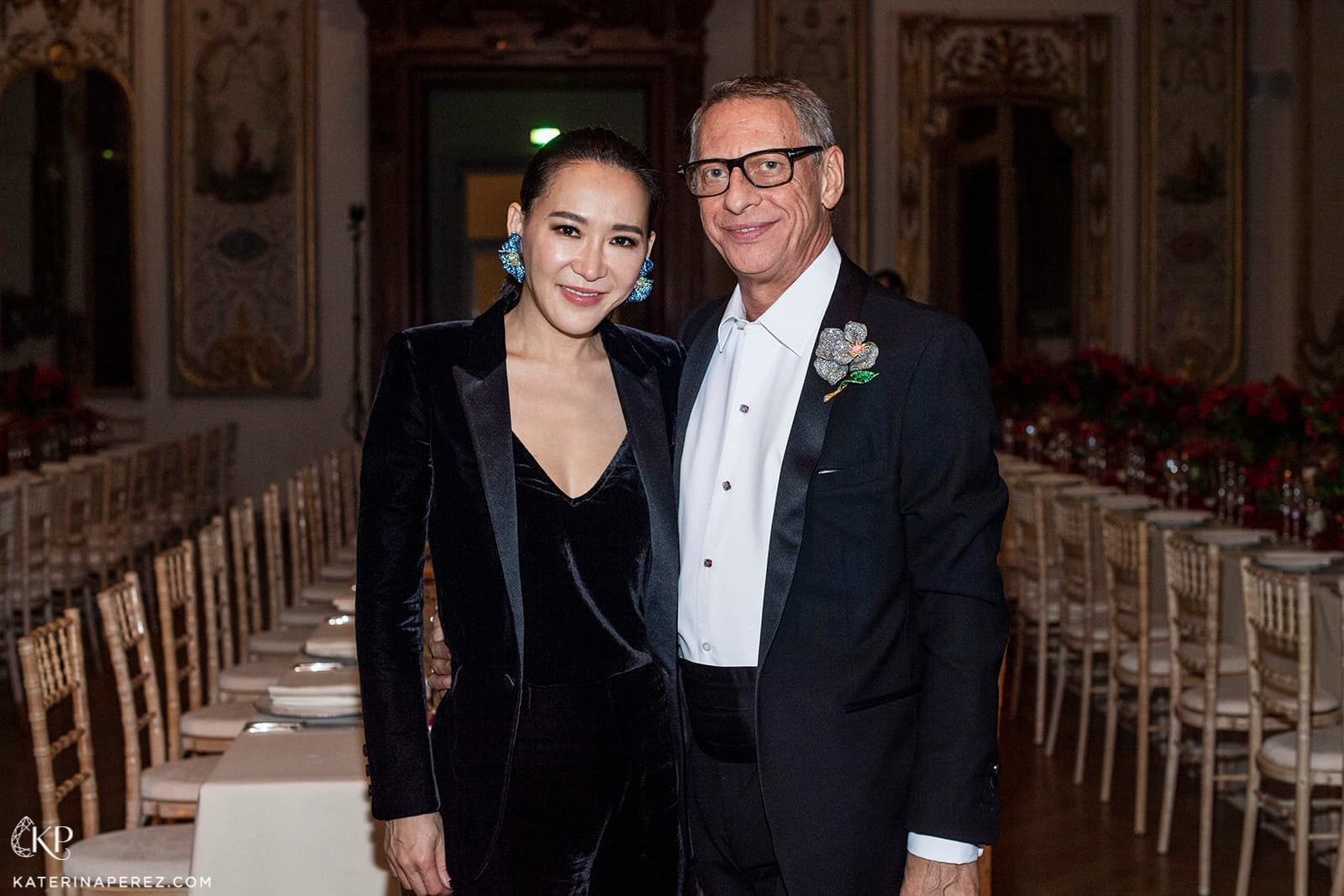 "My butterflies are the highest expression of my work as a jewellery artist, so it's a great honour for me to see my work from the Annual Butterfly series among the exhibits of the Musée des Arts Décoratifs," said Cindy Chao at a private dinner on January 20th in one of the museum galleries.
Just imagine: each winged beauty is individually created by craftsmen, not one of them is replicated, and each one usually takes more than 18 months! What's more, Cindy revealed that her collector clients 'reserve' butterflies in advance, sometimes purchasing them already at the stage. "My Annual Butterflies are all reserved and sold up until 2023. The butterfly you see here was finished only a few months ago, and this very special client was kind enough to let me present it during Haute Couture Week," says Cindy. Now you can understand why I was so glad to see the brand new Aurora Butterfly Brooch.
Its bejewelled body is embellished with 4 glowing pigeon blood rubies weighing 8.48 carats and its multi-coloured wings are made of coloured titanium and aluminium. These sparkle with blue sapphires, rows of fancy yellow diamonds and a scattering of fancy cut colourless diamonds. The brooch is encrusted with a total of 6,023 stones, and the colourful result is a stunning example of how Cindy's butterflies symbolise soul, femininity and metamorphosis. They also unequivocally demonstrate the constant growth of her unprecedented level of innovation and skill.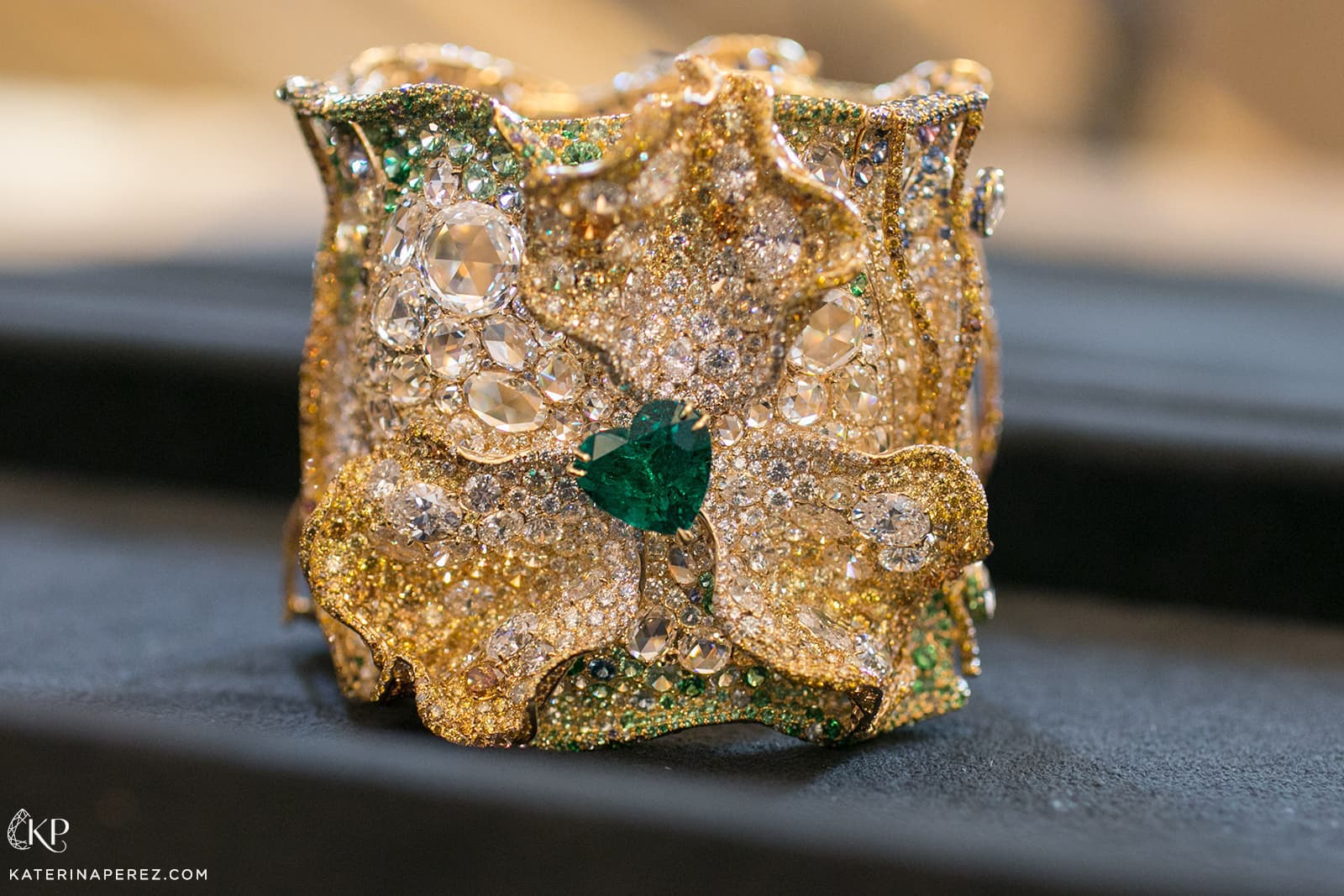 At a subsequent exhibition at the Ritz Hotel, other Black Label Masterpieces were also shown to me: the Emerald Sculptural Bangle, the Damask Rose Brooch and the Winter Leaves Necklace. The Emerald Sculptural bracelet, with its 5,305 diamonds, sapphires, demantoids, coloured garnets, tsavorites and alexandrites, was a fantastic addition to her Four Seasons collection. All the stones were masterfully laid out on 18 karat gold in the form of petals and leaves around an unusual Colombian emerald heart weighing 7.61 carats.
The Damask Rose brooch is a recent addition to the Tango in the Garden collection inspired by Cindy Chao's trip to Oman, where she was fascinated by the fragrant Omani rose water from damask roses. This multi-layered brooch, created using an 18th century wax technique, once again demonstrates the mastery of Cindy's colour arrangement. The central bright pink 8 carat cushion cut sapphire is surrounded by 65 stamens covered with French lacquer in yellow, peach and pink hues. Petals made of titanium are encrusted with almost 2,000 diamonds and more than 1,500 pink sapphires in particular colour sequences that enliven the flower.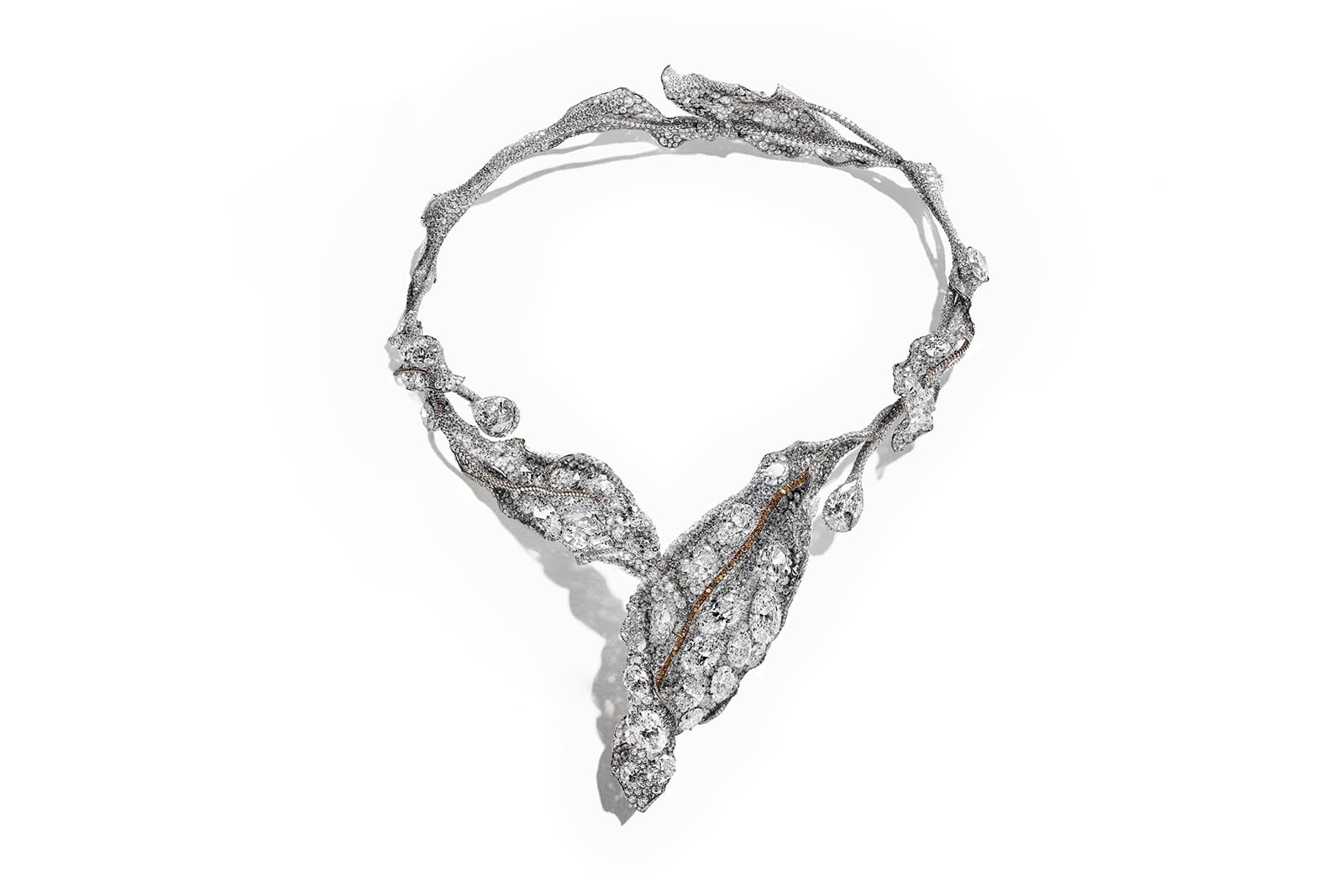 Another fascinating jewel was the Winter Leaves necklace, which was part of the Four Seasons collection and received a Masterpiece London Highlight Award 2019 for Best Jewellery at the Exhibition. Its creation required more than 10,000 hours of labour, and more than 240 carats of fancy cut diamonds set in a titanium frame. Many jewellers have found an ally in this metal thanks to its various shades and minimalistic weight, a quarter of the mass of gold. Take a look at this necklace – it weighs less than 78 grams!
Paris Haute Couture is drawing to a close, but you can always see Cindy Chao's artwork in person at museums, auctions and private exhibitions around the world, as well as in the brand's showrooms in both Hong Kong and Taipei.