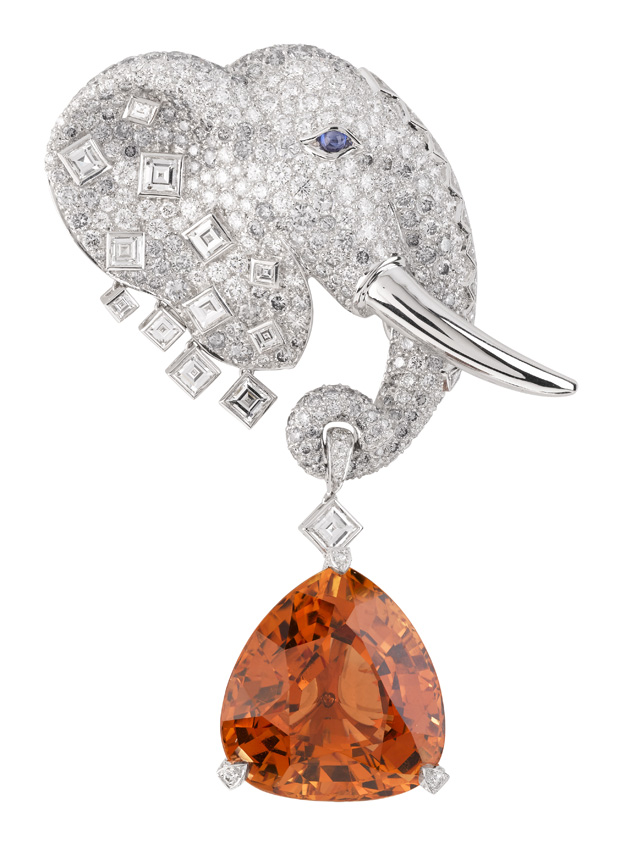 Van Cleef & Arpels Les Voyages Extraordinaires Maximus clip with imperial topaz
Topaz is a fairly common stone, frequently found in jewellery pieces. We usually think of it as being light blue but topaz can actually be almost any colour: yellow, pink, violet, grey, wine-dark, light green or even colourless. Amongst all these different types of topaz, there are examples of a totally unusual orangey pink variety which has its own name: imperial topaz or imperials which I would like to talk about separately.
When imperials were first mined in Brazil, they were the only precious stones of any importance from the town of Ora Preta. Consequently, they were the stones gifted to royal figures of other countries – that's how the stone got its name: "imperial". Another more mundane version of the story is that it got its name from traders who wanted to give the stone an important name to distinguish it amongst the golden citrine quartz and pink gold topaz that were also mined in that region.
Brazilian topazes from Ora Preta are real imperials. They are valued far more highly than any others thanks to their strong colour that doesn't fade in the sun and their bright metallic sheen.
The difference that separates imperials from ordinary topaz is very slight but very important. In fact, the difference in price can be 10s or even 100s of times inflated. Depending on their colour, imperial topaz can reach a value of $200 to $2000 for a carat (the more deep the colour and brighter the pink tones, the more expensive the stone). It is also vital that the topaz comes from Brazil.
It's worth bearing in mind that not only gold and orange topaz is found in Brazil: pink and even "cherry" coloured topaz, like the stone in the Martin Katz ring, is also found, a type that is also considered by jewellery makers as imperial.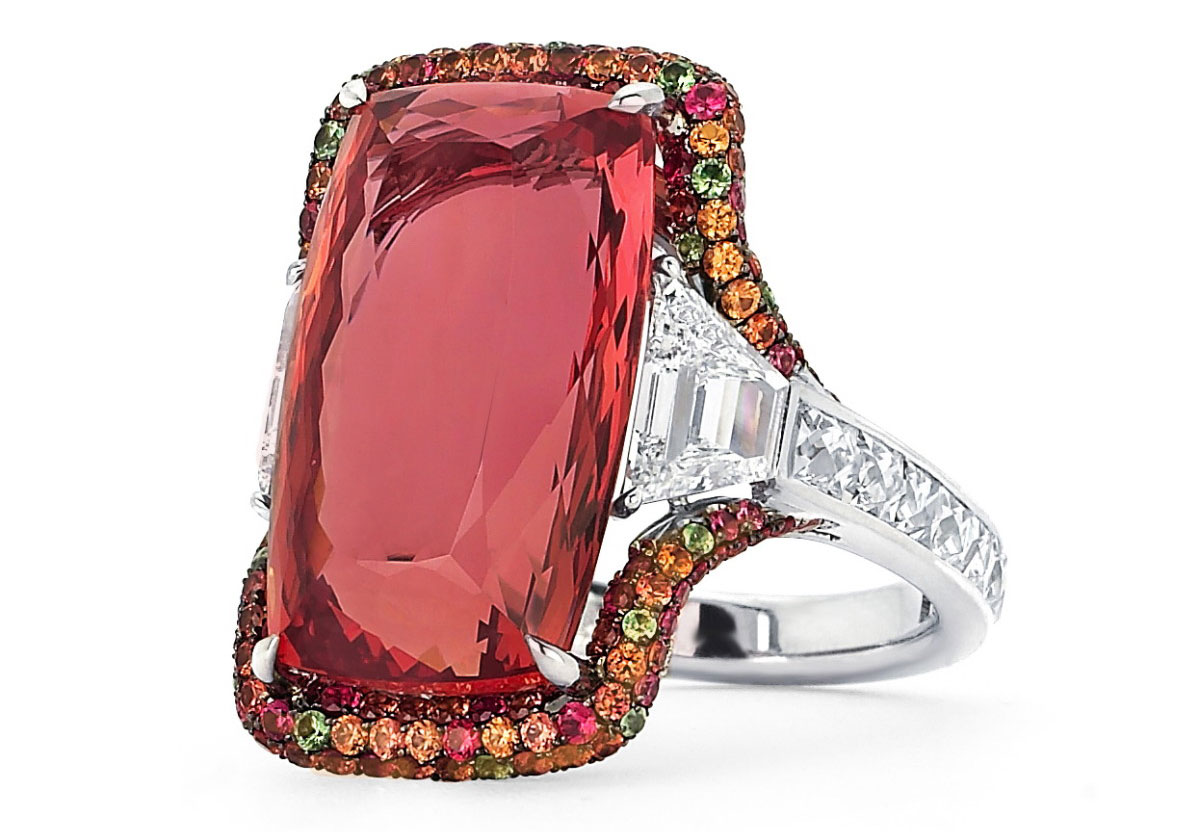 Martin Katz 18 cts imperial topaz ring, with two step-cut trapezoid diamonds and micro-set with diamonds, sapphires, tsavorite garnets and tourmalines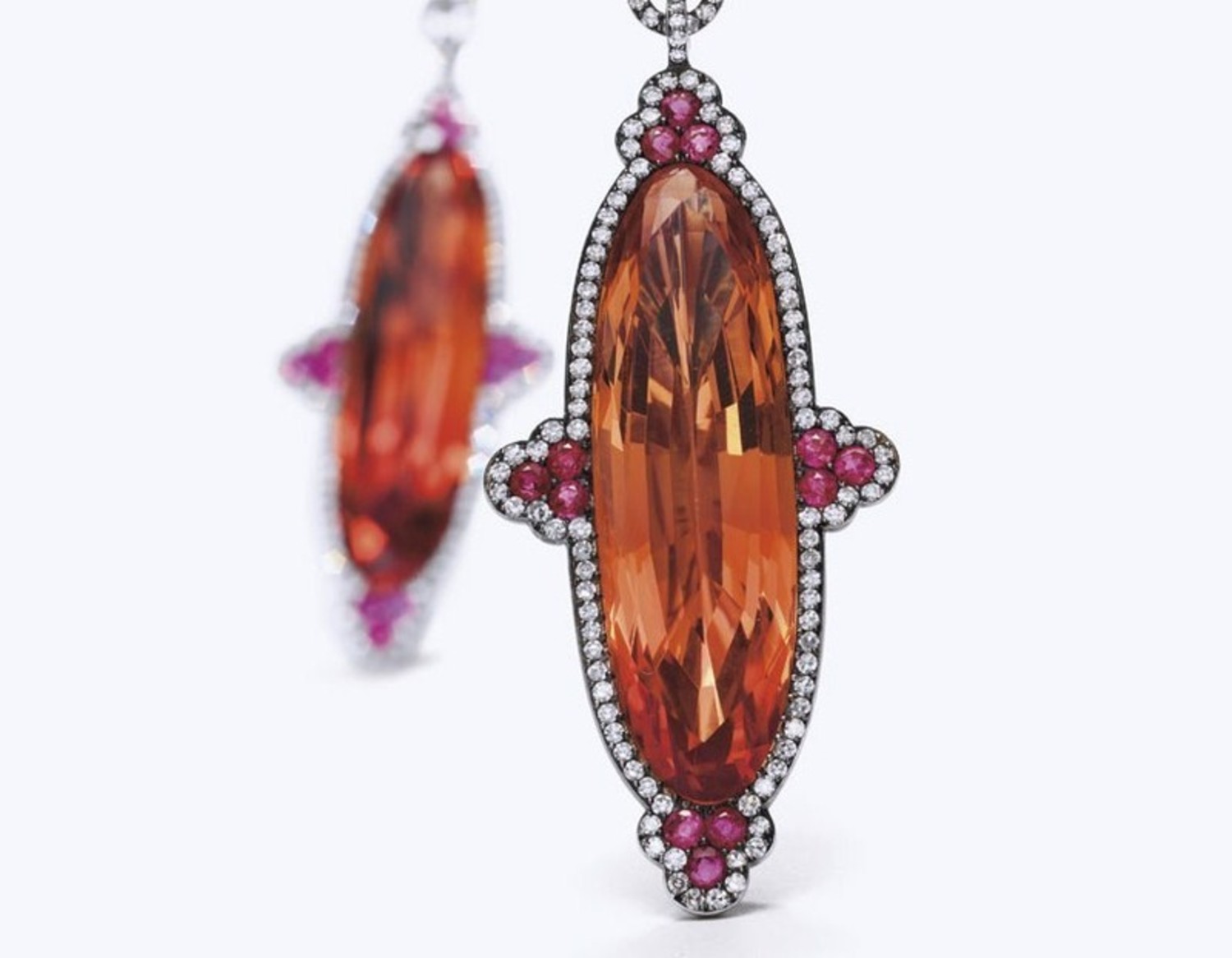 JAR earrings with imperial topaz, sapphires and diamonds sold at Christie's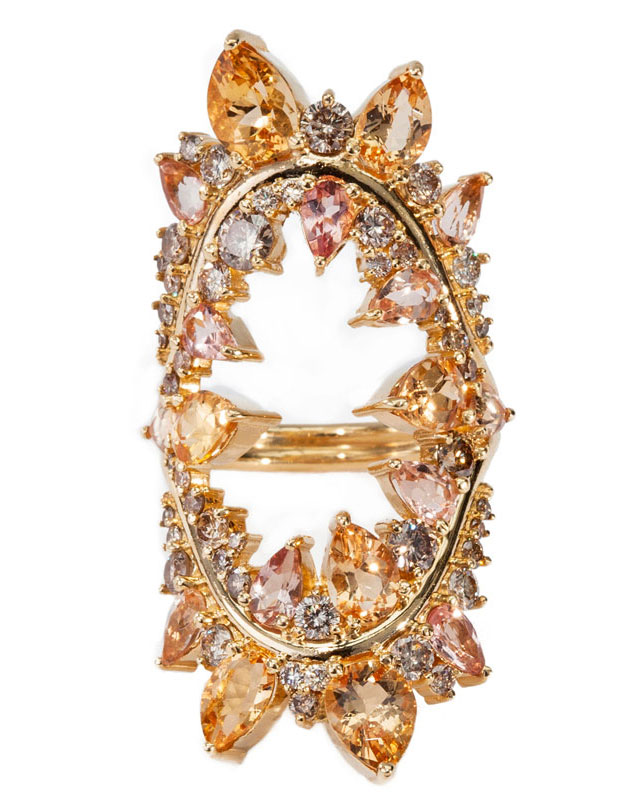 Fernando Jorge Electric Shock ring in yellow gold with white and brown diamonds and imperial topaz
One has to remember that brown topaz is often subjected to heat treatments to give it a pink or yellow hue. These are not imperials and therefore far less valuable. If you are offered imperial topaz, make sure it hasn't been treated.
An imperial of high quality is so rare that it isn't even sold at auction all that often. Out of all the lots I've seen in the past 10 years, I best remember the JAR earrings sold by Christie's. The two oval imperials in these earrings were of an impeccable quality which is expected from Rosenthal who usually spends something between several months and a year, maybe more, looking for the ideal stones. To begin with, the earrings were made for American actress Ellen Barkin to be worn to the Oscars in 2005. In 2006, they were sold at auction for $710,000 as part of a collection of 17 pieces by JAR. They were resold in 2010, again by Christie's, for $650,000.
The imperial figures in several high jewellery collections by legendary maisons. Stones of exceptional quality were exhibited by Cartier in a pair of earrings (see below) as part of the "L'Odyssée de Cartier Parcours d'un Style" collection, by Van Cleef&Arpels on an elephant head brooch as part of the "Les Voyages Extraordinaires" collection (see above) and by Louis Vuitton on its "Chain Attraction" necklace (see above). Simpler examples can be found at Boodles, Theo Fennell, Omi Privé and Fernando Jorge.
Imperial topaz has several attractive exotic qualities. In Ancient Greece and Ancient Rome, soldiers believed that the mineral gave them courage and sharpened their minds for battle. Since antiquity, topaz has been thought to have beneficial medicinal properties.
When it comes to relationships, imperial topaz is seen as a romantic amulet that encourages passion and enhances two people's attraction to one another. I'm not sure how true that is but maybe someone out there can enlighten us? KP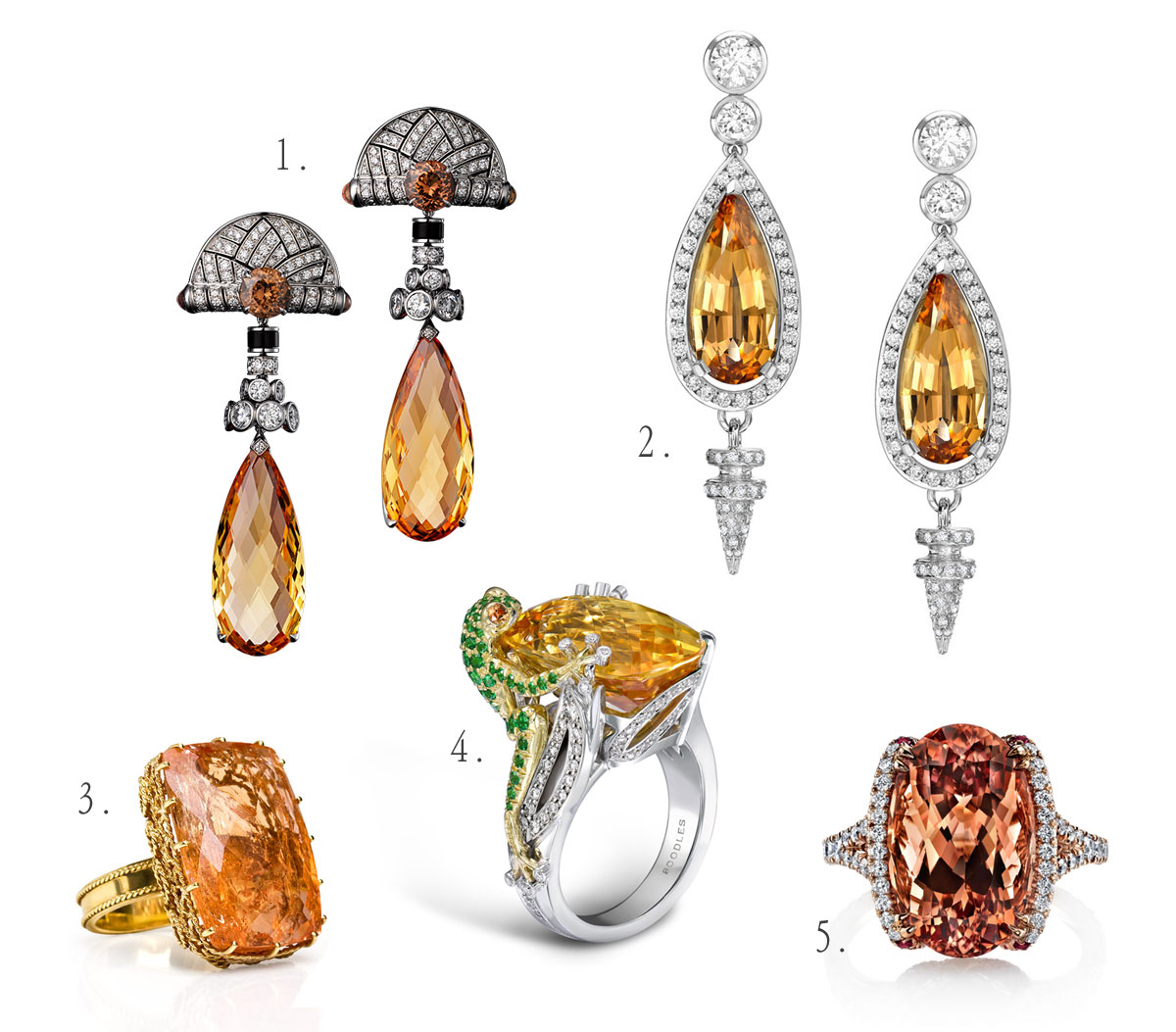 1. Cartier Africa earrings from Parcours d'un Style collection made in platinum with two briolette-cut golden imperial topazes totaling 28.11 carats, cabochon-cut colored sapphires, round colored sapphires, obsidia and diamonds. 2. Imperial topaz (11,41 cts) and diamonds earrings by Theo Fennell hand crafted from 18ct white gold and paved with diamonds 3. Carol Kauffman 18ct gold and imperial topaz ring 4. BOODLES Frog ring in platinum and 18K gold with an imperial topaz over 17cts. 5. Omi Prive ring with an 11cts imperial topaz and diamonds