Perhaps a few weeks or months before the Golden Globes red carpet, a memo went around all the biggest names in high jewellery that said something like this: "Hollywood's finest would like to see only colourless diamonds in the form of delicate drop earrings, ultra-feminine neckwear, bracelets that are neither too thin nor too cuff-like, and rings that aren't too 'showy' because the plan is to wear a minimum of two, perhaps five."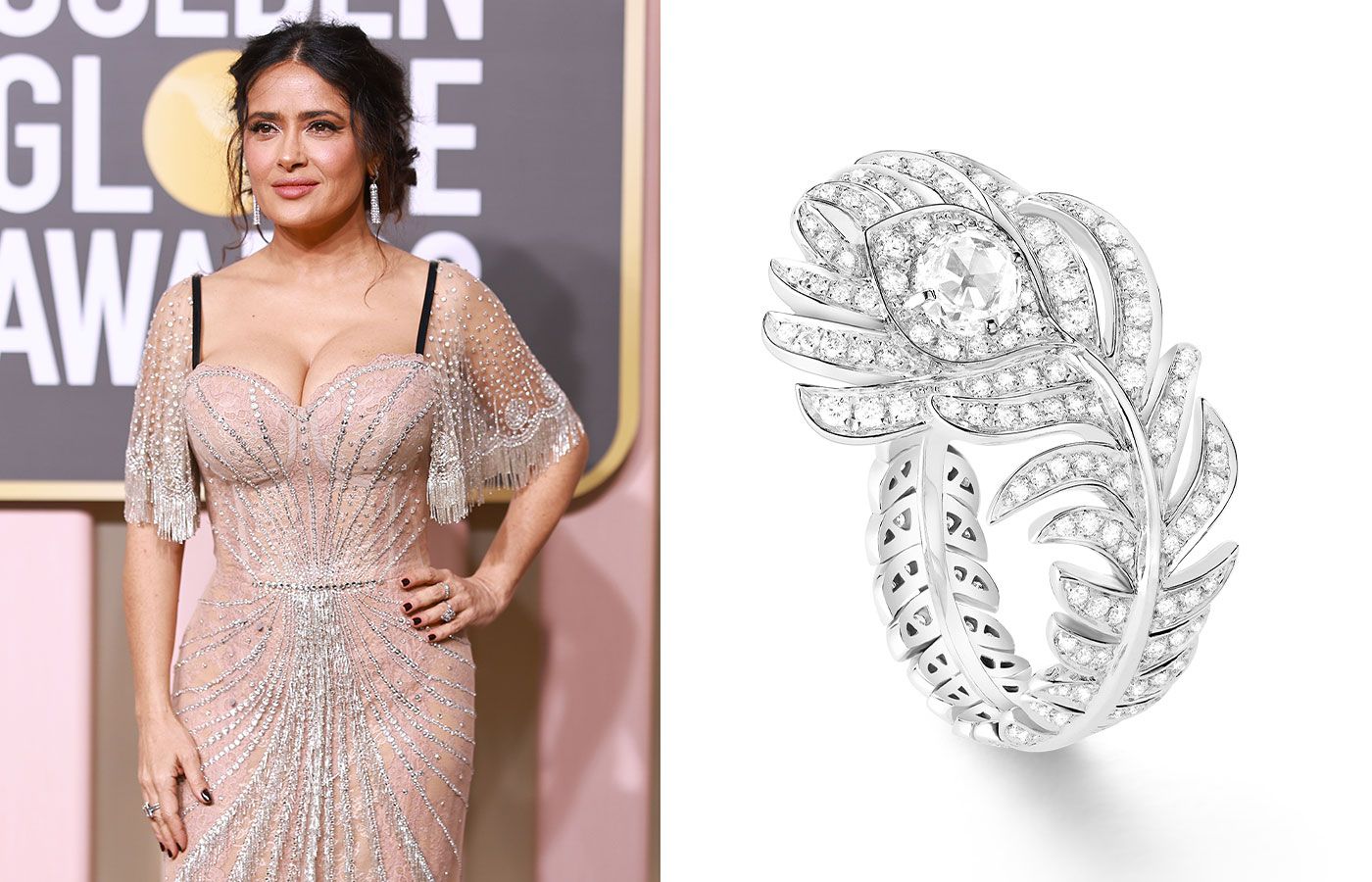 All jokes aside, the jewellery at this year's Golden Globes was uniform-like. Almost every female star appeared to be ticking the prerequisite items off her list: feminine necklace (dress dependent), line bracelets, rings, and drop earrings. Although there wasn't a huge amount of variation (white gold and platinum reigned supreme), some beautiful pieces were on display. Firstly, Best Actress award winner Michelle Yeoh, known for her love of high jewellery, dazzled in a suite by Moussaieff Jewellers. Her collar necklace is set with pear-cut, cushion-cut, and round-shaped diamonds, alongside a bangle set with emerald-cut, baguette-cut, and round-shaped diamonds. She completed her ensemble with an emerald-cut, D colour, internally flawless Type IIa diamond ring.
Angela Bassett, who also won a Best Actress award, dazzled in Chopard Precious Lace front-facing hoop earrings with 13.66 carats of diamonds and a matching 2.67-carat diamond ring. She added an 85.43-carat Green Carpet collection bracelet with round- and pear-shaped diamonds to the mix, which undoubtedly served as the best wristwear of the evening.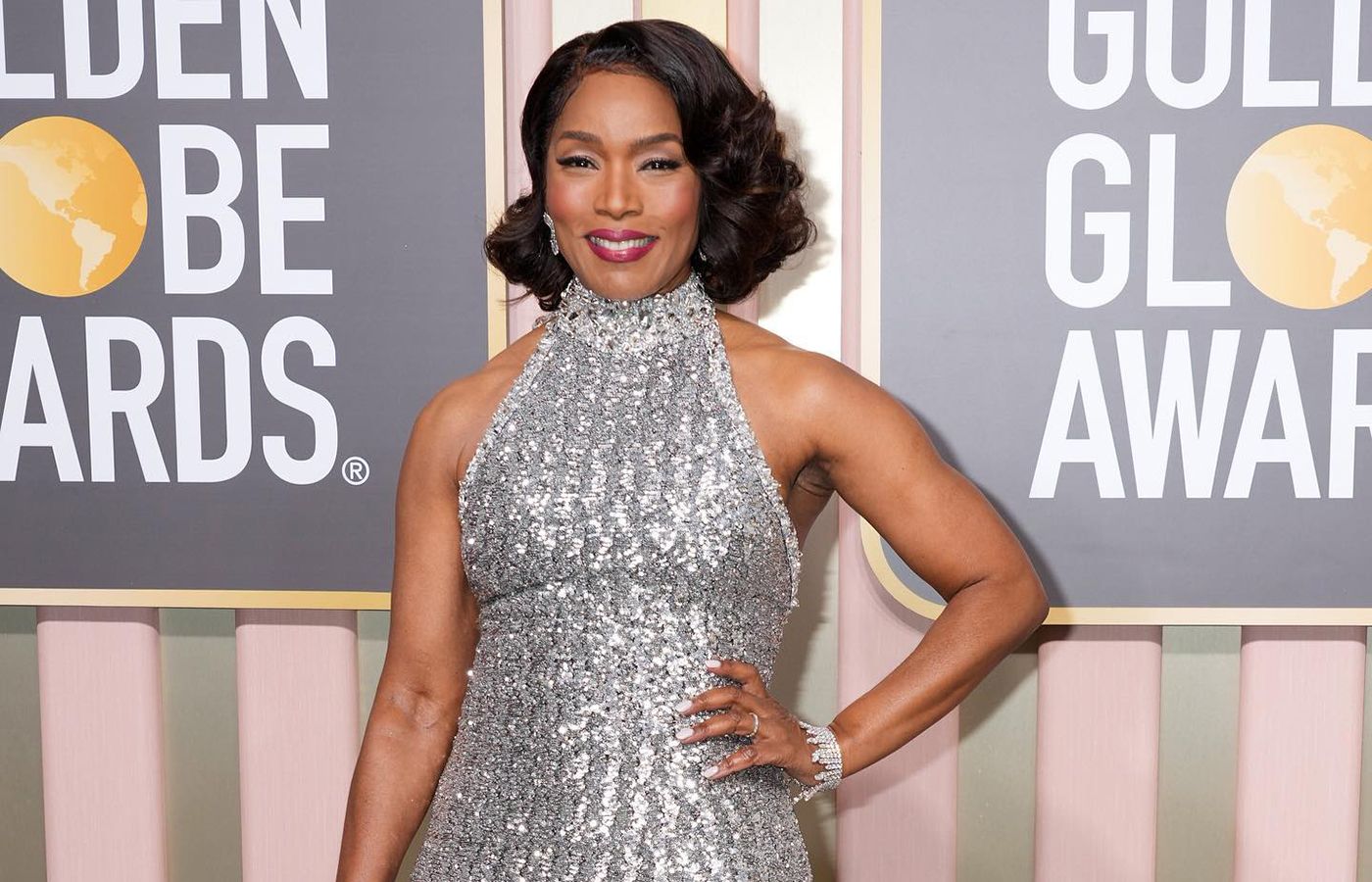 Feminine Diamonds at the Golden Globes 2023
The diamonds displayed at this year's Golden Globes were subtle… not necessarily in carat weight but in spirit. The aesthetic was 'Old Hollywood', feminine and aesthetically understated. Much of this has to do with the choice of gowns, which were heavily adorned with crystals, sequins and sparkling trim details that can look too fussy with excess jewels on top. Look to Letitia Wright's Bulgari Heritage diamond earrings and matching ring, Selena Gomez in De Beers, and Lily James in pieces from Harry Winston's almost whimsical Sunflower collection. One of the night's award winners, Julia Garner, stepped straight out of a fairytale in a baby pink Gucci dress coupled with a De Beers diamond necklace and tiny diamond stud earrings. I'd also like to mention actress Kaley Cuoco who tapped into the minimalist aesthetic with a pair of linear Rahaminov radiant-cut diamond earrings that appear to levitate thanks to a barely-there setting.
Before I move on to coloured gems, the dashing gents, and my jewellery stars of the night, I'd like to give some honourable mentions to a few all-diamond looks. Salma Hayek wore Boucheron Pompon pendant earrings and the Vendôme Liseré ring set with an emerald-cut diamond in black lacquer. She added two Plume de Paon rings to complete the look. Elsewhere, Laverne Cox wore Fred Leighton and Kwiat jewels in her hair to evoke the bright lights of Hollywood in the 1940s and 1950s, while Elizabeth Debicki took a more modern route with the Rose Dior Bagatelle necklace in white gold and diamonds. Finally, Rihanna wore a Cartier High Jewellery necklace from the Sixième Sens collection that contrasted perfectly with a deep black gown.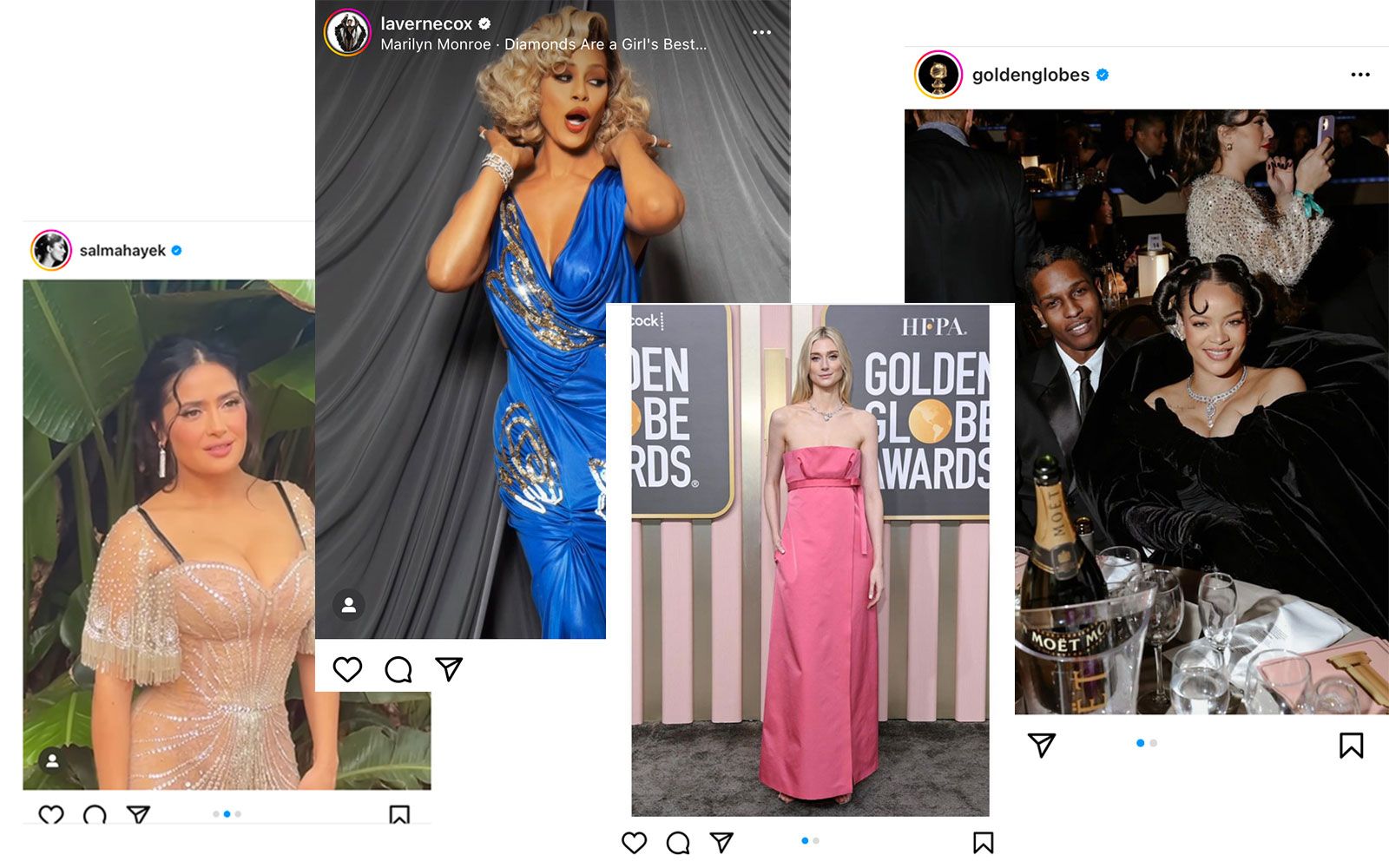 Best Jewellery Looks of the Golden Globes 2023
It wasn't easy to find coloured gems at the Golden Globes. Actress Kerry Condon wore Rahaminov Diamonds earrings with bright pops of green; Claire Danes wore a pair of Cartier High Jewellery earrings with opals, and Britt Lower wore Reza diamond and ruby earrings. My favourite jewellery moments of this award show, however, were the rule breakers! First, Margot Robbie was one of the few women I spotted wearing a brooch as her key accessory. She opted for a Chanel High Jewellery star-shaped brooch that added a little brightness to her blush pink, Art Deco-inspired gown. Next, credit must go to Anya Taylor-Joy, who paired an acidic shade of mustard-yellow in her Dior gown with yellow gold jewellery! It's not an easy colour combination to get right, yet she made it look easy. Specifically, she wore a Tiffany & Co. Schlumberger® necklace, earrings and bracelets with Tiffany T1 rings.
My award for 'Best Earrings of the Evening' must go to actress Jenny Slate, who defied the diamond-only rule with a pair by Anabela Chan that appear to be crafted in titanium and yellow gold with diamonds and gemstones in shades of orange and green. Finally, props to Wednesday actress Jenna Ortega who paired her long-sleeved Gucci dress with layers of Tiffany & Co. diamond necklaces. As she's only 20 years old, it was great to see her take a more youthful approach to diamonds and add a bit of rock 'n' roll flair (matched by a 'wolf cut' hairstyle).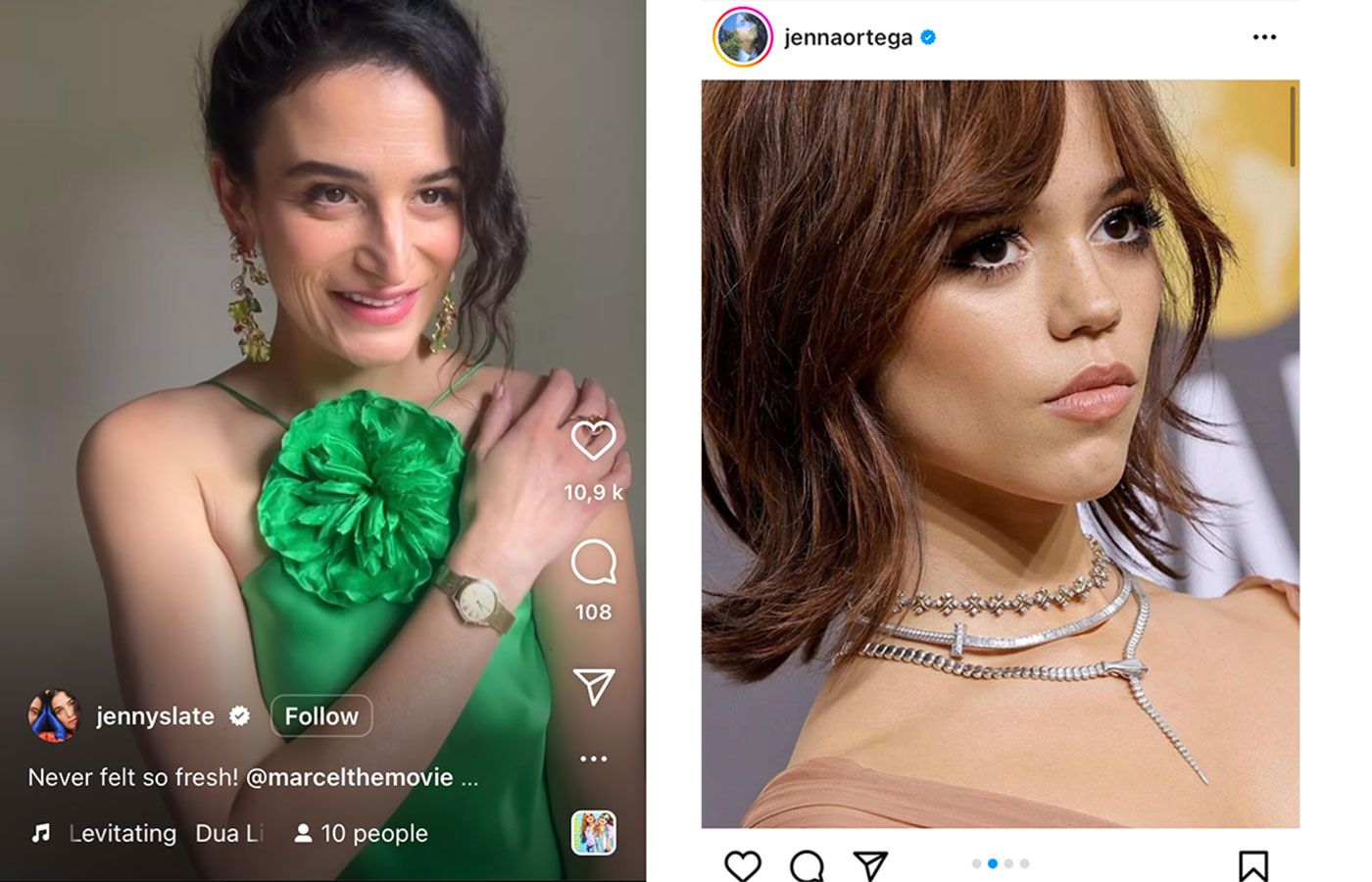 Best of Men's Jewellery at the Golden Globes 2023
Cartier continues to dominate men's jewellery on the red carpet. Look to Jeremy Pope in a Cartier Panthère necklace with brilliant-cut diamonds in white gold and Austin Butler in multiple Cartier rings, including a Panthère de Cartier number with emeralds, onyx and diamonds. He also wore a Cartier Juste un Clou bracelet with diamonds in white gold. Other special mentions include Tyler James Williams with a great diamond-set jabot pin on his lapel; Andrew Garfield's yellow gold signet ring and watch combo, and the fabulous Billy Porter's Yeprem ear cuff with rings by Stéfère, House of Emmanuele, Tiziano Colasante, and Shine Like Me.
Special Mention: Jessica Chastain Red Carpet Look
And last but certainly not least, there's Jessica Chastain… who wore almost no jewellery at all. Now, I know what you're thinking, why are we giving a special mention to someone who wore just a couple of Gucci High Jewellery rings? Well, sometimes, making a statement isn't about what you put on; it's what you leave at home! Her Oscar de la Renta dress was a jewel in itself, which is why not even a stud earring could distract from its beauty.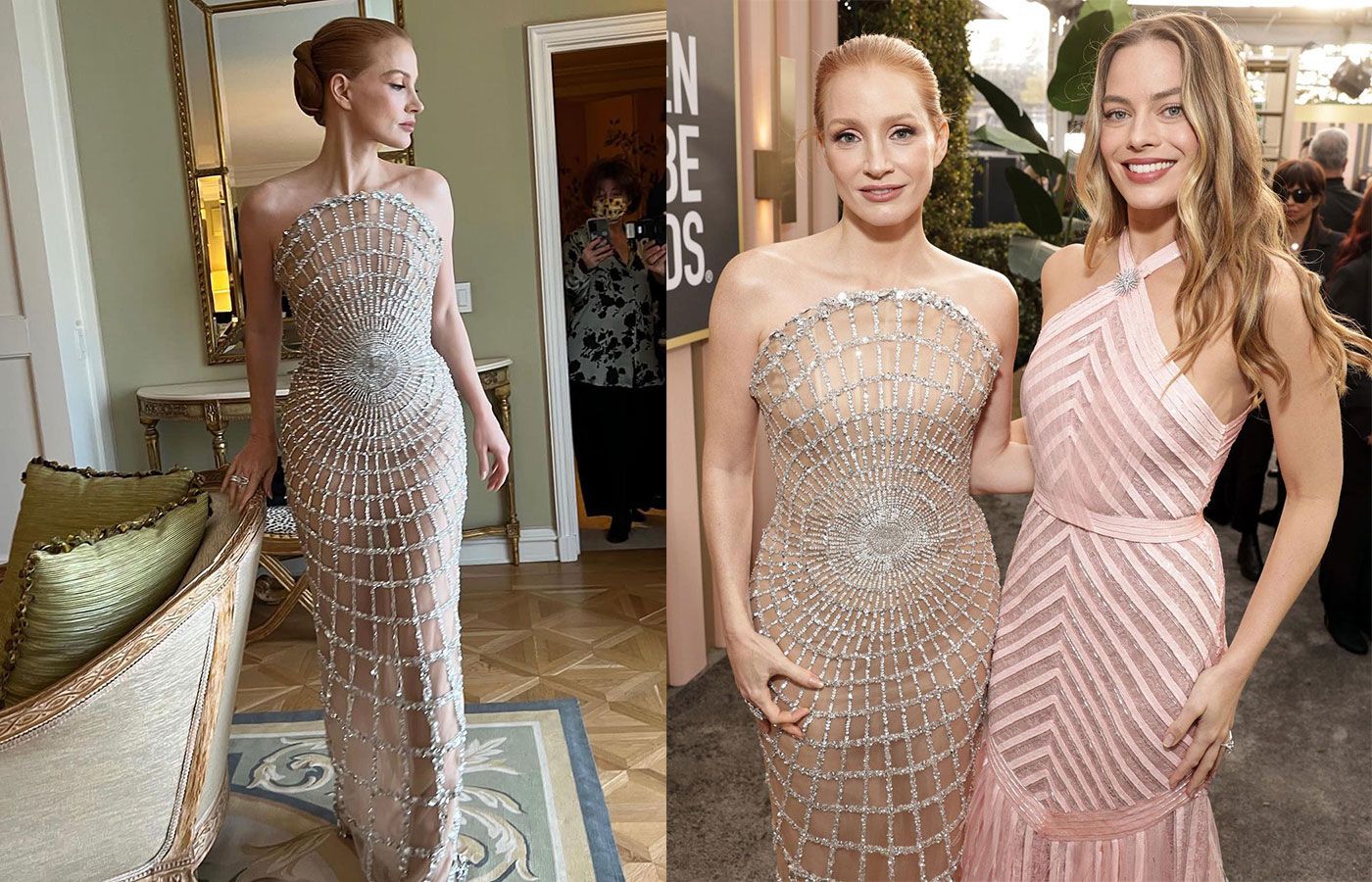 Let's see what happens next at the Academy Awards and the Met Gala. There are still lots of chances for jewellery to shine in 2023.