Before writing this article, I had wondered why such interesting interpretations of gemstones began to appear in jewellery art only relatively recently. The collections I describe below were all created over the past twelve years. In my opinion, this is because of an increasingly bold approach to jewellery design, a quest for new sources of inspiration and the emergence of fashion fine jewellery that can complement an everyday look. You do not wear a large gemstone unless it is a special occasion but the reproduction of it, even if it is made of precious materials, does not oblige you to attend an event, and can be worn with anything, from an evening dress to a pair of jeans. But that's enough speculation, let's move on to the collections...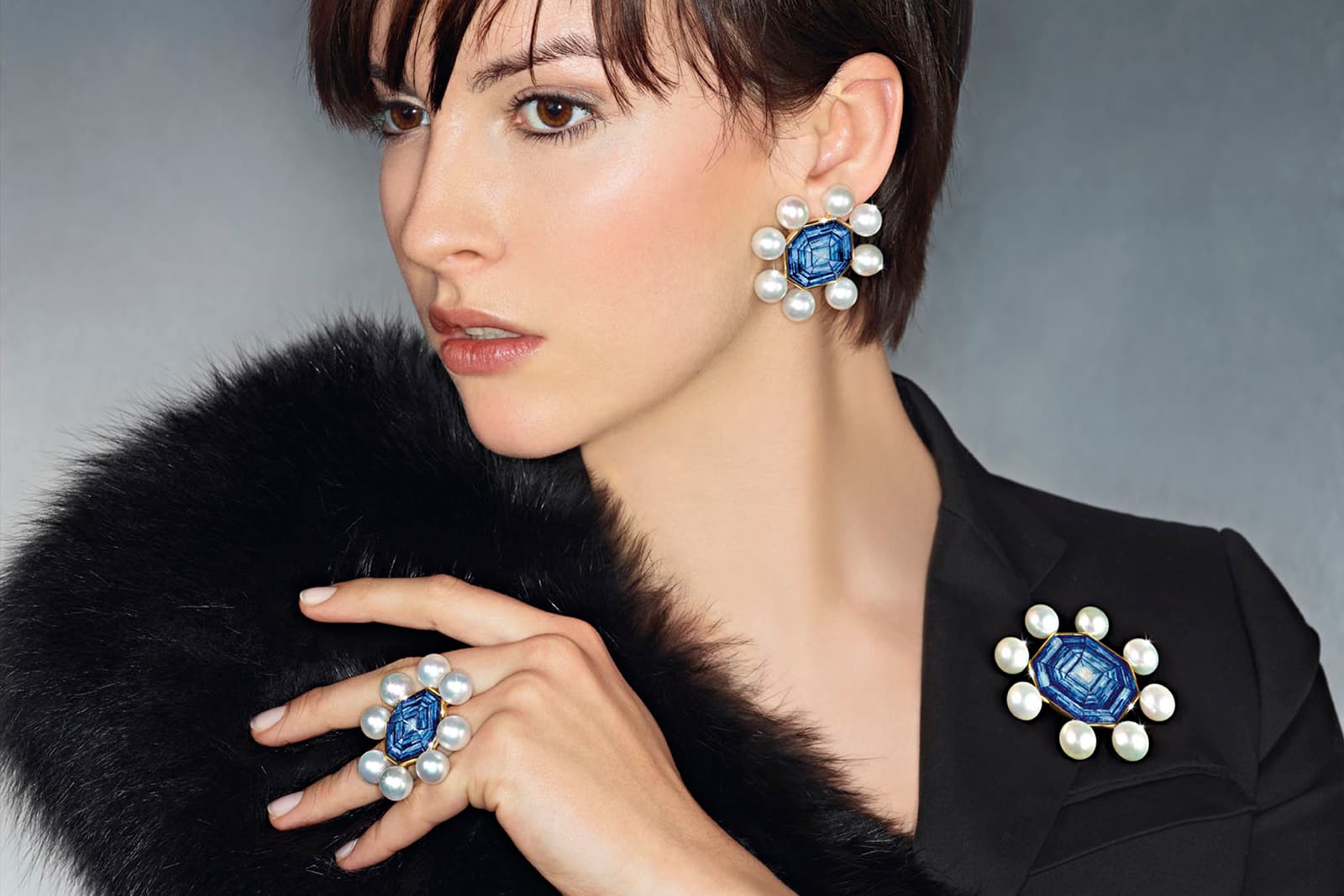 The British designer Solange Azagury-Partridge is a big fan of gemstones, and so in her 2008 Stoned collection ('Stoned' can alternatively be interpreted as referring to being adorned with jewellery, being high, and can also refer to the stone of a fruit,) she offered several versions of 'stones'. For example, her golden Skeleton rings provide the silhouette of a heart or rose cut gemstone (the second version is paved with diamonds.) Her Georgian earrings with plique-à-jour enamel were an homage to the jewellery that was fashionable in Britain in Georgian times, while her Real Fake ring was an ode to emeralds. The Stoned necklace, in which Solange combined amethysts, tourmalines, sapphires, fire opal, rubies, emeralds, beryls, citrines and rose quartz with gemstone imitations made of gold and enamel, was the collection's hero piece.
The 3D shapes of certain gemstones were the basis of earrings, bracelets, rings and pendants made by NUUN Jewels in its Johara collection, which translates from Arabic as "jewel". Imagine that you are looking at the light shining through a diamond, and because of the glare on its surface you see only the outlines of the diamond's facets. They form a kind of grid, which the brand's founder Nourah Al Faisal took as her starting point before enlarging it and setting it with diamonds. "When I started working on the Johara concept, it seemed to me that the briolette and cushion cuts would work best. But in the future, I am going to add other diamond cuts as well," Nourah reveals.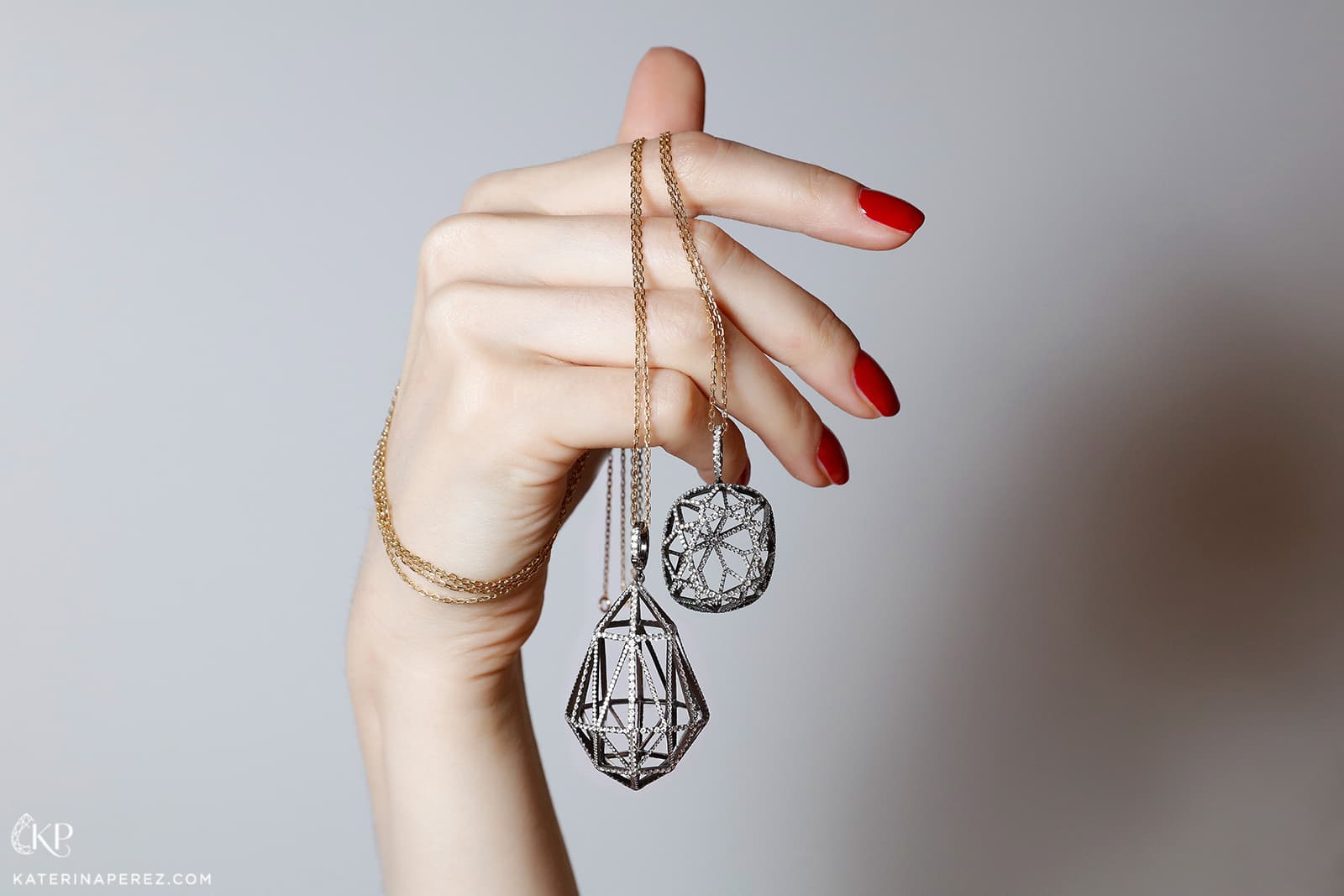 The Italian designer Fabio Salini, who is famous for his one-of-a-kind jewels, has released his interpretation of cocktail rings that are shaped like precious cages - made of white gold with diamond pavé. In the heart of the intersecting lines, he placed a traditional emerald cut or round cut emerald, or a green tourmaline. He also added a round brilliant cut diamond design without a central stone. "This is my response to jewellery made today, which I often find too ostentatious. The gems in my Cage rings are not on show for everyone to see, their presence is more subtle. Instead of setting the stones on top of each ring, I placed them inside the settings, as a symbol of my desire to contravene flamboyant jewellery choices," explains Fabio, discussing his creative concept.
Melanie Georgacopoulos also used cage style designs, but placed pearls inside them - the material that forms the basis of all her work. The Caged collection was not the only one in which Melanie paid tribute to stone cuts; in 2017, she released a series of cocktail rings, earrings and bracelets in her MOP Shell collection that was intended to emulate the facets of emerald, cushion and lozenge cut diamonds in mother-of-pearl.
Another unusual material that is used to replicate precious stones shapes is micromosaic. The art of creating a miniature in pieces of blown glass is perfectly mastered by the craftsmen of the Italian brand SICIS. To create rings, bracelets, necklaces and earrings for the Falso Vero (False True) collection, the brand invited Roger Thomas - the famous interior designer - to collaborate with them. He was inspired by royal jewels and proposed his own version for modern princesses, explaining his idea as follows: "This noble, rare and demanding material (micromosaic) offers unlimited colours, extraordinary detail and the permanency of stone. I was delighted by the invitation from SICIS to utilise this historic medium in an entirely new and original way, exploring sculptural and pictorial possibilities that were never-before seen or considered, and elevating its value to be the equal of precious stones and the finest art."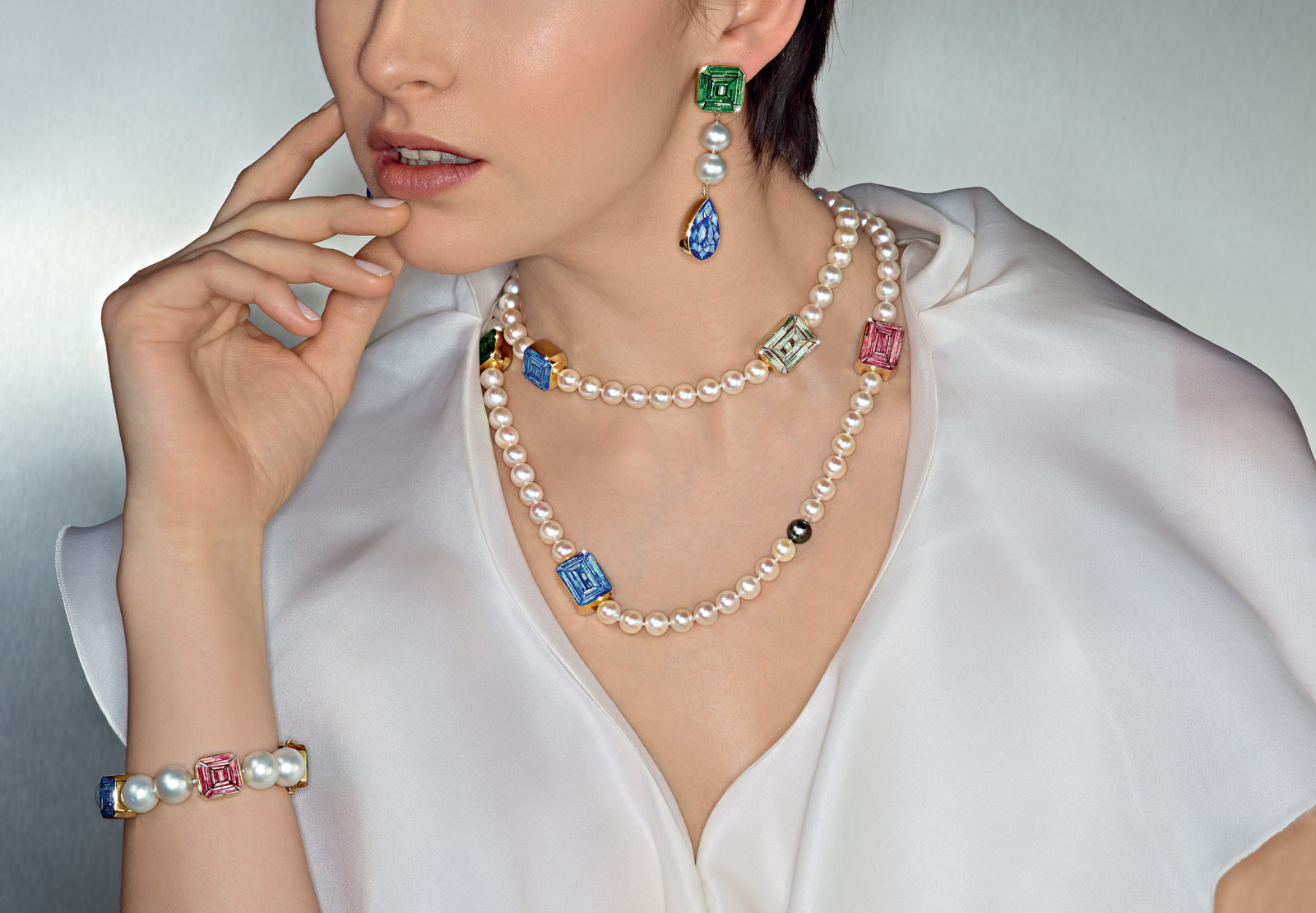 At the very mention of wooden marquetry, I immediately think of Silvia Furmanovich designs. Despite the fact that most of her jewels depict flora and fauna, you will also find many interesting interpretations of precious stones created using hand-cut fine pieces of wood. "The marquetry technique lends itself very well for an endless variety of intricate and detailed motifs which allows for a lot of creative freedom," explains the designer.
Modern cuts of gemstones, in which the facet ratio is calculated to provide the most intense shine, appeared in the early 20th century. That is why in ancient jewellery you can find such a variety of forms that are now reduced to one term: fancy. These were replaced by round cuts, as well as pear, emerald, marquise, princess, cushion, modern briolette and others, which, I think, will continue to further inspire jewellery designers to create unusual jewellery.