Two billion years ago, meteorites on a collision course with Earth ripped through the ozone layer and plunged deep underground. This was a particularly momentous celestial shower as the rocks now embedded in our planet contained platinum. This precious metal from space would lie dormant for some time before humans discovered it and eventually began to use the white metal to create jewels. Archaeologists have discovered that the Ancient Egyptians had access to platinum, using it to decorate tombs and hieroglyphics. However, jewellery historian and author Jack Ogden argues that it wasn't until the 1700s that this white metal truly came to prominence as an object of desire, sparked by Spanish conquistadors discovering the metal being mixed with gold to create ornaments in Ecuador.
Problem Metal to Royal Patronage
Platinum, originally named platina, was at first seen as a nuisance by Ecuadorian gold miners. "Several of the mines have been abandoned on account of the platina, a substance of such resistance, that, when struck on an anvil of steel, it is not easy to be separated… the [gold] enclosed within this obdurate body could only be extracted with infinite labour and charge," wrote Spanish mathematician and explorer Don Antonio de Ulloa in 1748 after a trip to Ecuador. The metal was put to use in place of silver to create objects such as snuff boxes and sword hilts. In 1751, Swedish scientist H.T. Scheffer would proclaim that platinum was a precious metal in its own right. By the 1780s King Louis XVI of France was commissioning his personal jeweller Marc-Etienne Janety to create platinum pieces for him, proclaiming it to be the "only metal fit for kings".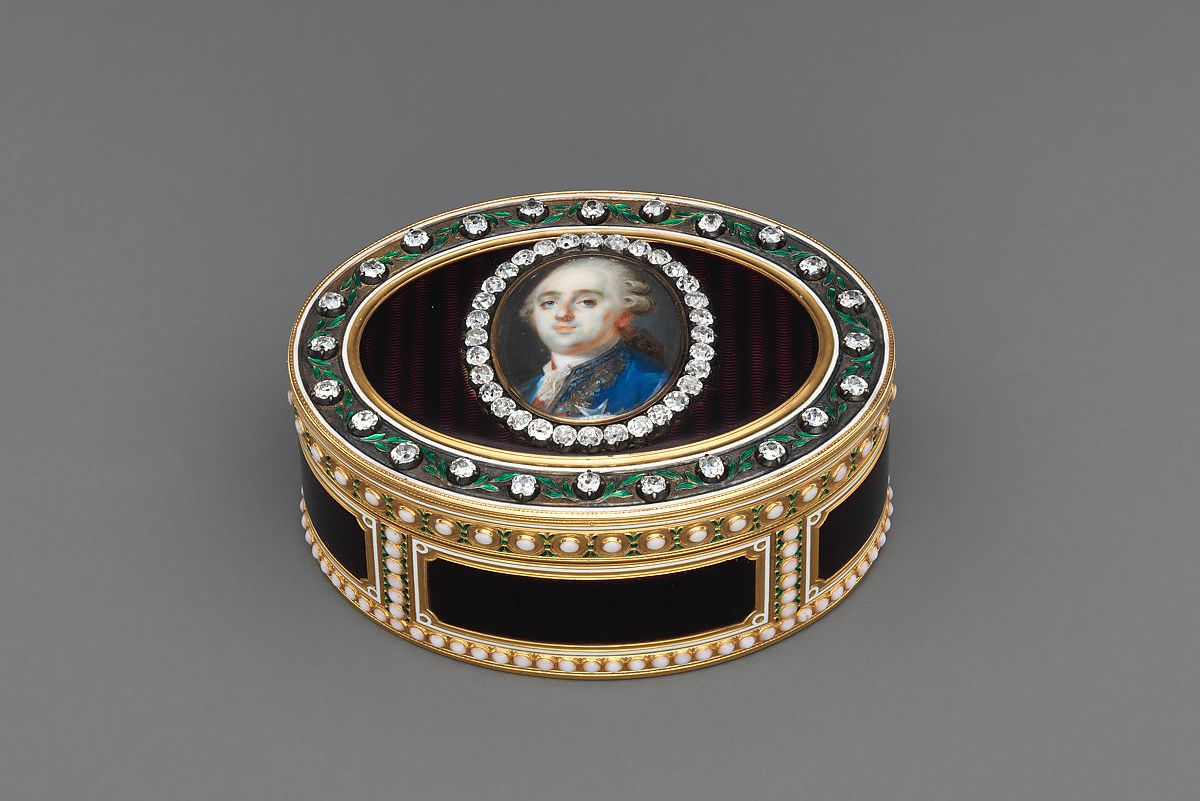 "The earliest record of platinum jewellery being offered [for sale] that I have found so far was at the 1802 Paris exhibition," says Ogden. He notes that in the following decades, platinum became increasingly popular as a decorative flourish on gold designs. Or it was combined with gold to create hybrid jewels, as seen in a ring given to Prince Albert by his father in 1835. "Around this time, combined gold and platinum wedding rings were said to be popular in Paris," he continues. "Platinum watch chains were also popular."
Platinum Shines in Bridal and High Jewellery
Platinum really enjoyed a boost in the late 19th century when American jeweller Tiffany & Co started to use the metal in its diamond collections – the metal is revered as an excellent choice for gemstone setting due to its strength, which exceeds that of gold. "By the 1870s, solitaire diamond rings with crowns in platinum or platinum-tipped gold were popular," says Ogden. Cartier soon followed suit; the jeweller had been experimenting with platinum since the 1860s but increased its use at the turn of the century in 1900. Since then, the metal has proved to be a popular choice for jewellery lovers. As well as its strength, another positive attribute is its cool-grey colour that requires no maintenance; unlike white gold, which must be replated with rhodium to maintain its shade. This has long made it an attractive metal for engagement rings and wedding bands.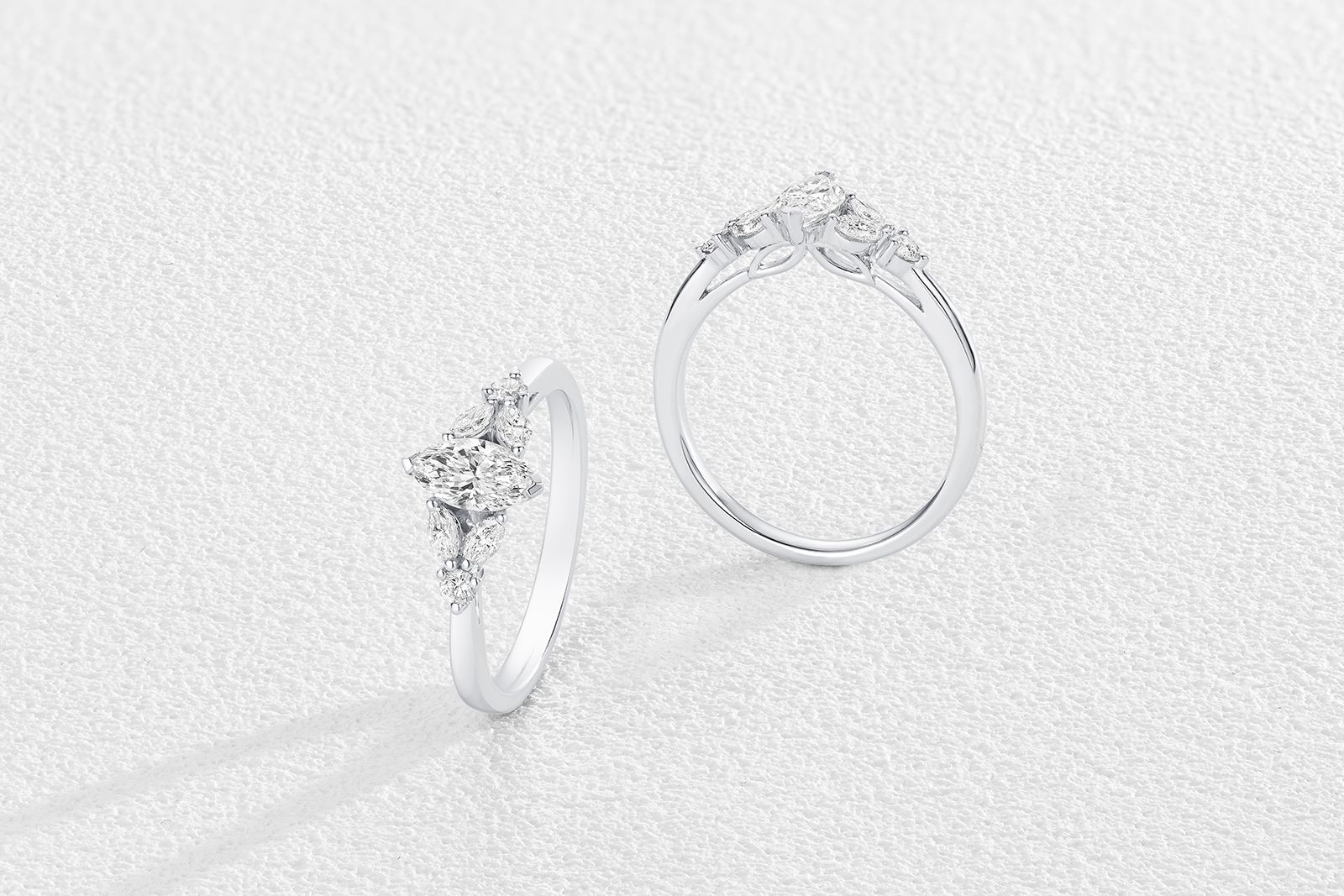 "Platinum remains our most popular metal choice across bridal, engagement rings and wedding rings," agrees Daniella Jayes, a jewellery buyer at British luxury store Mappin & Webb.
The jeweller, which has held a royal warrant since 1987, recently introduced new platinum ring designs within its Amelia collection in celebration of Her Majesty the Queen's Platinum Jubilee.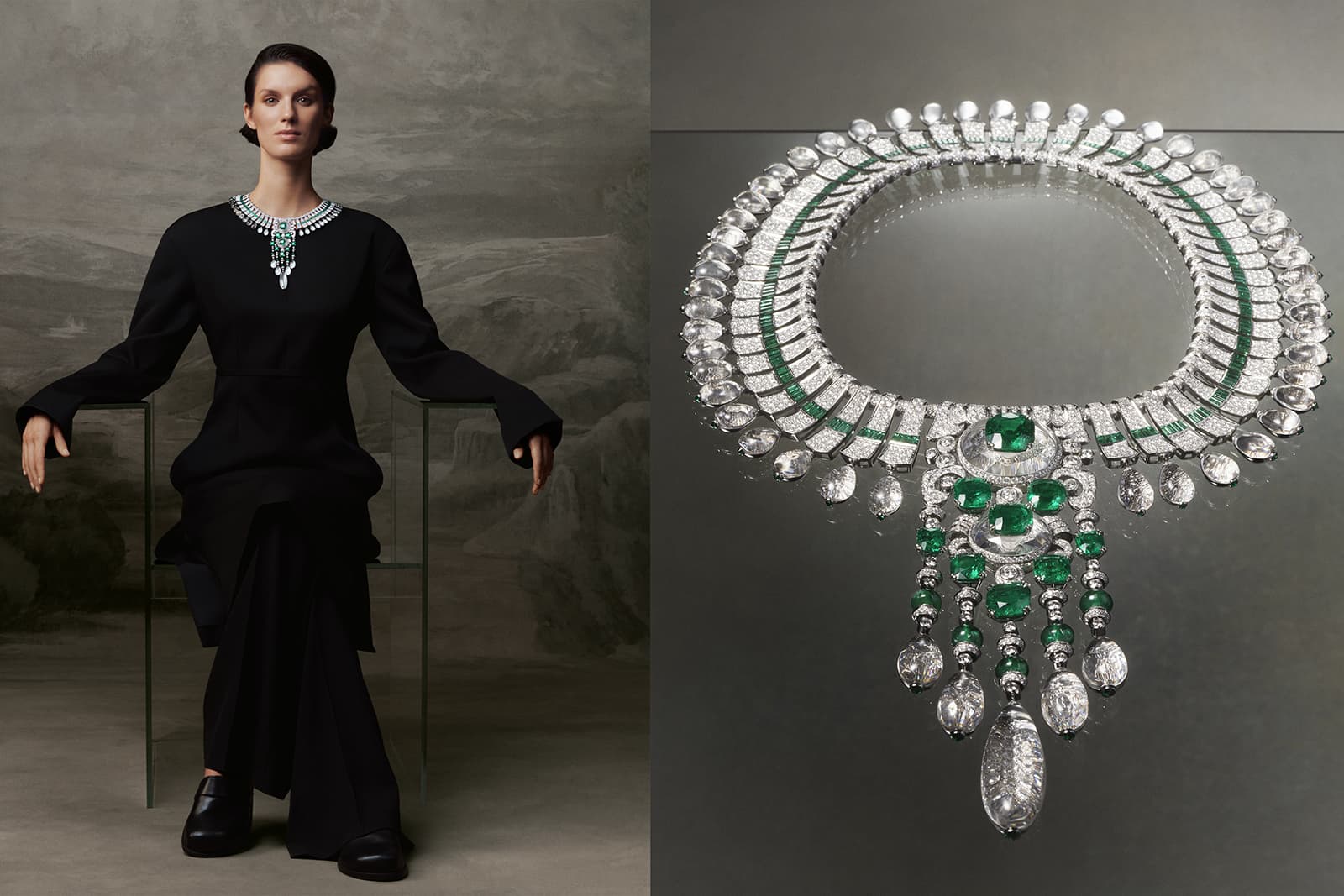 Overview: Six Reasons to Choose Platinum
D u r a b i l i t y : It is more durable than gold and 60% more dense
S e c u r i t y : The metal's strength makes it a secure choice for settings
C o l o u r : It is naturally white, and so does not require plating
P u r i t y : Due to its high level of purity, platinum is hypoallergenic
R a r i t y : Platinum is 30 times rarer than gold
S t r e n g t h : Platinum does not flake or lose metal when scratched; the metal is merely moved
Platinum is Less Expensive than Gold
Indeed, many brands chose 2022 as the moment to rediscover this precious metal, which has been less popular outside of bridal jewellery in recent years as a result of the vogue for yellow gold; although Her Majesty is not the only reason that platinum is enjoying a resurgence right now. It is also an advantageous time to buy platinum due to its price. While once the metal was as much as 20% more expensive that gold – it is a more difficult metal for goldsmiths to work with, which also adds to the final price of a jewel – platinum is now roughly half the price of gold. This doesn't impact on its preciousness, however, according to Jenny Luker, president of the Platinum Guild International, a marketing body set up to promote the metal. "Platinum has always been, and will always be, a luxury metal," she says. "Platinum is a precious metal that has superior physical qualities – it's much rarer than gold, doesn't change colour over time, and its density makes it one of the most durable and enduring precious metals. Platinum is naturally white, which means it will not cast any tint onto a diamond or gemstone, allowing the stone's genuine colour to sparkle brightly, as well as being securely set."
While platinum is described as a white metal, this is not entirely accurate. While certainly a cooler hue than yellow or rose gold, and comparable to white gold, its true colour is closer to grey – a "striking gunmetal grey" as London-based jewellery designer Liv Luttrell describes it.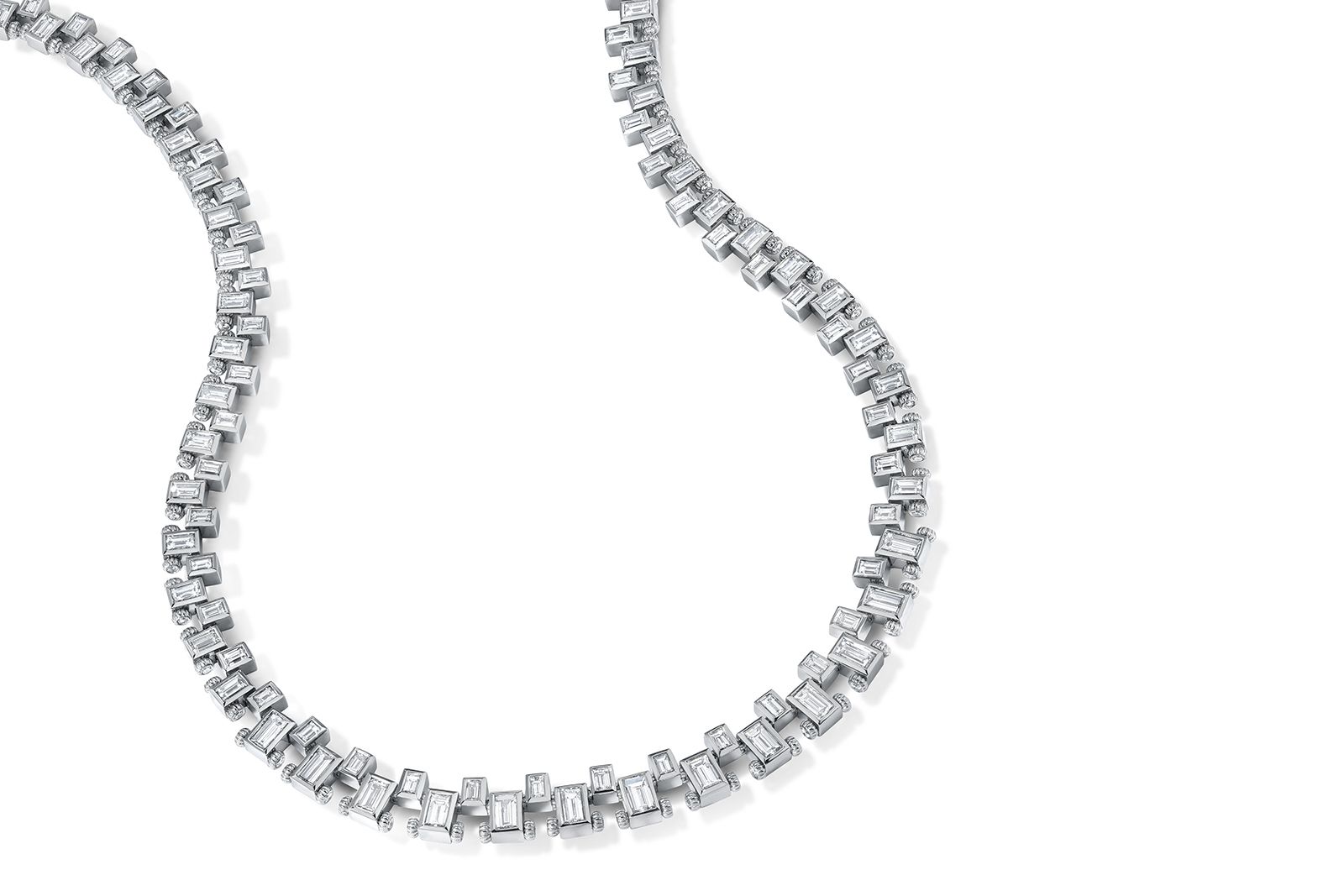 "I have always had a strong selection of platinum pieces," she says, noting that many of her clients prefer the colour over that of white gold. "The colour is deeper and darker and makes a powerful presence on its own or set with precious gems. Its strength as a material means that from a craftsmanship perspective platinum is very strong which allows it to be cut very finely, creating the illusion that gems and diamonds float in their settings."
One note of caution Luttrell has for clients considering a platinum design is its weight – it is 60% more dense that gold, and therefore heavier. "[Platinum] should suit and not overwhelm a powerful piece," she says.
Jewellery Designers are Rediscovering Platinum
The Platinum Guild International, as is its remit, has been looking for fresh ways to champion its namesake precious metal. Five years ago, it launched a brand called Platinum Born that only produces platinum jewels. It also teamed with eight jewellery designers this year, encouraging them to produce a signature design in platinum. The designers who rose to the challenge were Brent Neale, Harwell Godfrey, Retrouvai, Stephen Webster, Spinelli Kilcollin, Suzanne Kalan, Walters Faith and Zoe Chicco, and the platinum jewels were showcased at Las Vegas jewellery show Couture in June.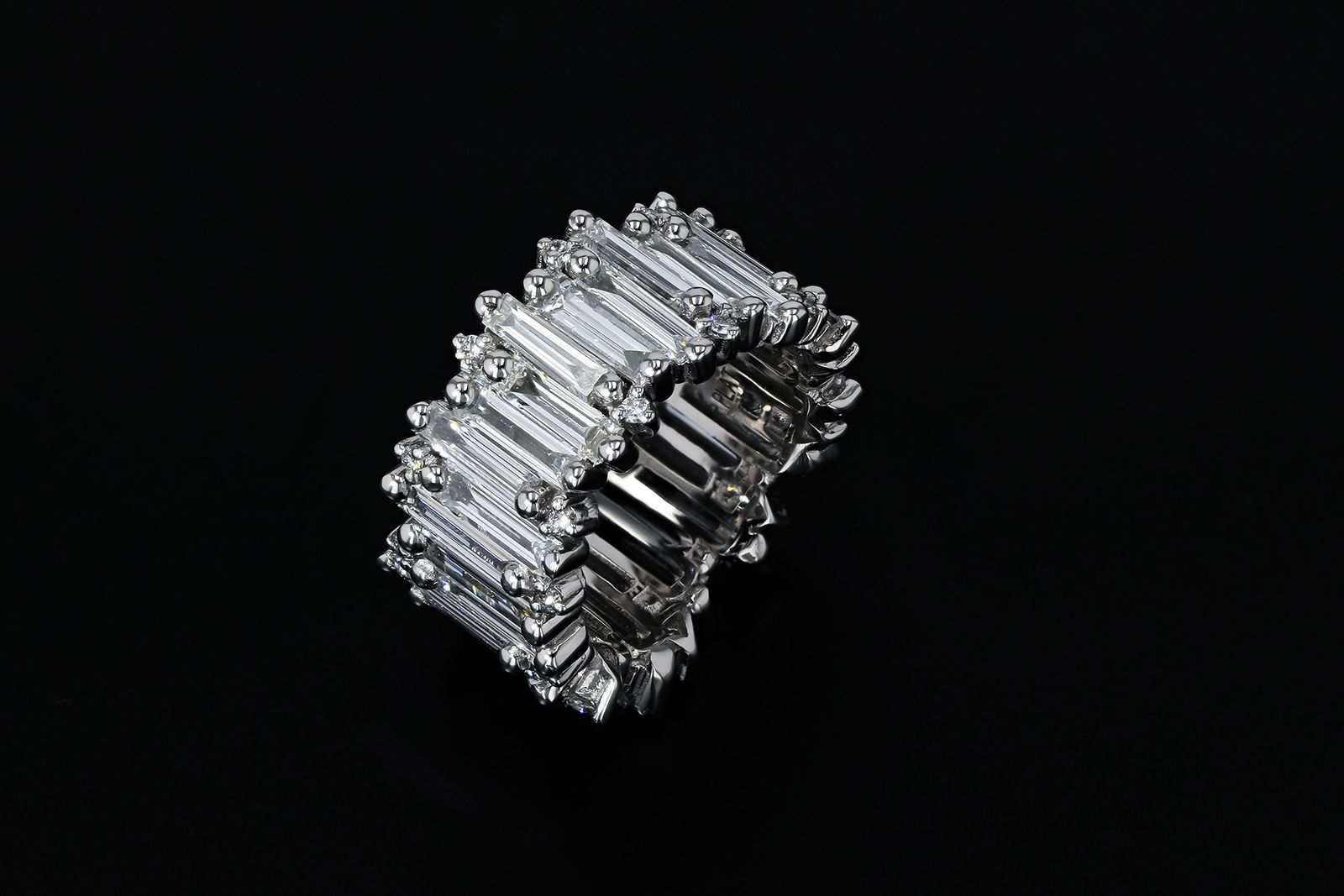 "Platinum poses a greater challenge to work with, as it's harder, denser, and subsequently more durable than gold," says designer Suzanne Kalan, who chose to use the metal to recreate one of her iconic Fireworks rings set with baguette-cut diamonds." Precision is therefore absolutely key when designing."
With more designers discovering or rediscovering this heavy metal, works in platinum suddenly feel fresh once again. For those who enjoy its cool hue, it is hard to deny its allure when compared to white gold – less maintenance, greater strength and an attractive price. We look forward to seeing more innovation come through as platinum once again begins to shine.