Ilgiz is one of few to still employ and preserve the tradition of hot enamel, which has fallen somewhat by the wayside in this age of speed and mega trends. Thanks to his tireless work, impeccable craftsmanship and expert execution, his authority on the technique is so great that the Kremlin has invited him to arrange an exhibition of his work for March of next year. At the start of the 19th Century Edward Bovet too played an important role in the history of miniature painted enamel when he made his contribution to the haute horlogerie canon by employing the very best watchmakers of Val-de-Travers and charging them with decorating his body of pocket watches. The excellent work of those designers and artists in that Golden Age continues still accounts even to this day for Bovet's excellent reputation in the field of decorative arts.
Pascal Raffy, chief executive of Bovet 1822 and watch manufacturer Dimier 1738, makes a great deal of effort to keep traditional techniques alive in the watchmaking craft. It is hardly surprising that Pascal and Ilgiz were keen to work with each other; right the way through the design process they adhered to the same values and used the same careful, scrupulous work ethic typical of their illustrious predecessors, which undoubtedly explains why this new collection has exceeded even the highest expectations. The craftsmanship that has gone into these designs is particularly impressive and all the more enchanting when you consider that modern watches are significantly smaller in diameter than the pocket watches of the 19th Century. Ilgiz Fazulzyanov's input were the painted watch dials, which the designer created especially for Bovet in the finest painted enamel tradition. To add a further decorative touch to some of the watches, the dials and their red or white gold borders were studded with diamonds.
The plan is to produce twelve new watches each year, split across two collections: the Amadeo Fleurier 39mm women's range and the Amadeo Fleurier 43mm for men. The 2015 women's collection takes its inspiration from nature, while the men's watches are decorated with miniature depictions of the Four Horsemen of the Apocalypse. The first models from the collection have caused quite a stir – they are available to buy right now from the Bovet boutique, but they are all one-of-a-kind editions, so only a lucky few will be able to treat themselves!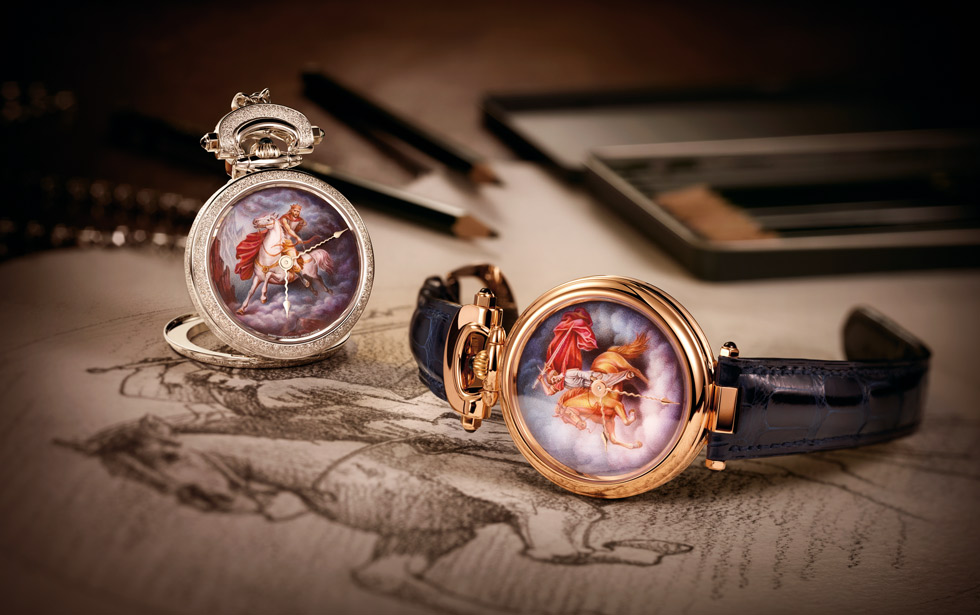 Images are courtesy of Ilgiz F and Bovet 1822