Having started my search for inspiring artist engravers, I have come across the works of five talents, each one adapting ancient hand-working techniques to create their own eye-catching portfolios. What makes them different? Either their own distinctive style of engraving, the precision with which they work or the use of unconventional materials. Let's discover them one by one.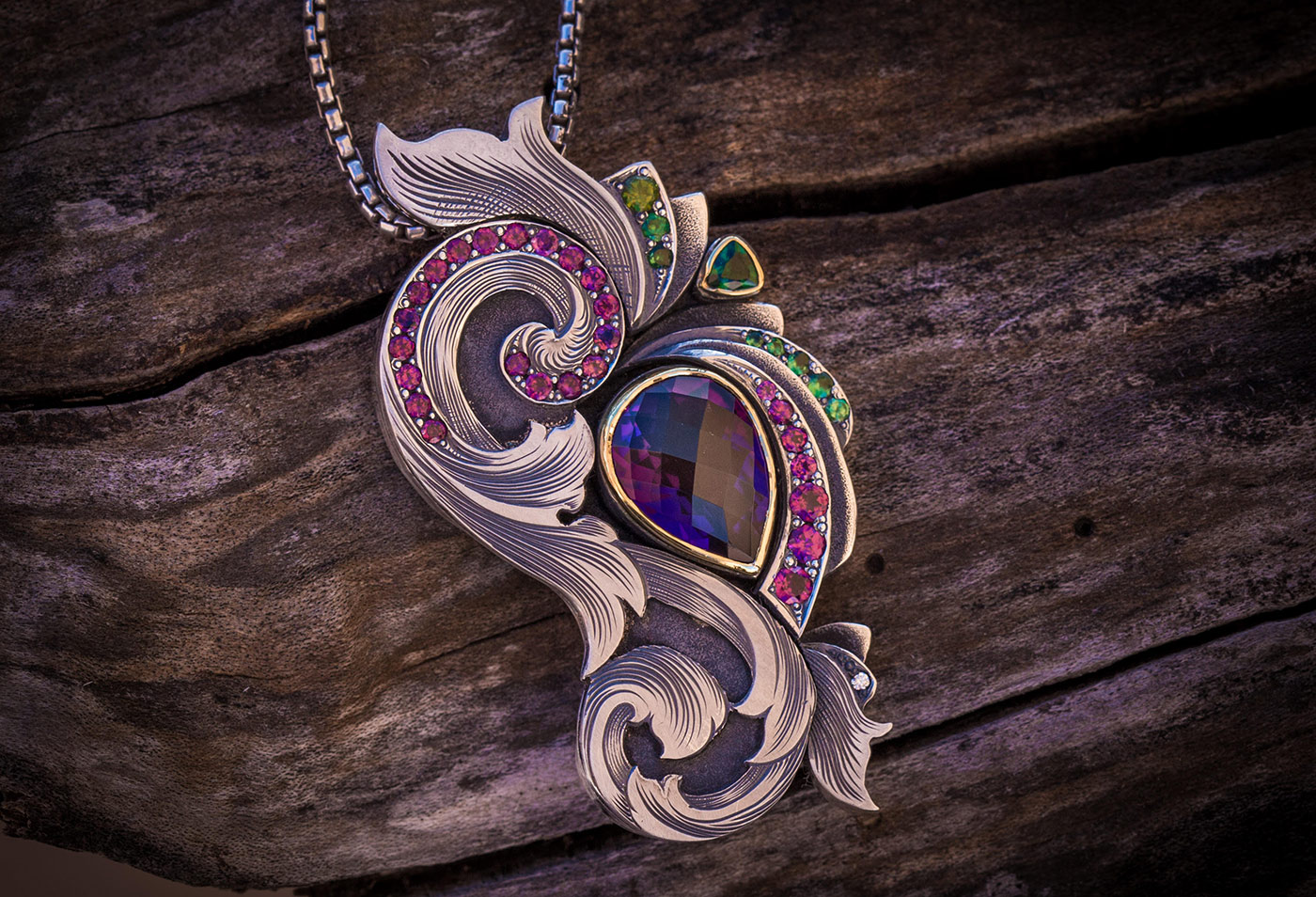 Castro started his journey as a painter and printmaker and they both continue to inspire his jewellery. He draws on history, mythology, flora and fauna to engrave chunky signet rings, dipped in vibrant colours or given a brushed finish. His career began with an engraving apprenticeship in London's Hatton Garden where he started at the bottom, keeping tools sharp, cleaning the workshop, polishing, filing and, finally, engraving. Learning how to hold and manoeuvre tools correctly took three months and, today, Castro makes his own tools to ensure they are perfectly suited to his exact style. Castro is based in East London and is perhaps best known for his 'seal engraving' techniques, whereby a design is engraved in reverse and much deeper than a traditional two-dimensional hand-engraving. His works are infused with other European and Japanese engraving techniques (he studied under renowned professionals in Japan, including Mamoru Nakagawa and Hiroshi Suzuki) too, to ensure each piece is remarkably three-dimensional.
With nearly four decades of experience as a jewellery designer, Przemyslaw Beres has journeyed from Poland to the United States and, finally, to London, all while pursuing his passion for engraving. Przemyslaw is recognised for bold, large and distinctive forms, including symbolic motifs that are carved in reverse and etched around the entire body of a signet ring. He draws inspiration from baroque forms, Greco-Roman sculpture and his own combination of Greek mythology, gothic themes and modern fantasy comics. Throughout his career, Przemyslaw has used the Latin motto "Ars Auro Prior," meaning "Art More Valuable Than Gold". It is perhaps this razor-sharp focus that has allowed him to win 14 prestigious industry awards, including coveted Goldsmiths Craft & Design Council accolades.
Firmo & Francesca Fracassi @fracassi.engravers
This father and daughter duo, based in Italy, have moulded their hands to become one with the burin – a tool that, despite its simple appearance, is capable of creating light, shade and artistic realism when combined with a 10x loupe and held in the right grip. Francesca explains that by mastering the burin, she can create points, dashes, and lines to create realistic portrayals of elephants, birds and big cats in deepest black to palest grey. The Fracassi name is now associated with beautiful and feminine works, like gold rings adorned with engraved flowers, and more unusual creations, such as belt buckles, pen-knives and even the case of Jaeger LeCoultre Reverso timepieces.
Joshua Ranger @ j.h.ranger_artworks
Joshua's route to engraving wasn't what one might expect. He spent 16 years as a dental technician, which taught him a lot about the gold waxing and casting process (presumably for gold teeth!). In 2015, he began engraving jewellery and creating 'hobo nickels' – a kind of engraving art form that encapsulates small works on art on coins – in his spare time to support his family. By 2017, Joshua had decided to dedicate himself to engraving full-time and since then he has been refining his skills and producing miniature scenes, from space travel to mythic beasts, skulls and birds. "What I enjoy most about engraving and making jewellery is the satisfaction of creating a piece of art that can be passed down as an heirloom to be enjoyed for centuries, hopefully… it is also quite relaxing as well," he says.
When Nick first started making jewellery, he was fueled by a desire to put his personal gemstone collection to good use. Now, more than 10 years later, Nick has immersed himself in making jewellery that combines precious materials, gemstones and ornamental hand-engraving to great effect. Describing engraving as his most "gratifying form of expression," Nick draws inspiration from nature, Art Deco, antiques and his own family and channels it into pendants that are bursting with detail on all sides. What unites his pieces is a joyful use of colour, whether in the form of gemstones or splashes of enamel.
Having seen the work of these talented people, I can certainly say that the art of engraving doesn't only gets passed on to future generations, but it also evolves and takes new heights as a creative medium, don't you think?