It is safe to say that men's jewellery has been on our radar for some time. We wrote about the overarching trends for 2022 in a recent article focusing on brooches, necklaces, and ring stacks. You may have also read our 'The Best of 2021' article, in which we included some men in our favourite jewellery red carpet moments of the last 12 months. Now, the Spring/Summer 2022 runways have cemented this shift towards men's jewellery with the likes of Hermès, Rick Owens, JW Anderson, Burberry and Dior accessorising their models with confidence.
Overall, there's a nod towards genderless and androgynous styling on the SS22 runways, which means many of the trends we've seen over in women's jewellery, like the 'neck mess' and the arrival of chokers, statement earrings and cuff bracelets applies to gents too. Necklaces are indeed the most obvious port of call for fashion-forward men this spring, with Tom Ford presenting gold chains sitting low on the chest, Etro demonstrating the power of a barbed wire choker, and Dior using kitsch combinations of crystals, comic book motifs and colour to create long statement pendants. The variety is impressive, with Burberry choosing lashings of coloured plastic or Perspex, coupled with heavy earrings, nose rings and body modification-inspired additions to the face. This is in contrast to the timeless pearls given a masculine makeover at Louis Vuitton and Valentino, and even the ostentatious Versailles-style glamour of coloured gems at Gucci.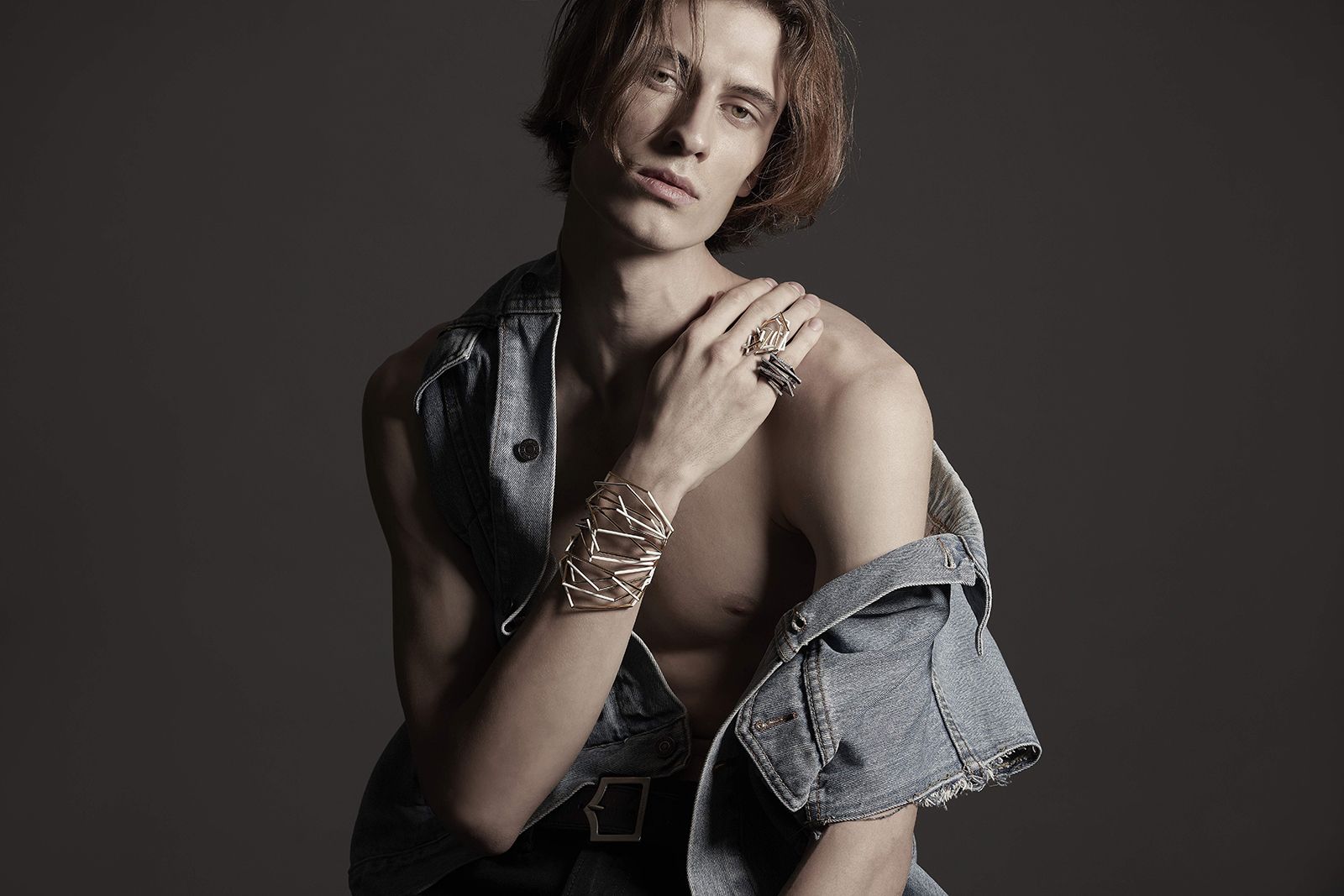 There are a few trends that are especially interesting. Continuing the obsession with 'neck mess', there are stacked charm pendants at Isabel Marant, Tokyo James, and Saint Laurent that have a treasure-like quality… as if one is simply wearing trinkets found combing the beach or a local thrift store. There's also a tendency to wear shrunken tools around the neck, like bottle openers, gold cast razor blades, lighters and stylised carabiners, which is perhaps a reaction to the rise in outdoor living over the course of the pandemic.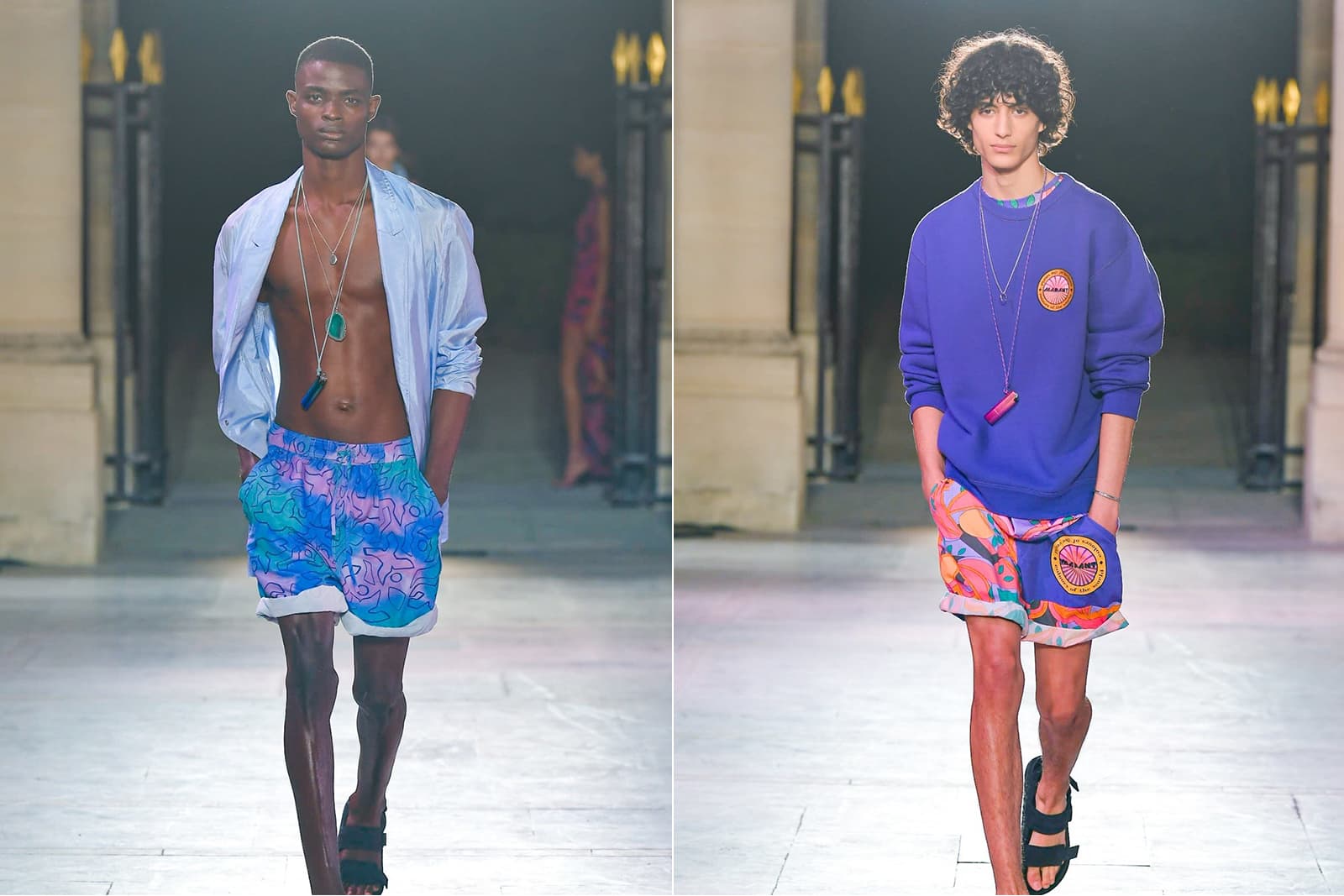 Some of these SS22 looks will be easy to translate for the red carpet. For example, the elaborate hat-to-lapel chain pins and crystallised belts seen at Dior will work well on even the most classic of suits. The wristwatch and bracelet chain combinations, as seen at Dolce & Gabbana, will look great peeking out of suit sleeves. Pearls can be added as a final flourish to buttoned-up shirts; brooches can add a dose of fun to lapels (just look at Jil Sander), and even statement earrings like those spotlighted by Balenciaga may play a role for more adventurous types.
Finally, it's also a great time to be a brand! Logos, trademarks and other 'recognisable' brand shapes are featured a lot in men's jewellery. We are even seeing this in High Jewellery – the new Bravery II Collection by Louis Vuitton includes a suite of genderless jewels set with custom-cut diamonds in the shape of Louis Vuitton's monogram flowers. We will dedicate a separate article to high jewellery for men, as there are some really exciting developments in this realm. Women may have more breadth of jewellery choice, but it's clear that men are demanding more and jewelllers are willing to deliver.