A festoon is the name for a woven garland of flowers, leaves and branches, and this kind of jewellery reflects this in its construction, which consists of threads of chains woven together into a necklace. This particular style dates back centuries, having its roots in ancient civilisation, but this hasn't stopped it becoming a staple of contemporary everyday style among fashionistas.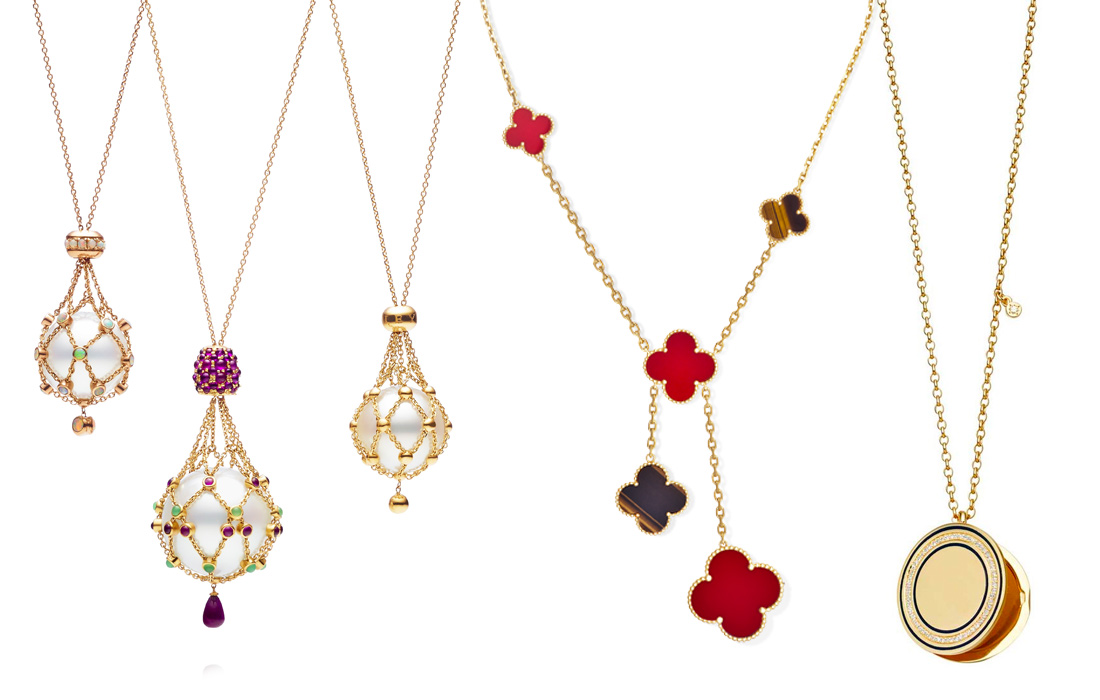 A sleek, unusual and very feminine style of necklace, born at the beginning of the 20th Century, the lavalier consists of a slender chain with a pendant that has further decorative elements or stones hanging off it. This jewellery style later evolved into the negligee, which differs by having two central elements suspended from a pendant rather than one.
A pendant is a decoration worn around the neck consisting of a single piece hung on a chain, silk ribbon or leather cord. One principal variation is the locket, a pendant whose ornament opens up and can be used to hold some sort of memento of your choice, such as a photo.
The bib necklace consists of a number of layered chains or a single large element which covers the entirety of the breastbone. They tend to be large in volume and come decorated in any number of patterns, and they create quite an impression. Wear one of these and you will really be belle of the ball.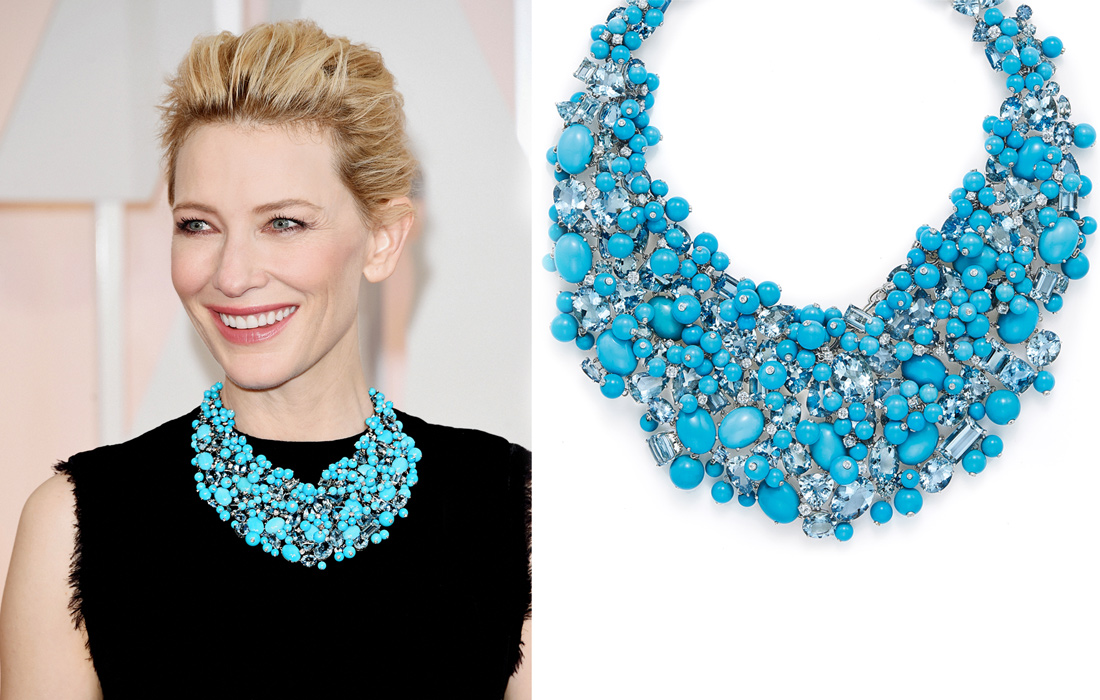 Sautoir Chanel Lion Talisman in yellow gold with peals and diamonds, Mellerio dits Meller « Négligé » Bourgeons de Lys Lariat with Tahitian pearls and diamonds set in white gold; Bulgari Serpenti nacklacke with Zambian emerald beads, rubies and diamonds. A lariat is essentially a long thread whose ends are not joined but finished with feathers, beads or tassels. This leaves plenty of room for experimentation: you can wrap them round your neck, leave them hanging free or knot them. A single or multiple long, dangling threads, sometimes dotted with decorative links, is known as a sautoir. The ends are often finished with tassels or pendants which add a sense of movement to the jewellery.
These are made up of individual composite elements – usually beads, but also other objects of different materials and sizes – combined on a thread. They can vary in length from everyday bead necklaces, which tend to be 50-60 cm, to the long 90 cm necklaces you might see in the fashion of, say, Coco Chanel.
The rivière necklace is made up of stones of the same size or in a uniform gradation from large to small, closely linked so you cannot see the joins, creating the effect of a gradually building stream of stones. This strikingly beautiful necklace puts the focus on the beauty of the stones rather than the design, and is a classic choice for evening wear or special occasions.
The choker, popular since the Middle Ages, is a necklace which fits snugly round the neck. The size of most chokers can be changed using different fastenings to fit your neck, and if you have one custom made then it will be made to measure. They are either designed from one single, continuous piece of material or made up of a number of smaller elements. Taking their name from the informal term for a priest's collar, the dog collar is similar to a choker, but usually thinner, more like a band, usually featuring jewel or bead attachments. They fit close to the neck and often come with a pendant which hangs at collarbone level.