In the ancient language of Sanskrit, rubies were referred to as "ratnaraj", which translates as "the king of gems", while in the Orient they were believed to possess special powers. There is certainly something uniquely alluring about rubies, which have long evoked the strongest of emotions – love and passion, fire and fury – thanks to their extraordinary colour and vibrancy. To understand the importance of rubies, we must travel to Burma – now Myanmar – the location of the first rubies ever discovered. For centuries, this south-east Asian country was the only source of rubies, specifically the Mogok region, which is famously referred to as the "valley of rubies". References to rubies and Burma have been found dating back to the 6th century, and Mogok continues to be the homeland of the finest rubies of the world. After rubies were discovered in other countries, in Africa, Thailand, Tanzania, Afghanistan and Madagascar, fine-quality Burmese rubies became the standard by which the worldwide output of rubies was judged, especially those with the deep-red hue known as Pigeon's Blood.
Fine-quality rubies over 10 carats are vanishingly rare and command record prices. Founded by gemstone dealer Roop Chand Lunia in 1905, Faidee is the absolute leader in Burmese rubies, and director Ravi Lunia is well-versed in the value of rubies. "Similar to diamonds, the carat weight of rubies, especially those of Burmese origin, makes a huge difference to their value," he explains. "The threshold is 3 carats, 5 carats, 8 carats and 10 carats. As the size increases, it becomes increasingly difficult to find top-quality stones. A superb gem weighing 3 carats is very difficult, while 10 carats is almost impossible. It can happen once in a lifetime if one gets lucky. Thus, the price difference between a 5 carat and 10 carat ruby of the same quality is not double but multiple times more."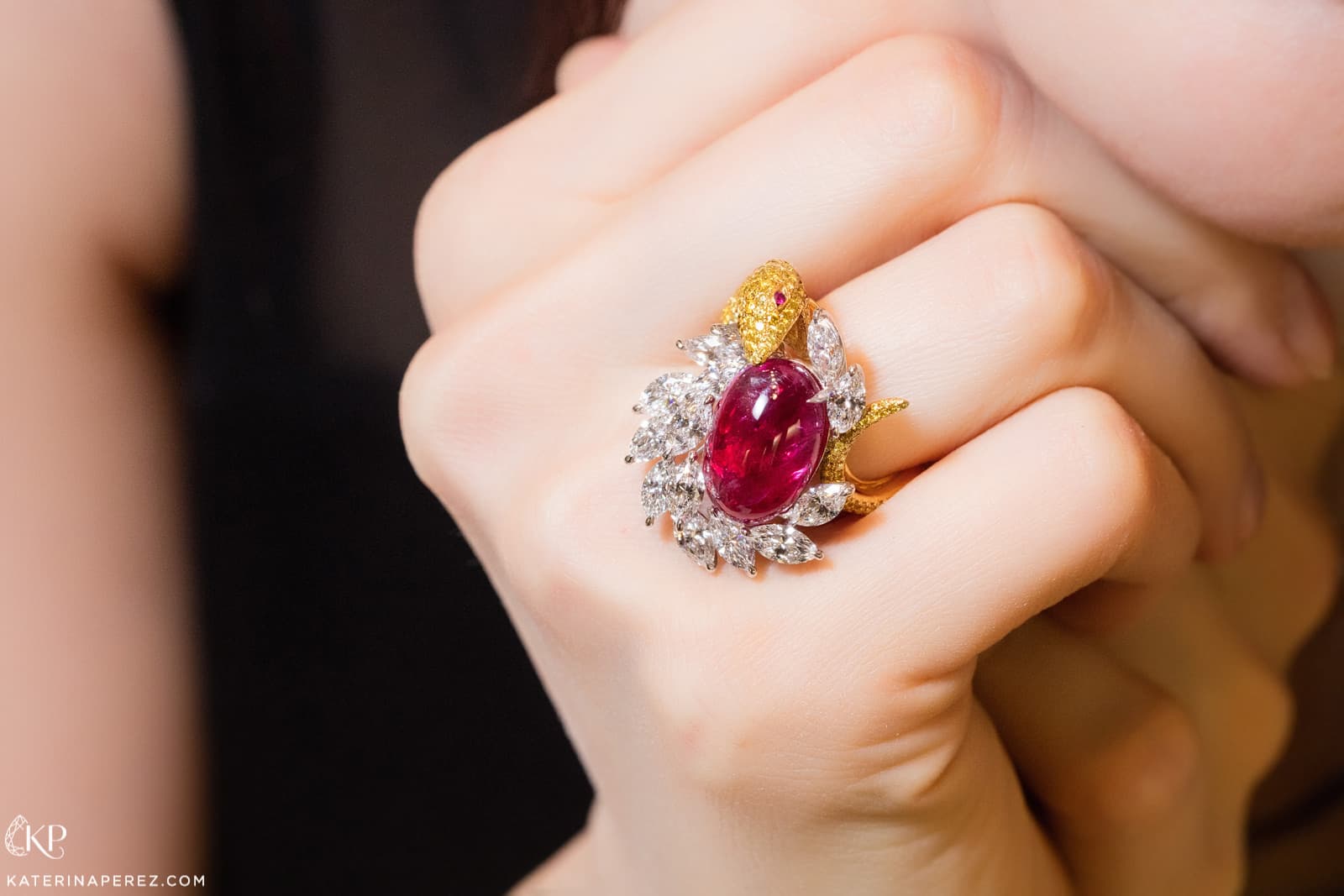 Albert Boghossian, CEO of high jewellery house Boghossian, which has a boutique filled with rarities on Old Bond Street, also places rubies on a pedestal. "Historically, going back to the 13th century and as mentioned by the explorer Marco Polo, rubies have always been of great interest to royal families and later on to gem connoisseurs," says Albert. "Rubies are important for Boghossian because of the extreme scarcity of high-quality gems, such as Pigeon's Blood rubies, especially when combining it with certain size requirements, five carats and above. It puts them in the lead category among other precious stones, including sapphires and emeralds. The Pigeon's Blood colour can command prices close to important coloured diamonds."
What is it that distinguishes a top-quality stone, exactly? While colour is the most important factor, those displaying the most highly prized Pigeon's Blood hue originate from Burma, so origin also greatly affects the rarity of a ruby. The saturation of colour is significant too because it affects the purity and intensity of red. Inclusions are an innate characteristic of rubies, but when the clarity of the stone affects its transparency or brilliance, it decreases its value. Fluorescence, meanwhile, is a phenomenon that occurs when a ruby is exposed to UV light, such as sunlight. Fine-quality rubies from Burma have the strongest fluorescence, which makes them appear as if they are glowing from within and heightens their value.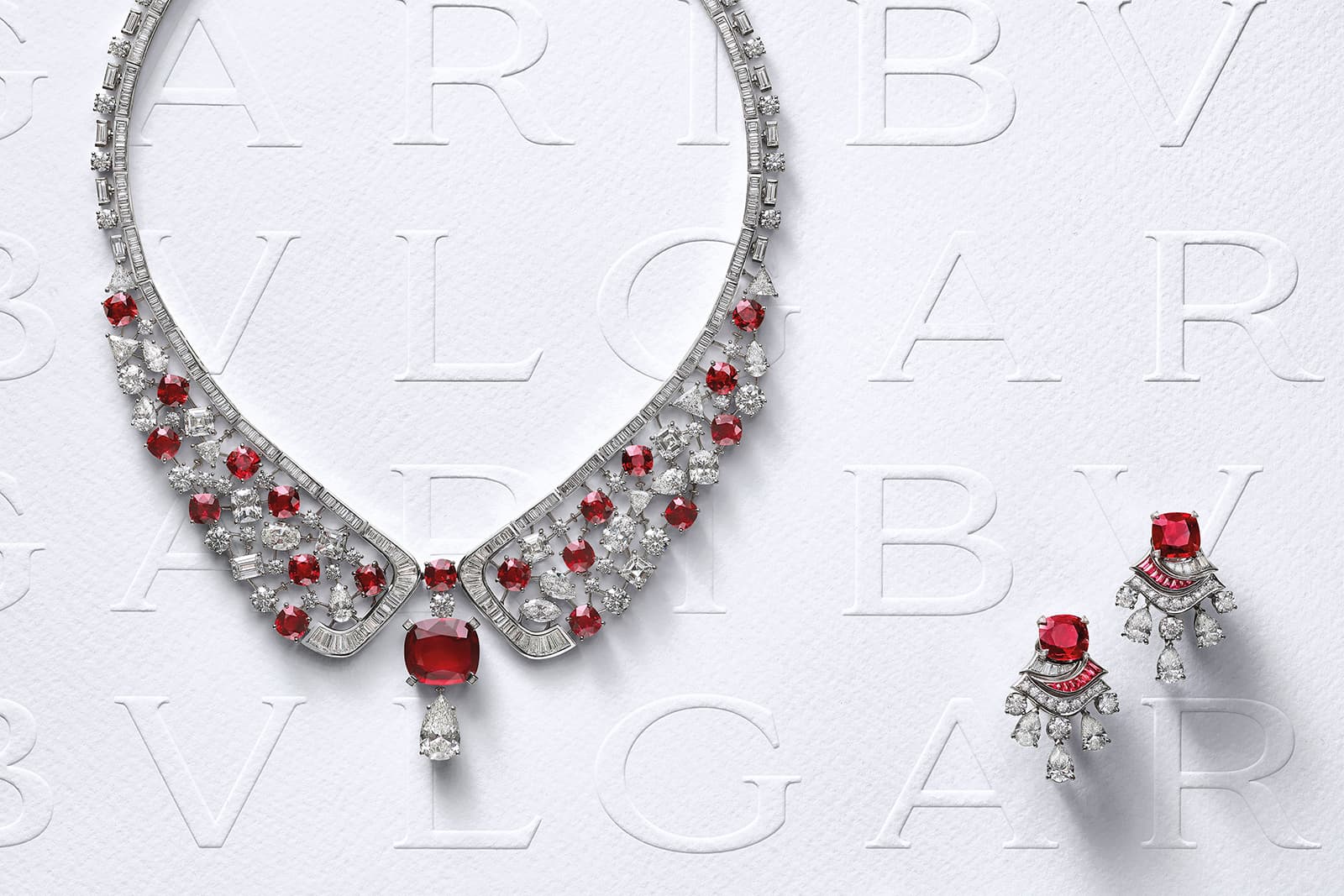 Because of their extreme rarity, fine rubies over 5 carats are usually set into a single-stone ring. However, when a jewel features multiple rubies – in a necklace, say, or a bracelet – it heightens their rarity because each ruby in nature displays subtle differences in colour and gathering a set of matching top-quality gems is an extremely time-consuming pursuit.
When Maison Chaumet unveiled its Soir de Fête high jewellery necklace last year, a reinterpretation of its iconic fuchsia tiara from 1919, the eye was immediately drawn to the vividity of the Pigeon's Blood rubies that form a colourful fringe on the décolletage. Originating from Mozambique, which has quickly become a leading source of gem-quality stones since rubies were first discovered there in 2009, the 15 exceptionally rare, beautifully saturated pear shape rubies took the Maison two years to source and were later recut by Chaumet to achieve the same elegant proportions across all the gems.
Also originating from Mozambique, a rare 10.04 carat ruby is showcased in Bulgari's Forever Rubies necklace. Inspired by the exceptional nature of the rarest rubies, it is joined by a spectacular set of 20 vivid red rubies, beautifully colour matched with the centre stone. Bulgari's creative director, Lucia Silvestri, is passionate about hunting out the rarest and most exceptional stones in the world, however long it takes, and this extraordinary collection would have taken years to source.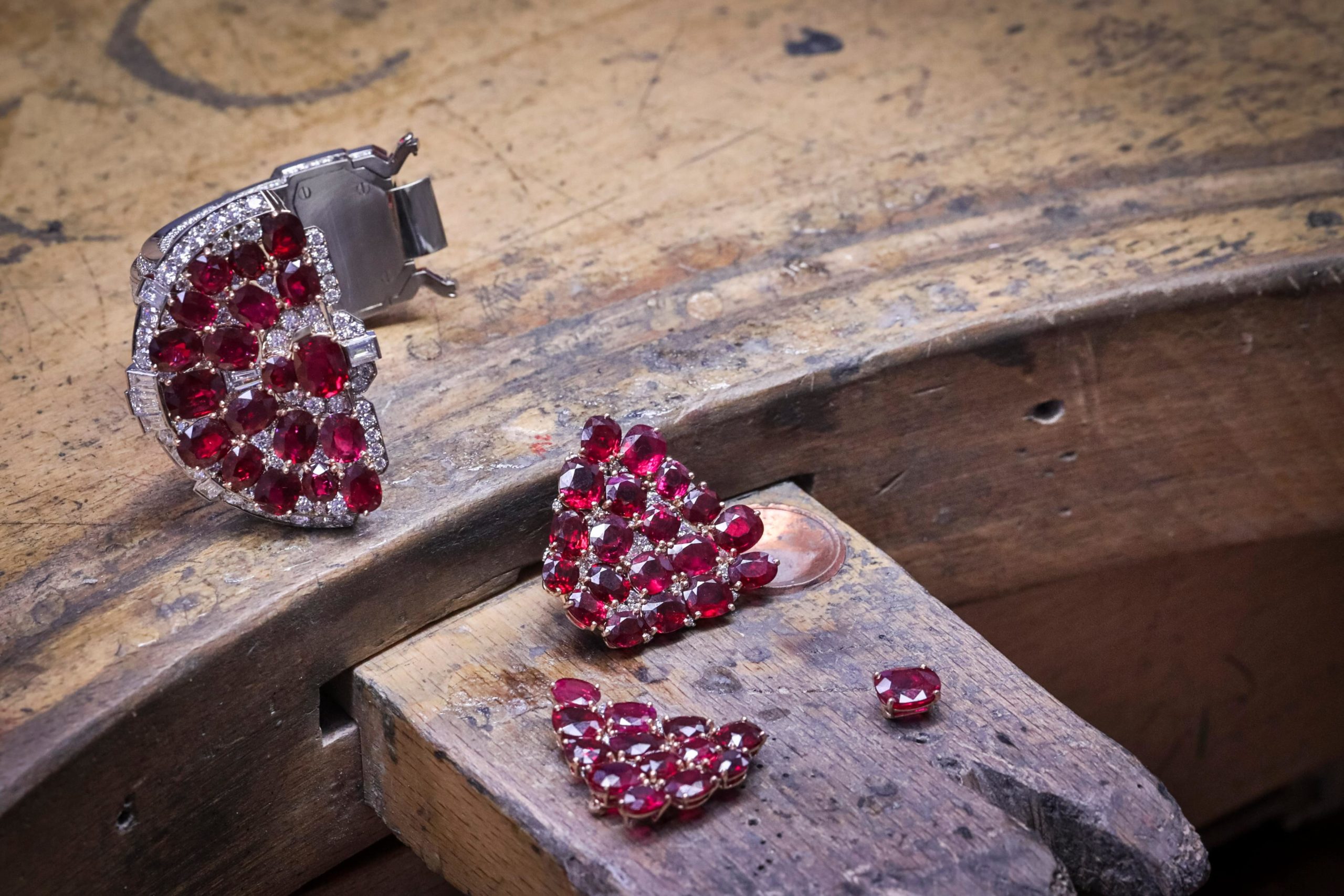 Renowned for its rare gems and emphatic use of colour, this summer Van Cleef & Arpels launched the spectacular Rubis en Scene high jewellery cuff. Inspired by a bespoke cuff created for the actress Marlene Dietrich in the 1930s, it is set with 72 magnificent Burmese rubies totalling 84.74 carats. Collected and impeccably colour matched by the gemmologists at Van Cleef & Arpels, the stones were recut by the Maison into cushion shapes to mirror the original design and set in white gold with rose gold prongs to enhance their opulently rare hue.
Rubies have a special significance for Swiss-based jeweller Gübelin Jewellery – the House signs each jewel it creates with a small ruby. The most important ruby in its collection is a remarkable 6.99 carat Pigeon's Blood ruby from Burma, the star stone in a one-of-a-kind Drops of Water ring. Accompanied by a Gübelin Gemmological Report and Profile providing further information on its uniqueness, this exceedingly rare ruby displays the vivid, intensely saturated red hue exhibited by only the very best rubies.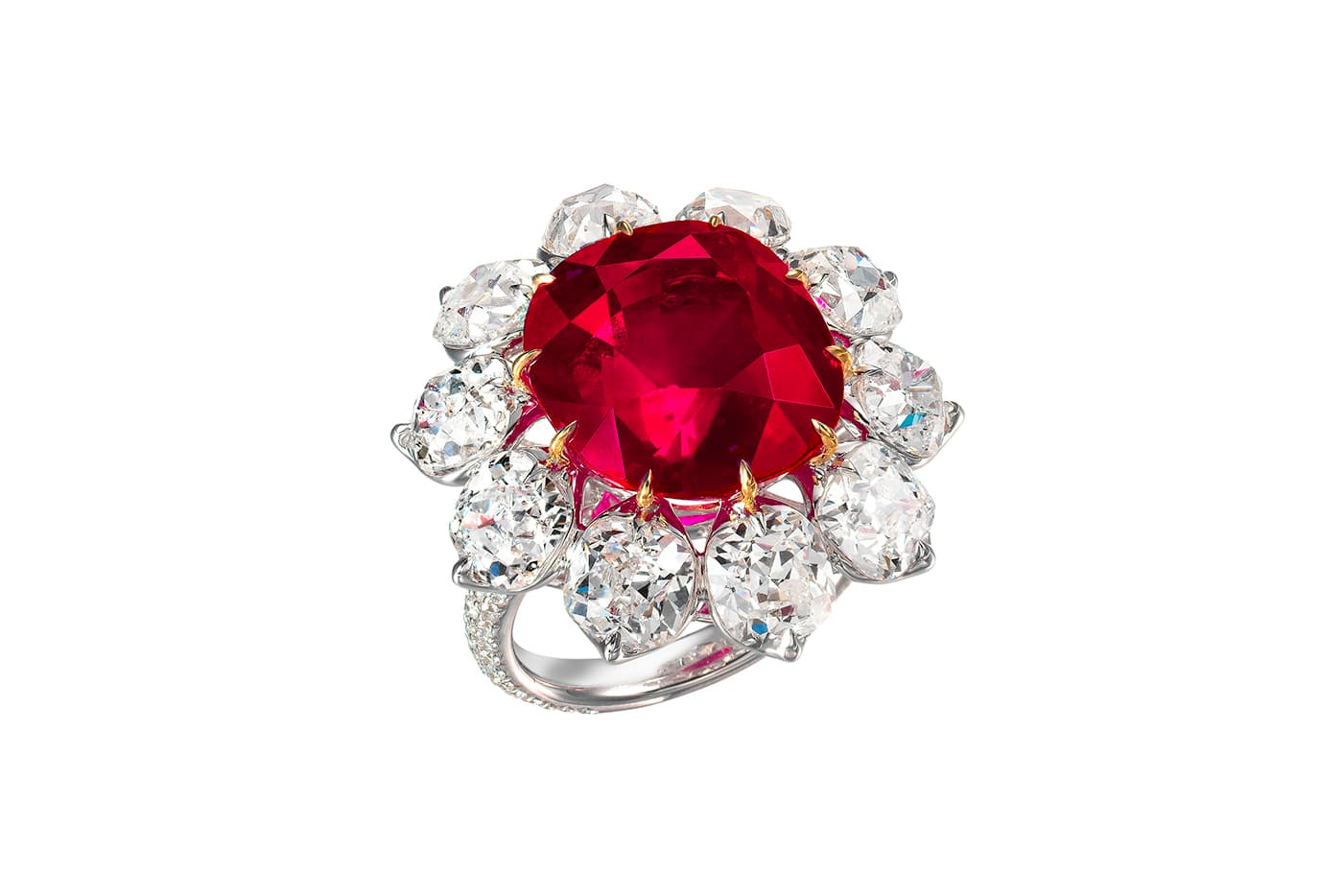 Finally, we come to the ruby which set a new global record for price per carat at auction in 2015: $1.2 million. Sold anonymously at Christie's Magnificent Jewels auction in Hong Kong in December 2015, it was later revealed that it was Albert Boghossian who sourced the stone from an important royal family in 2000 and waited patiently for 15 years before revealing its beauty. The 15.04 carat Pigeon's Blood ruby with truly exceptional colour characteristics, named The Crimson Flame, hails from the famous Mogok Valley and is near-perfect, with an impressive weight, unenhanced vivid red hue, natural fluorescence and excellent cut all contributing to the price achieved for this record-breaking stone: an astonishing $18.3 million.