Traditionally, stones with large carat weights and those that are high quality are, understandably, in great demand. Consequently, trading them becomes something of a battle of the titans. Today, such stones are attracting additional interest from a wide range of buyers due to a growing availability shortage. They are increasingly appreciated as phenomenally rare wonders of the natural world that are appealing for investors, but also for their potential in fine jewellery creations.
Gary Schuler, Chairman of the World Jewellery Division of Sotheby's, says: "The fascination for large gems goes back centuries. Shrouded in mystery and steeped in legend, these stones have been treasured by rulers, while also prized for their presumed magical powers, and even sometimes feared for being cursed. In recent years, by virtue of the market's increasing connoisseurship, we have seen demand for these gems grow fast and far beyond the traditional pool of collectors. These new buyers are looking for different kinds of stones, and this is reflected in the great diversity of this season's offering, which range from unmounted world-class diamonds and diamond-led jewellery, to pieces with noble provenance and signed jewels marrying colourful gemstones with the extraordinary craftsmanship of renowned houses, such as Cartier and Harry Winston."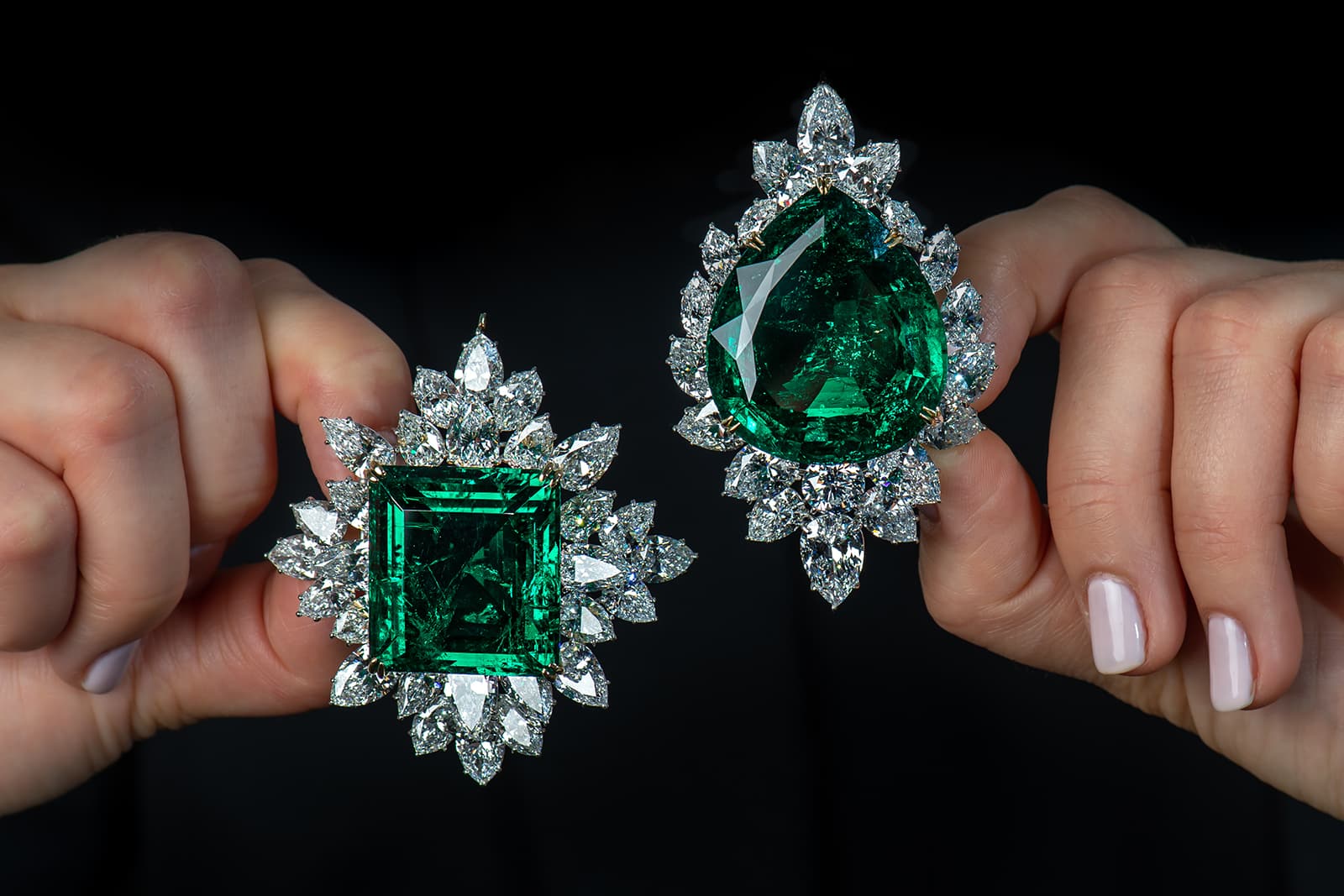 But enough talking! Let's take a look at a few future stars of this notable Sotheby's auction. I'll start with two unique brooches adorned with diamonds and emeralds. The first, set with a 104.40 carat Colombian emerald, was designed by Harry Winston and dates from 1974. Even a quick glance at this droplet of deep green is enough to make one freeze as if enchanted. In my 12-year career in the jewellery industry, I have only ever encountered an emerald of this size on three previous occasions. In the centre of the second brooch is a no-less beautiful 80.45 carat step-cut Colombian emerald. The estimated cost of the brooches is between 1 and 1.5 million dollars for the former and between 2.5 and 3.5 million for the latter. If they take your fancy, readers, you can bid for them at the Magnificent Jewels and Noble Jewels auctions in Geneva on May 11.
The largest sapphire of the upcoming auction will be a 126.43 carat Ceylon treasure that adorns a detachable necklace pendant, also from Harry Winston, created around 1969. Its estimated cost is between 1.2 and 1.8 million dollars. Whether buyers will be willing to pay even more than these estimations will become known only upon completion of the auction in Geneva on May 11th. It should be noted for anyone who might wish to bid on these items that, when it comes to sapphires, an important factor when considering investment potential is not so much the carat weight as the place where the corundum was mined. The Magnificent Jewels auction will see the sale of a brooch previously owned by Maureen Constance Guinness, the Marquis of Dufferin and Ava, with the largest Kashmir sapphire - weighing in at 55.19 carats - which has ever been presented at auction. The second Kashmir sapphire in the brooch weighs an astonishing 25.97 carats (not bad for a supporting act!). The price of the piece? Between two and three million dollars. I have discussed in a past article just what it is that is so special about sapphires from this mining site. You can find that piece here.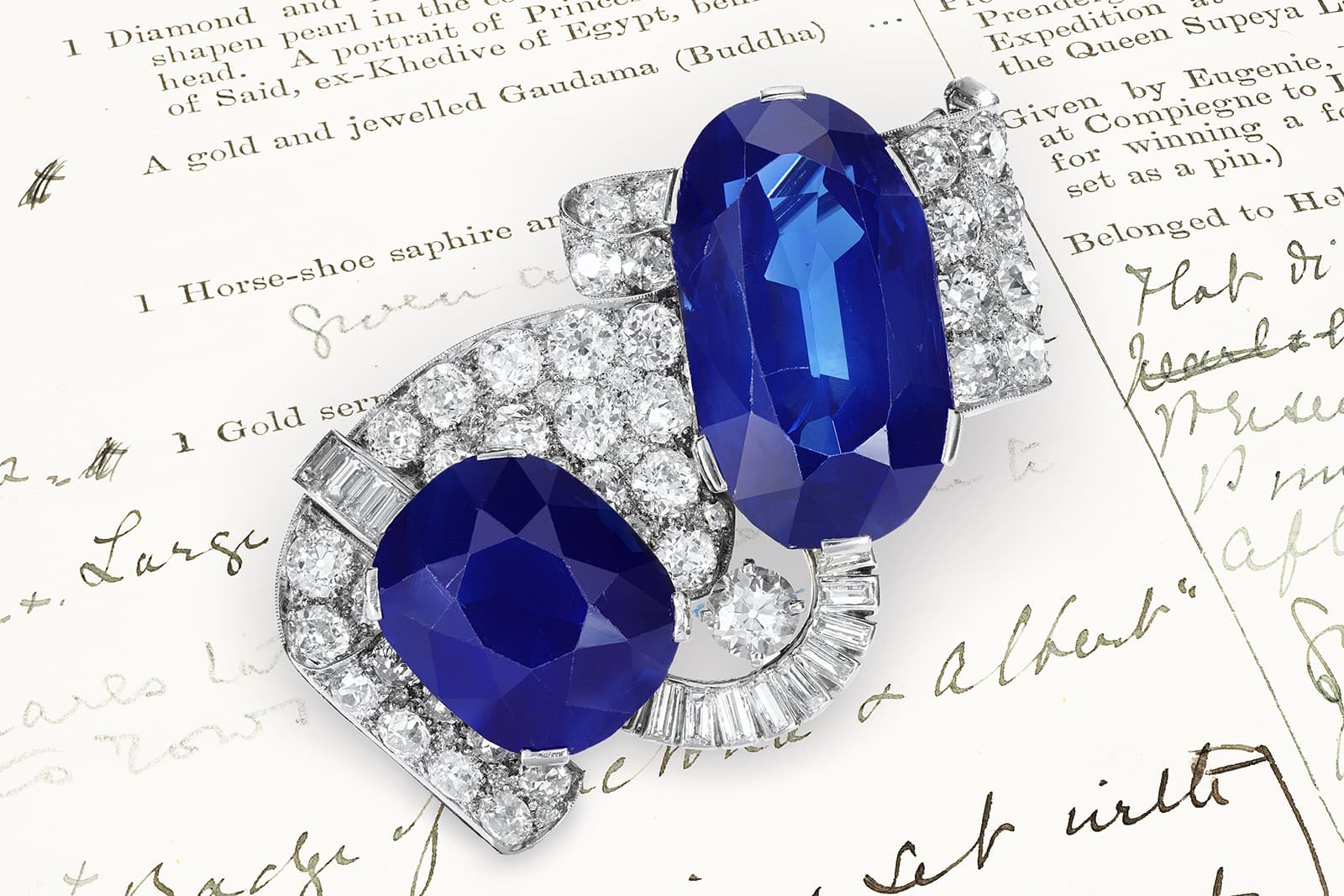 If you like to be blown away by astonishing sums, keep an eye out for the Magnificent Jewels auction in Hong Kong, which will take place on April 20th. Of the items on display, I found myself drawn to the architecturally crafted Cartier rock crystal bracelet, with a phenomenal 63.66 carat D-colour, Type IIa pear-cut diamond at its centre. Its estimated cost is anywhere between 5.2 and 8.4 million dollars! No doubt this piece will draw passionate competition among bidders. Similarly, significant competition awaits those wishing to purchase a diamond ring from Cartier adorned with a 43.35 carat fancy vivid yellow emerald cut diamond, surrounded by an array of dazzling colourless diamonds. This piece has an estimated value of between 2.39 and 3.1 million dollars.
A Madagascan sapphire of 82.54 carats, a royal blue Ceylon sapphire of 111.73 carats, a flawless loose diamond of D colour and Type IIa weighing a mouth-watering 41.50 carats… these are but some of the stunning lots available in the forthcoming auctions! Now, like you readers, I find myself counting down the days to discover the results of Sotheby's sales taking place on April 15 in New York, April 20 in Hong Kong and May 11 in Geneva.