Classic aesthetics are the order of the day for the green beryls of significant carat weights, however, gargantuan size alone does not qualify them for use in high jewellery - it is their quality that denotes them as being truly worthy of the very best jewellers. Provenance, saturation of colour and clarity are the most important characteristics of the emeralds which embellish the jewels in this article.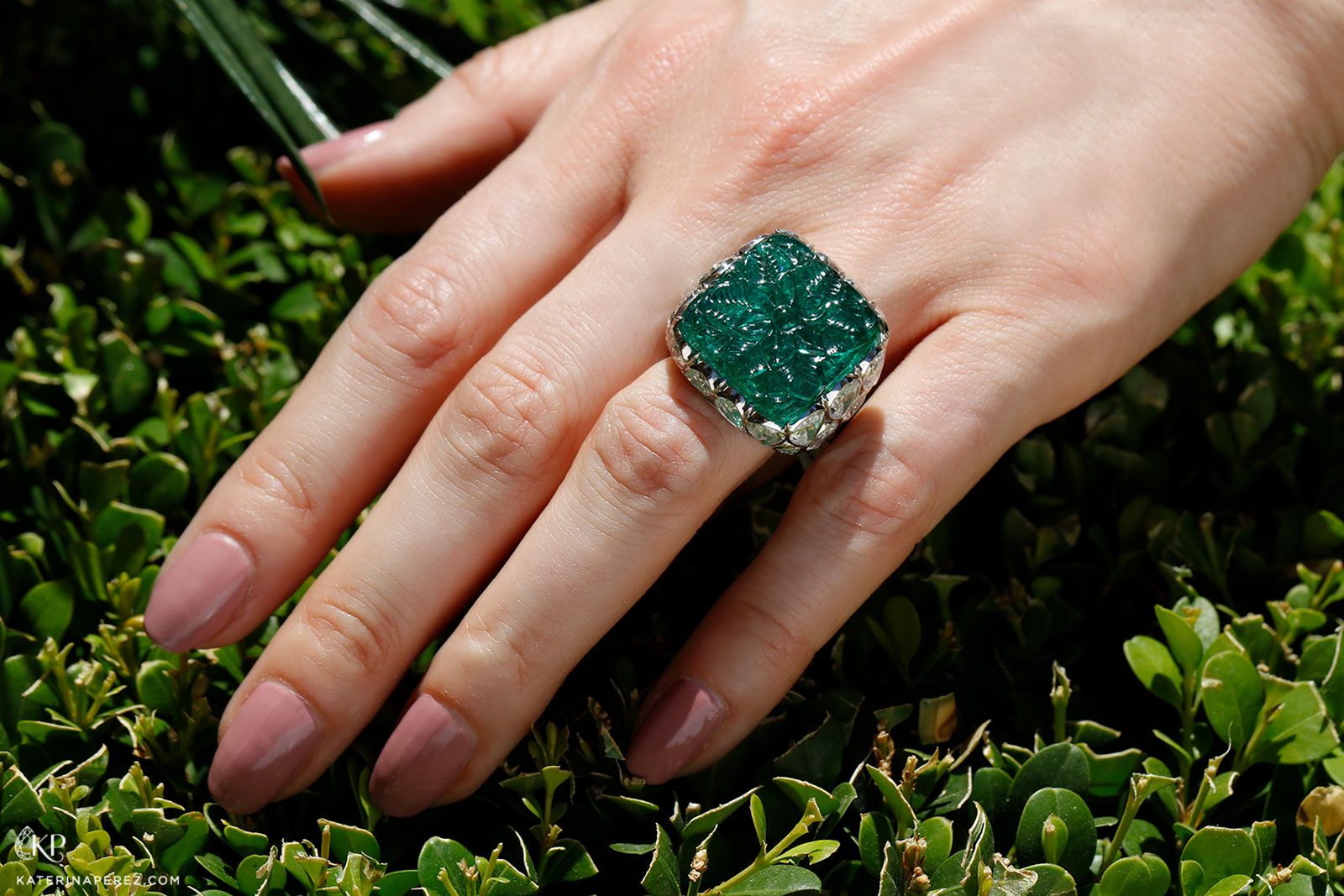 From Van Cleef & Arpels 'Romeo and Juliet' collocation, it is the 'Lovers' Path' bracelet with three impeccably matching emerald cut Colombian emeralds that is a spectacular example of forefronting emeralds to their fullest effect. 14.17 carats, 13.71 carats and 11.90 carats gemstones are set side by side almost invisibly, and these verdant gems are surrounded by a complex lattice work of a vearious diamond cuts. The name suggests that the emeralds lay an illuminated, decorated path for the young lovers to follow through their tumultuous journey.
David Morris' impressive emerald bracelet is simply described by the title 'Important'. This bangle features 42.34 carats of Colombian emerald cut emeralds and diamonds set in 18 karat white gold. Although the seven green beryls steal the show, the accenting diamonds also play a significant role in the design considering that there are 37.00 carats of them. The sprung set cuff hints toward art deco style owing to its clean lines from horizontal set baguette-cut diamonds, which complement the emeralds dotted across the bracelet.
Founded in 2019, this Italian brand is a relatively new player in the jewellery industry, but it is already making itself known. Luvor designers ensure that the jewels do not only look beautiful but that every gemstone embellishing them can boast fine quality, especially when it comes to collectible high jewellery creations. A perfect example would be the one of a kind necklace with 24 pear shaped emeralds totaling 125.70 carats. The Colombian gems, with the largest of 26.75 carats in the centre, are perfectly matched by shape, colour, and clarity. They were collected over a period of six years, and partially re-cut for perfection.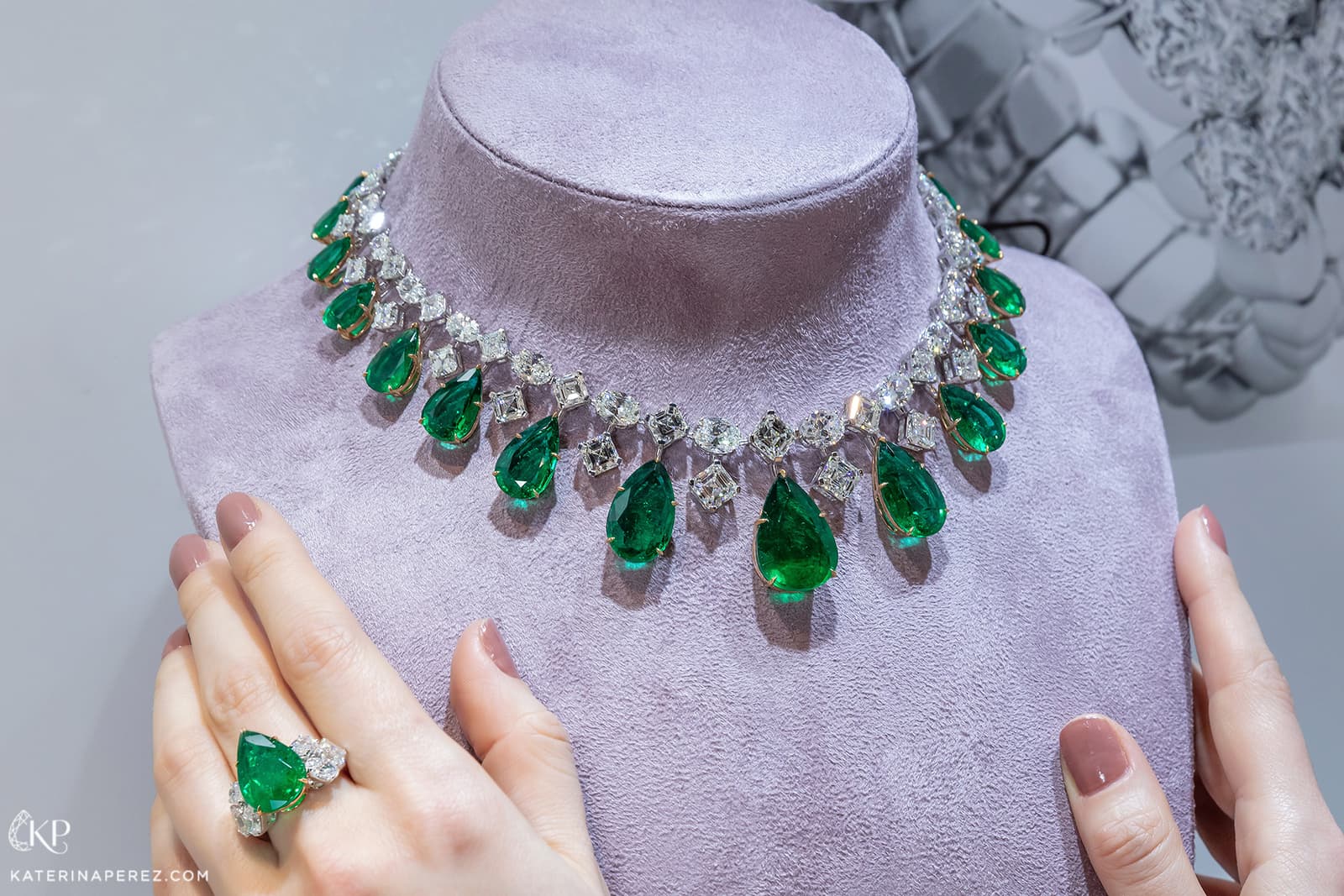 The Parisian house of Boucheron introduced giant emeralds in their 'Lierre de Paris' earrings - set with two Zambian emerald drops for a total of 54.86 carats, and delicately paved with diamonds in white gold. Cabochons are a real delight for large gemstone lovers, allowing us to see so much more of the stone than when traditional cuts are set in mounts.
What could be more glamorous than a show-stopping high jewellery necklace by Harry Winston? A masterpiece from their recent 'New York' collection pays tribute to the astonishing architecture of this most famous city. The grand scale of the 'Cathedral' necklace means that the five pear cut Colombian emeralds totaling 65.63 carats spray from an elegant, curved line of baguette cut diamonds, do so with vigour. The pear and marquise cut diamonds with the total weight of 46.83 carats nuzzle between each emerald setting off the vivid greens perfectly.
Bayco specialise in classic emerald, ruby and sapphire jewellery, and significant carat weights of these classic gems are no strangers to their collections. One of the most striking creations is 'The Imperial Collection' ring that features a remarkable 39.14 carat sugarloaf cabochon Colombian emerald set atop an intricate diamond micropavé embellishment. It's not just Bayco's sugarloaf emeralds that are splendidly sized: their 18.71 carat square emerald cut Colombian emerald ring with accenting diamonds packs a punch too!
Chopard's high jewellery collections boast a number of impressive pieces with jaw-dropping emeralds and diamonds, but only one of them was in the limelight on the catwalk of Italian Haute Couture designer Giambattista Valli. For the show, models wore a range of diamond and emerald necklaces made by the Swiss jewellery maison - the most jaw-dropping of which featured 17 no-oil Colombian emeralds totalling 52 carats, as well as a flawless 20.50 carat D colour diamond (not to mention the 37.90 carat accenting diamonds!)
Whether or not you were born in the month of May, the appeal of sumptuous and sizable emeralds is universal. As a stone which was worshipped since antiquity and throughout many cultures in history, when it comes to these luscious green gems - bigger really is better!