DEBBIE WINGHAM CREATED A PERFECT FOR SPECIAL OCCASIONS DIAMOND ENCRUSTED DRESS. THE ONLY PROBLEM IS THAT IT COSTS WHOPPING £3,5M. IT IS THE WORLD'S MOST EXPENSIVE DRESS THAT BOASTS A PEPLUM EMBELLISHED WITH 25 2-CARAT BLACK DIAMONDS AND ANOTHER 25 ADORNING THE SHOULDER SHRUG, WITH MORE ON THE BUSTIER.
 Debbie started out her fashion career at the age of 13, working on school productions in the wardrobe department. Her mother, a skilled seamstress, passed on her craft to her daughter. At 18, Debbie moved from South Yorkshire to London with the ambition to start her own fashion empire. Th e self-taught designer began her business in Greenwich market and then opened her own boutique in Hoxton, before opening a showroom a year later on the chic Kings Road.
By 2005, her gowns were being worn to the BAFTAs. Th is was a turning point for Debbie, and at last the press took an interest. The celebrity client list grew rapidly, aided by the red carpetesque appeal of her gowns. The idea of using diamonds to embellish a gown came from Debbie's range of diamond-adorned jeans – Diamond Cut Jeans.
"I wanted to launch my first so-called commercial range, and as a key part of my business is so exclusive, I came up with the idea of a limited edition range of jeans available in black diamond and white. So I decided to do the world's most expensive black diamond dress as leverage for my DCJ brand."
As much as the dress is stunning it was painstaking to create it. "The stones cost a fortune so you need a good jewellery alignment," explains Debbie. "The settings are very important: the stone needs to be set securely in the material and not raised too far out of it because otherwise it doesn't sit right on a garment, although it may look highly effective that way on a necklace or earrings for example."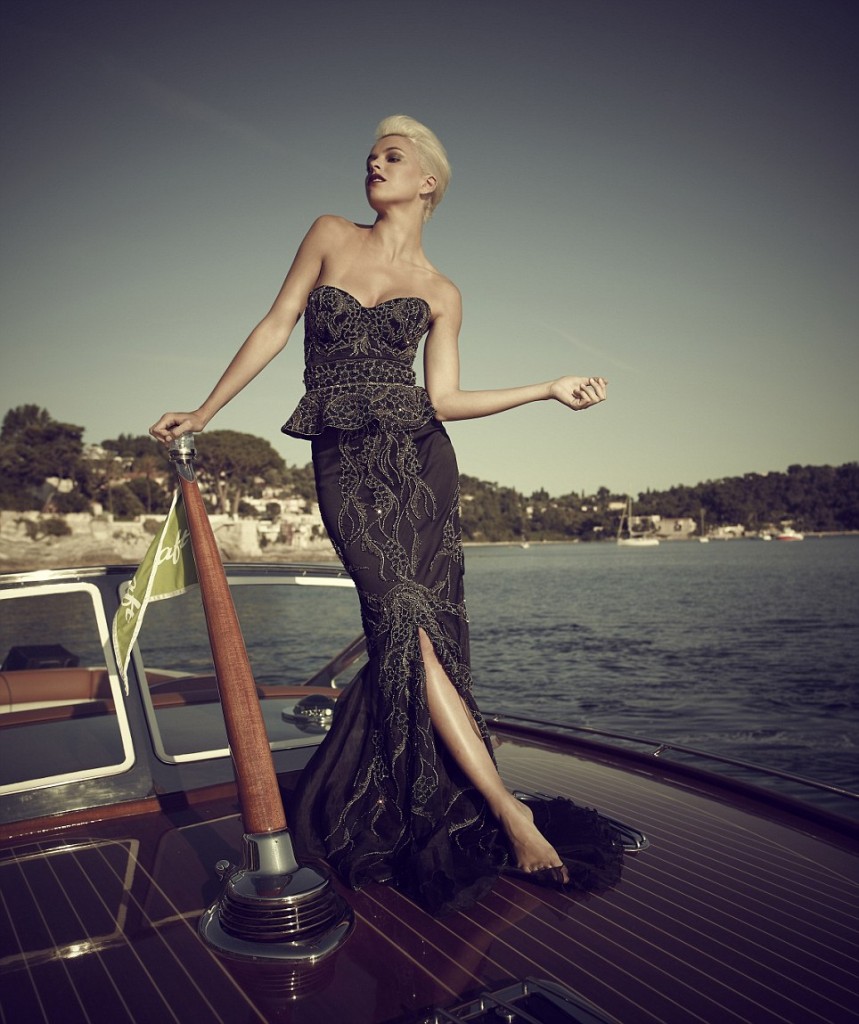 It is only natural to be curious how long it to to create a the one-of-a-kind black diamond dress. "It took six months to make. There are 50,000 stitches and the dress weighs 13 kg. Strictly speaking, this dress took 4 years to make because that's when I started planning this. Black diamonds are so rare that it took my jeweller four years to source all the right size diamonds to make this happen." Debbie is particularly proud to be using conflict free diamonds.
Such such an exquisite piece of clothing certainly needs looking after and to make things easier all the diamonds or the settings are detachable. "Particularly buttons," says Debbie.
"For example, the button on diamond cut jeans is actually a screw fastener and that's quite important when it comes to cleaning, but it also means the buttons can be used on other items of clothing as well".
Debbie Wingham created many spectacular bejewelled gowns throughout her career and not all of them were embellished with diamonds. "I have worked with a vast amount of gems, because custom-made couture clients often request unique things. I have worked with sapphires, emeralds, amethyst, and I often use natural pearls. Pearls are probably the most popular. They are timeless classics!" KP