The pieces, released as part of his latest collection, are like nothing the designer has ever done before. This time, Tomasz has departed from the Soviet theme of Rising Stars, the organic shapess of Garden of Good and Evil and the monochrome palate of last year's star-studded bracelets. The latest releases do nevertheless have something in common with one much earlier example of his design: the unique Chandelier earrings, original for having a circle of baguette cut emeralds set side by side an a circle.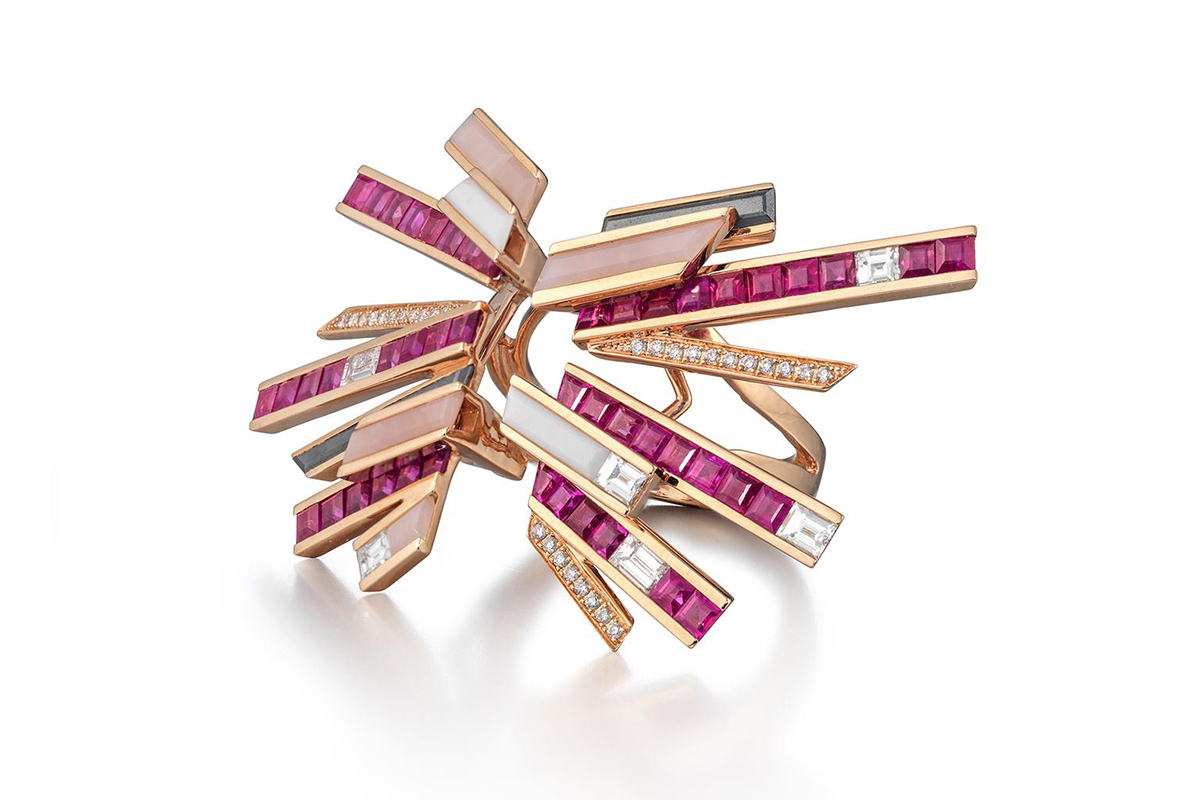 "At the time those earrings generated a great deal of interest, and I realised that it would not be long before there was a demand for similar pieces. Not many jewellers worked with this type of cuts as they were quite rare," said Tomasz Donocik.
Electric Night is a collection in which rings and earrings made from rose gold are a dominant feature, all "illuminated" with bright shades of violet (amethyst, tanzanite, iolite), light blue (topaz), navy (sapphire) and green (emerald). With the help of half tones of one or another colour and elongated stone forms the designer managed to create the effect of bright neon lights, the sort of thing you would see in the film Blade Runner. Tomasz of course used diamonds too, but he decided not to mix them with the other stones and create a few pieces with just diamonds set in rose gold.
"When I did the design for Electric Night, the hardest part was finding the gemstones the right shape and size. Essentially, all the stones for the collection had to be individually cut. Right from the beginning I actually wanted to make long bars from a single stone, but finding stones that were the right size to be cut into long baguettes was simply not possible because they would have been too slim and delicate," Donocik explained.
The bright, decorative elements in each piece of jewellery have been designed with precision in the Art Deco style, which has been one of the most popular styles for a number of seasons now. Not all the lines in the collection are straight; for example, in on amethyst cocktail ring they have been worked into corners crosswise. This technique is no accident; it reflects the level of mastery of the jeweller and his unorthodox approach to design. We must not forget that Donocik is famous primarily as a designer of fashionable jewellery. In Electric Night he has remained true to himself and along with the usual earrings has made ear cuffs with different pendant features which are interchangeable and available for purchase separately. Taking into account the technical decisions, the brilliant array of colours and the elements of fashion, I would be so bold as to suggest that this new collection by Tomasz Donocik is bound for great success.