The idea of writing about bracelets came to me after I saw the huge range of different variations on display at Couture jewellery exhibition in May. Pretty much every single brand had one on show in some form or another. American designers Todd Reed and Jorge Adeler opted for simple bracelets with minimal detail, while Octium, Yossi Harari and Etho Maria exhibited more complex, ornamental models (Etho Maria is actually famed for the wide-style bracelets).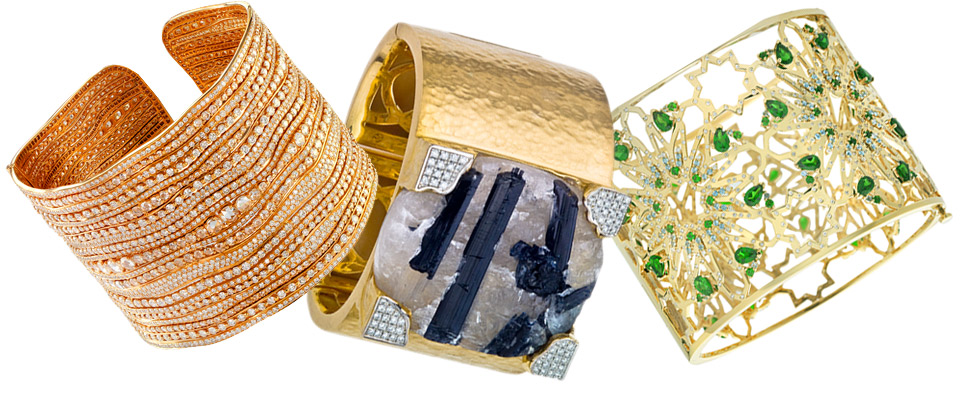 Interestingly, in spite of the relative bulkiness of this jewellery style, the fashion designers at the spring-summer 2015 show adorned their models with a number of pieces stacked at once, as Chanel did with their metallic cuffs and Fendi with their leather pieces. The celebrities did not let this go unnoticed, and it was not long before they were doing the same: Rihanna wearing four gold bracelets altogether on one arm at the Chicago Bulls vs Brooklyn Nets basketball game. But then with her unusual beauty she can get away with it.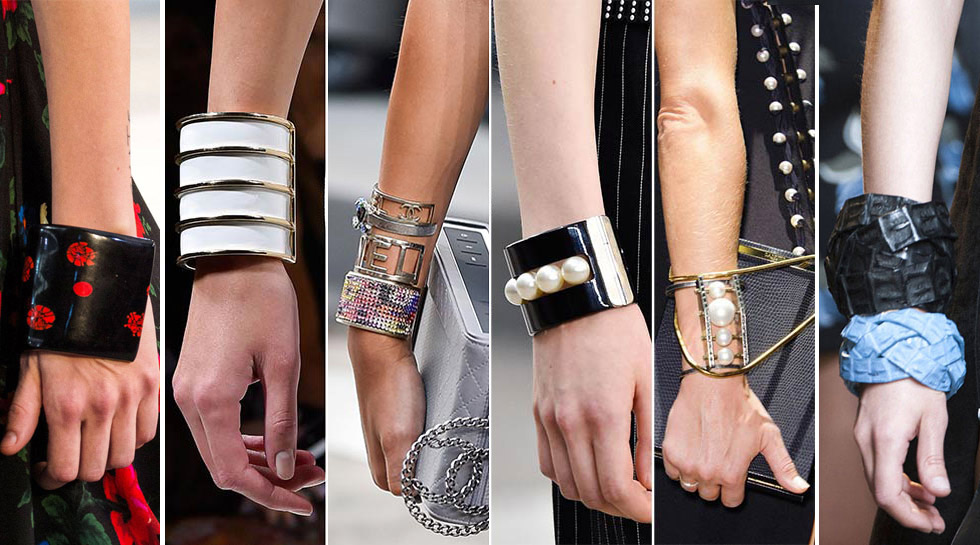 The trend is continuing through autumn-winter 2015/16, with the aesthetic of the cuff bracelet evolving to include Romantic influences expressed through intricate detailing. Chanel have gone for an art-deco style pattern made up of multiple miniature elements, while Dior have chosen a design featuring autumn branches weaving together. Roberto Cavalli went for a similar theme, only theirs features flowers. Of course, not all of the popular designers are as enamoured with the romantic cuff bracelet as they are with the other emerging trend for the new season: geometric designs.
Also, if you love pearl jewellery then this autumn and winter they are going to be all the rage, and if you don't believe me, check out the whole bunches of them on the jewellery at Victoria Beckham's show, or the metal bracelet featuring a large pearl from (insert name). When you select a piece of jewellery, you might actually want to leave your rope of opera pearls, your classic pearl necklace or your pearl earrings in the jewellery box: pearls have recently had a new lease of life as a feature in more alternative jewellery styles. But I am going to tell you about that another time…
Catwalk photos are collected from the Internet resources. Jewellery photos are courtesy of brands. Top photo is by Lordale Benosa for katerinaperez.com