Philadelphia-based Anthony has been engaged in creative work since 1972. He creates many of his jewels under a microscope, which explains the frequent presence of miniature non-obvious details in this goldsmith's creations. Paired with sculptural elements, they dominate the designs and become the signature of Anthony Lent. In this interview with the designer, I want to introduce you to his original creations, unconventional techniques and sources of inspiration.
K.P.: Your jewellery is very unique. How would you describe your style?
A.L.: Sculptural, whimsical and narrative. Someone people started calling us 'luxury with a face,' which seems to really fit in.
K.P.: Your sculptural jewellery features a variety of face. Sometimes, the interpretation is quite literal.
A.L.: These Shoko drop earrings (see below) feature my student, who asked me to do her life cast. In the past, before digital advertising, I did a lot of commercials and used to do a lot of life cast. Therefore, I had the right tools to make the earrings.
K.P.: What is the process of life casting?
A.L.: You can use medical grade silicone, which is like putty. You smear on your face and get its imprint. This is how I did my student's face. Then I cast it, reduced the size and put it on my tracing machine. Having taken a real leaf, I made a mould and cast it. Then I placed the casting of the face on it, refined it through various processes. Now we can produce the face in different sizes on various jewels.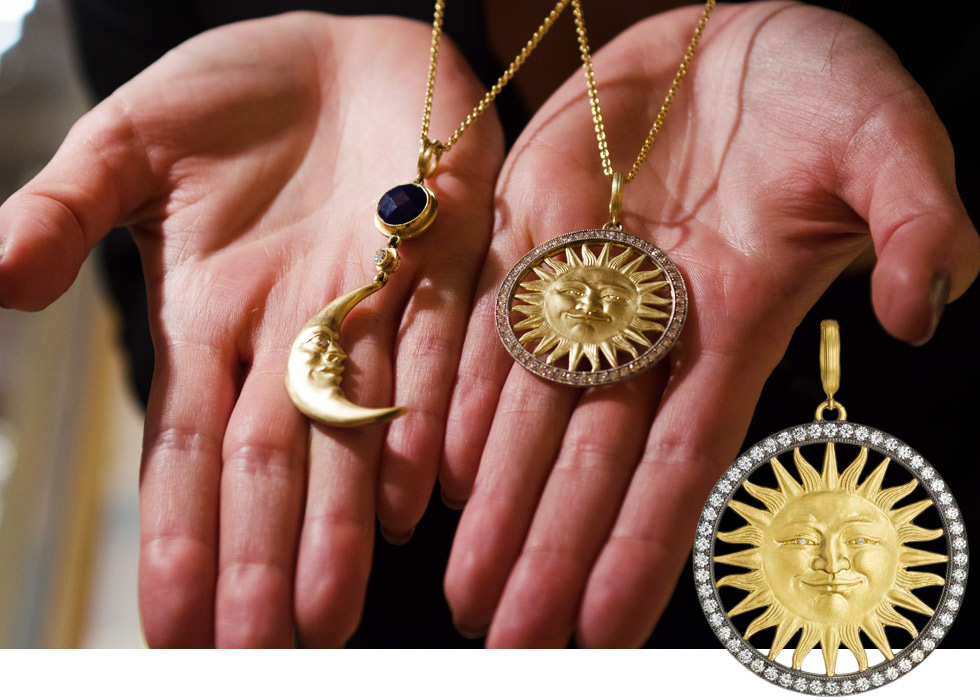 K.P.: Tell us about the interesting ring featuring a series of faces?
A.L.: It is the Emotions ring. I thought I invented the face, but then I went to Bali and it turned out to be a Hindu image and you see it in Balinese art, Roman art and ancient Chinese art too. It is a part of those images, which we call 'collective unconscious' popular in Mayan art in South America.
K.P.: Where does the eye featured in your jewellery come from?
A.L.: It comes from a face I once sculpted. I then thought of capturing the eye in a piece of jewellery. It is very abstract from one view and from another view, quite literal. I have some mystical connection to this representation of a human feature that is hard to describe. Indeed, there is strong symbolism behind it.
K.P.: Are the lips from the same sculptured face?
A.L.: The Lips ring is another story. It was prompted to design that by a really good friend of mine. He is Catholic and asked me if I had seen a Pope's ring. Of course I had. They are amazing. So, as the Popes say 'kiss the ring,' all I had to do was kiss the ring. That is where the idea for the jewel came about.
K.P.: Many of your designs also feature moon or sun face. Where is that motif from?
A.L.: The motif is inspired by illustrations from a 19th century children's book. There was a cartoonist in the 20th century, Winsor Mc Cay, who told stories with images by drawing cartoons. He drew a series featuring moons. When I was at art school, he was probably my strongest influence. When Max (Anthony Lent's son) was a baby, his favourite book was 'Good Night Moon.' So, I started drawing moons and made them into jewellery.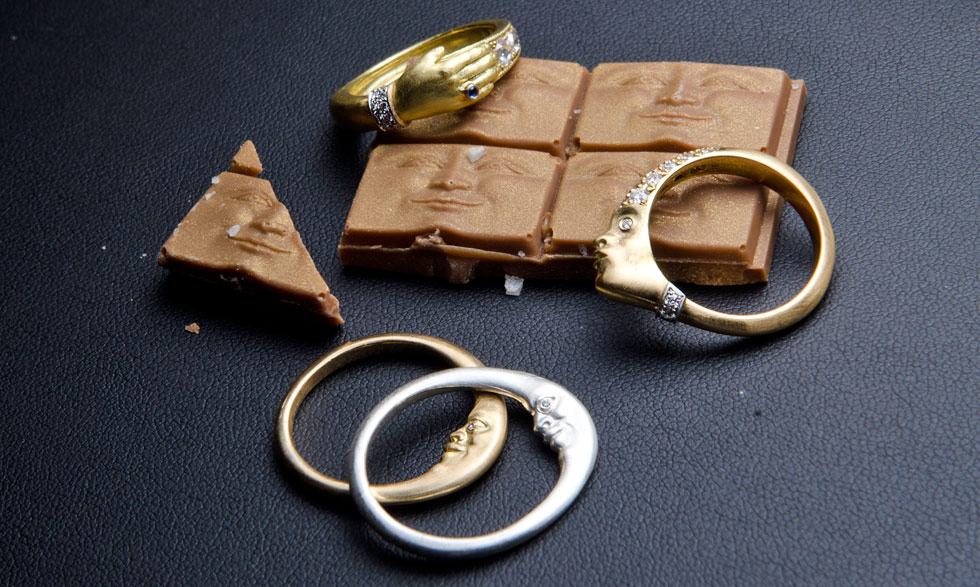 K.P.: Suns and moon are just a small part of your sculptural collections…
A.L.: Yes, they are. I have a science fiction group. I have rockets, satellites and a comet in development, which will be another collection. We have also introduced watches for the very first time at Couture. In fact, my favourite watch of all time was the first watch I got – an Accutron. It was an early electro-mechanical watch (early 1960s). It's what my dad got me for my high school graduation. I made quartz watches 20 years ago and I always loved the Accutron. One of my friends is my key collaborator and he said, 'Let's do a pocket watch together.' We did a pocket watch based on the moon face (on the left). The result is a timepiece with a sundial in silver and Breguet style hands. It features an iconic movement that I'm really excited about.
K.P.: I noticed that you use matte finish for your jewellery. Is it done to highlight the details?
A.L.: Precisely. If the surface is shiny, we cannot see the miniature sculptural elements well. Details have an element of intimacy. By making jewellery, I touch every client. And it is a private relationship; it is much more than just selling someone a piece of jewellery.
K.P.: I believe matte finish gives a vintage feel to some of your pieces.
A.L.: I agree. The 'One Hand Band' ring features a hand with a rose-cut diamond and sapphire. It is classic and looks like it could have been made in 1800. When I started making this ring, I did the setting in New York, where I do most of my settings. A Russian jeweller asked me if the ring was done a hundred years ago. He did not believe me when I said it was a piece that I just made.
K.P.: Do you prefer a vintage feel for your jewels? Do you consider current trends at all?
A.L.: David does. D.L: Our strength is being unique. We can edge towards trendy by doing ear crawlers, but we do not interpret trends much in our jewellery by changing and adapting it too often.
K.P.: David, how did you get into the family business?
D.L: I was graduating from school and planned on studying law. My girlfriend wanted a piece of jewellery and my father said he would make one, only if I sat, watched and directed. Thereon, I kind of fell in love with the process and started working with my father. I felt that we could make a business out of it. Earlier, my father had been serving design galleries and private clients. Four years ago, my brother, Max, and I developed our business into a brand, which now sells at multiple stores.
Big thank you to Lordale Benosa who photographed the jewellery.