Being a big fan of jewellery that makes the heart beat faster and induces a sense of delight, I decided to create a list of jewellery set with only the most exceptional stones. To be more precise, in honour of Valentine's Day, I have considered only heart shape diamonds, rubies and emeralds possessing only the most impressive carat weights. We are ready, then, to consider seven of the most incredible pieces of jewellery, all of which have made an indelible impression upon me at some point over the past five years.
In 2016, the British company Graff Diamonds presented the diamond Graff Venus, which weighs 118.78 carats, and is faceted in the form of a heart. It is wonderful not only for its amazing form, but also its symmetry, impeccable polishing and lack of fluorescence. The Gemological Institute of America awarded the stone the highest gradation of colour (D) as well its highest purity rating (flawless). I have been lucky to come across a huge quantity of heart cut diamonds - some seemed too elongated in length while others too wide, but the Venus Diamond, in my opinion, possesses simply perfect proportions. Not without good reason, the stone is named for the god of beauty and love: Venus.
In May 2019, by invitation of the brand Avakian, I attended a festival at which the family jewellery brand celebrated its 50-year anniversary. With Avakian, we were preparing the Thai actress Peechaya Wattanamontree for her red carpet walk. The finishing touch of her look was a necklace with a 40-carat Colombian emerald, diamonds and blue sapphires falling along the cut of her dress. The central stone was shaped in the form of a heart, but not in the manner we are used to seeing when it comes to diamonds, instead possessing a fancy cut. The stone does not have an open area formed by the upper faces, but instead the entire crown of the emerald is covered by diamond shaped facets, creating the image of geometric domes.
The company Faidee possesses the most extensive collection of unrefined Burmese rubies in the coveted "pigeon's blood" colour - the most expensive varieties of read corundum in the world. This abundance allows the brand to create pieces of timeless jewellery, which simply cannot be replicated due to the extreme rarity of the stones. Shown here is one of Faidee's necklaces based on a sketch by one of the most talented designers in the world, James W Carrens. It is decorated with 30 rubies in the form of a heart and a further 30 pear-shaped rubies with a total weight of 100 carats. And although each individual ruby in its carat weight cannot be compared with the emerald and diamond presented above, it should be remembered, readers, that even a 5-carat unheated Burmese ruby is available only to an extremely small circle of collectors. Faidee's necklace was sold at auction at Sotheby's for almost $10 million, which is a testament to the constantly growing cost of and demand for Burmese rubies.
Considering the amount of heart-cut diamond jewellery in Moussaieff's body of work, I would consider this legendary company the most romantic in the world. The founder of the company, Alisa Moussaieff, focuses on rare stones, so that the "hearts" here burn with fire not only in the rarest shades of scarlet, but also in refined pink, sunny yellow and infinite reflections of colourless diamonds. What I remember most from her collection was a platinum necklace with a 61.62 carat cut diamond of the top D-IF colour and clarity rating as well as a 1.86 carat kite-cut fancy pink diamond. The total weight of diamonds in this unique piece of jewellery is an astonishing 92.02 carats.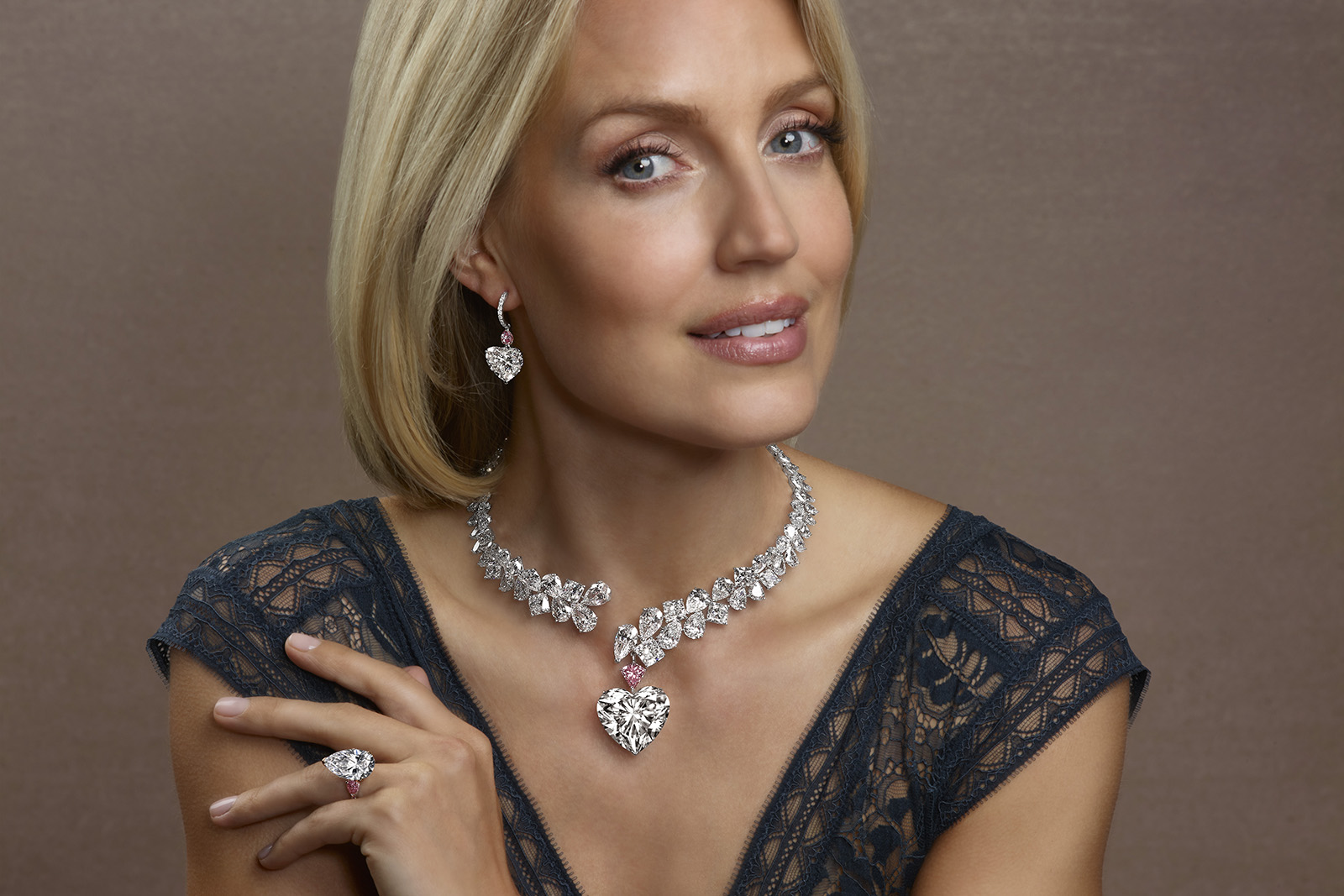 Fancy Intense Pink 15.56 carat
Also sold at Christie's, but this time in New York in 2018, was an unusual deep pink diamond with a clarity rating of VS1 and of Type IIa, cut in the shape of a heart and weighing 15.56 carats. The price? Almost $10 million. Set in rose gold, the stone was presented on a thin platinum chain between two brilliant-cut diamonds. The whole piece was ingeniously simple... and yet incredibly impressive!
In 2017, Jazmin Hubger, co-owner of Boehmer et Bassenge, invited me to meet her at Christie's to see the jewellery that the company was selling. Of course, I expected to see something extraordinary, because the name Boehmer et Bassenge is synonymous with diamonds of truly rare quality. But if I am honest, I did not expect the astonishing beauty I was faced with when I saw for the first time this string of South Sea pearls with a 92.15 carat heart-cut diamond at its center. The 93cm sautoir was named La Legend, which certainly concurs with the D Type IIa diamond located on the necklace between two more modest round-cut stones. In 2017, this piece was sold at Christie's in Geneva for $15 million!
The combination of sunny yellow diamonds and velvet green emeralds will, without fail, hit the spot. Especially when you consider the impressive carat weight of 6.34 and 10.88 carats, respectively. A smattering of colourless diamonds and the most romantic cut in the world and, et voilà, your heart will begin to sing! In the collections of Ronald Abram, stones play a key role, so each of them is presented to create the maximum possible impact and harmonise with its companions. The regal selection of jewellery in this collection will no doubt inspire you to revisit your wish list.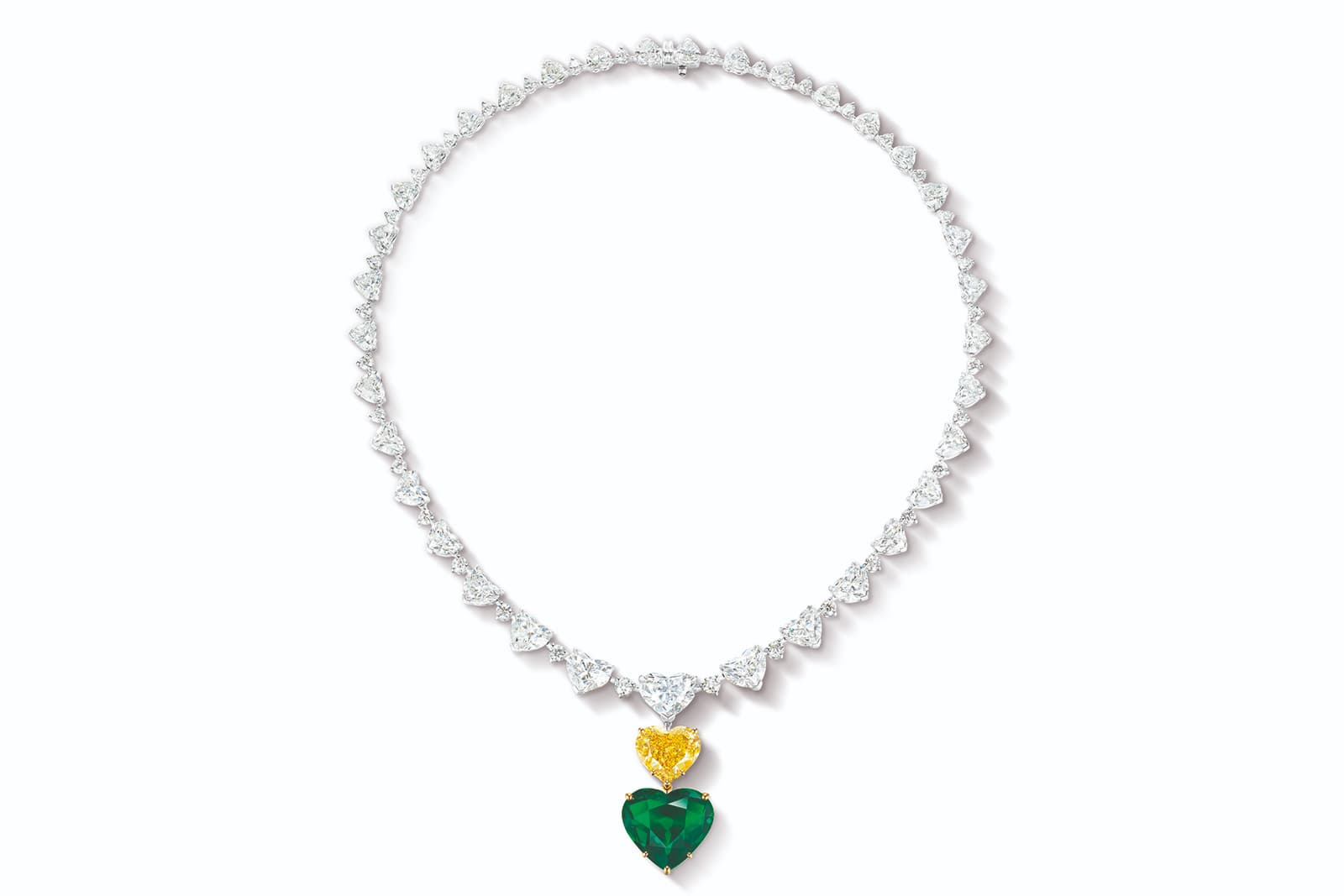 However, Valentine's Day is, above all, a time of romance and love, and these things are, unlike these jewels, priceless!