Many antique treasures were gathered under one roof waiting to be discovered by collectors, connoisseurs and fine art lovers at the recent Masterpiece exhibition in London. Exquisite vintage jewels were brought to us from all over the world, and Siegelson, the vintage jewellery and art objects' dealer from New York,  presented the most exceptional pieces. One of them captivated me by its elegance, tasteful design and understated beauty: an Art Deco Van Cleef&Arpels vintage brooch with interlaced geometric motif of diamonds, emeralds and pearls.
Initially it was purchased by Sir Henri Deterding in 1926 most likely for his wife, noted jewellery collector Lady Lydia Deterding (Lydia Pavlovna Koudoyaroff). She was Russian by birth and well-acquainted with the Russian nobility, the Romanovs and Yusupovs. Lady Lydia's legendary collection included stunning examples of Cartier, Fabergé, and Van Cleef & Arpels, as well as a pearl necklace that belonged to Empress Maria Feodorovna and the Polar Star diamond that belonged to Prince Felix Yusupov. Lady of a fine taste, Lady Lydia took fancy of the exceptional pendant brooch.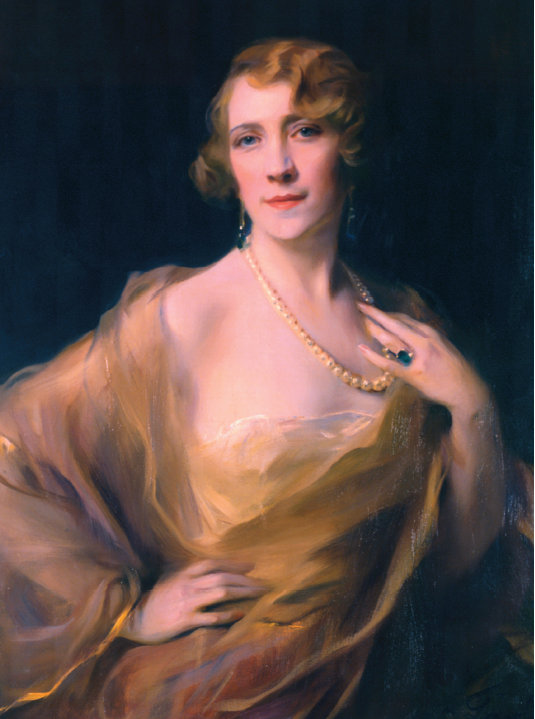 Lady Lydia Deterding painted by Philip de László, 1928
A perfect example of an Art Deco jewel at its best, the brooch combines magnificent design with impeccable stones and provenance. It is an important example of twentieth century design, displaying the excitement of the era in which it was created. Focusing on architectural elements, the jewel is a labyrinthine construction of squares, rectangles, and circles of diamonds  and pearls. The graduated stones and elongated baguettes combined with the articulated cascades create a feeling of movement. Created as a brooch with detachable pendant drops, the piece could be worn on the shoulder of an elongated evening gown, reflecting the slinky silhouettes of the era.
The length of the brooch is about 4,5 inches. It features 1 emerald drop, weighing 13.57 carats; 1 sugarloaf cabochon emerald, weighing .70 carat; 1 drop-shaped natural pearl, weighing approximately 56 grains. The whole ensemble is finished with brilliant-cut, step-cut, baguette, single-cut, and rose-cut diamonds, total weighing approximately 17.70 carats. It is certainly a jewel of the noble and would make a perfect addition to any collection.